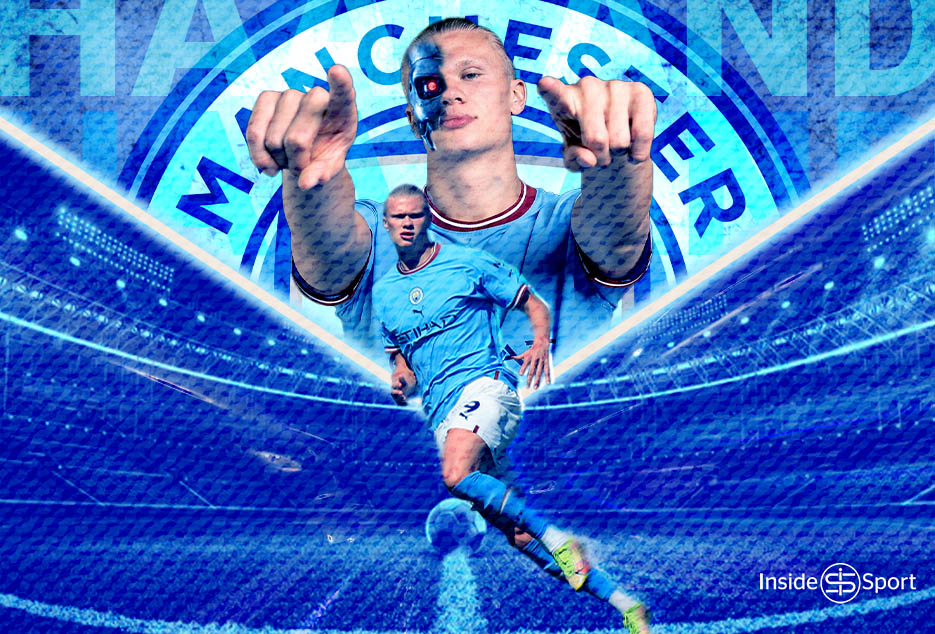 In a myriad of superlatives and comic-movie-like nicknames, "The Terminator" is the one that is to Erling Haaland's liking the most. Understandably so as he seems like an unstoppable machine on a mission: Forget John Connor, get goals.
The blonde striker's ascension to the top of football has reinvigorated the sport with the dusk setting on Cristiano Ronaldo's and Lionel Messi's careers. When the collective phobia was that we would not see anything better - at least not for a very long time - we got something that we could dare say was an improvement.
Of course, not by the skills, stats, and achievements. Of course not. At least for now. But with Erling Haaland, the biggest sport in the world got a god-tier athlete that loves the game as much as the most die-hard supporter. As much as a season-ticket holder who never skipped a game for 40 years. As much as a kid.
Or perhaps, even more than all of us.

Yes, the bolting shots, Usain Bolt-like runs, and the already mythical strength helped build the hype for Erling Haaland. Yet, without the boyish unconditional love for football and enjoyment in it, even with two times the goals scored, the legend of Erling Haaland wouldn't have such a following.
A tale as rare as that deserves a detailed examination.
Erling Haaland as a kid
This record-setting physical specimen needs to wait to grow up and will be a complete footballer. That's what the summary of Erling Haaland's childhood might look when you pile up all the sources. Of which are many, as the small town inhabitants of Bryne in the southern end of Norway lined up one by one to talk about their former young neighbour.
Although, the Terminator wasn't assembled or delivered in Bryne. He was born in England, in Leeds. As his father Alf-Inge, a professional footballer on an elite level himself, was playing for the local Premier League side Leeds United at the time. This spurred many discussions and raised a lot of hope in English fans that Erling might choose the flag with the white background and the red cross. Not the blue cross with a white overline and red background.
A first completed task in the tale of the young, although Scandinavian, Hercules is that he set a world record in the long jump for five-year-olds. It's perhaps more surprising that someone is measuring this than it was for Erling to conquer it. After all, he is of sporting descent not just from his father's side. His mother, Gry Marita Braut, was a track and field athlete. Competing in the heptathlon, a seven-event contest event. Her mother was also a track and field athlete.
Yet the pedigree doesn't stop there, as the prodigy was predestined to overcome not only his father but his great uncle too, Arne Larsen Okland, local club's Bryne biggest legend who represented Norway 54 times.
Even though he played other sports too, handball and golf, whilst also training for track and field events, nothing was making Erling focus more than football.
One of his coaches summarized Erling Haaland as a child laconically.
"He smiled a lot, trained a lot, scored a lot."
Erling Haaland first club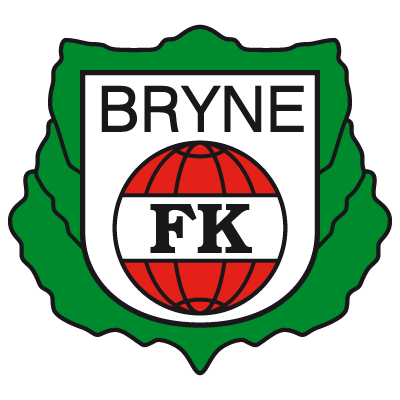 It's in the local Bryne FK that Erling Haaland started training football, at the age of five. Playing indoor football, Erling was right away pushed to the older group, even though many couldn't differentiate between five and six-year-olds. He spent 12 years with Bryne, whose first team played in the first, second, and third tiers during those times.
As it is the north of Europe we're talking about, Erling did a lot of his playing on artificial turf, indoors. Crediting this facility for his development, as he and his friends were able to play and practice even on cold and wet days.
Erling Haaland's first coaches agree that you can't build someone like him, that he was born with his special gifts. Yet remain convinced that without such objects not even one in eight billion players like himself can achieve success.
Their theory that Erling was born with his gifts is proven to a significant degree by looking at the earliest videos surviving from his childhood days. Even though the pitch, the players, and the goals are quite smaller, Erling's movement and in particular his style of finishing is eerie similar to what he's showing on TV screens across the world today.
Yet young Erling Haaland didn't start as a centre-forward, he was a winger due to his natural speed. Still, making the net rise up was at the end of his programming.
"Winning was important, but winning was only the result. As far as we could see, what really gave him joy... was scoring goals," said Klaus Beschel, Erling's first-ever coach. That is if you don't count his father.
So he was fast, and could jump far, yet the prototype athlete we now admire was constantly faced with reminders that he needs to improve his physicality. Gangly was the Norse god called once.
Alf Ingve Berntsen, a coach who worked with Erling Haaland when he was young the most, has a great theory on the development of young players. One that claims how four pillars make up a great footballer: technical, tactical, mentality, and physicality. At 14, 15 you'd need two of these to be good, if you have three that makes you quite promising. By the age of 14, only the bulking up factor was missing for Erling according to Bernsten.
Despite the shortcomings, Erling was playing with older boys. Furthermore, he ended up playing for Bryne in the second division of Norway's football at the age of 15!
It's actually this inability to lean on his physicality that many credit as a major reason for his success. Erling had to learn to read the game, anticipation, movement, and timing, all improved as he couldn't just bully people as so many young standouts do only to lose their magic touch when they enter the world of men.
Getting a debut that young lit up a signal amongst the clubs that scavenge for blimps of extraordinarity in youth football. One of the more successful ones in producing players recently, Hoffenheim, invited the Norweigan for tryouts.
Impressing their coaches over the week he spent in west of Germany, Haaland's history might've been different if the Bundesliga side wasn't so rigid in their Alf-Inge wanted a €5,000 per month salary for his on to move to a different country, yet Hoffenheim's leadership stayed true to their stance that youth players can only get €2,000 per month.
A more realistic option was the Danish FC Copenhagen, which also had Erling as their guest, yet the domestic option prevailed.
Notably, Erling represented his country at every step of the way in the youth category from U15 to U21. In total, getting 46 matches for the Norweigan sides before the senior team. Scoring 30 goals overall.
One of these youth games was the first extraordinary tale in the mythos of the young prodigy. In the 2019 FIFA U-20 World Cup, he won the tournament's Golden Boot, after scoring a record nine goals in a single match against Honduras. Yes, nine. At the age of 18.
Haaland's amazing career has not been helped only by his father's genes, but by his experience in the football world. Serving as his agent as well.
The father-son duo was quite methodical in planning Erling's pathway. Calculated and cold. A call came from the north in their country, Molde, led then by none other than the greatest Norweigan striker of all time - at least until recently - Ole Gunnar Solskjaer. Father's words to his hopeful son were quite simple, "if you can't learn from this guy, then…"

Moving some nearly 500 kilometres to the north, Erling surprisingly parted with his hometown without ever gifting them a goal. In 16 matches for the senior team playing in 2016, he never scored. However, playing for the Bryne 2 side in the fourth division, Erling did start his goalscoring tally in the 2015 and 2016 seasons.
Yet, these are nothing but footnotes in the career of an instant great.
A lack of goals at Bryne didn't make him anything less of a legend. Anything less liked. At the time of Erling's reign of fire in Dortmund, his childhood team was selling yellow BVB number 17 shirts in the club shop. Dispatching around 130 pieces per month! In a town of 12,465 people.
Joining the first division team in Norway at the age of 15 was a move to ensure Erling's evolution continues steadily. Not running into a wall early on in the stage of key growth. Only in football it's not a wall, it's a bench.
"I think I can develop myself to be even better and more professional at Molde. I know they are good at it. They have developed many players to become good. I want to be the best possible," said the 16-year-old Haaland at the time. But even then, he first visited Molde a few months back, before committing to them.
Everyone who has listened to at least one Erling Haaland interview - and they are a fun watch - it's obvious that what Erling obsesses over is improvement. He is adamant about saying - and more importantly believing - that he can improve in all aspects of the game. Not just can though. Must.
A sure-fire recipe for the statistical anomaly that is Erling Braut Haaland's career. A beautiful story of a football romantic can, however, be said sufficiently through sheer numbers.
Not typos, just an anomaly: Erling Haaland's stats
Erling signed a three-year contract with Molde in February of 2017, the first of his three winter moves so far. A 16-year-old was welcomed by the Manchester United icon Solskjaer with some tough love - "You have no idea how to head the ball. We have to work on that," Haaland revealed Ole's words.
This heading improvement was the tale of the tape again at Borussia Dortmund and Manchester City.
Erling Haaland Molde stats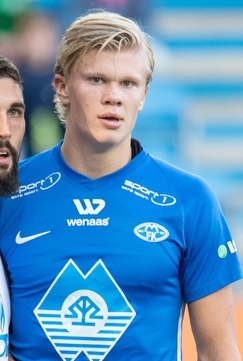 The 16-year-old Erling Haaland made his debut two months after he moved to Molde, of course celebrating the occasion with a goal on his debut in the Norweigan cup win.
For his first league debut, Erling had to wait two more months - as we're talking about Norway and their league has a different schedule, starting in April and lasting until November. After a minute on the pitch coming on as a substitute, Erling got a yellow card. After six minutes, he scored the winner.
In his first season with Molde, Erling scored two goals across 14 games. Although he has started only three games and hasn't played a full 90 once. Totalling 385 minutes total. Alongside six games in the cup, with two goals scored.
The second season at Molde, in 2018, saw Erling score 12 goals in 25 games of the Norweigan Eliteserien.
He also got his experience in continental competitions, albeit it, not his favourite one. Across the regular 2018/2019 season he played in the Europa League qualifying matches for Molde. Although he wasn't their player anymore.
Overall, Erling notched 20 goals in his 50 matches with Molde, alongside six assists. Weak for his own standards, yet he was a teenage boy adjusting to the game men play.
More importantly than his tally, at Molde Erling 'ate like a horse' according to the staff in the club, and he eventually grew by eight centimetres. The fourth pillar was ready.

Erling Haaland Red Bull Salzburg stats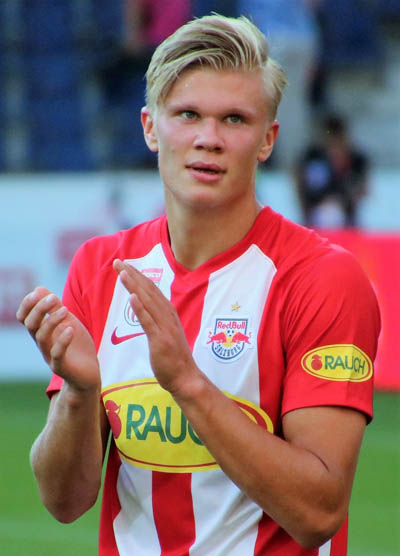 Even though Molde signed Erling for a three-year contract from Bryne, his talents were to rare not to go unnoticed across Europe. Red Bull Salzburg beat out the competition from Erling's former club Leeds - then in the Championship - to sign the Norweigan in the summer of 2018.
Yet the deal was only announced and agreed upon, Erling stayed in Norway until the next winter transfer. Only then the €8,000,000 move happened and Erling signed a five-year contract with the rulers of Austrian football.
He would stay at the club for a year and that was enough to propel him into superstardom.
Red Bull Salzburg was the first club to see Erling Haaland's goalscoring stats surpass his appearance numbers. Certainly not the last.
Although he did have a quieter start to the stint. With five appearances total and only one goal in the second half of the 2018/2019 season, with Marco Rose in charge. Who Erling would meet again in the near future. Overall, Erling spent 149 minutes on the pitch. He did win a double title, cup and league on paper, yet he had little impact on it.
Things massively changed when the American Jesse Marsch took over before the start of the 2019/2020 season. With him in charge, Erling Haaland scored 28 goals in 22 matches for Red Bull. Getting seven assists as well.
In what was his grand premiere to the world, he had an amazing Champions League campaign. His first-ever game in his favourite competition saw the Norweigan wonderboy score a hat-trick in the first half against Genk.
After all, this wasn't a hat-trick for Real Madrid, for Bayern Munich, no, this was the first Champions League game for the entire club. Ever. In a matter of 90 seconds, Erling's name was in history as the first-ever CL scorer for the side.
Overall, a turning point for his career according to his family.
While the world was focused on the peculiar statements made by his teammates, about Erling taking the hat-trick ball home to sleep with her, and driving around listening to the Champions League anthem, the Haalands knew he was going to make it from then on.
Erling was drug tested after the home game, finished the obligations half an hour before midnight and drove his family home. While they were preparing wine openers to celebrate, the teenager had other things on his mind. He simply dropped them off home and returned to the training camp to do his recovery routine at 1 AM.
"That's when we realised he means business," his father remembers.
That performance lit up the lamp for Erling too.
"That was the night things kind of blew up a bit. That's when I knew, 'Oh wow, this is crazy. This is next level.' I was buzzing.
All in all, Erling bagged 29 goals in 27 matches for Red Bull Salzburg, notching seven assists too.
Eight goals in just six Champions League group games becoming the first teen to score in five consecutive games in the competition. Alongside 16 goals in 14 Austrian Bundesliga matches. In total, Erling scored four hat-tricks.
The first grand bidding war started, every club with half a sense and a big coffer was linked to the next big thing in football. Everyone was willing to bet he wasn't going to be a one-season wonder. It's that mentality that we keep mentioning.
Erling is a positive force not just on the pitch, but in the dressing room as well. A dedicated athlete that doesn't take himself too seriously. A light communicator that leads by example in his dedication to his craft. There is yet to be a scandal around Erling despite him being stretched across several transfer sagas by tabloids.
Erling Haaland Borussia Dortmund stats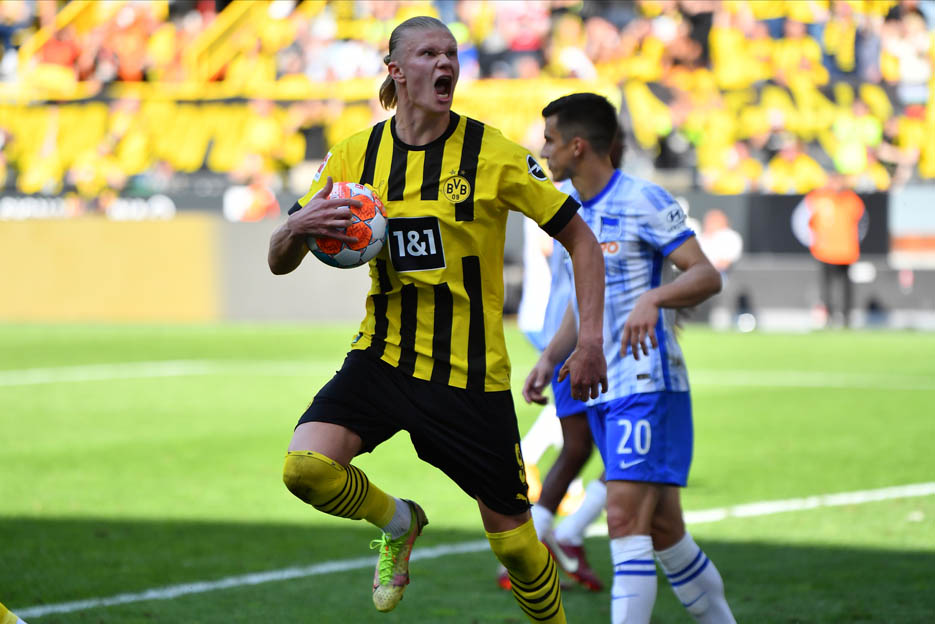 If the Red Bull Salzburg stint made him burst into the spotlight, the tale with BVB made him solidify his stardom even before he was legal to drink in some countries.
Borussia secured the young forward despite the interest from Tottenham, Manchester United, and Juventus. Mostly due to their reputation of being able to transform young players into world-beaters.
Activating a clause of €20,000,000, BVB got the prize in what has to be one of the best purchases in football markets ever. Erling Haaland signed a four-and-a-half-year contract followed by his father and his then-agent Mino Raiola.
That winter of 2020, the whole world was watching, awaiting to see how the next big thing will do with a significant step up in competition. From the Austrian to the German Bundesliga. Even though he lit the Champions League on fire.
The doubters were proved wrong instantly. Entering the game against Augsburg as his team was losing 3:1, Erling got his first goal in a matter of three minutes. Just 11 minutes later he bagged his brace to turn it to 3:4 after his teammates equalized. In a span of 23 minutes, Erling killed the game, making it 3:5 and earning his debut hat-trick.
In the two following games, blowout wins for BVB, Erling scored braces.
While everyone is justifiably writing superlatives for Erling Haaland, not enough merit is given to him for handling so many managerial changes at Westfalen in such a short time.
In a span of two and a half years, Erling adjusted to three different coaches. Adjusting not just to the league, but to their individual styles.
Firstly, he started under Lucien Favre, bagging 33 goals in 32 games, with six assists.
The second manager Erling worked with was the inexperienced Edin Terzic. Under him, Erling scored 24 goals and made 10 assists in 27 games.
The last of the BVB managers Erling worked with was a familiar face, Marco Rose. Although the two worked far better than in their time at Salzburg. In 30 matches, Erling scored 29 goals and made nine assists.
Overall playing time was quite similar under all three managers:
- 2,408 minutes with Favre
- 2,449 minutes under Terzic
- 2,338 minutes under Rose
Erling did have some outside stabilizing factors, Alexander Zickler was BVB assistant manager and he worked at Red Bull Salzburg prior. He was another figure to note that almost fan-approach Erling had, one needed for world-class success, as he would know considering he spent over a decade at Bayern Munich.
"Every missed chance, he was down on the ground like a kid, pounding the ground with his hands," said Zickler.
Another caveat needs to be made - Erling was making his name in a very hard time for everyone, during the global crisis that shifted calendars and provided a peculiar setting for experienced players, let alone newbies.
Yet Erling's stock was rising like nothing seen before in world football. Not even his future eternal rival Kylian Mbappe's, neither Messi's or Ronaldo's was prior.
Sprints that would make any lighter winger blush. Thundering shots so scary that even training videos go viral. Youngest player to score four goals in one Bundesliga game.
Every week there was a new Erling Haaland record or a football landscape-changing stat.
Then, the Terminator added heading to his arsenal.
In his first half-season with BVB he scored only one header. Same as in second. In the third, he bagged five headers. Despite playing only 30 games that campaign.

As stellar as his Dortmund story has been, as much as he looks like a Viking deity awaken some 1,000 in the future, it's hard not to note the injury setbacks that has plagued him. Sure, the Bundesliga has only 34 games per year, yet in both full seasons he played there, Erling didn't get to the mark of 30. Playing 28 times in his first full year, the 2020/2021 season, and just 24 times in the following.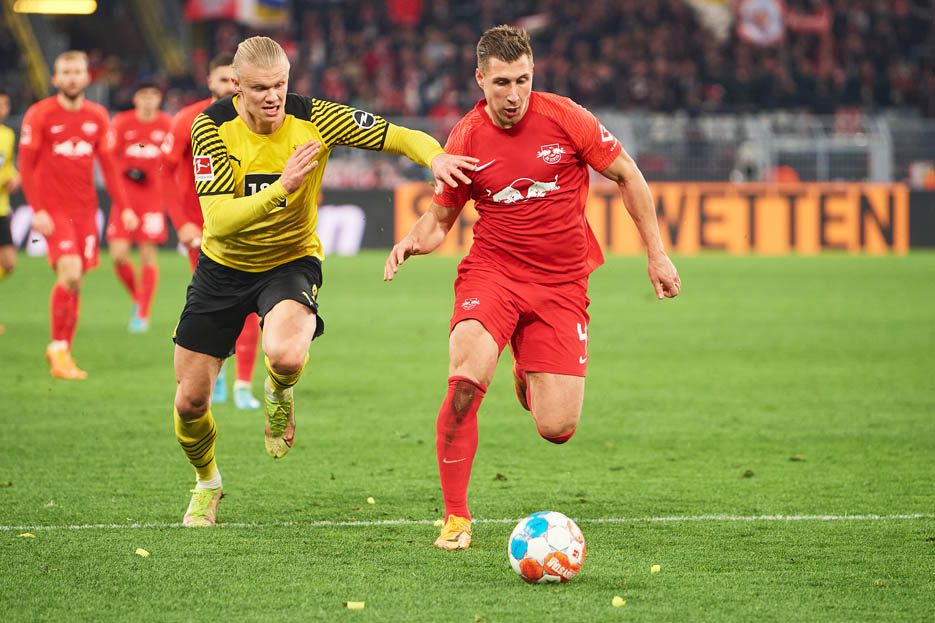 Overall, with all competitions, his goals-to-matches ratio looks rather impressive still:
2019/2020 season - 18 games, 16 goals
2020/2021 season - 41 games, 41 goals
2021/2022 season - 30 games, 29 goals
Alongside winning the Bundesliga Player of the Season award in 2020/2021. While getting his most notable trophy as the time of writing - the German Cup in the same season. Erling was also the top scorer in his favourite competition - the Champions League, with 10 goals scored.
Overall, Erling scored 86 goals and made 23 assists in 89 games for Borussia Dortmund. His Bundesliga record stands at 62 goals and 19 assists in 67 matches.
With BVB, his Champions League tally was 15 goals and three assists in 13 matches. A lack of major trophies and even distance from contesting was too apparent to ignore.
The second transfer saga of Erling's career started. Although, it's fair to say that it never stopped, considering that since he made his scintillating BVB debut, Erling Haaland's transfer news never stopped earning clicks.
Real Madrid was always mentioned as the frontrunner. Barcelona not that far behind due to the connections Erling Haaland's agent had with the Catalan club. Manchester United fans were hopeful that then their manager Ole Gunnar Solskjaer would use his connection. Chelsea was an option, Tottenham was dreaming, Juventus as well.
Yet Manchester City had a combination of both money and sentimental value to seal the deal.
Erling Haaland Manchester City stats and records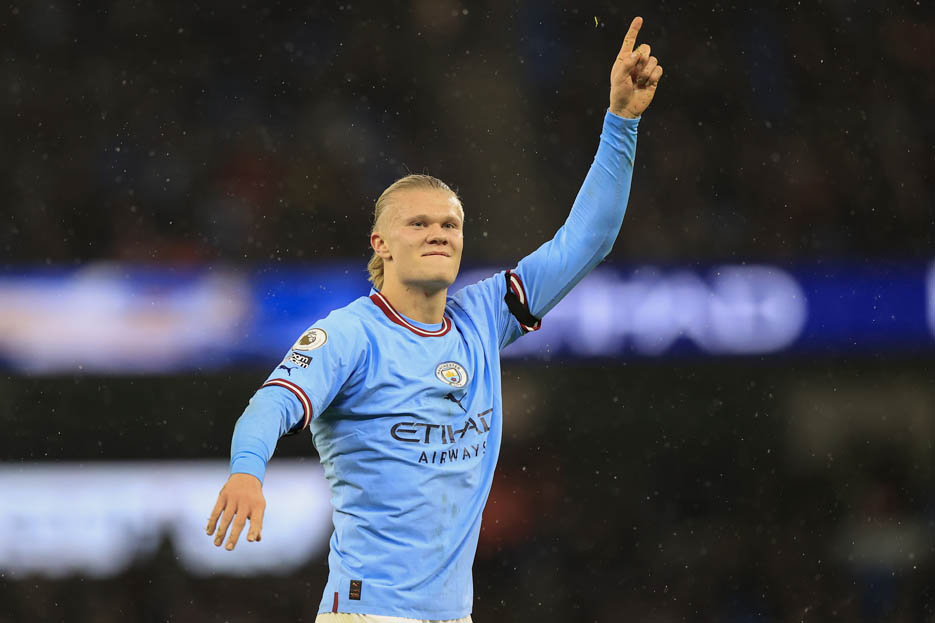 In the summer of 2022, Manchester City took €72,000,000 to activate the clause in Erling Haaland's Borussia Dortmund contract, and purchase the phenom. Another €40,000,000 was apparently secured for the agents' clauses, one of them being Alf-Inge, the father.
The Etihad club was proud to say they were signing the son of their former player, 22 years after he himself put the pen to paper for the club, nearly to the day.
According to reputable publications in England, Erling is earning €570,000 per week on his five-year contract that runs until 2027.
A brace on his debut was just the start. Quickly, Erling Haaland's records started flowing. He became the fasted player to score 20 goals in the Premier League, doing so in 14 appearances. Becoming the first to score three consecutive home game hat-tricks, against Crystal Place, Nottingham Forest, and Manchester United.
Erling Haaland scored his fourth Premier League hat-trick in just his 19th appearance. The then-record holder Ruud van Nistelrooy needed 65 games. Luis Suarez got his fourth hat-trick in 81 matches, competition's all-time top scorer Alan Shearer took 86 games. While Robbie Fowler waited for 89 matches to get to this tally.
In early March, Erling Haaland broke Manchester City's club record for most goals scored in a single season.
Without even a full season, Erling has already surpassed his best year at Dortmund, scoring 44 goals in 38 matches as of April 2023.
After City's battering of RB Leipzig 7:0 in a Champions League knockout game, Haaland got a perfect 10 score from the French magazine L'Equipe. Becoming the second player in history to be honoured twice, after Messi.
Against RB Leipzig, Erling scored five goals in 57 minutes. The 10 prior he received earlier in the season against city rivals Manchester United, when he bagged three and assisted two in a 6:3 trashing.
| | | | |
| --- | --- | --- | --- |
| Team | Red Bull Salzburg | Borussia Dortmund | Manchester City |
| League | 3 | 3 | 4 |
| Europe | 1 | / | 1 |
| Cup | 1 | 1 | 1 |
Erling Haaland Norway stats
Overall, it's safe to say that Erling has perhaps disappointed himself only in his international career. Not in terms of goals, of course. Even with his Norway, he is bagging them in at an insane rate. Yet the country missed the World Cup despite having a world-class player for the first time ever arguably.
But it's a team sport and the entirety of the blame isn't remotely on him. Erling himself hasn't given up on Norway too, as he is inspired by other numerically small nations like Uruguay or Croatia who manage to succeed on the top level. With Norway's crop of players looking better than ever, it's hard not to feel hopeful.
Erling is doing its part. The striker bagged 21 goals with three assists in 23 games for his international team. Garnering 12 goals in 10 UEFA Nations League games, five in six World Cup qualifiers, and four out of four in friendlies.
Getting in hat-tricks against Romania and Gibraltar. While the three matches of Euro qualifiers had him quiet.

Erling Haaland total stats
Overall, Erling Haaland's stats are diminished by his Molde and Bryne stints when he was a young buck. Yet, with 179 goals in 220 matches, alongside 41 assists it's absolutely insane for a 22-year-old.
Added to the International stats it amounts to 243 games - 200 goals!
| | | | |
| --- | --- | --- | --- |
| | Games | Goals | Assists |
| League football | 165 | 123 | 35 |
| Domestic cups | 24 | 19 | 2 |
| Continental competitions | 31 | 37 | 4 |
| International | 23 | 21 | 3 |
| Total | 243 | 200 | 44 |
Only 28 of them came from the penalty kick position, with Erling missing a mere two of them in senior competition.
It's easy to point to the former professional footballer father and say that this is the reason why Erling is so successful. Yet most players have three or more children, but a handful ever gets to the first league. Anywhere. No, Erling Haaland was gifted, but he cherished that in-born ability and grew it.
Erling Haaland's daily routine is what's vital for his success - and that's coming from the man himself.
"My daily routine is vital for on-pitch success. The first thing I do in the morning is getting sunlight. Then, I drink filtered water. It benefits my body. People say meat isn't healthy [shows pieces of liver and heart], but I am careful about what I eat. This isn't McDonald's," said the short and to-the-point Scandinavian.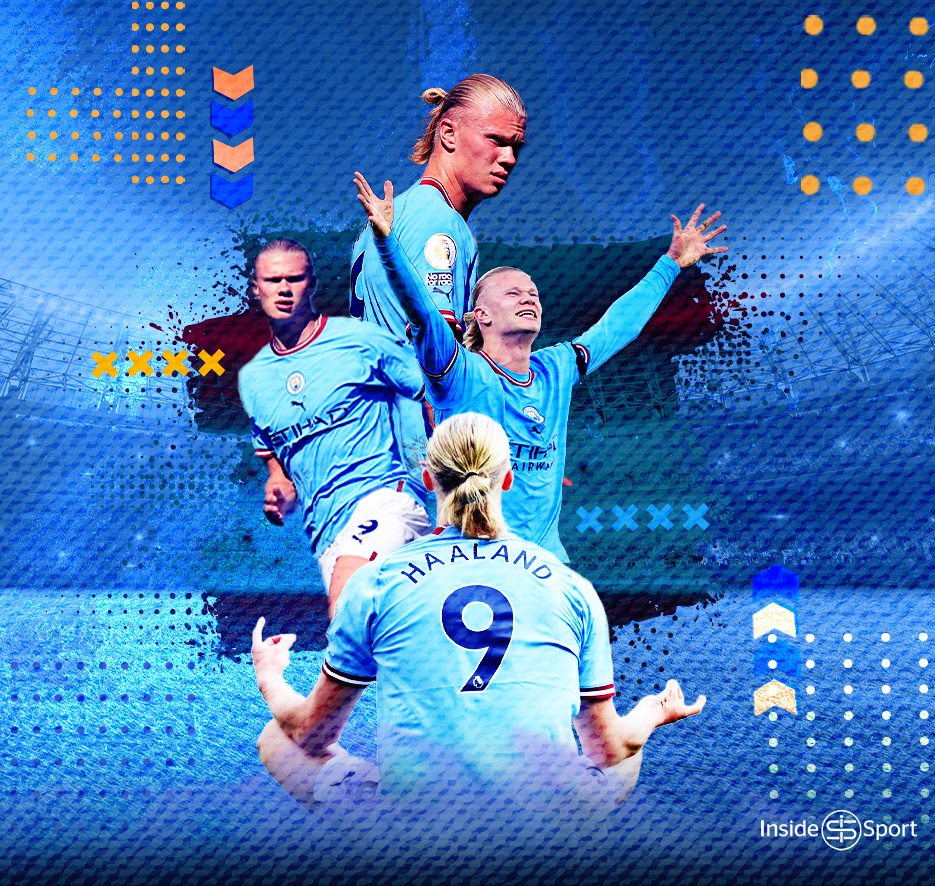 As much as he is a physical specimen, even going to say that he enjoys the rough nature of the Premier League - how could he not considering his father was the designated hard man - yet mentality is where he shines. Another viral aspect of his rise was the meditation celebration Erling Haaland has shown to Europe. Almost to say that this is what's needed to be the best. But also - scoring goals is my bliss! Nirvana and Valhalla in one.
Erling Haaland's impact on the sport of football might've been best explained by his contemporary colleague from Newcastle United, Callum Wilson.
"There's a Golden Boot at the end of the season. That's out of the picture. That's gone. Erling Haaland needs his own boot & then we need another boot. We need a Silver Boot nowadays. We need a little something, to make it fair," said Wilson.