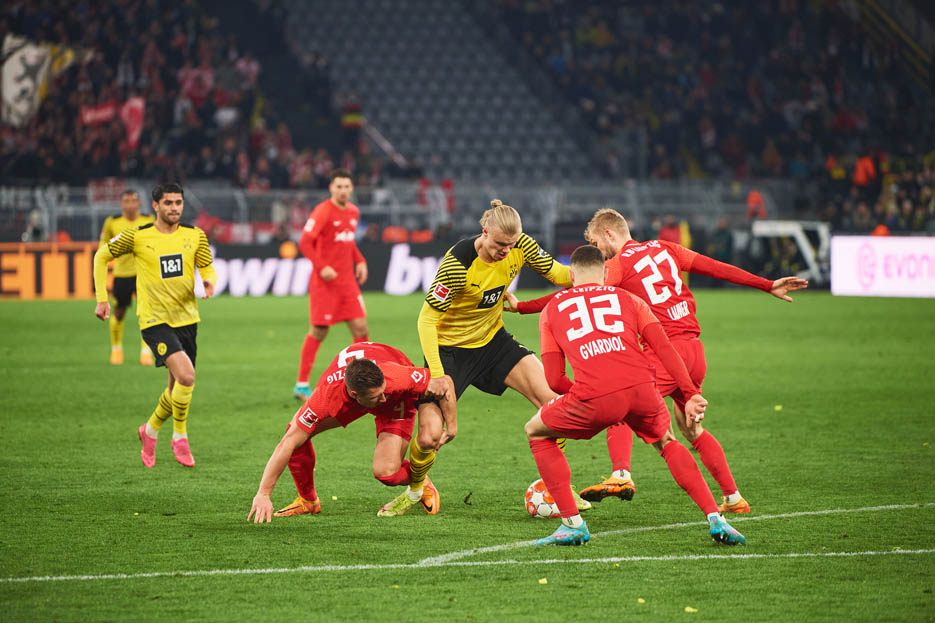 A machine. A terminator. Odin reincarnate. But also injury susceptible? Erling Haaland can't be mentioned without all the deserving superlatives that have showered his young career, yet some fans are sceptical about whether he can achieve all that is prophetized. But is Erling Haaland's injury record all that concerning and how does it compare to the men he is trying to emulate?
Considering Erling has already played 250 games at the age of 22, it seems that his career is going as planned. After all, the longevity masters Cristiano Ronaldo and Lionel Messi are at 1,159 and 1,043 games respectfully, Erling doesn't seem to be lagging early on.
To roughly match Leo Messi's number, Erling would have to play 61 games per season for 13 years, that is including both the club and the national team. As the players' longevity is improving due to new recovery methods and the effort put into it, Erling could theoretically surpass the two legends.
A glitch in the code? Erling Haaland's injury record
Often described as an automated goalscoring machine, Erling Haaland did suffer quite a bit of malfunctions.
In his early days at Molde, he missed three games due to an issue with ligaments.
At Red Bull Salzburg, Erling spent two half seasons yet had four different injuries pop up, all of them light. All in all, five matches missed. One of the absences was due to an illness, one due to a poorly placed bruise, while the knee issue and the abdominal muscle injuries in late 2019 were not enough to detract Borussia Dortmund from buying him.
Haaland's injury record at BVB isn't reassuring as he did spend only two and a half seasons at Westfalen, yet he missed out on 28 games. Nearly a full league season.
It's mostly evident in viewing the 2021/2022 campaign, as the Norweigan played in only 30 games for the club across all competitions.
Knee issues popped up first, while the biggest hiatus of the first season and a half was the seven games missed in a row due to a torn muscle fibre. The 2021/2022 season was marked as the German side couldn't count on the goalscorer in the key winter days due to hip issues.
Erling's longest pauses due to injury count: 42 days, 35 days, and 28 days, all at BVB.
Of course, some more optimistic fans are quick to point at Borussia's own abysmal record with injured players and note that it's perhaps not to Erling.
While the bigger takeaway could be that Erling was still quite young and gained a lot of muscular weight during his time in Germany.
His first season with City saw Erling miss two games on two occasions due to a groin injury and a bruised foot. So no recurring injuries from the Borussia days.
Not to mention that the period in which he played was a peculiar one with the stop-and-go seasons tarnished due to the response towards the epidemic.
However, it also has to be noted that Erling missed 10 international games total due to these injuries.
But the key in the story of Erling Haaland's injury susceptibility is that the Norweigan hasn't missed one step. As soon as he returned from the infirmary, his goalscoring numbers rose.