Carlo Ancelotti is associated with 21 Ballon d'Or winners
4.5.2020.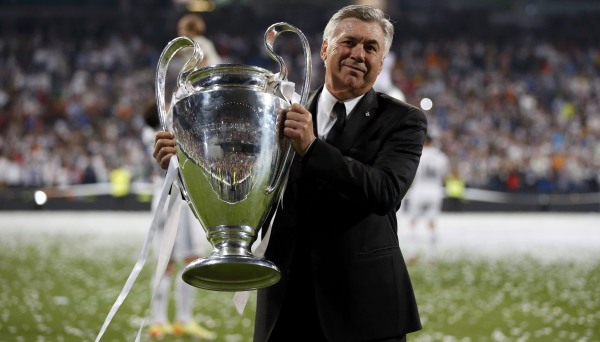 World wide known don Carlo has had a tremendous career, both as a player and even more as a manager. He has played with or managed 21 Ballon d'Or winners in last 33 years. Such a tremendous achievement and a feat that none else individual comes even near to.
Carlo Ancelloti has been around the best players in the world for more than 3 decades and that makes him one of the biggest constants in the top level of football.
First, let's start and explain what is Ballon d'Or. It is a yearly award for the best football player that is hosted by french sports magazine France Football. Ballon d'Or is the oldest and most prestigious award of its kind. In modern times, Leo Messi and Cristiano Ronaldo have been big rivals in getting the most awards as possible. At this time Argentinian maestro has 6, while the Portuguese is at 5.
Let's get back to don Carlo.
Ancelotti had a great playing career in Serie A where he played for 16 years and only for 3 different teams during that period: Parma, Roma and Milan. After his playing career, Carlo has started his long managerial career in Serie A where he was in charge of 4 clubs: Reggiana, Parma, Juventus and Milan.
It did not take long for his class to be recognized outside of Italy and he made way to other leagues and has managed Chelsea, Real Madrid, PSG, Bayern, Napoli and Everton.
During his football time, Ancelloti was associated with 21 bets player of the year award winners and we bring them all here.
The list of Ballon d'Or winners connected to Carlo Ancelotti
1. Paolo Rossi in 1982 (team player)
Italian striker Rossi won the award in 1982. following his champion season with Juventus in Serie A and a solid performance on World Cup in Spain the same year. Although he was part of Milan, his path did not cross with Carlo there. Ancelloti was a player for Milan 1987-1992 while Rossi was a part of Milan after his Juventus time (1985/06).
The duo was a part of Italian national team and was criticised due to their poor fitness during 1986 World Cup in Mexico.
2. Ruud Gullit in 1987. and in 1989. (team player)
Both Ruud and Carlo were part of playing squad of AC Milan in since 1987. Ancelloti and Gullit played together in the midfield. They had tremendous success by winning Serie A in 1988 and European Cups in 1989 and 1990 and much more under manager Arrigo Sachi.
3. Marco van Basten in 1988, 1989, 1992 (team player)
Van Basten was signed by AC Milan's controversial president Silvio Berlusconi in 1987. Same year Milan signed Ancelotti, Ruud Gullit while Frank Rijkaard joined in 1988. AC Milan was a dominant European team during that period. Van Basten ended up scoring 90 goals in 147 games for AC Milan and has won Ballon d'Or on two occasions.
4. Roberto Baggio in 1993. (managed)
Famous Italian striker and Carlo were briefly part of the Italian national team even with Carlo being 7 years older. Later on, Ancelotti was a young manager in Parma while Baggio was a player for AC Milan under Capello and wanted to join Parma. Ancelotti delayed the transfer as he did not see Baggio fitting into his tactics. Roberto went to Bologna instead and played a great season with 22 goals and 9 assists.
Don Carlo admitted later on that he did a mistake there: "Looking back on it now, I was crazy. How can you give up on someone like Baggio? I was young and didn't have the courage"
5. Ronaldo Nazario in 1997. and in 2002. (managed)
Ronaldo was a part of AC Milan 2007-2008 when Ancelloti was managing them. Ronaldo moved from Real Madrid and managed to get only 9 goals in 20 games due to injuries that crept on him in that period.
6. Zinedine Zidane in 1998. (managed)
Ancelotti managed Juventus 1999-2001 and Zidane was one of his key players during the French midfielder Juve period 1996-2001. They did not have much success in Carlo's reign of Juventus.
7. Rivaldo in 1999. (managed)
Ancelotti managed Milan 2001-09 and Rivaldo was a player in Torino 2002-2004 playing just 20 games and scoring 5 goals. Rivaldo parted ways with Milan after being in a fight with Ancelotti. A similar scenario happened between Rivaldo and Rijkaard in Barcelona implying that talented Brasilian was very hard to manage.
8. Andriy Shevchenko in 2004. (managed)
Similar to Rivaldo, Schevchenko was under Ancelloti during his time in Milan. Famous Ukrainian striker has made a world know name for himself during that time. He scored endless goals and was a constant threat in opposing halves. Schevchenko scored 127 goals in 208 goals for AC Milan.
9. Ronaldinho in 2005 (managed)
Ronaldinho was in Milan from 2008-2011 and Ancelotti managed him until 2009. Ronaldinho has started his Milan period extremely good but has failed later due to his unprofessional life and love for partying.
Ancelloti and Ronaldinho were in conflict due to Brasilians 'wild' behaviour: "The decline of Ronaldinho hasn't surprised me. His physical condition has always been very precarious. His talent though has never been in question." You can read more about Brasilian maestro in our piece What happened to Ronaldinho?
10. Fabio Cannavaro 2006. (managed)
Cannavaro signed for Real Madrid in 2007. after winning the award and had a great two season were he won La Liga. Ancelotti and Cannavaro crossed paths much earlier in 1996-98 when don Carlo was manager of Parma and Fabio just a youngster. Cannavaro is the only defender in modern football to win the award.
Maybe Ancelotti has been the key in his development to top level: "What I remember the most from Ancelotti is learning zonal marking. I was accustomed to only tracking the man, but with him, I learned the right movements and posture."
11. Kaka in 2007. (managed)
Another player that Ancelloti has managed during his productive Milan era. Kaka was part of the Milan 2003-2009 during which he played massive 193 games while scoring 70 goals. He was a world-class playmaker and fed numerous assists to Inzaghi and Schevcenko during that time. Kaka played behind the mentioned strikers while his back was guarded by Gattuso, Seedorf and Ambrosini. Milan at that time was one of the top teams of the world.
12. Luka Modric in 2018. (managed)
Croatian midfielder won the award in 2018. following great Real Madrid season and national team Croatia campaign in the World Cup. He is still a part of Real Madrid from 2012. where he played 215 games so far. Modric was under Ancelotti when the Italian managed Real Madrid 2013-2015: "One name is special to me, and that is Luka Modric, both fantastic midfielder and a human"

13. Cristiano Ronaldo in 2008, 2013, 2014, 2016, 2017 (managed)
One of the most decorated players in the history of football is Cristiano Ronaldo. The Portuguese striker has won a total of 5 Ballon d'Or awards and only Messi has more than him (6). Cristiano was under Ancelotti in Real Madrid 2013-2015. Carlo signed Bale and Di Maria in 2013.
They have won Copa Del Rey by beating fierce rivals Barcelona and Champions League by beating Atletico Madrid in finals after extra time. This was 10. Champions League title (La Decima) for Real Madrid, while Ancelotti broke all kinds of records: the first man to win European Cup twice as a player and three times as a manager.
5-time award winner looks back on his time with the Italian manager with a lot of positive feelings: "He's an unbelievable person. I just wish every player could have an opportunity to work with him because he's a fantastic guy, a fantastic coach and I miss him a lot because we won many trophies together. And I wish to work with him one day again."
Keep reading about Cristiano in our One on one: How well do you know Cristiano Ronaldo