As someone who has reached the highest heights in football, and is enjoying a 30-year-long career as a manager, Rafa Benitez won't be having money problems any time soon. Leading the cream of the crop clubs and often not staying that long, on average 1.9 years, Rafa Benitez's salary and net worth numbers are dizzying.
Although, that wasn't the case in his beginnings, as Rafa started in 1993, working mostly in the second Spanish division. Yet, he was employed by the royal club, Real Madrid, as their B manager, for two stints. Although surely, the money he earned at Castilla and in subsequent stints at Valladolid, Osasuna, Extremadura, and Tenerife is jointly dwarfed by the sum he was earning in the Champions League.
Rafa Benitez lawsuit
While Rafa Benitez won La Liga with Valencia, twice, and also got the UEFA Cup, now the Europa League trophy, his relationship with Los Che ended on a bad note. When he joined Liverpool in 2004, Valencia was ready to sue the Spaniard as he was under a contract with them for another year. La Liga side was looking for €3,000,000 euros in compensation for the then 44-year-old.
Yet Rafa Benitez showed documents of his complaint to the Spanish FA, showing that he was owed salary and bonuses for €2,400,000 which settled the issue.
Rafa Benitez Liverpool salary
The Spaniard signed a five-year contract when he joined Liverpool, he ended up staying for six seasons. Signing a contract extension in 2009 for five extra years yet he left the club just the next summer in 2010, by mutual consent. Although, it wasn't quite like that. It's reported that the sum Liverpool would've to pay Rafa for the sacking was €16,000,000, yet backdoor negotiations made it way smaller, at €4,500,000.
With his earnings reported at €4,000,000 per year.
In the same year, after not even a full half-season, Rafa was fired from his job at Inter Milan, earning him a payout of €2,860,000. Although, unlike in the LFC case, no actual salary numbers were leaked. Yet it was stated that Rafa doubled his salary going from Mestalla to Anfield.
While the question of Rafa Benitez's salary at Chelsea is an interesting one, considering Rafa took over at the height of Roman Abramovich's era. While being just an interim manager. But the reality is that journalists covering Chelsea have failed to dig up that information at Stamford Bridge.
Rafa Benitez Napoli salary
At one point during his two-year stay in Naples, Rafa Benitez was the highest-paid manager in Italy. Earning €3,500,000 per season, he outearned the likes of Walter Mazzari who was leading Inter at the time. He was certainly additionally valuable to the then San Paolo club as he is fluent in Italian.
Rafa Benitez Real Madrid salary
Even though Real Madrid is such a massive club, arguably the biggest, and Rafa was returning to it, he signed a deal for €8,000,000 with Los Blancos, over two seasons. Meaning €4,000,000 for the season and as he was sacked quickly. It's suggested that there was no severance pay and the four million is all Rafa earned from his boyhood club.
Rafa Benitez Newcastle United salary
It's at this point where Rafa Benitez's earnings become much clearer, as it is strongly reported that the Magpies were paying him €5,000,000 per season. As he stayed on for three and a half, the math is easy. While he was getting paid quite well, Rafa was unsatisfied with the owners' investment in transfers and this is why he refused a contract extension even though he was offered a pay rise.
Rafa Benitez China salary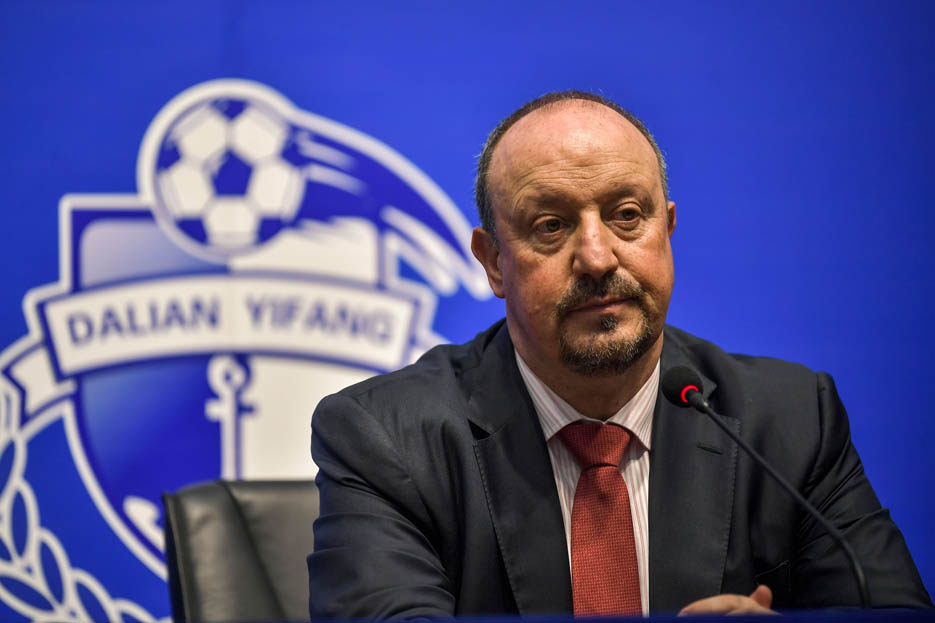 Yet, the more realistic reason for leaving NUFC is that the lucrative call of the Far East was much too alluring. In the last boom of Chinese football, Dalian Professional approached Rafa to be their manager and in the course of two half seasons the Spaniard earned a fortune. Rafa Benitez's salary in China is firmly reported at the sum of €14,000,000! So, if anything, it's surprising that he left, even with the global event that made him.
Rafa Benitez Everton salary
Considering the price his legacy paid amongst the Liverpool supporters, even the astronomically high sum of €8,000,000 per season that Rafa Benitez got for his EFC three-year contract wasn't enough. If you're a footballing romantic. If you're not, it's a great deal. Especially considering Rafa only stayed at the club for half a season and while he didn't get the full contract money, the severance alone must be enough to cover a manor like the one he lives in.
Combing all of these sums would give even an experienced accountant a problem, yet that is not the final tab of Rafa Benitez's earnings. As the versatile man ventured into other avenues, most notably the IT one. Rafa Benitez launched an app for iPad in 2012, aimed to help coaches visually depict their tactics and instructions, similar to the old-school Football Manager game animation. The app was bought out very quickly and is still running strong.
All in all, Rafa's net worth should be over €40,000,000 considering the amount of money he was getting per season, and that's a conservative estimate. After all, the Chinese adventure brought him €14,000,000 alone, and the actual sum could be nearer €50,000,000.