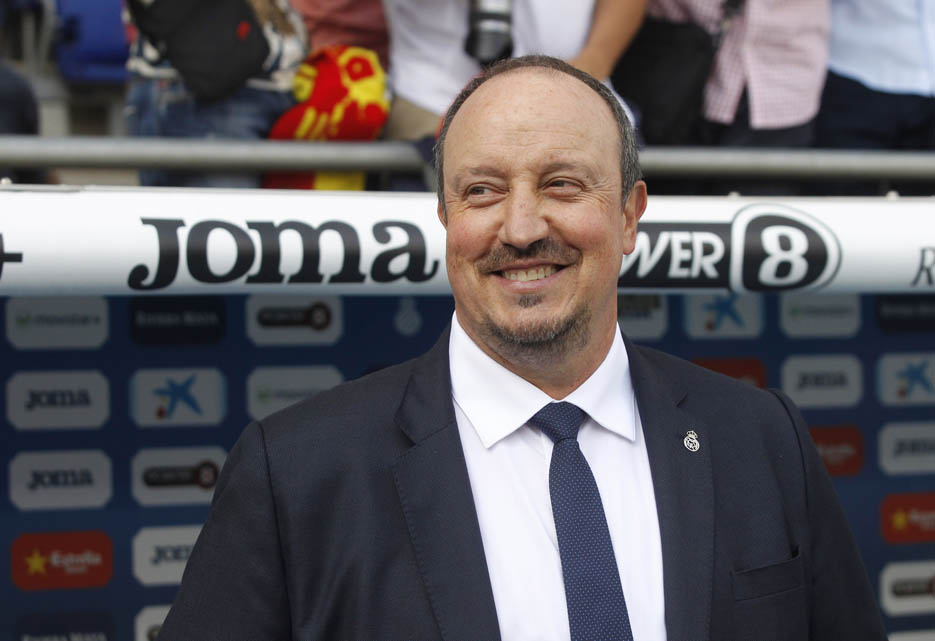 Those looking at just the last match for a player, merely the last call for the referee, only the last purchase for the sporting director, might shrug off Rafa Benitez. Just as a manager sacked promptly by a mid-table team, after returning from a money trip to China. While the undeniable truth is that Rafa Benitez is one of the most influential and important football managers of the 21st century.
Not just because he was on the winning side of the arguably best club football match ever. Although, that might be enough on its own considering how sport movie-like that night in Istanbul was.
No, it's because of the longevity, the impact, the results, the trophies, the stature of the clubs he led, the legendary players he helped establish or improve, the dizzying stats, the memorable quotes, and the legacy. Tarnished? Well, maybe. Non-existent? Impossible.
For starters, he is just one of 13 working managers in 2023 that have led a team from the dugout more than a thousand times!
How has Rafa Benitez's style of play changed
Managing in Italy, Spain, and England in the big leagues, Rafa Benitez faced the challenges of three very different football cultures.
Rafa also had quite the early start, back when that wasn't an often occurrence as it is today with whiz manager kids popping out often.
Yet, he started in Real Madrid of all clubs, as the manager of the footballing titans' B team. Spending the rest of the 1990s roaming the La Liga and Segunda with lower-reputation teams.
But the Rafa Benitez tactical analysis can begin really with his takeover of Valencia in July of 2001. While it's a common belief that the former Manchester City assistant Juan Manuel Lillo was the first to push the now famed and standard 4-2-3-1 formation, it can be freely stated that it was Rafa Benitez who popularized it.
He did inherit an incredibly strong side, a back-to-back Champions League final participant, albeit a loser. That too can be a squad killer due to the immeasurable demoralizing effect of coming so close to the ultimate goal and then failing.
Rafa Benitez's tactics in Valencia started with him playing the usual 4-4-2 but quickly establishing the 4-2-3-1 formation as his favourite.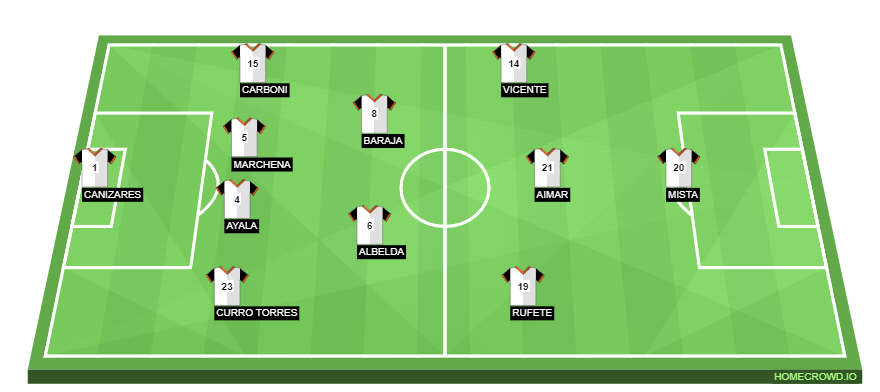 Although, Rafa Benitez is one of the few top managers that actually opened up about his style to the public by doing a public video discussing his principles. One word stands out and that is balance. That is Rafa's main concern when looking at the tactics board, achieving it when attacking and when defending.
Famously, he primarily achieves that with the double pivot, the two central midfielders, the spine that connects the attack with the defence and that provides services for them both. In those pairings of holding midfielders, one player keeps the position with a defensive focus and the other one has more of an attacking mindset and skillset. Think Mascherano and Xabi Alonso in his Liverpool side.
While Rafa Benitez Valencia's tactics utilized Ruben Baraja and David Albelda, the former as the more creative force and the latter as the stopper. This duo safeguards the two centre-backs and gives the attacking midfielder freedom of thought to focus on endangering the opponent's goal.
Rafa Benitez's favourite formation was still fluid and change depending on the team remains one of the Spaniard's key principles. As he put it, 80% of training is with the ball, and 20% is without. While on the other spectrum, the training is focusing 70% of what the team is doing always, and 30% of the time was given to each specific opponent. Looking to exploit their weaknesses or impose their own strengths.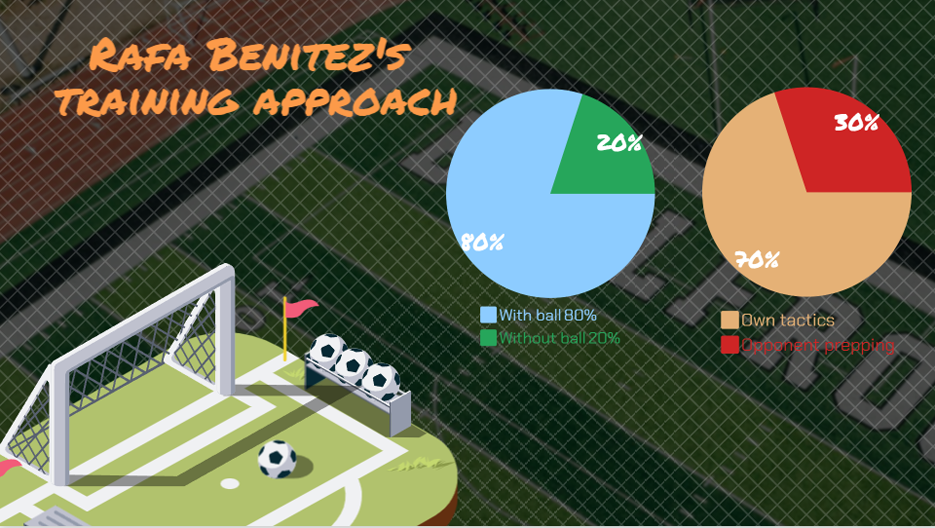 Rafa's tactical analysis of his own work included talking about avenues to do so, like overlapping the fullbacks behind the wide midfielder players.
The sides were key in defence also as Rafa trained his players to start pressing when the ball is sent from the opponent's centre-back to full-backs or wing-backs. That is the gunshot to start the race of pressing if you're a player in Rafa Benitez's squad. With the logic that the sideline is confining the space and cutting one direction of relieving the pressure.
After regaining the ball, the players are instructed to push the ball in a more direct fashion, either through the middle channels or the wide positions.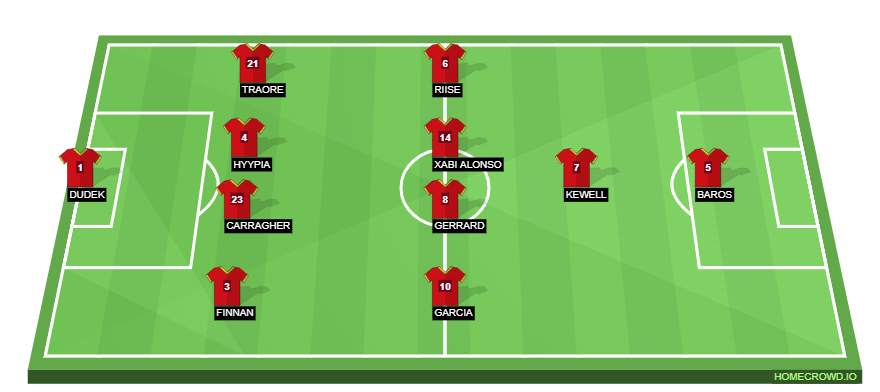 Rafa Benitez Liverpool tactics brought even more variability but that is to be expected as he did lead the Reds for the longest out all his clubs. The 4-2-3-1 flourished in the latter part of his Anfield Roud era, when the mentioned Alonso and Mascherano or Lucas Leiva were the CM duo. This, alongside other transfers, enabled Rafa Benitez to put Steven Gerrard in the position behind the striker. Oh, and the striker's name was Fernando Torres, birthing the famed partnership between the Englishman and the blonde Spaniard.
Prior to that, Rafa utilized the proper English "4-4-2" with a tall striker in Peter Crouch and a more agile forward centre like Craig Bellamy. Or challenge a winger to help the big man up front, with Dirt Kuyt, Andriy Voronin, or Harry Kewell doing the roles.
Yet, Rafa believes in not only adapting to the opponent but to the times and trends. His third most notable stint at a club in terms of games played was Newcastle United. Yet, that was not the rich Newcastle of today, it was a team on the decline, battling relegation but not avoiding it. In the Championship, Rafa Benitez often employed 4-4-1-1 tactics for the Magpies.
With the return back to the Premier League and the money that it brings, Benitez could purchase the players he needed for his preferred formation 4-2-3-1. Although the owners weren't quite known as big spenders. Newcastle played with a constant of three centre-backs in the defensive line, the two holding midfielders, which are the staple of Rafa's cuisine, and then the lonely striker up front.
The variables come on the sides of the pitch, whether the full-backs make the backline into a 5 man wall, or venture further to leave them as a trio. If the fullbacks are going forward, the side midfielders are essentially very attacking wingers, making the formation into a 3-4-3. If Newcastle is facing a tougher team, then the full-backs are back with CBs and the striker is left without the wingers. Meaning it's a 5-4-1 formation.
Rafa's tactics don't bend the players to his design, he is a very analytical manager and looks at the characteristics of the players at his disposal. If he can't play 4-2-3-1, he'll find an alternative.
In 2015, more than 20 years after embarking into his managerial career, Rafa hit a full circle. He finally got to lead Real Madrid. It was for mere 25 games yet it was one of the most important moments in the life of the Madrid-born Spaniard.
Of course, since Rafa Benitez was welcomed by Cristiano Ronaldo, Karim Benzema, and Gareth Bale up front, he did adapt to the trio itself. Starting with his 4-2-3-1 but quickly moved to the 4-3-3 that made sense to all who have ever watched the famed Real's BBC trio.
Rafa Benitez manager stats
In 2023, Rafa Benitez will turn 63, yet he has a wealth of experience than most of his older colleagues as he did have an earlier-than-usual start in the managerial game.
Leading 14 teams in 15 stints, across six league competitions, four countries, and two continents… Soon entering his fourth decade on the job. Winning UEFA Manager of the Year award in 2004 and 2005!
Rafa Benitez Real Madrid B stats
Starting in 1993 and having two consecutive stints with the B side of Los Blancos, Rafa Benitez's first job saw him get a 48% win ratio, while his subsequent second run with the B Madrid team fared much worse with a 34.2% win ratio. In the first attempt, he led the team on 27 games, and the second - 38, mostly in the Spanish second tier alongside cup games.
Rafa Benitez's early career stats
One of the best Spanish managers then proceeded to switch between several lower or mid-reputation domestic sides until the 21st century.
In 1995 he took over Valladolid and led them for 29 games, recording the worst win percentage of his career at 17.2%. That was his debut in La Liga, and at that point, it seemed highly unlikely this man will be at the crown of Europe one day.
Osasuna still bet on him in the following year, where he stayed for 11 games, winning 27.3 games in the second tier.
Rafa's fifth appointment was at Extremadura where he collected the fifth-most games for a single club - 92 from 1997 to 1999. Firstly he won the promotion to the top division, then was relegated after a play-out in the following season. All in all, a win percentage of 39.1%.
Having no problem accepting a step down in division once again, Benitez led Tenerife for a year, in 46 games getting a 50% win ratio and winning another promotion.
That was enough for the back-to-back Champions League finalists to offer the man a permanent job.
Rafa Benitez Valencia stats

Taking over Valencia in July of 2001, Rafa Benitez entered the big league. And excelled. He ended up leading Los Che for 162 games, winning 54.3%,, that is 88 of them, with 41 draws, and 33 losses.
Rafa Benitez's points per game total was 1.88 with Valencia.
We will revisit the three years he spent at Mestalla when we talk about the trophy haul of Rafa Benitez further down.
Rafa Benitez Liverpool stats

Embarking outside of his country for the first time professionally, Rafa landed in the opposite of Mediterranean Valencia - Liverpool.
He settled in his office at the then training centre of LFC, Melwood Park, on 16th June 2004. Rafa Benitez has stayed with the Anfield club for more than double the number of games than the next in-line Valencia.
Only six managers led Liverpool in more games than Rafa Benitez, one of them is Jurgen Klopp, and the number one is the ultimate legend Bill Shankly.
With 350 games in charge of the Reds, Rafa Benitez Liverpool stats show a win ratio of 55.5%, his third-best score all around. Rafa celebrated 194 victories, with 77 draws and 79 defeats to his resume.
Rafa's win ratio at Liverpool is better than all the Reds' managers before him until Kenny Dalglish's first run from 1985 to 1991. Benitez had also a more successful win ratio than the four managers that succeeded him at Anflied, including Dalglish's second sting, until Klopp came along.
Liverpool's goal ratio with Rafa in charge was well impressed with 585 goals scored and 302 conceded. A +283 difference.
His stay at Anfield ended in the summer of 2010, then he changed leagues once again.
Rafa Benitez's Inter Milan stats

Replacing Jose Mourinho after his brilliant triple with Inter, Rafa Benitez didn't hold on to his Guiseppe Meazza post for long with only 25 games played and a win ratio in the lower half of possible - 48%.
Unacceptable for the then-reigning champions of Europe. Losing seven games, drawing six, and winning just 12.
This is where we see the first hiatus in Rafa's career.
Rafa Benitez Chelsea stats

After his reputation took a hit in Italy, Rafa only returned to the Premier League and Chelsea with an interim managerial title. Yet that didn't stop him from staying at Stamford Bridge for 48 games, having a better winning record than with Liverpool at 58.3%. Starting in November of 2012 and staying on until the end of the next season, winning 28 matches, while both drawing and losing 10.
Rafa Benitez Napoli stats

With a chip on his shoulder over his success in Italy, Rafa joined Napoli as soon as he finished with the Blues. He would stay in the Italian city for three straight seasons, leading the team in 112 games, and recording a win ratio of 52.7%. Rafa's stats with Napoli come down to 59 wins, 28 draws, and 25 losses.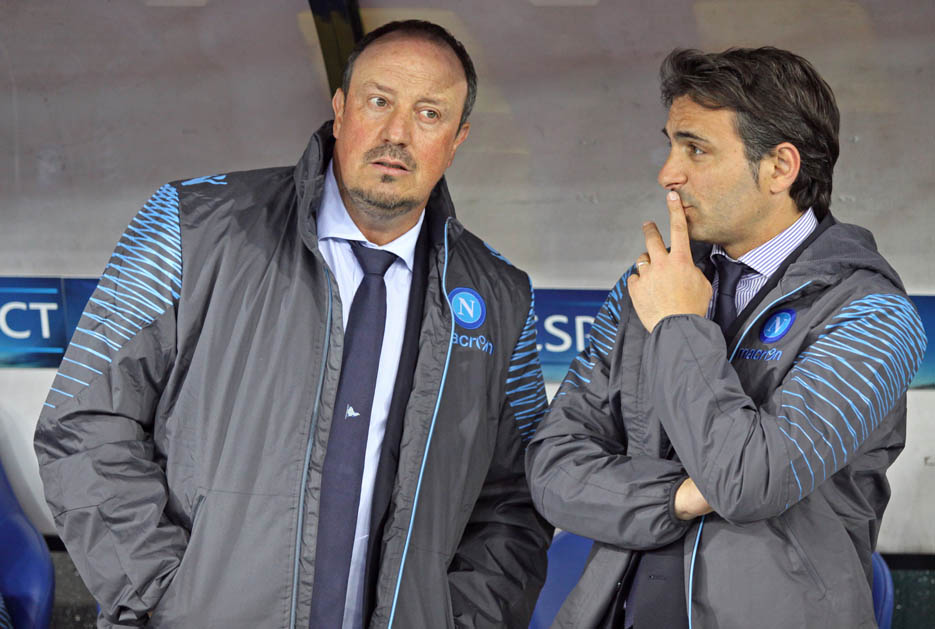 Rafa Benitez Real Madrid stats

Making it to the place where he started, but now at the top show, Rafa Benitez took Real over at the start of the 2015/2016 season. Yet he barely got into 2016 before he was sacked. Although not his first, nor his last time getting fired, the swift cleanup from Santiago Bernabeu is what tarnished Benitez's legacy the most. At least in strict footballing terms. Especially as the man who inherited his post, Zinedine Zidane, went on to win three straight Champions League titles with that squad.
That is right, with Cristiano, Benzema, Luka Modric, Bale, Toni Kroos, and other superstars, Rafa Real's stats amount to a 68% win ratio. Which is the best win ratio of his career by a considerable margin, yet not enough for the royal club of Spain.
In 25 matches, 17 wins, five draws and three losses were unacceptable for the new Galacticos. Even the team scoring 2.76 goals per match wasn't enough, as the goal ratio was 69:22 in the end.
Rafa Benitez Newcastle stats

Once again, Rafa showed that he is not above taking a huge step down in competition as he continued working just two months after parting with Real Madrid. He tried saving Newcastle from impending relegation, failed despite his best efforts, yet the club stuck by him and quickly resurfaced.
Of course, Rafa was well reimbursed for his efforts and for taking on such a risky job. Especially so quickly after his stock took a hit in the capital of Spain. Even though we're not speaking of the owners that NUFC has now. It was reported that Rafa was taking in nearly seven million euros per season at St. James' Park. If the naysayers want to dismiss the work Rafa has put in, his bank account should do the job of dispelling those criticisms as the Spanish manager had a long career of top earnings.
For three and a half seasons Rafa called the north of England his home, reaching 146 games across all competitions, winning 62 of them, drawing 31, and losing 53. For a total win percentage of 42.5%.
Although, his biggest impact was the stabilization of the club, the return to the top rank, all despite small spending by the then owners. One could argue that without Rafa Benitez at Newcastle, we wouldn't have obscene Saudi money at Newcastle.
At the end of the Newcastle stint, Rafa moved to China to lead Dalian Professional, where he stayed for a year and a half. Leading the team for 38 games, winning 12, drawing eight, and losing 18 for a win ratio of 31.6%.
Rafa Benitez Everton stats

Then, in June of 2021, the big turn no one expected. Rafa Benitez returned to Liverpool, the city, and took over his former club's biggest rivals, Everton. Yet, it seemed that Rafa taking over Everton was the worst decision of his career as he lost the favour of some LFC fans, while gaining little from it. After just 22 matches he was dispatched, having won mere seven games, drawn five, and lost 10. Win ratio nearly as bad as the one he had in China, at 31.8%.
Not to mention that he put his personal life at risk, with him getting threats from the angry Liverpool fans but also from the dejected Everton supporters who didn't forget who their rival was. Never wanting him at Goodison Park in the first place. Making the move all that more shocking, considering Rafa has a big family that is surprisingly involved in his public life as well. Even though Benitez is a manager who wasn't the most boisterous with the media.
Rafa Benitez Premier League records

Overall, Rafa damaged his total Premier League record where he has 359 matches with Liverpool, Chelsea, Newcastle, and Everton. Winning 173, drawing 86, losing 100. A triumph ratio of 48.1%, garnering 605 points total or 1.69 per match.
While watching his players score 543 goals, conceding 350. Rafa also won seven Manager of the Month in the English top flight, five with LFC, and one with Chelsea and Newcastle each.
In the total of his whole career, Rafa Benitez's stats look like this: 1,171 games managed, 572 victories, 280 draws, and 319 losses. Win ratio of 48.8% and an average time at a club of 1.91 years.
Trophies Rafa Benitez won
If the formation is something a bit intangible, statistics of Rafa Benitez's career are more solid. His trophy cabinet makes the picture all that clearer.
The very first trophy Rafa Benitez won was a major one. Looking back at it, it almost looks unreal, like an accountant's typo. Rafa Benitez won La Liga with Valencia in the 2001/2002 season! Ahead of Real and Barcelona in their heydays.
In the 2003/2004 season, Rafa Benitez won the double, the Spanish league again, complimented with the UEFA Cup, now the Europa League trophy. In that same year, Rafa won the World's Best Club Coach award.
Rafa Benitez's trophy haul at Liverpool contains three trophies, and it started with the biggest of his career. The famous Champions League final in 2005 between LFC and Milan, where the Reds were down 3:0 at half-time but miraculously won it in the end.
The following season saw the team win the UEFA Supercup, and later the FA Cup. The only other piece of silverware marking Rafa Benitez's honours at Anfield was the 2006/2007 English Supercup.
Despite being a flop in Milano, Rafa did depart with two trophies delivered. The Italian Super Cup in the 2010/2011 season, and the FIFA Club World Cup later that same campaign.
While his days with Chelsea haven't warranted a contract extension in the eyes of the board, he did deliver Stamford Bridge its second European trophy in the Abramovich era - Europa League in the 2012/2013 season.
In his second stint in Italy, he had a more valuable trophy with the Italian Cup hardware going to the then San Paolo stadium back in the 2013/2014 season. While the following year the team got the Supercup as well.
The story of Rafa Benitez's trophy cabinet is so far concluded by Newcastle's triumph in the 2016/2017 Championship.
Yet, as we stated at the start, nor is the last achievement of a sporting personality his sole defining, nor are the sheer numbers.
Rafa Benitez's managerial teachers
While Jose Mourinho might be considered the first major manager without significant experience, Andre Villas-Boas, Thomas Tuchel, and Julian Nagelsmann his successors, there is another name that maybe should be added to this list of managers without much playing experience.
To understand the person he is today, we have to look at the very beginning of Rafal's footballing voyage. Unfortunately, Rafa Benitez's playing career was cut quite short due to an injury and the Spaniard moved into management at a young age. That's why he is only 62 with a wealth of experience.
All after he started in the Real Madrid youth team, moving to his hometown club at the age of 13. But due to an injury suffered representing Spain at the Summer Universiade in 1979, Rafa's graduation to the Real Madrid Castilla team didn't happen. Instead, he moved to low-league teams for several seasons before calling it quits due to his recurring injury.
That's why you could say that Rafa's biggest managerial direct influence was the system Real Madrid had in place. Not a mentor whose name means a lot in the world of football. A man who was belittled by opposing fans as a "fat Spanish waiter" paved his own way and made it into a highway.
Rafa Benitez's managerial students
With his football manager career at the 30-year anniversary in 2023, Rafa had quite a bit of influence on the current new generation of managers.
No more apparent than the relationship between Rafa Benitez and Steven Gerrard, with the latter playing 292 games under the Spaniard. Gerrard then went on to lead Rangers in Scotland, recording quite the success by breaking the drought the Scottish giants had. His stint at Aston Villa didn't fare as planned, yet with 42 years of age, Gerrard is certainly going to be relevant in the managerial game for several more years.
His Rangers days are still holding him up with a total win ratio of 59.2%. Although it's 32.5% in 40 games for Villa and 64.8% in the much more forgiving Scottish football where he had 193 matches in charge.
Another midfielder mainstay in Rafa's team prior to LFC was Ruben Baraja, who played 134 games for Valencia under Benitez. His career mimics that of his teacher as he started in the B team of Valencia, before moving to several lower-reputation Spanish teams, including Tenerife which Rafa led as well. Now, he is trying to save the club where they worked together from relegation, as he took over Valencia in 2023. In 142 games as a manager, Baraja has a win ratio of 37.32%.
Rafa Benitez had another favourite in Xabi Alonso, who played 210 games under his compatriot at LFC. Now the manager of Bayer Leverkusen since October 2022, after leading Real Sociedad's B team. Overall, the former Spanish midfielder was in the dugout giving out orders for 120 matches, having a winning ratio of 42.5% which is actually better in Germany than it was in Spain.
"Rafa was cooler in its relationship with the player. He looked at things from a professional point of view. He drew a line between himself and the players. I would say that you needed patience with him. If you had it, you learned a lot," said Xabi Alonso of Rafa Benitez.
When we speak about Rafa Benitez's influence on younger managers, we can freely add Pablo Aimar to the list, as he played 122 games under's Rafa's guidance and was one of the assistant managers in Argentina's World Cup triumph in 2022. While also winning a youth tournament as a manager with his country.
Those are Rafa Benitez's standout proteges so far, yet as the man is still working and still leading, we can expect more of them to join this list soon.
Rafa Benitez's best signings
Even though he is adaptable, and he proved that especially with Newcastle United, Rafa was adamant that finding the player with just the right characteristics made everything all that easier. And you do that, on the transfer market.
During all his time as the head of major European clubs, Rafa signed 26 players for €10,000,000 or more.
The biggest purchase of Rafa Benitez's career was Gonzalo Higuain, who he brought to Napoli from Real in 2013 for €39,000,000. Followed closely by another striker in Fernando Torres, bought from Atletico when Rafa was at LFC.
Mateo Kovacic to Real from Inter also had a price tag of €38,000,000, while the number four spot is also held by a Los Blancos purchase Danilo from Porto for €31,500,000. Both moves happened in 2015.
The top five is completed with Robbie Keane's disappointing move to Liverpool from Tottenham for €24,000,000 in 2008. For the same sum Rafa got Miguel Almiron to NUFC from Atlanta in 2014.
Purchases that stand out in the resume of Rafa Benitez are mostly Javier Mascherano, Dirk Kuyt from Feyenoord, as well as Xabi Alonso from Real Sociedad, all reinforcing LFC.
Out of all the players Rafa Benitez purchased, In his interviews, one can sense the pride that he felt for bringing Lucas Leiva to Liverpool as a 21-year-old as he stayed at Anfield for 10 years.
Performances of forward players Rafa Benitez purchased under him
| | | | | | | | |
| --- | --- | --- | --- | --- | --- | --- | --- |
| Player | From | To | Date | Price | Appearances | Goals | Assists |
| Gonzalo Higuain | Real Madrid | Napoli | Summer of 2013 | €39,000,000 | 104 | 53 | 24 |
| Fernando Torres | Atletico Madrid | Liverpool | Summer of 2007 | €38,000,000 | 160 | 87 | 24 |
| Robbie Keane | Tottenham | Liverpool | Summer of 2008 | €24,000,000 | 28 | 7 | 5 |
| Djibril Cisse | Auxerre | Liverpool | Summer of 2004 | €20,000,000 | 79 | 24 | 5 |
| Dirk Kuyt | Feyenoord | Liverpool | Summer of 2006 | €18,000,000 | 200 | 51 | 33 |
| Ryan Babel | Ajax | Liverpool | Summer of 2007 | €17,250,000 | 129 | 20 | 17 |
| Dwight Gayle | Crystal Place | New. United | Summer of 2016 | €12,000,000 | 71 | 29 | 8 |
| Peter Crouch | Southampton | Liverpool | Summer of 2005 | €10,500,000 | 135 | 42 | 23 |
| Jose Callejon | Real Madrid | Napoli | Summer of 2013 | €9,500,000 | 111 | 32 | 18 |
| Dries Mertens | PSV | Napoli | Summer of 2013 | €9,500,000 | 98 | 23 | 24 |
One doesn't get to the level Benitez got without making a few, if not enemies, then certainly bitter rivals. Seemingly, his whole career the man who was usually very reserved and calm-tempered entered a battle of words with the managers of his opposing teams. It's what shaped his career in a significant way, after all, the sport has a duelling nature. Rafa had a big impact on the Premier League becoming so popular in his era at Liverpool with Sir Alex Ferguson, Mourinho, and Arsene Wenger having fights on and off the pitch.
Quotes on Rafa Benitez
Yet, these snidey remarks and battles on and off the pitch pale in comparison to the wave after wave of quotes painting the Spaniard as one of the greatest managers to ever do it. From former players, fellow managers, and other football employes, Rafa Benitez can be proud of the trail of quotes behind him.