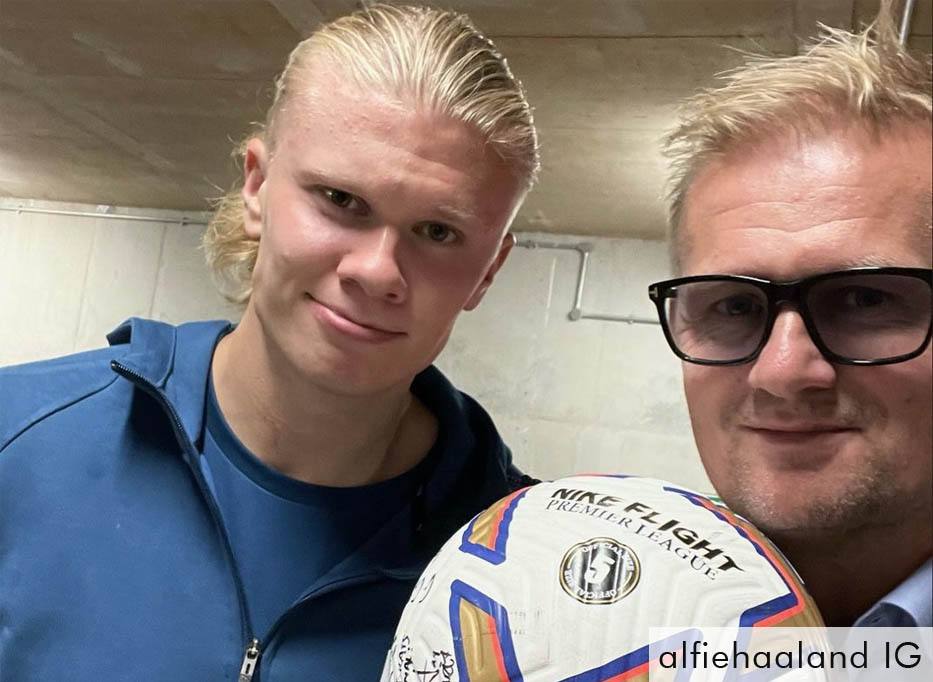 It's the greatest desire of every father - even their duty - to see their son eclipse their achievements in life. For Erling Haaland's dad, that dream has been achieved already despite his youngest being only 22 years of age. Despite Alf-Inge, as is the name of Haaland's father, being a professional player himself, with nearly 200 Premier League games behind him. Despite representing his country 34 times.
His little boy blew past him so fast that he can start a support group with Bundesliga and Premier League defenders.
Who is Alf-Inge Haaland?
Born in the little town of Stavanger back in 1972, Alf-Inge Haaland was mostly known as Alfie Haaland. He however grew up in the nearby small town of Bryne. Even though he earned a good salary as a Premier League player in the '90s and 2000s, Alfie returned his family to Bryne and that is where his son grew up as well.
Now there's no denying that Erling surpassed his father's career already, yet Alfie will hold one bragging right over his son - he went directly from their local side Bryne to England. A moment of pride certainly, as Alfie usually skipped revealing he was born in Stavanger because the two cities had a fierce rivalry and Bryne was his city, his club.
After all, Erling Haaland is a third-generation Bryne player, as his grandfather, Alf-Inge's dad, was a football coach and played some 50 games for the club as well.
While his son is a prime goal-getter striker, Alf-Inge Haaland played as a defender in his youth, and later as a defensive midfielder or a right-back. He was known for his hard-man approach to the game. So it's not surprising that his son now admittedly likes the physical play of the Premier League.
Alfie joined Bryne FK in 1979 and stayed with the club for 10 years as a youth player. In 1989 he started playing for the senior team, making his debut at 17. His move to England's top flight is even more miraculous when you consider that during his four seasons with Bryne, he always played in the second tier! For three years the team qualified for the promotions play-off but couldn't go further.
What kind of a career did Erling Haaland's dad have?
However, it wasn't that Nottingham's scouting network was so detailed that they followed even the semi-professional second league in Norway. Alfie made an impression playing for his country's U21 side against England team that had Andy Cole and Steve McManaman.
The club invited him for trials first, and after a year of waiting for the work permit, he signed for Forrest. As he was a big English football fan, he already had a favourite team but it was Arsenal, even dreaming of their armband.
If moving from Norway's second division to the newly-formed English Premier League wasn't impressive enough, because it was to Nottingham Forrest, it's worth considering the timeline. In 1993 it has been only 13 years since Forrest were the champions of Europe! Defending ones too! Those 79 appearances for NFCF shine differently considering.
Alfie played a change of games in the 1993/1994 season in the second tier, but in the following year in the Premier League the side took third place! Yet in his third full and self-reportedly best season with the club, Nottingham got relegated.
Total appearances read 90 games and seven goals. While also experiencing the World Cup in the United States during his time, debuting for his country there.
Another team that has returned to the Premier League in recent years, but was a major player back then, took Alfie - Leeds United. This is why Erling Haaland is such a big supporter of the Whites, as he was born in the city.
At Elland Road, the defining rivalry of Haaland senior's career happened. In a match against Manchester United, Alfie was in a running duel with Roy Keane who then fell to the ground inside the box. Thinking the Irishman was trying to plead for a penalty, Alfie was raving up a storm at him. Yet, Keane wasn't acting and had to be stretchered out due to an ACL injury that kept him sidelined for a year. Part I of the story.
Alf-Inge played 74 games for Leeds in the PL, 92 overall, scoring eight goals, some of which his son can be envious of, like the two against Blackburn on the same game. One long-range bolter, the other a beautiful left-foot volley after a nimble turn.
"I was an average player you can say, but some of my strengths I can see in Erling. But in all ot of things he's a lot better than me already," Alf-Inge was reported saying.
For a fee of just over €3,000,000, in the year 2000, Haaland left Leeds to seek first-team football at the blue side of Manchester. Best money City spent in the whole decade, as it did tie them in with the future generational talent that is Erling Braut Haaland.
Alf-Inge however managed to play in only 47 games for the club over three seasons, one of which was in the second division. Yet he did get to a milestone he always wanted - captaincy.
"I'm very proud to be Man City captain because they're a great club with a great tradition. We have, perhaps, the most passionate fans in the country and I can tell you all the players are desperate to do well for them. Of course, it's difficult for them when our local rivals are winning trophy after trophy, but I believe, given time, we can once again be a force in English football," said Alfie at the time, prophetically.
While the combative United player did target Alfie due to their previous battles, including off-pitch verbal ones. In April of 2001, Keane struck Alfie's right knee getting a direct red card, a three-match ban and a monetary fine. Later, in his autobiography, Roy Keane admitted to pre-emptively scheming on putting a hurting on Alfie. A childish move as he then received an additional five-game ban and a ?150,000 fine.
This tackle is considered the reason why Alfie's career has been cut short due to his knee injury. Yet his issue was with the left knee and he already had injuries to it, later operating on it. Hence, the story of Erling Haaland's dad and Roy Keane has perhaps been overblown by the media. Alfie's career has been cut quite short and he was forced to retire in 2003. Before it, his career also notes 34 games played for Norway!
Alfie's love of the game was too grand and a decade later he reactivated in the fifth tier of Norweigan football.
Erling Haaland and his father
His greatest success in football however will be spurring on his son. As even though Zlatan Ibrahimovic and Cristiano Ronaldo motivated Erling, his idol was always his dad.
"My father has been a big role model for me, I always said to myself I want to become a professional football player and that's what I said my whole life. And to try and get better than him is also a goal. I had a lot of role models but my father has maybe been the biggest one," said the young striker.
However, Alfie played his cards right, he didn't push his son. Well, at least the younger one. As the older son Astor, did suffer from the burden of expectations.
"I learned a lot from training his older brother Astor. There was a lot of attention around him, because he was my son; I don't think either me or him handled it very well. Erling was five years younger, but he wanted to play the game, and I could see the passion. So I stayed in the background, especially around the organised training – and the matches. I didn't say a word."
So while the genetic factor played a role, and Alfie continues to be his son's agent, Erling did pave a path for himself primarily. That it overlays with the road his father ventured on, is just the poetic side of football.