With two new prolific strikers in Kylian Mbappe and Erling Haaland coming into their own, it's as good a time as any to see what historic colleagues they'll be fighting in no time. To look at the best goalscorers of the 21st century and to see just how high are the standards set by those that came before them. Looking at both the goals scored for club and country by players who played in this century, even if all their goals weren't scored in it.
15. Karim Benzema - 385 goals
The Real Madrid striker has suffered on this list because of how good of a team player he was for several seasons when Cristiano Ronaldo was in the team. Benz was tasked with doing the dirty work that would enable CR7 to get goals primarily and his ratio has improved in the three last seasons since the Portuguese left Santiago Bernabeu. In his last three seasons sharing the pitch with Ronaldo, he bagged 59 goals in 131 games. Since Ronny left, Benzema scored 85 goals in 142 matches for Real.
His goal tally is also damaged by his excommunication from the French national team for off-field scandals. Benzema stopped at 27 goals for Les Bleus in the senior level, while bagging 277 goals for Real, Lyon, and the French side's second team.
14. Neymar - 391 goals
Possibly the most surprising inclusion on this list as Neymar has missed around 50% of the possible matches for Paris Saint-Germain. While he wasn't the team's primary goalscorer at Barcelona nor at PSG. He did stay longer in Brazil, where he collected 136 goals in 225 matches for Santos. But his international record helps him get on this list massively, especially as his stats were enhanced by the frequent friendlies Brazil has been playing. His 64 goals for the national team is 16% of his total tally.

Aged 29, Neymar can leapfrog quite a bit of legends in the near future, including his compatriots and become the highest-scoring Brazilian of the 21st century.
13. Rivaldo - 412 goals
The first on Neymar's list to overtake is Rivaldo, a man who started playing professionally before the current Brazil star was even born. Rivaldo has been quite the nomad, especially for a player as regarded as he was. Yet, he stayed at in top clubs for a short while when looking at how long his career was. Six seasons in La Liga with Deportivo La Coruna and Barcelona, along with two seasons at Milan in which he scored only two goals.
He was most prolific for the Catalans, getting in 129 goals, followed by the 60 scored for Palmeiras in the mid-90s, and scoring 35 goals for Brazil. But Rivaldo boosted his record by playing in the Uzbekistan league where he bagged 42 goals. The man played for as long as he could and certainly gathered his tally at the overall weakest level of all these sharpshooters.
12. Ronaldo - 414 goals
Bagging 62 goals for Brazil, Ronaldo is still THE Brazilian for most football fans, with all due respect to Ronaldinho, Kaka, or Neymar. After scoring 44 goals in mid 90s for Cruzeiro, Ronaldo moved to PSV Eindhoven where he bagged 54 goals, most in his first season. Barca got him for only one year but his best year, where he scored 47 goals in 49 matches.
Overall, for Inter, Real Madrid, Milan, and Corinthians, alongside the mentioned clubs, the R9 scored 352 goals. Combined with his international record it stands at 414 goals for the man whose career was heavily hindered by injuries. Yet, out of all these sharpshooters, he is only behind Cristiano and Messi (spoilers) in the goal per match ratio, bagging 0.67 every game on average.

11. Edinson Cavani - 416 goals
One of the most underrated players on this list especially considering he overcame the tally of one of the best strikers ever in Ronaldo. Edinson Cavani has been immense for whichever club he played, starting from his Danubio in Uruguay, to now at Manchester United where he scored 12 goals already.
Overall, for Palermo, Napoli, PSG, and the mentioned two clubs, El Matador manoeuvred to 365 goals. Alongside 51 for Uruguay, the still active and hungry 34-year-old can still get more and solidify himself as one of the very best strikers of the 21st century.
10. Thierry Henry - 417 goals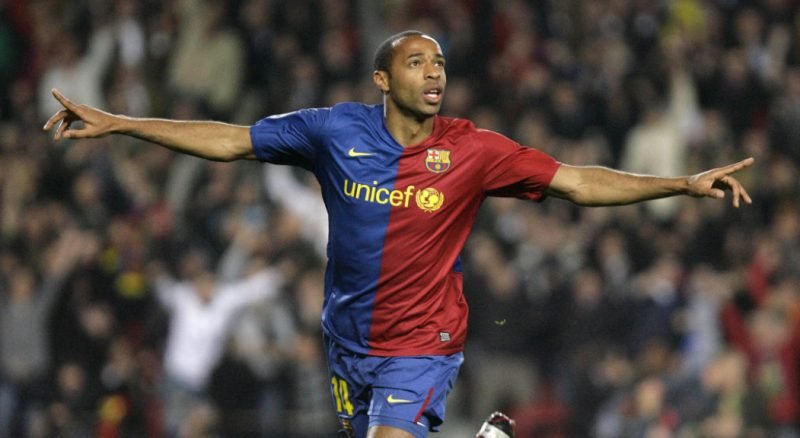 The French striker has created quite the legacy in the Premier League that it's almost surprising he isn't higher on this list. Possibly showing just how much we need to cherish the next man on the list. Henry has earned his reputation though, Having a long career helped, starting at Monaco B before quickly switching to the first team and getting 28 goals for them over five seasons. Things were abysmal at Juve where he only bagged three goals. But they improved... slightly at Arsenal with 226 goals in 370 matches over nine seasons. At Barca, he wasn't the primary goalscorer and still managed 49 finishes in 121 goals.

His record was padded by the four and a half seasons in the MLS where he did get 52 goals. Alongside with two scored in his Arsenal loan return, plus the 51 scored for France, a record for the country, the now 43-year-old manager has 417 goals.
9. Sergio Aguero - 422 goals
The Argentine wonder will leave Manchester City by the end of the season after losing his starting place due to a string of injuries. Yet, he recently reminded everyone of his unquestionable talent with a proper number nine's goal against Crystal Palace. One of the 258 he scored in the 10 seasons at Etihad.

Combined with 23 goals scored for Independiente in Argentina and 101 for Atletico Madrid, Kun has 382 goals for clubs. Alongside 41 for Argentina, the 32-year-old is ranked quite high with 422 goals total and he is ready to leapfrog more legends in the coming years, wherever he chooses to play.
8. Samuel Eto'o - 427 goals
Samuel Eto'o was an amazing, must-watch striker in his prime. Bagging 130 goals in 199 games for Barcelona, having an impressive ratio at the defensive Inter where he scored 53 goals in 102 matches. Yet, his record has been padded towards the end of his days by playing in Turkey and Qatar, where he got 60 of his total 371 clubs goals. For which he deserves the credit for the longevity shown, yet it's incomparable to the records the top men at this list boast. For Cameroon, he scored 56 goals in 118 matches and the total of 427 goals. By far the most by an African player.

7. David Villa - 440 goals
Yet another player that played for Barcelona. David Villa had an early drop in form and competition level than most players on this list with him getting a boost by playing in the MLS towards the end of his day. Alongside a few games in Australian football, and a season in Japan, Villa got 95 of his goals outside of Europe.
At Sporting Gijon, he got 55 goals in the Spanish Segunda. All the other numbers he put in were at the highest level, At Zaragoza, he bagged 39 goals for the lower-strength side before making him a continentally known name at Valencia where he scored 129 goals. At Barca, he was out more on the left-wing and got 48 goals, finishing his Spanish club career at Atletico with 15 goals in a season. Spain's all-time top scorer got 59 goals in the country's most prolific period, equalling to 440 goals scored in his career.
6. Raul - 448 goals
Another Spaniard on the list and yet another man who has finished his career, now seemingly a long time ago. Synonymous with Real Madrid even though he was Atleti's academy product, Raul did play for Schalke as well, getting in 40 goals for the German side. The bulk of his goals came for the club he is the second-best ever goalscorer, Real Madrid. A staggering number of 323 goals. Raul did venture outside of the top leagues with 25 goals scored in Qatar and the USA combined.
Yet, with 44 goals for Spain, his record is beyond criticism and this somewhat forgotten legend of the game deserves more respect and remembrance.
5. Luis Suarez - 500 goals
El Pistolero. You don't get to keep that nickname if you haven't earned it. The second Uruguayan on the list, Suarez has edged the national team partner Cavani for his country as well, getting in 63 goals for the small footballing nation.

His incredible drive to score and win has led him to 437 total club goals! Starting with 12 for Nacional, 126 he bagged in the Netherlands for Ajax and Groningen, before he became world-class at Liverpool. Scoring 82 goals in 132 games for the then-struggling side, fully blossoming at Barca where he even had a 59-goal season. Overall, he got 198 goals for the Catalans in 283 games before they shunned him to Atleti where he bagged 19 goals already. Making for a round entrance into the 500 goal club.
4. Robert Lewandowski - 544 goals
The best player in the world in the last two seasons has been peaking late in his career aged 33 now, but he has been putting in stellar numbers for years now. His record for the often lukewarm Poland speaks volumes, as he bagged 66 goals in a team that has no player close to his level.
At the club side, he did have world-class teammates. Not at the start, for Delta Warszawa, Legia Warsaw II, Znicz Pruszkow, or Lech Poznan. For whom he scored 87 goals total. At Borussia Dortmund, where he broke through on the global stage, he scored 103 goals in 187 games. Bayern Munich added the most wood to the furnace that is his goalscoring as the Pole bagged 289 goals in 326 games. Overall, the 33-year-old seems the closest to the two of the best ever, even though he is fourth on the list but that third place is seemingly his in a year's time.
3. Zlatan Ibrahimovic - 564 goals
Boasting 20 goals more than Lewandowski, Zlatan Ibrahimovic does benefit from playing in the MLS for two seasons, where he bagged 53 goals toying with the American league. Although he had a faster start, only 18 goals have come before he joined Ajax and scored 48 for the Dutch team. With the stats he put in for Juventus, Inter, Barcelona, Milan, PSG, Manchester United, and Milan again, Ibra has 502 club career goals alone. The only one who is in the 500 club based on club games alone next to Leo and Cristiano.
Ibra scored 62 goals for Sweden and he is now returning to the national team aged 39 to improve on that record as well and change the view on veterans in football even more.
2. Lionel Messi - 752 goals
Not in any form suprrsing, Leo Messi has scored the second most goals out of all the players in the modern era, that have played in the 21st century. Playing for only one club his whole career at that, at least for now. Barcelona fans were gifted 670 times, plus some reserves goals, while Argentinians saw Messi score for the national team 71 times. Accounting to 752 goals for the 33-year-old who hasn't slowed down as much as he has been playing in weaker teams.
With Barca reportedly offering him a long-term contract, it seems that he will continue to play on for several seasons at the very least, with a move to the MLS possibly on the cards in the future as well.
1. Cristiano Ronaldo - 775 goals
Leading the pack on the most important metric, CR7 has 23 goals more than the eternal rival of his. Although Messi has overtaken him on club goals alone, with Cristiano getting in 672 and Messi at 681, that includes the 11 of the goals scored for Barca C and B. On first team goals, it's 672:670 for the two-year-older man.
Ronaldo has been more of a nomad in his career, representing Sporting Lisbon, Manchester United, Real Madrid, and now Juventus for whom he is closing to a 100th goal. The Serie A top scorer is still hungry for goals and success, although his future is a bit in mist due to disappointing Juventus results.