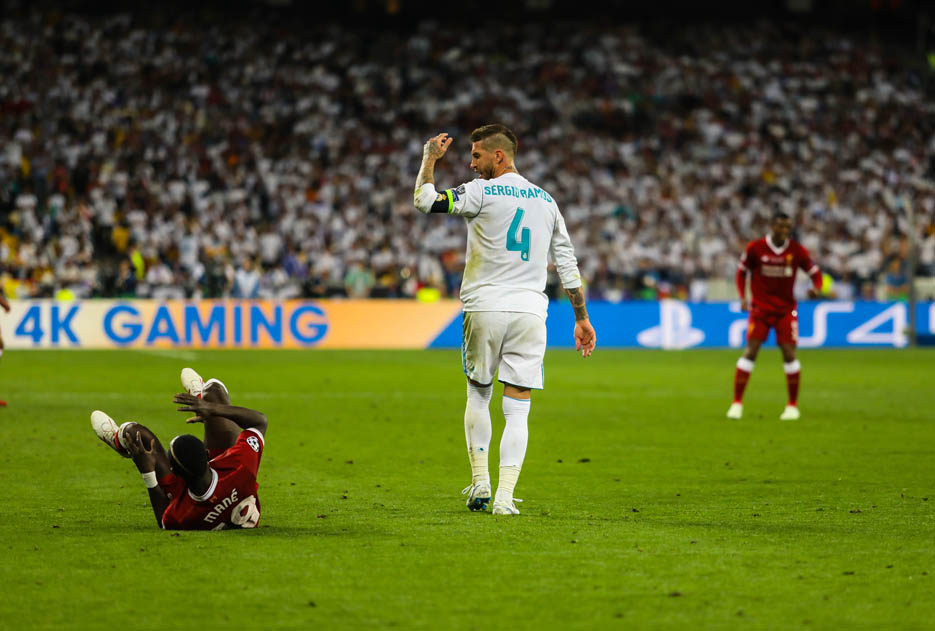 Looking at Sergio Ramos's career, two stat lines stand out. Sure, legendary players like himself are expected to have a trophy haul at least close to his. But his goalscoring tally as a defender is something else, making him stand out amongst equal greats. Yet, his disciplinary record surpasses the expectations and the norm as well. Simply, Sergio Ramos has earned more red cards than anyone on the world-class level.
The man from the region known for bullfighting often saw red. Both behind his eyes due to his burning desire to win, and then reflected in them held by the referee in a rectangle shape.
Sergio Ramos was sent off in 28 of the 765 matches he played, meaning that he went for an early, angry shower in 3.6% of the total club games he played!
Perhaps even more stunningly, Sergio Ramos was never marched off the pitch by the referee in the international games he played. All 180 of them. Yet Sergio did earn 24 yellow cards while playing for the Red Fury, which is also a record in itself.
Sergio Ramos' red cards total tally
The now 37-year-old didn't earn a red card once playing for Sevilla, yet in his first season with Real Madrid was shown four of them, one direct and three cumulative.
Since that start, there have only been two seasons in which he hasn't received a red card, the 2014/2015 one and the last with Real. While it's worth noting that in the farewell one he also mostly sat through in the medical room.
Sergio Ramos also never got above the number of three red cards per season, replicating it in 2007/2008, 2010/2011, and 2013/2014 runs with Real. There have been five more seasons in which he got two red cards total.
In both campaigns with Paris Saint-Germain, the older Sergio Ramos, while competing usually against severe underdogs, still managed to get red cards.
While the number of nine direct red cards might not seem as much, it's supplemented heavily with 19 red cards received for making two yellow card-worthy fouls in a game.
More so, it sticks out as a monument to combativeness that make the sport all that much more interesting when compared to other world-class centre-backs of the same eras.
Not even Ramos' longtime partner in defence, the man who was seriously feared by opponents, Pepe, didn't come close to these numbers. Overall, the veteran got only 13 red cards.


Disciplinary record of top defenders
| | | | |
| --- | --- | --- | --- |
| Name | Yellow cards | Second yellow red cards | Direct red cards |
| Sergio Ramos | 248 | 19 | 9 |
| Carles Puyol | 128 | 2 | 2 |
| John Terry | 107 | 3 | 5 |
| Nemanja Vidic | 88 | 5 | 5 |
| Rio Ferndinand | 52 | 2 | / |
| Gerard Pique | 165 | 6 | 6 |
| Pepe | 183 | 6 | 7 |
Of the players on this table, only Pepe and Gerard Pique weren't 100 yellow cards or closer to Ramos' tally of 248 yellows!
Unsurprisingly when considering that in the top five European leagues, there has been only one player with more fouls committed since the 2006/2007 league - Raul Garcia. Garcia made 986 fouls, while Ramos had 797 as of March 2023. The former Atletico man mostly made "professional" fouls to break down counterattacks, receiving only eight red cards total.
Sergio Ramos's red cards per managers
Who would be surprised by the fact that Sergio Ramos got the most red cards playing under Jose Mourinho? No one.
While he did get the same number of marching orders, six, while representing Zinedine Zidane, it has to be said that Zizu led Ramos on nearly 40 games more.
Yet the biggest games per red card ratio goes to Bernd Schuster, the man Ramos was nicknamed after in his childhood. Maybe fired up by playing for the man he looked up to in his childhood, Ramos got four red cards in 63 matches.


Sergio Ramos red cards per manager
| | | | | |
| --- | --- | --- | --- | --- |
| Manager | Games under | Second yellow red cards | Direct red cards | Games per red card |
| Zinedine Zidane | 174 | 4 | 2 | 29 |
| Jose Mourinho | 137 | 5 | 1 | 22.8 |
| Bernd Schuster | 63 | 3 | 1 | 15.7 |
| Carlo Ancelotti | 93 | 1 | 2 | 31 |
While some fans might rejoice with the player who has the fire inside him to battle for the club so much he gets in front of the referee once in a while, it's worth noting how many games Sergio Ramos missed because of them.
While it might seem like much, only in France Sergio got more than one match suspension due to direct red cards.
All in all, Sergio Ramos' red card total amounts to a sending-off every 2,356 minutes on the pitch, or a red card every 26 matches!
Yet the stats for how many opponents were sent off or had a terrible game because Sergio played sneaky mind tricks and pushed them to the limit physically with them aren't available. Even when he paid the price for them, those were crucial to his teams' successes.