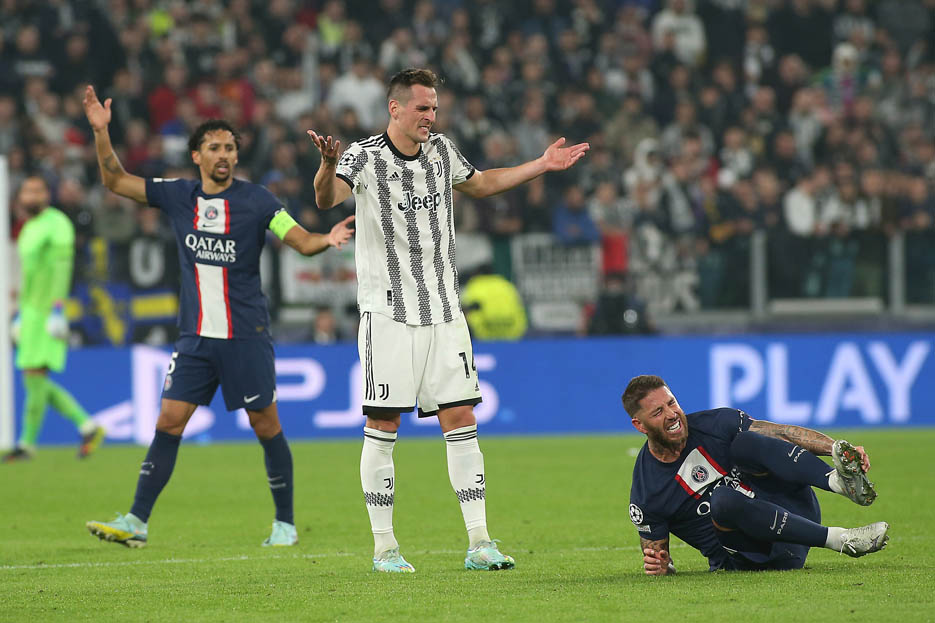 You don't come to 945 career games for clubs and country without being a top athlete with an amazing predisposition for physical endeavours. Yet even the best machines break down sometimes. Sergio Ramos' injuries weren't a major topic for his career until he had more than 17 seasons played!
Yet the narrative now is that Sergio Ramos is an injury-prone player and always was. Even though he did play nearly 1,000 games at the age of 37.
Sergio Ramos' injury history
The actual first major injury of Sergio Ramos' career came in the 2012/2013 season when he was at Santiago Bernabeu for eight seasons. A hamstring injury kept him sidelined for six matches. Before that, Ramos only missed three games at a time, and a total of seven matches due to injuries. While red card and yellow card suspensions tell a different story.
In the 2014/2015 season, Ramos missed nine games total due to injuries, two matches due to a thigh issue, and seven in a row because of a torn muscle bundle. He still got to perform in 42 matches across the run.
The following 2015/2016 season saw Sergio suffer an unusual problem for footballers as a shoulder injury was pestering him for the first part of the campaign. He had six injuries total, hurting his back, foot, and recuperating from general knocks. Although on two occasions fortune favoured him and there weren't any games scheduled.
Sergio Ramos had problems with his knee for the first time in the 2016/2017 campaign, missing eight games or 41 days of action due to it. He had muscular issues and back problems.
Sometimes injuries mark the season even if they are not serious. Like in the 2017 when we got to enjoy masked Sergio Ramos fulfilling his villain arc, due to the nasal bone fracture. The same campaign was marked by calf problems for the Andalusian.
A single hamstring injury had Sergio miss seven games in the 2018/2019 season.
It's the 2020/2021 campaign that had eight different reasons for Sergio to visit the clinic of Real Madrid. Starting with small knee problems, then muscle fiber tears. When it rains it pours and the Spaniard even missed a game because of gastric problems. A torn meniscus marked the calendar year with 54 days out and 10 games missed. All in all, Sergio missed 30 games that season alone!
A move to Paris Saint-Germain ensued and the centre-back couldn't start it off properly wtih the longest hiatus of his career coming due to a calf injury - 119 days! Or 19 games missed. After a brief return and an equally short break due to a different issue, Sergio spent another 63 days of the 2021/2022 campaign, or 10 games, out due to a calf injury.
In total, Sergio missed 96 games for Real Madrid and another 33 games for PSG. Alongside 12 games where he couldn't represent Spain despite his undeniable desire, Sergio Ramos missed 141 games.
Sergio Ramos' biggest injury
Yet the most significant injury Sergio Ramos suffered happened when he was an unknown teenager playing for Sevilla. Despite the prohibition to ride motorcycles or scooters, both by his club and his father, Sergio was in a terrible accident that ruined his knee.
He wasn't the one driving, rather his brother-in-law, yet the consequences could've been fatal for his career. As Sergio ended up missing an entire year of football at the age of 14, not being able to walk properly as well. His leg couldn't fully extend and the teenager suffered immense pain, with his brother later saying that the family thought Sergio's dream will crash down.
However the desire to play football was far too greater and he would do his band rehabilitation work in the living room, with tears flowing down his face. It's that display of commitment from a 14-year-old that bewildered even his closest so what came in the future didn't surprise them that much.