Cristiano Ronaldo scored three goals and made one assist at the Euros in two games, aged 36. Leo Messi got an assist and a goal in his two games at the Copa America. They were both their leagues' best scorers despite being born in 1984 and 1987, respectively. All the prophesied successors of the two of the best that ever did it came a long way short due to inconsistency. Injuries or otherwise, the most boasted 29-year-old Neymar and 30-year-old Eden Hazard can't hold a candle to the two.
Others are even farther away and to illustrate it, its enough to look at the players with most seasons in which they scored 25 goals or more in this century over the top five leagues
Diego Forlan, Ruud van Nistelrooy, Wayne Rooney, Antonio Di Natala, Robin van Persie, Ciro Immobile, Gonzalo Higauin, Edin Dzeko, Mario Gomez, Pierre-Emerick Aubameyang, and David Villa all had just two seasons in which they managed 25 league goals in top five leagues. Sergio Aguero managed just one!
Samuel Eto'o - three seasons with 25+ league goals, all for Barcelona
Cameroonian Samuel Eto'o started his European adventure with Real Madrid famously, yet he recorded all of his 25+ goals per season playing for their biggest rivals Barcelona. Mallorca was just warming up period and the forward spent five seasons at Nou Camp, yet only three of those saw him play full campaigns. On two occasions he recorded only 19 and 18 La Liga appearances. In other campaigns when he played nearly full calendars, he got his 25+ goals.
In his first season in Barca, the 2004/2005 one, he got 25 in 37 games, improving his tally by one goal the next year in 34 matches. His last season in Catalonia was his best with 30 goals in 36 games yet he was traded for Zlatan Ibrahimovic and got near only once at Inter, in the 2010/2011 season when he scored 21 in 35.
Thierry Henry, three seasons with 25+ league goals, all for Arsenal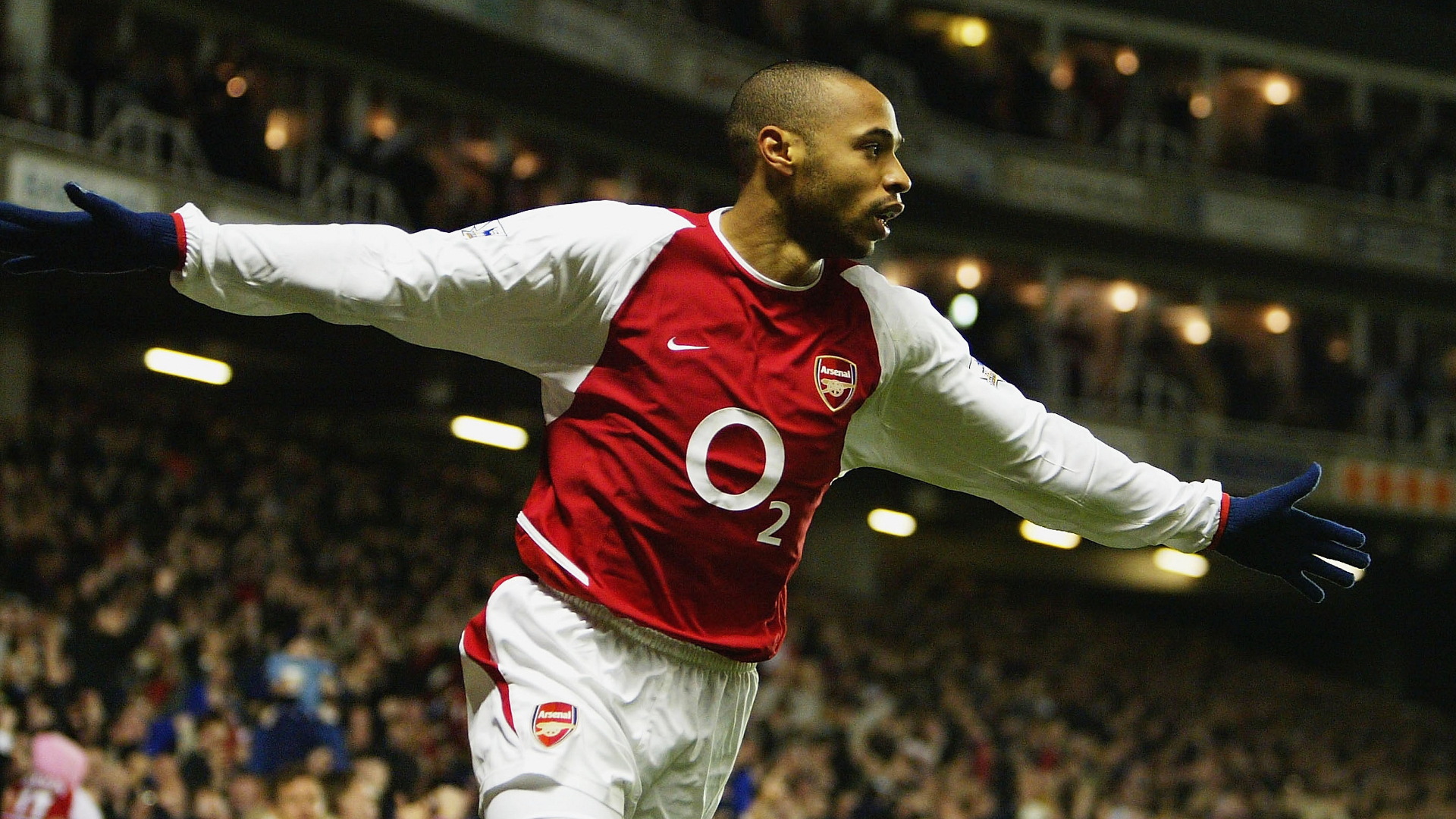 The Premier League's legendary striker, Thierry Henry scored 25 goals or more three times and got agonizingly close on two more occasions. The French international got 24 in 2001/2002 and the following season. He finally broke the lock in the campaign after these two, when he bagged 30 goals in 37 matches in the Premiership.
He made a streak of three seasons with 25 goals scored in the 2004/2005 season across 32 games, while the same number of matches saw him get 27 goals. At Barcelona, the closest he got to was 19 in his second year with the Catalan club, when he played 29 matches.
Harry Kane, three seasons with 25+ league goals, all for Tottenham Hotspur
The man who has the best chance to climb up these rankings for players who scored 25 or more goals in multiple seasons. Also, another representative of a north London club. Harry Kane managed to get three seasons. Kane earned the fortune to play fairly consistently, and his first 25-goal season came a year after he recorded his first full one. Even then he wasn't far away from the mark, getting 21 goals in 34 matches.
Since the first, 2015/2016 season, in which he scored 25 goals playing all the possible matches, Kane recorded two more seasons with 25 or more goals in succession. In 30 games of the following campaign he scored 29 goals, and the next year he had wildly impressive 30 Premier League goals in 37 games. He suffered a dip in the two years before this just finished seasons, injuries and team form hindered him, yet he bounced back with 23 finishes this time around.
Luis Suarez, four seasons with 25+ league goals, one for Liverpool, three for Barcelona
The only man who won the European Golden Boot while the two giants at the top of this list - and most other - were in their prime. Yet even he "only" got to four seasons in which he scored 25 or more. Luis Suarez is the first player on this list of top scorers with 25 or more league goals that did it for two teams.
He started with Liverpool in his last season with the Anfield club, getting 31 in 33 throughout the 2013/2014 campaign. His first season with Barcelona was shortened by the ban for biting Giorgio Chiellini, yet the following three got 40, 29, and 25 goals in 35, 35, and 33 games.
Edinson Cavani, four seasons with 25+ league goals, two for Napoli, two for PSG
Second Uruguayan on the list and possibly the least appreciated striker on this list. El Matador earned his nickname in Italy and after solid years in Palermo, he lit Napoli ablaze with his debutant season in which he scored 26 Serie A goals in 35 games. The next year fell two goals short of the mark while the last underneath Mount Vesuvius had 29 goals in 34 games.
During his much longer stint with Paris Saint-Germain, Cavani got also two seasons with 25 goals or more. The first one in the 2016/2017 campaign when he had staggering 35 goals in 36 games, the second in the following year when he had 28 in 32. In all the other five seasons at PSG he never crossed the 20 mark yet his is still the Saints top scorer of all time, although his duty was mostly to serve other strikers, including the next man on the list.

Zlatan Ibrahimovic, five seasons with 25+ league goals, one for Inter, one for Milan, three for PSG
Getting 25 goals or more in a season for both Inter and Milan, Zlatan Ibrahimovic had quite the nomadic career for a world-class player. That didn't stop him from making his mark. His first year in which he scored 25 goals was the last one with Nerazzurri, getting 25 in 35. The way in which he did it is evident by Eto'o, who scored more, going the other way plus money.

Ibra then scored 28 in 32 for Milan, earning the club its last title back in the 2011/2012 season. Moving to PSG the immediate summer, Ibra started off right away scoring 30 in 34 games, followed by 26 in 33. A year when he battled injuries was accompanied by his last when he got 38 goals in 31 games.

Robert Lewandowski, five seasons with 25+ league goals, all for Bayern Munich
A man who is in a league of his own, as he managed five seasons in which he scored 25 or more goals while playing 34 matchdays max. Robert Lewandowski got close once while at Borussia Dortmund in 2012/2013 when he bagged 24 goals. Yet he showed his true sharpshooter skills at the Allianz Arena.

His first year was a warm up, an adjustment period in which he got 17. The two following years saw 30 each, one in 32 the second in 33 Bundesliga games. The 2017/2018 season saw him get 29 in 30 matches, and the year before this one he got 34 in 31. Yet, he showed he is as win and bagged the German league record of 41 goals in just 29 games this season. He might have two or more 25+ goals season in him, and as great as that is, it's still far away from the leveled giants on this list.
Cristiano Ronaldo, 12 seasons with 25+ league goals, one for Manchester United, nine for Real Madrid, two for Juventus
The man who is chasing records across Europe has done a decent way already. The 36-year-old Cristiano Ronaldo is the only man who scored 25 or more in three countries out of the top five leagues. Starting with Manchester United in his 2007/2008 season when he bagged 31 in 34 games. At Real, he never missed a single season, nine out of nine.
The first came in 29 games when he scored 26, followed by 40 in 34, 46 goals in 38 games, 34 in 34, then 31 in 30, the personal-best 48 in 35 during the 2014/2015 season, continuing with 35 in 36, 25 in 29, and 26 in 27 the last 2017/2018 season at Bernabeu. His first season at Juve saw him score only 21 under Max Allegri - one of the reasons he is likely leaving Turin -while he got 31 in 33 under Maurizio Sarri, and 29 in 33 for Andrea Pirlo's struggling side.
Lionel Messi, 12 seasons with 25+ league goals, all for Barcelona
Level with Cristiano Ronaldo who has the upper hand as the man who did it across Europe, Leo Messi has the record of most league goals ever, getting 50 finishes in 37 matches across the 2011/2012 season. His first 25+ goals season was 2009/2010 one, when the Argentinian netted 34 times in 35. The following year he got 31 in 33.
Following his big 50, he got a bit lower - 46 in 32. Messi got 28 in 31 the following campaign before bouncing back to the forties with 43 in 38. The Argentinian wizard then got, in order, 26 in 33, 37 in 34, 34 in 36. His lowest tally since the 2008/2009 season happened last year when he got 25 goals in 33 games, although the 33-year-old got 30 in 35 this season around.

When looked at seasons with 30+ league goals, Ronaldo and Messi are also equalled with eight each. Messi has five seasons in which he scored 35 goals and Ronaldo four. They both have two years in which they got 45 or more, and Messi is the only one who touched the 50 barrier. Legends. Two of the greatest that did it. Everything else is nostalgia.