The fourth month of tipster competition has finished and another 120EUR in prizes has been shared among the best tipsters. The competition was not as exciting and nail-biting as the previous 3 months. First 3 places are occupied by tipsters with the most betting tips this month and they showed consistency and maybe even the most desire to win this month.
Our silver and gold tipsters were not among the best ones this month, not all of them are yet fully active since some leagues have not yet started. Even so, it was nice to see some fresh faces stepping up in this situation and showing their quality.
It will be also interesting to see how they perform when our top tipsters are in full action in February. Should be an exciting month!
InsideSport is working hard to evaluate the value that each tipster brings and we shall continue in the same direction in February.
By the end of season Betting Tips will be established as a go-to place for the best betting tips at one glance. That is our mission!
January results and prizes
List of the competition winners in January and their results.
1. Dario +6.19 from 21 games with 29% ROI
2. Nestor +3.88 from 23 games with 17% ROI
3. Mrgol +3.73 from 25 games with 15% ROI
After finishing third last month, Dario has excelled and pushed even harder in January. It was a rollercoaster starting with 7 wins mostly in Spanish Cup that was followed by 5 straight losses. Our Spanish expert showed composure and mental strength after this as he responded with 6 wins at the end of the month. He is the winner and gets credited with 5000 points (50 EUR).
Nestor is a newcomer on our platform, but one that we were really seeking. He was able to produce very good value bets from South America the whole month. In the process, he was destroying closing odds so we can expect to see him on the podium again in the following months. Nestor comes in second place and his account is credited with 3500 points (35 EUR).
After winning second place a previous month, Mrgol has shown consistency and comes in third place. This general tipster has been firing across many leagues and producing a big number of tips. Something that is quite usual for him, as everyone in betting circles would know. Consistency is the key and after 60 tips Mrgol is looking very good with 16% yield. Mrgol comes in third place and his account is credited with 1500 points (15 EUR)


Winner of our editorial choice this month is Haniserkan and his account is credited with 2000 points (20 EUR). This Turkish expert was much more active this month and it is already showing. We knew he has enormous potential so we are glad that he is delivering more tips and we hope this continues. In fact, he did finish second with +4.17 units from 9 tips. But our rules clearly state that tipsters must have a minimum of 10 tips in order to qualify for tipster competition prizes. We hope to see much more of him in February.

New features
Withdrawal options
We have added more ways for users to withdraw their earned points and incorporated cryptocurrencies as well.
Withdrawals can be done in the following methods:
-Revolut
-Skrill
-PayPal
-Neteller
-BitCoin
-Ethereum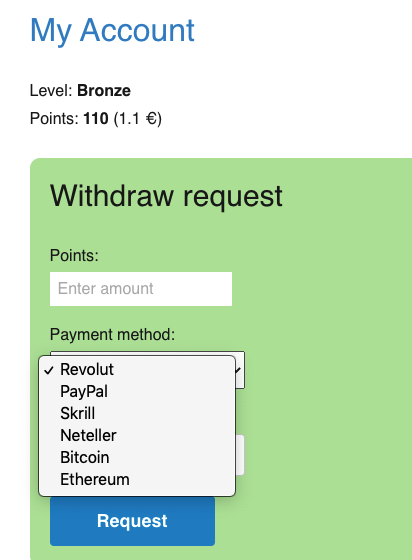 Changes in Betting Tips feed
In order to keep the betting tips feed clean and user friendly, we have worked in creating 3 sub pages with 3 filters. First one, featured, consists of all featured tipsters (Bronze, Silver and Gold).
The second filter is Silver and Gold tipsters tips only. All other tips are in Non Featured filter.
This should create for much better and faster navigation of users through the best tips. With this, the general feed becomes less 'spammy' and concentration is more focussed.
Separated stats for Silver and Gold tipsters
Our best tipsters now have a separate table as well where users can more clearly see the value that our best group is bringing.
During the first 4 months, our best tipsters have shown amazing consistency, values and profit. After 173 tips in first 4 months we are in profit of +44.27 units with 26% yield.
What makes this even better is the fact that all Betting Tips are free!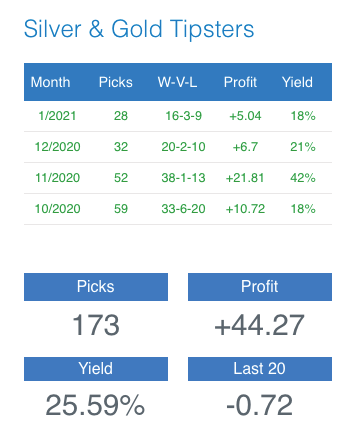 Fantastic results and all of us will strive to keep the figures as representative as they are. If a user was following these tips with 200€ flat stake they would profit 8.800€. Not bad!
All tips archive can be seen by simply clicking on any of the months in the table. We are working further in the verification of all tips by Silver and Gold tipsters through a couple of verification services. This will bring the much needed full transparency that can not be tackled by anyone.
Tipsters performances, money rewards and creating professional tipsters
So far our tipsters have earned 1.147€.
Unfortunately, there are no new silver and gold members this month. We will remain with 1 gold tipster and 3 silver tipsters this during February. But we must state that we have a very good pool of high performers and are on the shortlist for promotion in March.
Those tipsters are Dario, Nestor, Mrgol and Haniserkan. We hope 1-2 will keep performance levels high enough to be promoted by the end of February. Also, exclusivity to InsideSport and posting tips only on our platform is a must for all Silver and Gold members.
Let's recap the payments structure and earnings:
Golden tipsters are on 50EUR fixed income per month, while all Silver members are on 20EUR per month fixed salary. Raise of 10% per month for all Silver and Gold tipsters also applies. You can read more about rules here.
A short recap of points per levels based on activity:
Bronze: 2 pts for comment, 10 pts for match analysis. No fixed income.
Silver: 3 pts for comment, 25 pts for match analysis. + 2000pts (20EUR) monthly fixed.
Gold: 4 pts for comment, 40 pts for match analysis. + 5000 (50EUR) monthly fixed.
The goal of all awards that we give out to tipsters is to attract the best tipsters out there and reward ones that are top performers. The path for a tipster on InsideSport can be longer but the main goal for all tipsters should be that fixed position which we shall be award to long-serving Gold tipsters.
Fixed salary for those positions will be 500-1500 EUR per month + bonuses. Bonuses will be awarded based on leagues and overall performance, that can be from 30 to 500 EUR per unit of profit for exceptional performances.
Some tipsters have already started in December with a plan where they are on profit per unit plan. Combined with fixed salaries and prize money this can be quite a sum. And the best part is that this sum will keep on growing for the best tipsters. So if you want to be a professional tipster, InsideSport is offering you the platform, finances and exposure. You can start by registering and posting your first tip.
Path to becoming a Gold tipster with a contract is neither easy nor fast. It was precisely designed this way to filter the best out of best. This means tipsters that can act like professionals and can remain that over a long period of time. Consistency is the key here.
Our job is to create industry-leading professionals and the first one will be the one that reaches a contract with InsideSport. We have room for 10 professionals. Since there is a rather small number of tipsters that can be profitable in the long run (statistic claim that only 5% of people are in profit over a long time), we are aware that this will be a lengthy process.
Having a set of 10 professionals that are with paid contracts, shaping them, educating them and directing them. All of this is a slow process and we are realistic. This process can take a couple of years. Still, we would be very happy if by end of 2021. we would have at least 2 signed professional on our team.
Changes to tipsters
We have stated many times before that we are constantly working on filtering and evaluating tipsters. No performance gets unnoticed by our team.
What we take into account is consistency, the value of bets, quality of written preview, beating the closing odds and profitability.
This month 2 tipsters will be moved from featured to non-featured tipsters: Nemanja and Germanos.
Further, one tipster has earned a promotion to a featured tipster from non featured list, and that is Bullet.
A reminder that you can follow any of the tipsters by clicking 'Follow' on their profiles. Once this is done, you will receive an email notification whenever followed tipsters post new betting tips.
As mentioned earlier, there are no changes in Silver nad Gold tipster, but we are looking to see our team of best tipsters grow in March.
Should you know anyone that could be a good addition to our tipsters please advise them to join our Betting Tips platform.
Please read all the changes we want to do in 2021. and how we plan to achieve them in this article:
InsideSport in 2021.
We wish you all a great February!


One disclaimer: there has been an issue with third party solutions and some emails sent to our addresses were bounced. Specifically, there was a problem with a very know anti-spam service Spamcop which did not renew their SSL certificates and this has influenced many companies, such as us. We apologise for any inconvenience that this might cause or miss mails, however, it was not on our end.
We hope that in the next 1-2 days our mails (support@insidesport.com and admin@insidesport.com) will be back to 100% functionality. In the meantime, you can reach us at Gmail: insidesport.info@gmail.com