BetInAsia is a sports trading platform which enables users to place bets across a couple of bookmakers. As with all trading platforms, the main advantage lies in the fact that the bettors have a wide range of bookmakers that do not limit winners as soft bookmakers do. The second advantage is that BetInAsia is tailored for users that want bigger limits. You can place bigger stakes by combining different bookmakers at the same time with just one click. 
That is why trading platforms are used by professional and semi-professional players, but also by players that play with lower stakes but are constant winners. So if you are successful in betting and want to place big bets without risking being limited or suspended then trading platforms are where you want to take your action. Ok, now let's see what does BetInAsia offer.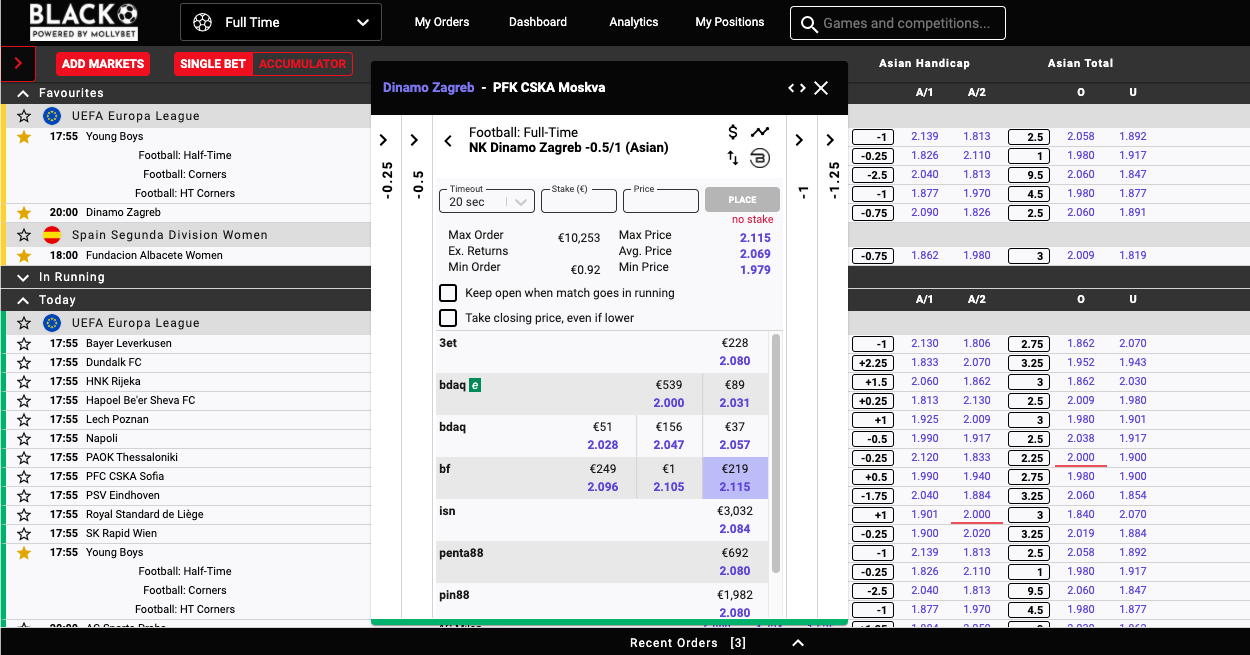 BetInAsia platform, license and operations
BetInAsia uses MollyBet software which is renowned and respected as one of the industries leaders in providing services for Sports Trading Platforms. Gambling licensing is acquired via Curacao with a number365/JAZ, SUB-LICENSE GLH-OCCHKTW0710132018 and the company is located on Cyprus, pretty regular setup of many similar operations.
This does not bring as much as confidence as we would like them to, but it has been communicated that they will be acquiring more reputable gambling license, most likely the one under Malta organization (MGA). 
Payment processing is done by MoneyMatrix and this brings confidence since it is a reputable payments processing company based on Malta. This means all payments are done with high-security checks (KYC) and payments are done in a secure and fast way. At least, that was our experience while using the platform. 
BetInAsia registration, KYC and products
Registration is pretty straightforward and easy. With KYC we were impressed since they take it pretty seriously and are extremely thorough. This can sometimes be frustrating for a customer that wants to take betting action immediately, but it should serve as a comfort knowing BetInAsia team takes these matters pretty serious. Such behaviour is always a sign of a properly run company where your funds are safe.
You will not be able to register if you are a resident of one of the following countries:  USA, Sweden, UK, Turkey, France, and Singapore. These residents are restricted form singing up on BetInAsia.
In BetInAsia they offer a couple of products: BLACK platform, Orbit Exchange (white label of Betfair), PS3838 (Pinnacle account) and a couple of more. We are going to mostly focus on their BLACK platform which is their flagship product and the one with the most value to users. 
When a user opens an account he operates with a central wallet to which all deposits are made. After a successful deposit has been made, the user can allocate funds from the central wallet to any of the products under the BetInAsia umbrella.  Before using any of the products contact the support in order for them to set up the accounts on desired products. This process does not take too long, a couple of minutes.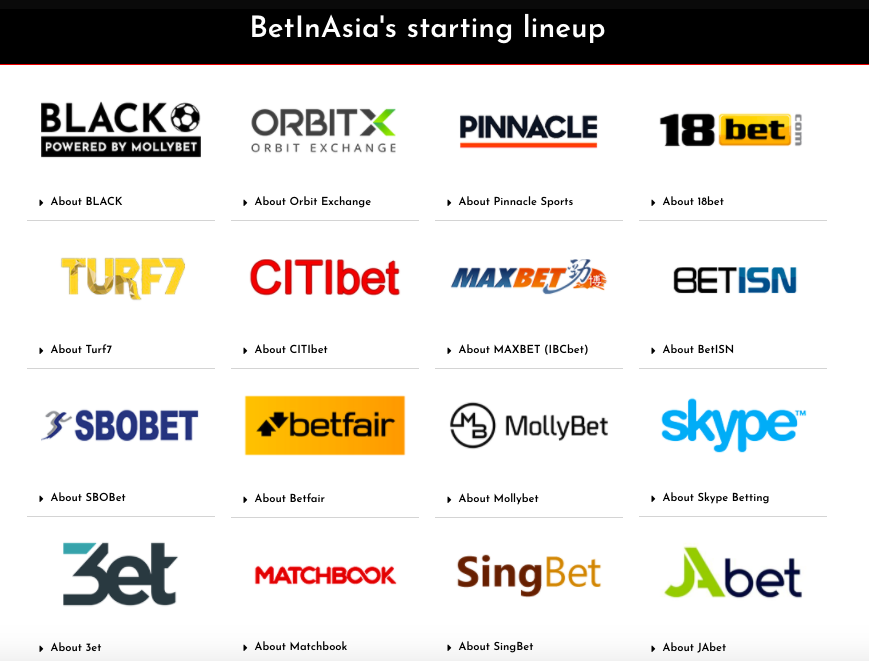 BetInAsia BLACK
The biggest product BetInAsia offers. The BLACK platform is a multi-channel bet placement provider which will allow you to simultaneously place a bet on many bookmakers and/or exchanges. List of bookmakers, white labels and exchanges that BLACK platforms offer: 18bet, 3et, bdaq, betfair, isn, jabet, penta88, pin88, sing2 and matchbook. 
You can place an order at your desired outcome, odds and total stake. The platform will automatically try to place a bet under those rules, sometimes you can even catch better odds the requested since the platform always takes the highest available odds. If the limits are too small for requested odds you can adjust the order and decrease the odds. Or you can leave the order open for some period, or even until kick-off and in case of odds get to requested they will be automatically matched. 
This and other specific uses are explained in the following tutorial video:
The interface is pretty common and something that is often seen on all platforms that use MollyBet software. After a couple of bets, it is super easy to use and easy to get accustomed. Especially for users that have been using similar brokers before.
Dashboard and Analytics offer a variety of stats that can help the user in assessing their performance and maybe improving their betting strategy.
They offer Skype Betting service for the player that require bigger limits. Extra bonus on skype betting is that they offer 'No Void Guarantee'.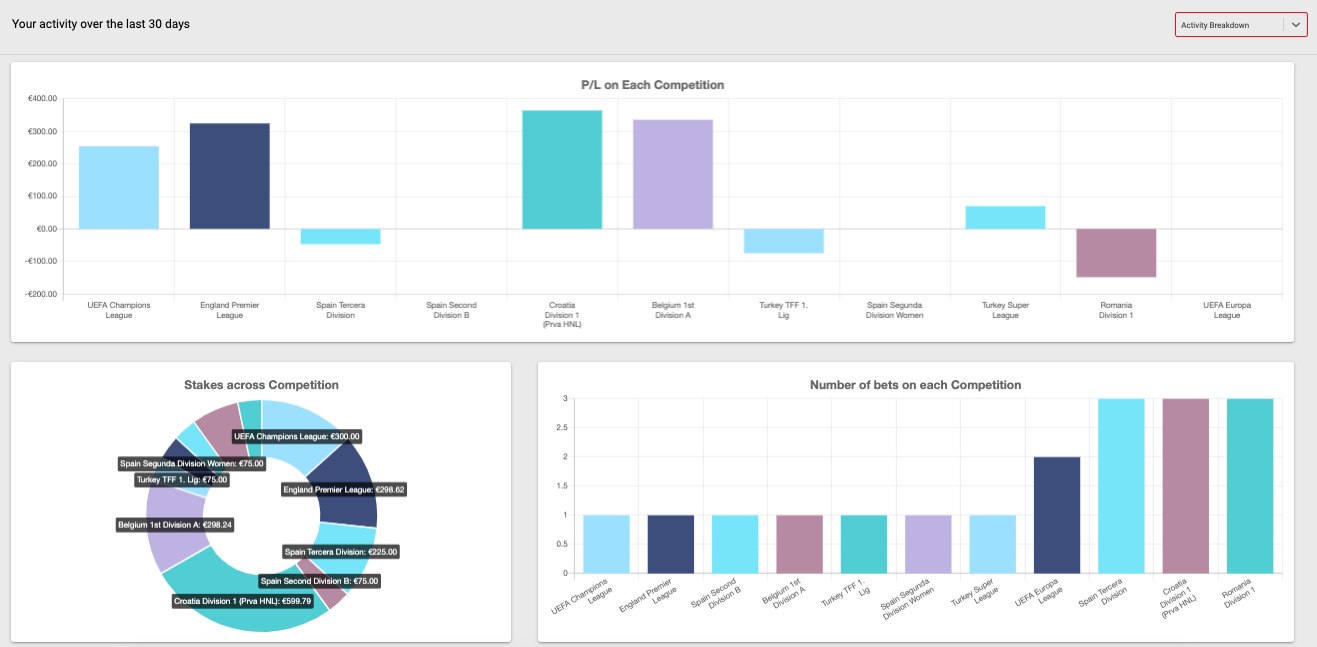 Support
They offer live chat on the site as well as contact via mail. We used a combination of both during the review and were impressed by the speed of both. They resolve matters very quickly and are open to answering even more complex questions with haste. It is a question will the quality remain the same as their number of users grows. Remains to be seen. 
Deposit and withdrawal on BetInAsia
We tested deposit via BitCoin. Although this is an unconventional way of deposit and is somewhat new to many users and companies,  the transfer went overall without any problems and the funds were pretty fast available for betting. During the whole process, we were informed of all actions via mail.
Once the KYC is passed, withdrawal is also easy and fast. We tried withdrawals via Skrill and Neteller and they were processed within minutes. One withdrawal per month is free of charge, every next comes with a 2% fee. Withdrawal must be made via the same method deposit was made. 
Minimum deposit and withdrawal are 100 EUR. Available payment methods: Credit/Debit cards, Skrill, Neteller, MuchBetter, Jeton, AstroPay, CashToCode, EcoPayz, Bank Transfers and Crypto (Bitcoin, Ripple, Litecoin, USDT).
BetInAsia fees
One of the best things about BetInAsia is that they do not charge any fees! Sceptical players will aks themselves what is in it for them. BetInAsia is transparent on this as they state: We earn a commission on the turnover generated on our betting products. 
Affiliates
As we were informed by BetInAsia, their Affiliates product is working but the interface for Affiliates is still under construction. Still if requested they will assign you an affiliate code. They offer a  turnover commission which is not high. One thing that is positive for us on InsideSport is the fact that there is no affiliate commission based on how much BetInAsia wins and players lose. Because of this, we are proud to be BetInAsia affiliates.
InsideSport will never affiliate with companies that pay us when users lose. That would be a complete conflict to our philosophy and what we are doing at InsideSport. If you want to support us in this, you can sign up through our aff. link: 
Final thoughts
BetInAsia is an all-round product for professionals in sports betting and those who want to become one. Easy to use interface with great odds since they do not cut the odds by a couple of percents like some other platforms do. Support is great and payment processing is done in a fast and reliable way. They make life easier for a punter and can save time. Bet placing algorithm works great and helps you get the best odds with a single click. 
InsideSport definitely recommends the BetInAsia platform and all their products.