Football Manager 2013 Wonderkids - where are they now?
30.4.2020.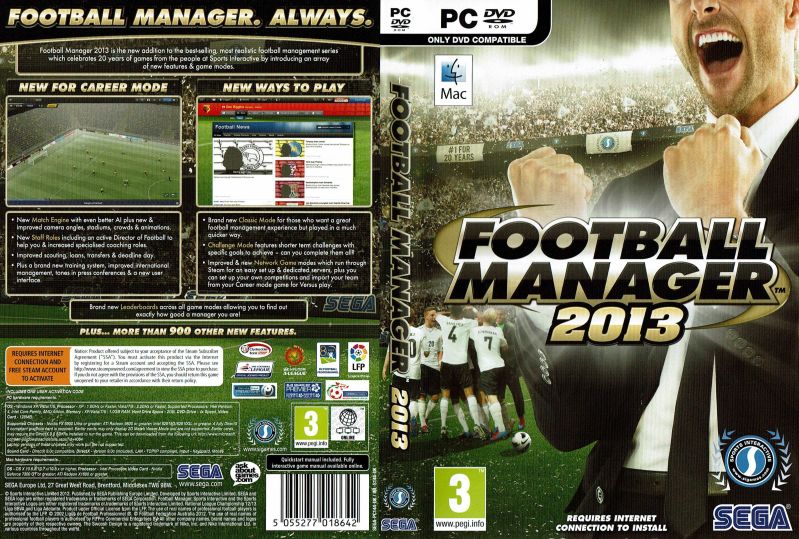 You might have never seen these Football Manager 2013 wonderkids actually run on a real pitch but we're sure you have fond memories with them if you're known to press "continue" until dawn comes. FM creates new worlds and stories with every new save and these players were the main actors in the 2013 version.
Football Manager 2013 was released in November of 2012 following a very memorable season. To refresh your memory, it was the year when Manchester City miraculously took the title of United in the last moments of the last matchday with Sergio Aguero's goal against QPR.
In Italy, Juventus started its still-lasting reign over Calcio. Although in Germany Borussia Dortmund defended the title and it's still the last time some team other than Bayern Munich won the Bundesliga. Real Madrid took 100 points with Jose Mourinho to win the title while Montpellier grabbed the title in front of the forming PSG.
Atletico Madrid won over Athletic Bilbao in the Europa League mostly thanks to Radamel Falcao. The year ended by London finally getting a Champions League winner as Chelsea beat Bayern after penalties.
In FM 2013, the trophies belonged to managers who had the most out of these once-young players.
Gino Peruzzi (Velez)
Velez is a lowkey team which always have great players to grab but in the FM universe, they probably peaked with Gino Peruzzi. The then 20-year-old would become the best right-back in the game after just three to four seasons regardless of the club route he took.
While he didn't become the successor to Pablo Zabaleta's spot in Argentina's national team he did feature for his country five times. Furthermore, Peruzzi won the Argentinan championship with Velez before moving to Catania in 2013. After two mediocre years, he returned home and won two more championships with Boca Juniors. Playing for Uruguayan Nacional on loan as well, the current San Lorenzo right-back had a career most would pay to have.
Steven Caulker (Tottenham Hotspur)
Back when English talents were seen as a myth or even more a joke, Steven Caulker was supposed to be the next great defensive player. As per usual, Tottenham usually has several major talents in the youth team and FM 2013 was pretty high on the centre-back.
Caulker did receive a lot of chances with Spurs in the 2012/2013 season with 18 league appearances and two goals but he was sold to Cardiff. A club-record fee at the time wasn't enough to keep him at the club for more than a year. Another year in the PL with QPR followed by unsuccessful loans to Southampton and Liverpool saw him play in the Championship for the Rangers for two seasons.
Caulker then moved to Dundee in Scotland while he's currently a player for Alanyaspor in Turkey. In 2017 he revealed he struggled with alcohol and gambling addiction while his depression left him suicidal at times.
See what careers did the Football Manager 2009 wonderkids have 
Phil Jones (Manchester United)
Most Premier League managers would pair up two high-praised English Football Manager 2013 wonderkids and Phil Jones had a higher ceiling in the game. Jones finished 2011/2012 season as a first-choice centre-back for Manchester United and had major shoes to fill as Nemanja Vidic and Rio Ferdinand formed to date the best centre-back partnership.
Jones never reached the heights United needed of him and that first season saw him play in the most games ever. 29 in the league, 41 overall. Yet, eight seasons later, Jones is still at United, battling injuries, high-profile competition on his position, and the memes and jokes he's often the target of. He is probably the most ridiculed player who managed to get as much as 27 caps for England.
Yassine Benzia (Lyon)
While just 25 now, it's not unfair to say that Yassine Benzia disappointed all his virtual managers as he was one of the best Football Manager 2013 wonderkids. A striker from another club who regularly has elite prospects, Olympique Lyon, Benzia got all the chances a youngster can hope for.
Over four seasons, he played in 38 games for Lyon, yet he scored only four times in Ligue 1. Lyon lost patience with him and he moved to Lille for €1,000,000 (a fee most FM 2013 managers would kill for) and disappointed while playing regularly. Benzia played in 81 matches over three seasons and scored only nine times, once in his last season. Loans to Fenerbahce and Olympiacos ensued and Benzia is now a Dijon player, with four total caps for Algeria. Not enough for the prepositioned heir of Karim Benzema.
Are you thirsting to play Football Manager? You can make a purchase here  Football Manager 2019
Zakaria Bakkali (PSV)
It seemed like PSV didn't have a more exciting prospect since... well Ronaldo. Zakaria Bakkali was touted as the next great winger of European football yet his name stayed brighter in the game than under the lights of stadiums.
Zakaria played in just 16 Eredivisie games with three goals before he moved to Valencia and played in 34 La Liga games over two years, scoring twice. He wasn't the calibre Los Che needed and he moved to disappoint yet another Spanish side as he failed to score once in 23 matches for Deportivo. The two times capped Belgian player is now in his home country again, playing for the now underwhelming Anderlecht.
Davide Petrucci (Manchester United)
Manchester United was always one of the rare clubs which relied on its youth and few players from their younger ranks were as hyped as Davide Petrucci. A prince that was promised never came and played a single game for the senior side of Manchester United even though he was there since 2008.
United sent him on loans and to the u23 side but never fielded the Italian. Peterborough United, Royal Antwerp, and Charlton were all places where Petrucci didn't shine before the Red Devils gave up. Petrucci's biggest success in football remains the Romanian champion title he won with Cluj. One of the most exciting Football Manager 2013 wonderkids played for Rizespor next and is currently an Ascoli player in his home country.
Nicolas Tagliafico (Banfield)
One of the few Football Manager 2013 wonderkids which pulled through. Nicolas Tagliafico didn't have the most exciting years following the praise he received back in 2012. For seasons to come the left-back remained unknown to European audiences who didn't play the simulation.
He did play for Real Murcia in the second league back in the 2012/2013 but moved back to Banfield. Independiente was his next stop and he won the Copa Sudamericana in 2017. It was then when Ajax realized his potential and Tagliafico became an important screw in the young team which reached the Champions League semi-finals. Possibly warning the uber-talented youngsters in his squad of the dangers of being labelled the next major thing. Tagliafico is 27 now, playing his best football and has represented Argentina 25 times.
Check out the stories of Football Manager 2010 wonderkids

Lorenzo Crisetig (Inter)
Another side who is usually loaded with prime wonderkids, Inter failed to develop any of them until Lautaro Martinez very recently. Lorenzo Crisetig was involved with Italy's national team on all youth levels yet his career remains a photo robot of most Italian prospects' trajectory. Loans galore.
The midfielder was actually sold and then re-bought by Inter before sending him out to loans all over. Officially, he has only been an Inter, Parma, and Bologna player but he has played for Spezia, Crotone (twice), Cagliari, Frosinone, and Benevento. Yet the 27-year-old didn't even make 100 Serie A appearances.
Carles Gil (Valencia)
A versatile attacking midfielder who can play on the left side and in the middle, Carles Gil was a promising teenager in-game and in real life. His actual career trajectory is quite random as the now 27-year-old is playing in the MLS for New England Revolution.
Born in Valencia, the club kept him as a player until 2015 but two years on loan at Elche didn't show Los Che enough to keep hoping. Aston Villa took him and after 33 La Liga games for Elche, with eight for Valencia, Gil made 28 Premier League appearances over two seasons for Villians. Once again, Deportivo banked on a struggling talent but in 33 games over two years he scored just one goal and moved to the States. A place we don't believe he ever reached in any of the Football Manager 2013 saves.
Who can forget these Football Manager 2011 wonderkids?


Stephan El Shaarawy (Milan)
Probably the player who showed the most out of all these Football Manager 2013 wonderkids we mentioned, yet a player that is in a way opposite to Nicolas Tagliafico. El Pharaone started heating, as his second season with Milan, after winning the title with the club in the first, saw him score 16 goals in 37 matches. An injury struck the technical player in the following season and he only played in six games next.
Another disappointing season followed before he moved to Monaco and then Roma on loan, before becoming an official player of the club from the capital. El Shaaraway managed to play a lot of league games over next three seasons - 109, and scored 34 goals. Yet he then made a sudden switch to China in the summer of 2019 despite being only 27 and having 25 caps for Italy.
Which of these Football Manager 2013 wonderkids was your favourite?
Go further down the nostalgia road with Football Manager 2012 wonderkids