Football Manager 2010 Wonderkids - 10 years later
8.12.2019.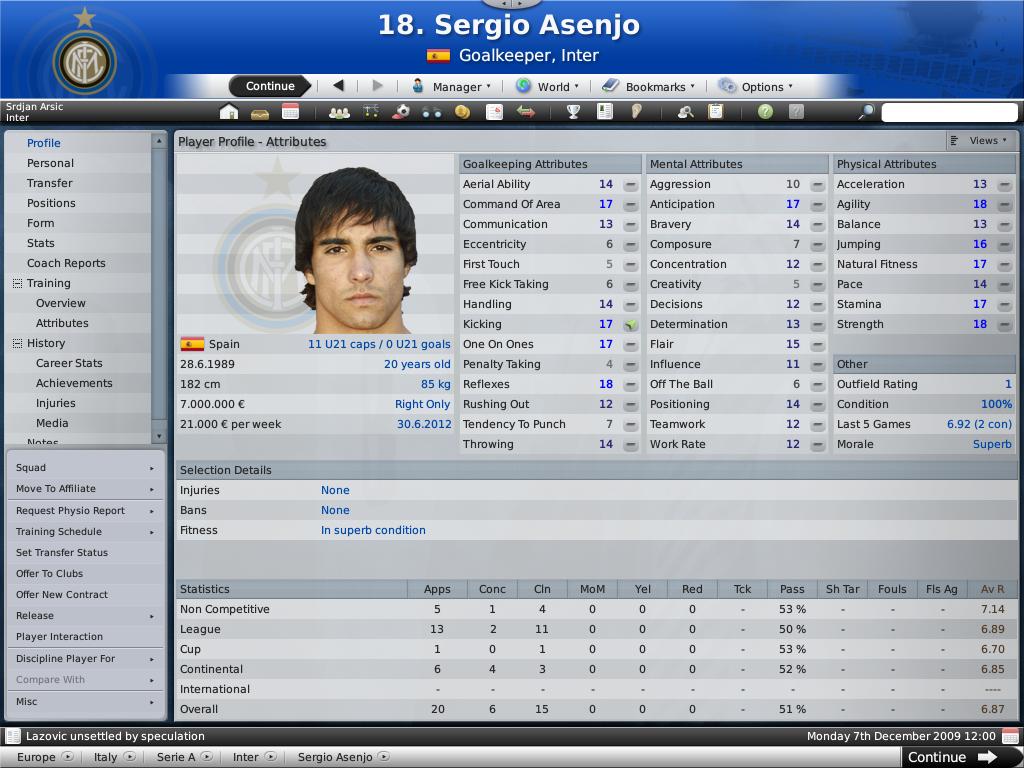 In football, every year there's a couple of next big things that get forgotten throughout the years, or actually become the big things, casting away the "next" moniker. A huge role in shaping the reputation of young players is down Football Marketing, the beloved coaching simulation. 10 years make around 2/3 of most players' careers and we take a look at some of the most memorable Football Manager 2010 wonderkids to see how they've lived up to the hype.


Football Manager 2010 wonderkids
It wasn't just the game who believed that Sergio Asenjo would be the next great Spanish goalkeeper. Even the common belief around Europe was that the man born in 1989 would replace Iker Cassilass as La Furia's keeper. And it did start well for the Spaniard.
One of the most impressive Football Manager 2010 wonderkids played for Atletico Madrid in 2010, alternating besides David De Gea, who in a way fulfilled Asenjo's prophecy. It was injuries that hindered Asenjo's career as ruptured anterior cruciate ligament mishap held him off the pitch for a long time. The keeper went on to play in just 18 league matches for Rojiblancos before moving on to Malaga. Six total caps there and a move to Villarreal followed, where Asenjo finally found firm ground. He did miss out on the 2015/2016 season due to a third ACL injury in his career. Yet, he earned 117 La Liga caps for the yellow team.
Asenjo eventually only made one cap for Spain, but is truly one of the few people who can blame it all on injuries.

Getting a goalkeeping wonderkid on any Football Manager is a true treat due to the longevity of the position. And many FM 2010 players picked Vincenzo Fiorillo at the start of their each save, as he was available for less than a million euros. The then Sampdoria goalkeeper was regarded as one of the biggest prospects in Serie A. The one that will prolong the long tradition of amazing Italian goalkeepers.
Fiorillo was even regarded as the heir to Gianluigi Buffon. And while he didn't hit it off in 2010, or in the coming years, he did sign for Juventus in 2014. But he never actually made an appearance for the Old Lady. Instead, Fiorillo went on loan to Pescara, and then remained permanently, having some experience in Serie A, but mostly in the second league.
He is now still at Pescara but is also working for a scouting company in Italy.
The previous version of the game had Breno, but Football Manager 2010 had Mateo Musacchio as the perfect solution for all defensive worries. A picture-perfect centre-back for all top five leagues, with great tackling, marking, heading, and mentals, Mussachio was a must-buy. Just arriving from River Plate to Villarreal meant he wasn't expensive and even mid-table clubs could make the Argentinian a starting point for their dynasties.
In real life, Mateo stayed in Villarreal for years, playing one season in Segunda, but also collecting 150 matches in La Liga. Despite his consistency in the mid-table Spanish side, Musacchio still fell quite of his game-potential, earning just six caps for Argentina. In 2017, the 29-year-old moved to Milan where he played 55 Serie A games, being mostly lukewarm.
A Serbian left midfielder, Marko Milinkovic had amazing technical attributes and a cheap asking price as he was playing for Czech side Kosice. The player who didn't record an appearance in his home country moved to the middle-European country in 2007 alongside another Serbian player - Nemanja Matic.
In the game, it was Milinkovic, not Matic who was more talented. What actually happened is, of course, that Matic became one of Premier League's top midfielders, playing several seasons on a world-class level and Milinkovic played in the Czech and Turkish leagues. Milinkovic made his debut for Serbia in a friendly back in 2009, that remaining his only cap. His career led him from Kosice to Slovan Bratislava and then to Turkey to Genclerbirligi and Eskisehirspor.
"See, I told you he was destined for great things!" All football fans like to remind their friends of their prophetic predictions for players. The ones who believed in Gareth Bale must've been insufferable when the Tottenham left-back (yes, left-back) moved to Real Madrid in 2013 for a record-breaking fee.
Bale was a bit pricier, but a must-buy as he could cover the whole left side of the pitch. While now, obviously, he plays mostly as a right-winger cutting inside to unleash his powerful shot. The Welshman became a world-class player despite his numerous injuries. 164 career club goals, 33 international, winning La Liga once and the Champions League four times. Yeah, Sports Interactive were a bit right about the young Spurs prodigy.
Left-back. Left-winger. Legend. In that order.
Gareth Bale on the left, and Sofiane Feghouli on the right-wing and the strikers could've been irrelevant. The Algerian was regarded by the game as something that his compatriot Riyad Mahrez actually became - a perfect winger. His dribbling was amusing to watch even from the 2D view and his crosses could find both the target men and the smaller forwards.
Feghouli didn't have a bad career by anyone's standards, especially after winning the African Cup of Nations this summer, but he didn't fill up the big shoes SI left for him. In Grenoble at the start of Football Manager 2010, Feghouli moved to Valencia before the 2010/2011 season where he was a regular for five out of the six seasons he was there. One season at West Ham didn't leave a mark and the Algerian moved to where so many once-huge talents go - Turkey and Galatasary.
Greece won the 2004 EURO but the country still didn't have any world-class players around. Sotiris Ninis was supposed to fill that void. After his 18th birthday, he became the youngest goalscorer for his nation, and was even linked with Manchester United. The versatile midfielder played and captained Panathinaikos until 2012.
Then a move to Parma followed where he was supposed to replace Sebastian Giovinco but he couldn't reach his potential. He even bemoaned of the quality of the Greek league, which many interpreted that he wasn't as talented as it seemed, just playing against sub-par players. He returned to the domestic league first at PAOK and then at his former club before moving to Belgium, playing for Charleroi and Mechelen. Then he spent two years in Isreal, playing for Maccabi Petah Tikva and Hapoel Ashkelon.
He did play for Greece, 32 times, last time in 2015, but with total three goals scored, he was the personification of the disappointing times Greek football endured following the peak at 2004.
Most FM players will agree that SI tends to overrate English talents. And that was especially evident back in 2010 when there were hardly any Harry Kanes and Delle Allis that justified their hype. Dan Gosling was one such prospect. As usual, Everton had a great crop of young talents and Gosling was a perfect example. A versatile midfielder that could play even at right-back, Gosling was a no-brainer buy.
And Gosling truly was a prospect, having come on as a substitute in the 2009 FA Cup Final Everton lost to Chelsea. But in March of 2010 he ruptured his anterior cruciate ligament and was ruled out for nine months. Obviously, not the first time ACL makes an appearance on this list sadly. Gosling returned and played sporadically for Newcastle over four seasons in the Premier League, and then dropping down to the Championship for Blackpool and Bournemouth.
The Brixham-born midfielder has been pretty standard for the Cherries in the Premier League last four seasons, but at 29 years of age, a move to a major club, as was predicted once, seems unlikely.
One of the most recognizable Football Manager 2010 wonderkids, Jonathan Cristaldo was a new Sergio Aguero. A killer striker from Argentina, Cristaldo had the finishing, composure and the so much valued determination to succeed. He was one of those players that would join an eastern-European side or be a trustworthy backup in the Bundesliga. Before turning into a goalkeepers' worst nightmare over time.
The Argentinian managed to get one cap for his national side in 2011, proving somewhat that his potential wasn't existent just on a computer screen. But his career didn't fan out as it did on so many Football Manager 2010 saves. He did move to eastern Europe, Ukraine and Metalist Kharkiv to be exact, but even with a solid record of 38 goals in 88 matches, he didn't flourish.
Cristaldo didn't stay at one club for long after Kharkiv, playing for Bologna, Palmeiras, Cruz Azul, Monterrey, Velez again, and Racing Club nowadays.
As far as Football Manager wonderkids 2010 go, no position is as satisfying as the striker. Getting a cheap youngster that turns into a goalscoring machine is one of the most satisfying options on the game. And especially finding one in a less-popular area like the Czech Republic. Vaclav Kadlec was not only affordable but also lethal after just two or so years.
Born in 1992, he was one of the youngest Football Manager 2010 wonderkids that was certain hit every time. In 2013 he moved to Eintracht Frankfurt after 32 goals for Sparta, but the German team didn't strike gold as it did years later with another FM wonderkid, Luka Jovic.
Just six goals in 30 league games for the German side saw him even go back to Sparta on loan before oddly moving to Midtjylland in 2016. He didn't stay long there and moved back to his Sparta where he's still playing, having collected 198 caps and 61 goals.
Regardless of whether these Football Manager 2010 wonderkids disappointed or not, they have all brought millions of virtual managers many moments of joy and will be remembered by them fondly.
Make sure to check out how wonderkids from Football Manager 2009 and Football Manager 2011 have evolved.
Check out the video here.