Football Manager 2009 wonderkids - 10 years later
15.5.2019.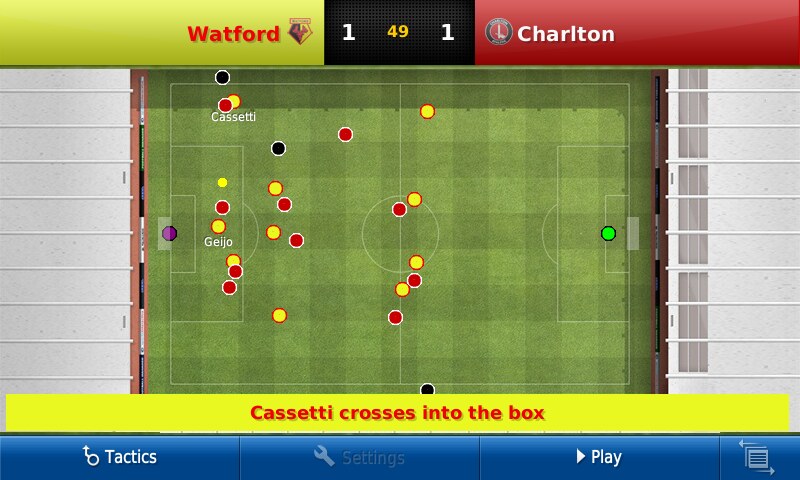 Bar a few odd characters like Benoit Assou-Ekotto, footballers aim to become legends. Of the sport, of a club, of their country. Some end up being cult heroes, others get the recognition of entire continents. Then, there are some who will mostly be remembered as the best players on a certain version of the Football Manager game. The vast fan army of the long-lasting simulation may even first think of a players' achievement in-game, than in actual games. After 10 years have passed, we take a look at the 10 best wonderkids from Football Manager 2009 and see how their careers fared.
Even though Arsenal grabbed only two titles in the first decade of this century, then it was vastly regarded as the number one club for producing young talents. Ahead of Barcelona and Ajax even. One of the names that most excited Gunners was Carlos Vela, as the Mexican was able to play in all positions up-front. But was mostly regarded as a highly technical striker.
And technical he was, but maybe not built for the Premier League, as the now 29-year-old never recorded more than 14 appearances in the league per season. After getting the work permit, he spent four years playing in England, amounting to a weak total of five league goals. A loan and a subsequent transfer to Real Sociedad followed where Vela showed that finishing and composure FM fans loved him for. Playing 35+ league games in five of the six years he spent in Anoeta and scoring 12, 14, and 16 goals in La Liga the first three years respectively.
A time when Sociedad was a buzzing team in the Primera and Europe as Vela had a perfect partnership with Antoine Griezmann. But the Mexican admitted he never loved football, not with a burning fashion, he just enjoyed playing and forgot about it each moment he left the dressing room. So his accomplishments, if not amazing, still look great with this in mind. For the last two seasons, Vela is closer to home, playing for Los Angeles FC, where he is waiting for his former French teammate who amounted to much greater things.
Buy Football Manager:
Quite possibly the biggest "cheat" of the game in 2009, as Henri Saivet was the prophecy of Thierry Henry's return. Capable of playing wherever in attack, with blistering pace and high technical skills, bringing Saivet on was the first step in any serious save. Football Manager players were waiting to see which big club will grab him up as they've done so many times themselves. But... Saivet couldn't live up to the potential he showcased playing for French national team youth sides. He stayed in Bordeaux until January 2016, recording 178 appearances and 21 goals for the Girondins.
As for so many Ligue 1 players those years, his destination was Newcastle. The club whose shirt he wore only five times in official games. Return to France was imminent, and a loan to Saint-Etienne reignited the career of one of the best wonderkids on Football Manager 2009. But not to the status virtual managers expected back in 2009. Saivet was a utilized regular and well-known in the French league but never had the maddening end result he did in the simulation. The Senegal international is currently playing in Turkey, for Bursaspor, while still being contracted to Newcastle.

Some players may feel bad about not living up to their potential, and some ought to cry about it. A highly rated prospect both in the game and in real-life, a Brazilian centre-back Breno had a perfect life in front of him. Picked up by Bayern Munich for 12 million euros, Breno was in line to be the centre of the German's team defence for years to come. But, unfortunately, he had different plans. It seems like he didn't want to wait that long for fame and money.
Breno was arrested in 2011 for suspicion of aggravated arson, as his rented villa was almost completely destroyed under suspicious conditions with damage evaluated at 1,5 million euros. The tall and strong defender was sentenced and spent time in jail until 2013. The controversial man left Europe and went back to the club he came from - Sao Paolo recording only eight appearances there.
Unfortunately, his injury problems continued and Breno went to Vasco da Gama in 2017, for which he played in more than 30 games. The 29-year-old constantly claimed that it was the frustration with injuries and him being on medications and drunk that caused him to make the mistake that led him to jail. A unique way injuries ruined a promising career.
The oldest man on this list, and not exactly a wonderkid, but Mika Aaritalo is the player by whom most players remember Football Manager 2009. The Finish striker born in 1985 was the steal of the game at a cost of around €500,000, and he was the best investment possible. Bagging goals for fun playing wherever, with whomever, and against whoever, Aaritalo went down in history as one of the "cheats" or "bugs" of FM.
He had a two-year stint in Aston Villa even before FM 2009, but he returned to his life-long club of TPS Turku in 2005 and stayed there for 10 years, collecting 47 goals in 196 apps. Followed by brief loan to Holstein Kiel, and two years in two other Finnish teams FC Lahti and KuPS, before he returned to his TPS Turku to finish his career. Outside of Finland, he is known as "that Manager guy".
The case in which the in-game and real-life predictions of the footballing world most matched. Bojan was Barcelona's next big thing. Barcelona who just finished launching and establishing legends like Lionel Messi, Andres Iniesta, and Xavi. So when the Catalan giants started playing the young striker game-in, game-out, at the age of 17, the world took notice. If Bojan had fulfilled his potential, Barcelona would've got a natural number nine organically and wouldn't have to buy Luis Suarez eventually, in order to complete the puzzle of its team.
The La Masia product broke the Messi record for the youngest Barcelona player to feature in a La Liga match. Three days later he did the same in the Champions League. He also became the youngest Barca scorer ever in La Liga. All of this made Barca wait for him, push him, and he even managed recording 100+ apps for his childhood team. But, then, Barca lost patience and Bojan Krkic Perez became a bit of a nomad. Changing six teams from then, mostly spending his time on loans at Milan, Ajax, Maniz, and Alaves, as a player of Roma, and (still) Stoke City, respectively.


It seemed like a perfect Cinderella story at first as Nigerian Stephen "Sunny" Sunday was discovered through Real Madrid's third edition of the Annual Immigrants World Cup. Polideportivo Ejido gave him a five-year contract before he was picked up by Valencia. In the game, the defensive midfielder would rarely stay in Valencia as his stats were on fire from the start and he could be a rotation player even for the biggest sides in the Premier League. For others, he would be a leading player as his mental, technical, and physical stats were formidable from the get-go.
Unfortunately, his real-life career wasn't nearly as successful. Collecting only 10 appearances for Valencia and going on three different loans in Spain before making a permanent switch to Numancia. Sunny then migrated east, first to Israel, after which he had a busy season with CSKA Sofia in Bulgaria. The now 30-year-old played 12 games for the Turkish side Alanyaspor before moving to the United States in 2016. There, playing for the MLS side Real Salt Lake, Sunny achieved the highlight of his career by featuring prominently for the respected side.
Back in 2008, Spain won the European Championship, Barca was the dominant force in Europe through players made in their own footballing school, and as we mentioned, Arsenal was known as the club with the best scouting. So it's not one bit surprising that a Spaniard, made in La Masia, and picked up by Arsenal, was regarded as one of the best prospects in the game.
It was hoped that Fran Merida will follow in the footsteps of an Arsenal key player Cesc Fabregas and become an important midfielder for the Gunners. Alas, he only recorded 6 appearances for the London side. A loan to Real Sociedad saw him gather some first-team experience before he transferred to pre-Diego Simeone Atletico Madrid for which he played 20 games. A quick loan to Braga failed to upstart his career and Merida continued his downward spiral playing for low-league or second-league Spanish teams like Hercules, Huesca, Osasuna. With an odd stint in Brazil's Atletico Paranaense. He currently plays for Osasuna in the Spanish second division.

UK talent always acquired special attention in Football Manager and real-life. So John Fleck's career was under a magnifying glass from very early on. He started being featured for Rangers at 15-years-old breaking multitude of records! The Times even placed Fleck seventh in their Top 50 Rising Stars of football list back in 2009.
In the game, he was both cheap and effective, getting goals and transfer money for every Championship or Premier League team that bought him. Playing as an attacking midfielder on all parts of the pitch. In real life, he left Rangers in 2012 after a short loan to Blackpool. But he didn't change many clubs since, playing for Coventry City for four years, recording 162 appearances. Since 2016, Fleck is pretty standard in the Championship side Sheffield United and has played in 130 games for the Blades.
The Scotsman ended up having a decent career, one of the best on this list after Vela, Stancu and Bojan. While he's still reaching his peak at 27-years old, but Scots and Rangers fans were surely disappointed by the false promise made by the FM scouting team.
Romania hasn't had a big player since Adrian Mutu (with respect to Christian Chivu), and that, as we know, didn't last long. Bogdan Stancu was supposed to be the next big attacking thing from Eastern Europe as he signed for the former Champions Cup winners Steaua Bucuresti in 2008. Cheap to get, the fast forward was a must-buy for all those smart enough to send their scouts further east.
Stancu can't be ashamed of his career, as he got 52 caps for the national team of Romania, scoring 14 goals for his country too. But instead of rocking the stadiums of Champions League teams as he did in the game, he spent most of his playing years in Turkey. From 2011 he played for Galatasaray, Orduspor, Genclerbirligi, Bursaspor, and went back to Genclerbirligi in 2019.
Back before Fernando Torres bit the heart of Liverpool fans and moved on to Chelsea where he lost his mojo, the Spaniard was a force to be reckoned with in the PL. His successor was supposed to be Lauri Dalla Valle. A surprising second Finnish inclusion on this list, Dalla Valle got picked up by Inter first in 2005, before going back home and then to Liverpool in 2008.
In 2010, Fulham tried its luck with the striker born in 1991. But all that ensued were loans to lower-league sides like Bournemouth, Dundee United, Exeter City, and Crew Alexandra. The forward had an abysmal goal-scoring record in all his clubs, and that continued when he signed for Molde in 2013, Sint-Truiden the same year, and Crew Alexandra. In 2017, Dalla Valle had an unlikely destination, a small and newly promoted Serbian club of Zemun, for which he played three games before calling it quits. Not just on the team. On football. As he announced his retirement even though he is still just 27-years-old.
Football Manager 2009 best wonderkids had various, unique, and surprising careers. Sprinkled with occasional successes, but mostly with regret and a lot of "what-ifs?", serving as a great reminder for both current upcoming talents, and those ready to tout them as the next big thing.