Ahead of his idol, level with Lukaku, only CR7 in front: Dusan Vlahovic's vow to be Serbia's Ibrahimovic doesn't seem far fetched now
9.5.2021.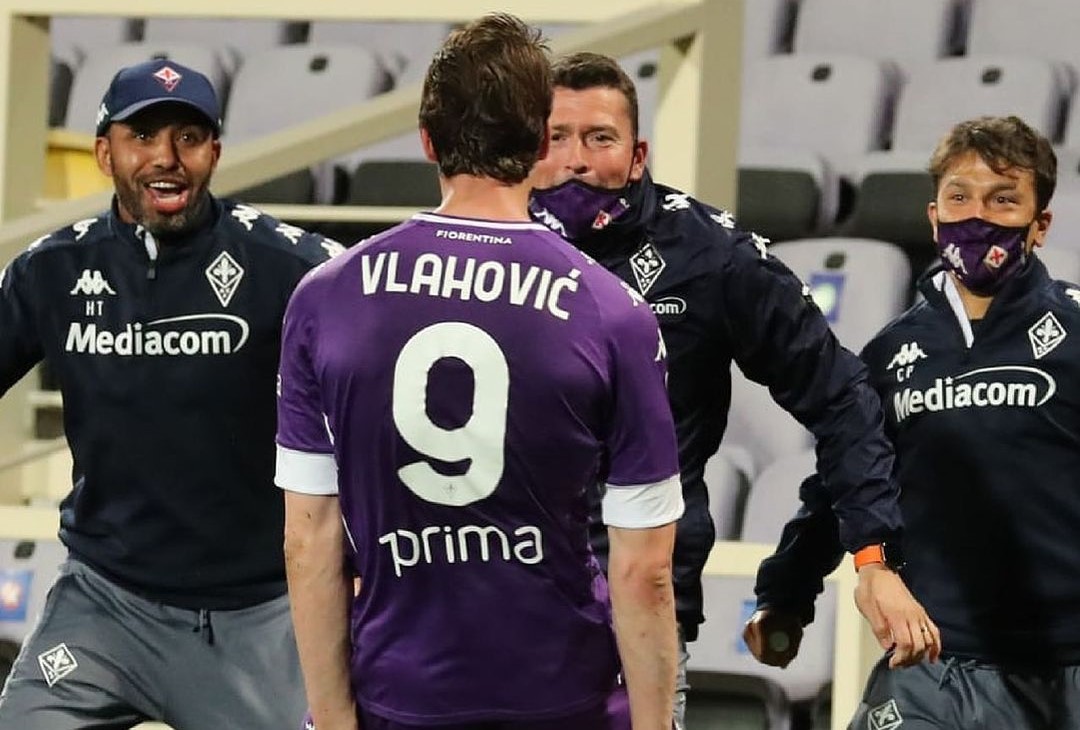 Knowing that he scored a panenka penalty against Fiorentina's fierce rival Juventus at the score of 0:0 is a fitting introduction to Dusan Vlahovic. The striker born at the start of 2000 took the outside lane to the place of Serie A's second top scorer this season, shared with the €74,000,000-paid Romelu Lukaku and Luis Muriel. With 21 goals scored in the league so far, only superstar Cristiano Ronaldo is ahead!
Even Vlahovic's own idol Zlatan Ibrahimovic (18) is left behind on the top scorers' list. Now the Serb's past proclamations that he will reach Ibra's level don't seem like the baseless ramblings of an ambitious young man.
It's easy to see that Vlahovic has the sporting arrogance needed to succeed at the highest level just by looking at him. Even outside the pitch. The big-city boy's smirk annoys the opponents - especially when combined with other actions of audacity like the panenka - irresistibly reminding of Ibrahimovic.
So it's not surprising that the Serb took to the fellow Balkan native as his idol, as the youngster's former teammate Valeri Bojinov recently revealed. Praising him to the then Fiorentina sporting director Pantaleo Corvino.
"He said he was the new Zlatan Ibrahimovic. I told Corvino to sign Vlahovic when he was 15 or 16. Vlahovic was crazy, really crazy. He used to tell me: 'I am the Zlatan Ibrahimovic from Belgrade, I will play for the strongest clubs'," said Bojinov.
The two were teammates at Partizan Belgrade, Vlahovic's club since 2014 and frequent shopping store for Viola. He and his fellow walking puberty advertisement Nikola Milenkovic are the Florence club's golden hens, both coming from the same appraised footballing academy. Same as Viola's sixth and 12th biggest sales ever, Stevan Jovetic and Matija Nastasic, the former Manchester City players.
But the young Serbs will break the ultimate record held by Rui Costa and his 2001 €41,300,000 transfer to Milan. The three-year older Milenkovic's appraisal was going north of €45,000,000 and in one season, Vlahovic has leapfrogged him. Reports state that even last summer, Viola rejected big offers from Roma and Borussia Dortmund. The Italian side reportedly offered €40,000,000 and the Germans 10 million fewer.
Vlahovic's stock rose quite higher in the past nine months, as last season saw him score only one more league goal than the defender Milenkovic - six compared to compatriot's five. Yet, this season, the younger Serb well reminded his friend and others who's the striker and who's the defender.
Not at the start of the season though. Vlahovic scored only one goal in the first 11 match days of the Serie A season, against Sampdoria in October. A month later, the manager Giuseppe Iachini was sacked and former Fiorentina manager Cesare Prandelli was appointed. It took Vlahovic a month with the former Italy national team manager before he found the confidence that makes him a big part of his personality.
With Beppe Iachini, at the start of the season, the then 20-year-old was getting into good chances but showed a lack of composure. He himself credited Prandelli for finding his form, after winter during which he scored eight goals.
"When you have someone who believes in you, it's much easier. I can't describe honestly what he has done for me," said Vlahovic who collected 11 goals and four assists in 23 games under Prandelli.
In a turn of events unimaginable everywhere else but in Italy, Prandelli decided to leave the post in March due to personal issues and the club rehired Iachini. Luckily, Vlahovic re-found that belief in himself and continued his form under Beppe.
Although, at the start of the season he wasn't getting regular playing time. Starting with the 11 minutes on the first matchday, getting to 29 in the next game, before scoring his first during the full 90 he played against Sampdoria. In the October and November games he got 72, 66, and 33 minutes in three matches before he was benched for the entirety of the Parma duel. The only game in which he hasn't been utilized this season.
Since mid-February though, Vlahovic has played fewer than 89 minutes only once - when he scored his first-half hat-trick against Benevento and was subbed off to get the applauds. If not of the fans directly, of his teammates. That span of full-time games now counts 14 duels during which Vlahovic scored 14 of his 20 goals.
He has excelled in 2021, scoring 17 of his league goals this year, with only Robert Lewandowski (22) and Leo Messi (21) getting more in the top five leagues. Since the beginning of April, he has scored the most goals in five European top divisions, nine.
Enough for Vlahovic to establish himself as the joint-second top scorer in Italy total. An old men's league, with the veterans taking over the Capocannoniere race in recent years. Only the three years older Lautaro Martinez has put in somewhat close numbers of all the players aged 23 or younger in Italy with 16.
Lukaku - who played some minutes more than the 2,699 Vlahovic put in - has the privilege of a much better, title-winning team. Romelu scored 26% of his club's goals. Vlahovic got 44% of Fiorentina's. To be ahead of the once-again highly-rated Lukaku would be a massive achievement for the young Serbian.
Especially as Romelu had a major falling out with Ibra this season on the pitch and gloated the title win with a statement clearly aimed at the 39-year-old. "The real god has crowned the king! Now bow down."
The youngster with a perpetual chip on his shoulder certainly got an extra oomph of motivation from it. Similar to Ibra in not only mentality but physicality as well the 190 centimetres tall striker couldn't have picked a better role model for professionalism, dedication, and longevity. Yet, he already has some bragging rights over the man whose shirt he was ecstatic to get this season after the Milan duel.
Actually, for the first campaign in which Ibra scored more Serie A goals than Vlahovic did this year, Zlatan was 27 years old! Back in the 2008/2009 season. His first year at Juventus, when he was a 23-year-old saw 16 goals. The next one, only seven. The first two years at Inter brought 15 and 17 league goals, although the Swede played fewer games those years.
While Vlahovic wasn't getting the media attention warranted, he did get respect from within the club. He is the designated penalty taker even with Franck Ribery in the dressing room. The one scored against Juventus shows why. One of two he scored against the last season's champions, alongside three versus Lazio, and two against Atalanta. His most impressive game was against Benevento, a first-half hat-trick. First of its kind for Viola since 1964 and Kurt Hamrin. Not even Gabriel Batistuta managed that, or Luca Toni.
Vlahovic is now the first foreigner to even reach 20 for the club from Artemio Franchi since their legend Batigol and only the fourth in history. Nobody has scored this many goals in the purple shirt since Toni got 31 in the 2005/2006 season when he was the Golden Boot.
Now, Vlahovic is even ahead of the last season's Golden Boot winner Ciro Immobile.
"I was really motivated to prove something, but I am just starting out, I've not achieved anything yet, so these comparisons aren't really fair. I just hope to reach the number of his goals one day."
For his own age bracket, the 21-year-old is holding his own with only Erling Haaland (26 goals) ahead of him on the goalscorer list in Europe's top five list. Alexander Isak and Terem Moffi are next but way behind with 14 goals. The narrative around Moise Kean is that he turned his career around at Paris Saint-Germain and the former Juventus forward scored only 12 Ligue 1 goals. With a far better team in a less evenly matched league.
When the age bracket is enhanced to players aged 23 and younger, Vlahovic still remains as one of the three top forwards in the world this season! Only behind the two stars for whom everyone predicts being the next Ronaldo and Messi level players and rivals, Haaland and Kylian Mbappe.
Even in this competition, he is well removed from the next in line, Youssef En-Nesyri of Sevilla, as the 23-year-old scored 17 goals.
Yet with all his … zlataness, the young forward isn't above admitting that he can aspire to be on the level of his peer Haaland. One with whom he shares a similar physical ability of being a sprinter in a basketball playmaker's body.
"I watch Haaland. I try to understand his finishing and how he moves. Then I focus on my strong points and my weaknesses. It may be presumptuous, but with commitment, I can get there too," said the Serb.
While it's his long legs that get him out of trouble, his technique isn't at all lacking. Sergio Aguero showed how hard panenkas are to pull off recently. More importantly, when your idol since early teenage years is Zlatan Ibrahimovic, you're bound to pick up on a trick or two.
Vlahovic is responsible for 68% of the points Fiorentina has won this season after losing their key player in Federico Chiesa late in the transfer market. But he has been pulling it off on the international front as well. Ahead of Real Madrid's €60,000,000 signing Luka Jovic in the pecking order for Serbia, Vlahovic already played seven games for Serbia, scoring two. A strong early start considering how Aleksandar Mitrovic plays for the Eagles and how he himself didn't enjoy such a quick start.
Now, reports from Italy claim that Fiorentina holds the Belgrade-born striker at the same price Eintracht Frankfurt did for Jovic. Considering he was purchased from Partizan for only €2,000,000 in 2018 when he was highly rated in the country from his youth days, it's going to be a source of frustration from the Serbian club's fans. They could at the very least console themselves that their club produced a potential world-class talent. Although Vlahovic of course needs to show consistency next season.
Jose Mourinho picked him as one of the top targets for Roma, Milan is interested especially as their manager Stefano Pioli worked with Vlahovic and the centre-forward said he was like a father to him. While BVB might end up replacing Haaland precisely with Vlahovic. That is what entails in the summer, yet the campaign is not done.
As the Serie A title winner is concluded, few points of interest remain in Italy for the season besides the European spot race. Vlahovic's run towards the top echelon of not Calcio, but European football goalscorers is another. Proving grounds remaining come against the relegation-threatened Cagliari, the Europe-hopeful Napoli, and the written-off Crotone. Vlahovic will have the chance to separate himself from Lukaku, taking sweet, moral revenge for his idol.