Few things make football fans raise their heads and get consumed by the 1,000 miles stare as if they were recalling a war they endured. But discussing football careers ruined by injury does that without fault. What could've been ifs are the great pass time of football as much as talking smack about the referee's childhood and family.
These stories of fantasy usually fall down to what if Ronaldo (R9) was even better, or Alessandro del Pierro. Yet, as much as almost all players have been riddled with injuries, winning World Cups and being absolute legends for kids everywhere can't be construed as failure. Ruination.
Especially as there are plenty of players who have fallen quite short of their perceived potential.
Every day we get reminders that it's possible. Ansu Fati was proclaimed at Barcelona the next great thing since Leo Messi, only to have him at the exit door of Nou Camp due to the lack of opportunity following a few injuries.
#10 Football Career Ruined by Injury: Dean Ashton (39) - retired

By Keven Law - Flickr, CC BY-SA 2.0, Link
When we talk about careers ruined, it doesn't get more so than Dean Ashton who stopped his career at the age of 26. Dean Ashton was a Jamie Vardy before Jamie Vardy, in terms of his storyline. Starting in the lower tiers, the centre-forward got to the Premier League in his fifth pro season. Scoring seven in a half-season. A move to West Ham followed, but then the injuries piled up. Only in his third season at Upton Park did Ashton got over 11 games, 31 to be exact, and scored 10 league goals. Due to his build, he was seen as the next England striker and got one cap. Yet ankle injury suffered at international duty was the straw that broke the camel's back for him.
#9 Football Career Ruined by Injury: Jese (30) - active

By Sandro Halank, Wikimedia Commons, CC BY-SA 4.0, CC BY-SA 4.0, Link
Real Madrid isn't really a club known for giving its youngsters the best of chances. So to see Jese get a fair share of games while Cristiano Ronaldo and Karim Benzema were both at Santiago Bernabeu put a lot of eyes on the forward. In 94 RM matches, Jese bagged 18 goals and 15 assists. The next club he represented the most is Las Palmas. Mostly in the second division. Cruciate ligament rupture is to blame mainly, suffed at Real in 2014, keeping him out of 52 consecutive games. Still a move to PSG happened, yet he was mostly loaned out and the 30-year-old has not yet played 300 club games. All while performing in lower leagues, for smaller teams, and even going outside the top five leagues.
#8 Football Career Ruined by Injury: Stevan Jovetic (33) - active

Autor Steindy (razgovor) 14:38, 18 June 2014 (UTC) - Vlastito djelo postavljača, GFDL 1.2, Poveznica
For the fans of the club that produced Mateja Kezman, Adem Ljajic, Aleksandar Mitrovic, and Dusan Vlahovic, there is no doubt who was the most talented - Stevan Jovetic. The Montenegrian got the captain's armband as a teen he was so good, and as usual, Fiorentina shopped in Belgrade. Yet injuries started right away. Despite them, Joveta scored 40 goals and made 21 assists in 134 games for Viola, earning a move to Manchester City. There, in limited time Jovetic recorded a goal involvement every 117 minutes of his mostly episodic games. Another cruciate ligament rupture, same as with ACF, tore his career again. Yet stubborn, the 33-year-old managed to play for Sevilla, Inter, and Hertha, scoring 114 goals in 405 matches, alongside 55 assists. Giving his country 31 goals in 68 matches. Still, it pales to what his innate skill, ball control and finishing talent could've gotten.
#7 Football Career Ruined by Injury: Giuseppe Rossi (36) - retired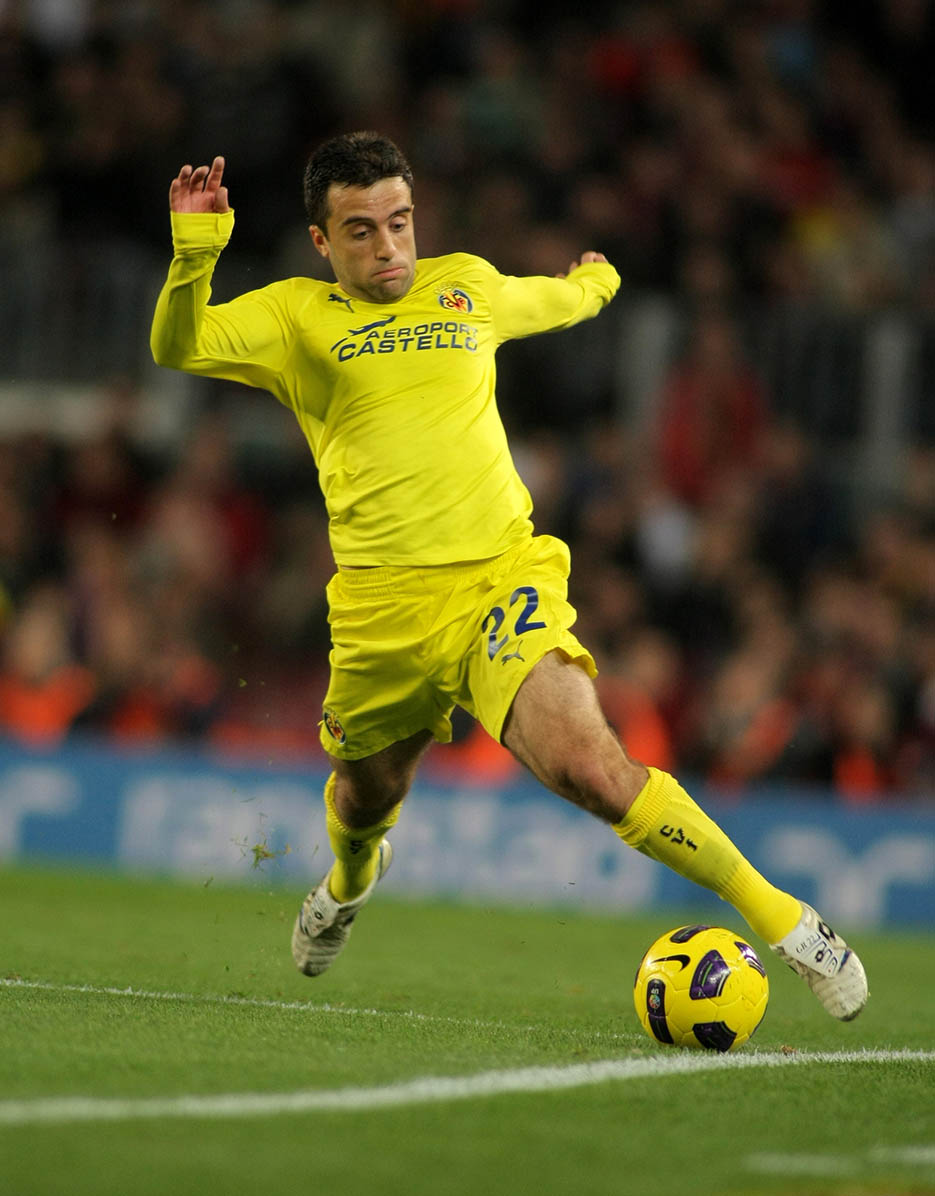 When you get to play for Italy up front 30 times, while not even being born there, you have to be an exceptional talent. Starting out at Manchester United of arguably its strongest squad, Guiseppe went to Villarreal following two loans and made quite the name for himself, scoring 82 times in 192 games, making 25 assists too! The USA-born player would suffer a 557 days debilitating injury in Spain, only to bounce back with Fiorentina before suffering another two major injuries at Viola. Even then, he managed to have 27 goal involvements in 42 games. Yet he would not play more than 29 games for a single club ever again and he retired in 2023 after a short spell with SPAL.
#6 Football Career Ruined by Injury: Yoan Gourcuff (37) - retired

By S. Plaine; - Own work CC BY-SA 4.0, Link
A player that managed to achieve a lot early on, yet one that could've been in the hall of fame class of legends. Out of all the players hailed as the next Zidane, Yoann Gourcuff was the one to actually play like Zizu the most. Leading Girondins Bordeaux of all clubs to a title, scoring magnificent goals in the process. In 95 games for Bordeaux, the attacking midfielder scored 24 goals and made 27 assists. Olympique Lyon, the big French club of the era, took him on, yet Gourcuff ended up missing over 150 games for them for frequent big and small injuries, across his body. Staying with 32 games for France, Gourcuff attempted to put in more with Rennes for three season and Dijon in the end, yet injuries never left him.
#5 Football Career Ruined by Injury: Sebastian Deisler (43) - retired

By No machine-readable author provided. Rechta assumed (based on copyright claims). - No machine-readable source provided. Own work assumed (based on copyright claims)., CC BY-SA 3.0, Link
Perhaps not as well known as these other players whose careers have been ruined by injuries, but not in Germany. In his country, Sebastian Deisler was supposed to be their next big thing. He was hailed as the future of the country at the change of the millenniums. Coming from Borussia Monchengladbach, playing for Hertha before the big boys got him, Bayern Munich, Yet over five seasons in Bavaria, the attacking midfielder played only 62 Bundesliga matches due to frequent ligament injuries. Aged 27, dejected, Deisler retired.
#4 Football Career Ruined by Injury: Jack Wilshire (31) - retired

By --Steindy (talk) 16:09, 29 August 2019 (UTC) - Own work, CC BY-SA 4.0, Link
Widely regarded as one of the five most talented English players ever, Jack Wilshere ending his career at the age of 31 having last played for the Danish side Aarhus GF is a horror story for his compatriots. The silky touch midfielder played in 197 games for Arsenal, yet the agility he had on the pitch was paid by having ruined ankles and the Englishman missed over 250 games for England and AFC. Not fairing much better at West Ham, where he missed over 55 games in a much shorter time. Depressed, Jack decided to give up on trying again.
#3 Football Career Ruined by Injury: Holger Badstuber (34) - retired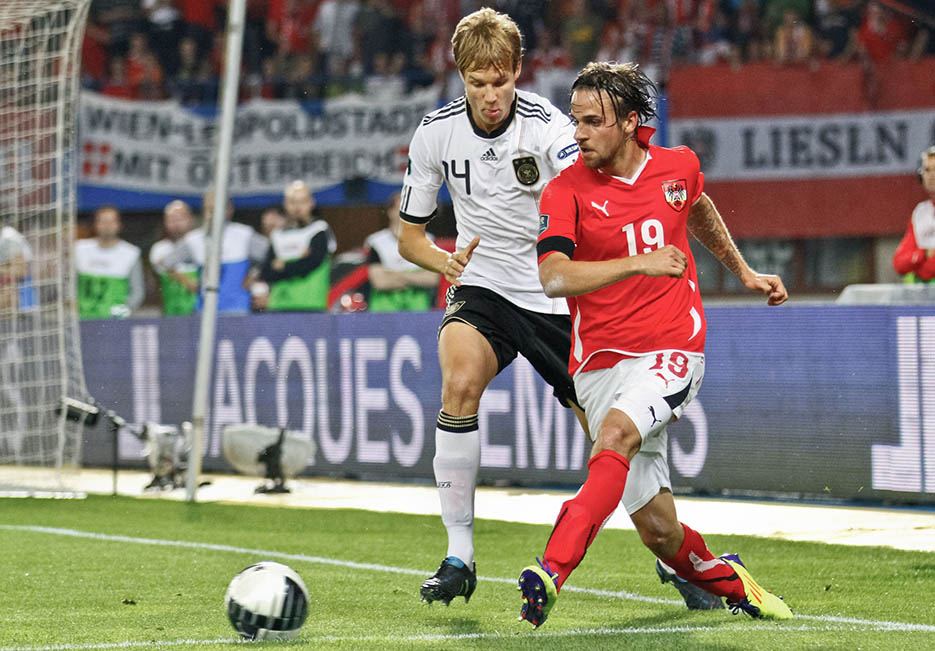 Usually, for fans it's the forwards and crafty wingers that get mourned. So to see the defender Holger Badstuber so high on this list, makes even those who didn't watch him realize how good he was. Technically, he won six Bundesliga titles, in reality he played over 12 league games a season only three times for Bayern! Considered a level of talent as same as Toni Kroos and David Alaba, only as a CB, Badstuber was sorely missed by both FCB and Germany, which he represented 31 times. Considering he ended his career at FC Luzern, it's easy to see how countless varying injuries wrecked him.
#2 Football Career Ruined by Injury: Alexandre Pato (33) - active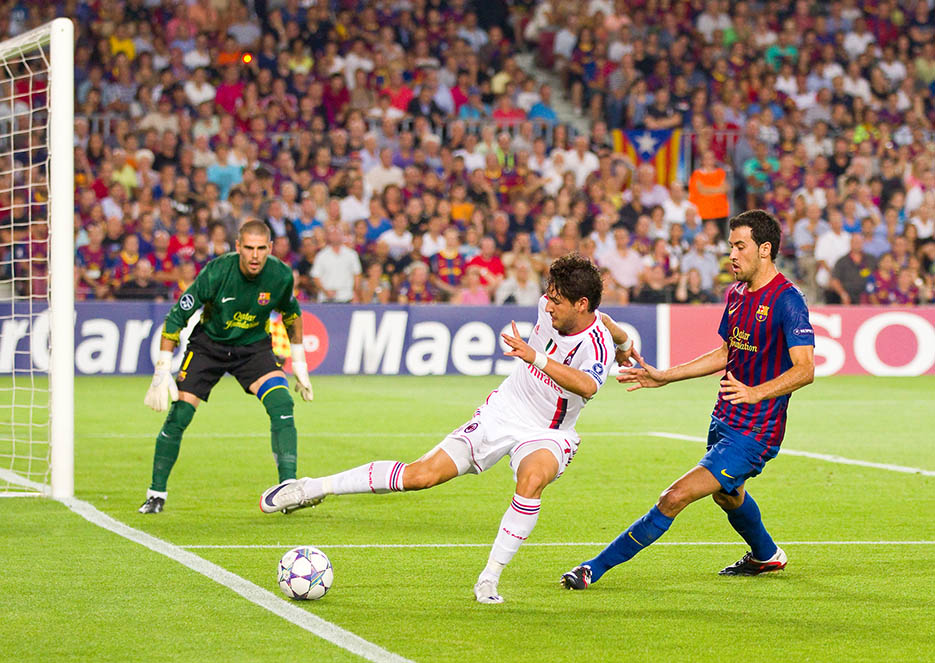 Arguably the man with the highest ceiling out of all the ones that were cited on this list of football careers ruined due to injuries. For Pato, there weren't massive injuries to his ligaments but constant muscular issues. Considering he made defenders look stuck in slow motion (Philippe Mexes, hi!) the speed was a massive factor for his successes. The 27 times-capped Brazilian hit the ground running at Milan, yet ended up getting only 63 goals in 150 matches, alongside 18 games. Wandering after across continents (Asia, North America), Pato returned to his homeland where he has played 111 games for Sao Paulo.
#1 Football Career Ruined by Injury: Abdelhak Nouri (26) - retired
It does absolutely sound wrong to place Abdelhak Nouri on this list, as the former winger didn't only miss out on his career, he missed out on life. Aged only 20, the Ajax prodigy collapsed during a pre-season friendly match, suffering a cardiac arrhythmia attack, which left him with severe and permanent brain damage. After three years in the hospital and in a coma, Nouri was released to be treated at home by his family. Although he remains bedridden and communicates with his family by moving his eyebrows. Once regarded as one of the best talents in Europe, Nouri's story is a deeply tragic one. A story that puts all the other stories about injuries that ruined careers into perspective.