Zidane becomes the manager with the third-most wins in Real's history
3.2.2020.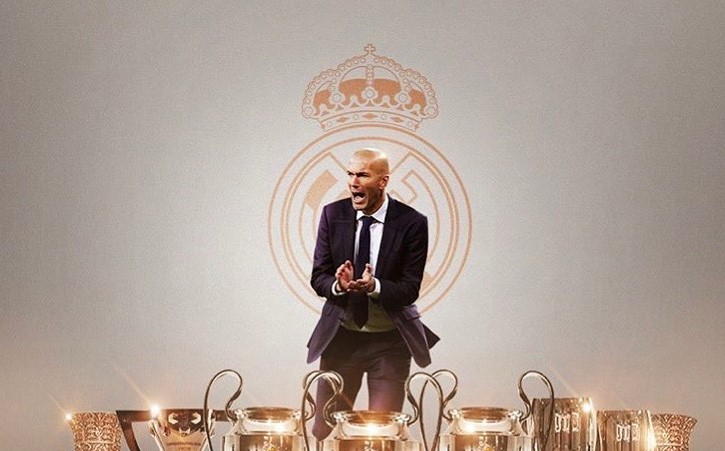 Founded 117 years ago, unanimously the biggest club in the world with 33 league titles, 19 domestic cups, and 13 Champions League trophies. Yet Zinedine Zidane achieved becoming the manager with the third-most wins in Real Madrid's history!
Zizu was a legend of the club as a player but he might become an even bigger one as the manager.
Despite leading the team for just three and a half years total, Zidane managed to win 129 games, passing Jose Mourinho on the all-time Real Madrid manager list!
Now only Vicente Del Bosque and Miguel Munoz are ahead of Zizu. But the Frenchman will surpass the 133 wins of Del Bosque in about a month or two, but Munoz will most likely stay untouchable. After all, he did lead Real for 16 seasons, between 1960 and 1974, as well in 1959. He collected 357 wins.
But doesn't make Zizu's accomplishment any less impressive. The manager was appointed by Real at half-season, in January of 2016, which is always a troublesome time to pick up a team. He did so again last year, when he took the team when everything was settled and lost in La Liga, in March.
Yet he still managed to collect so many victories while also have his team average 2.4 goals per game.
Furthermore, the 47-year-old Zidane has the lowest loss percentage in the history of Real with just 11% of games lost after 192 matches played!
His most impressive record remains the achievement of his team in finals. Out of nine trophy-deciding games Zizu led them into, Los Blancos won all nine! Including those three consecutive Champions League titles that the world of football somewhat underappreciates.
If Pep Guardiola or Jurgen Klopp achieved such a feat, we wouldn't stop hearing about their genius. When Zizu does it, it's due to his squad or sheer luck. Even if his playing style is somewhat unpleasing, Zizu deserves more credit.