Winter 2022 window top 10 transfers: Serie A at the top, Barca included twice
7.2.2022.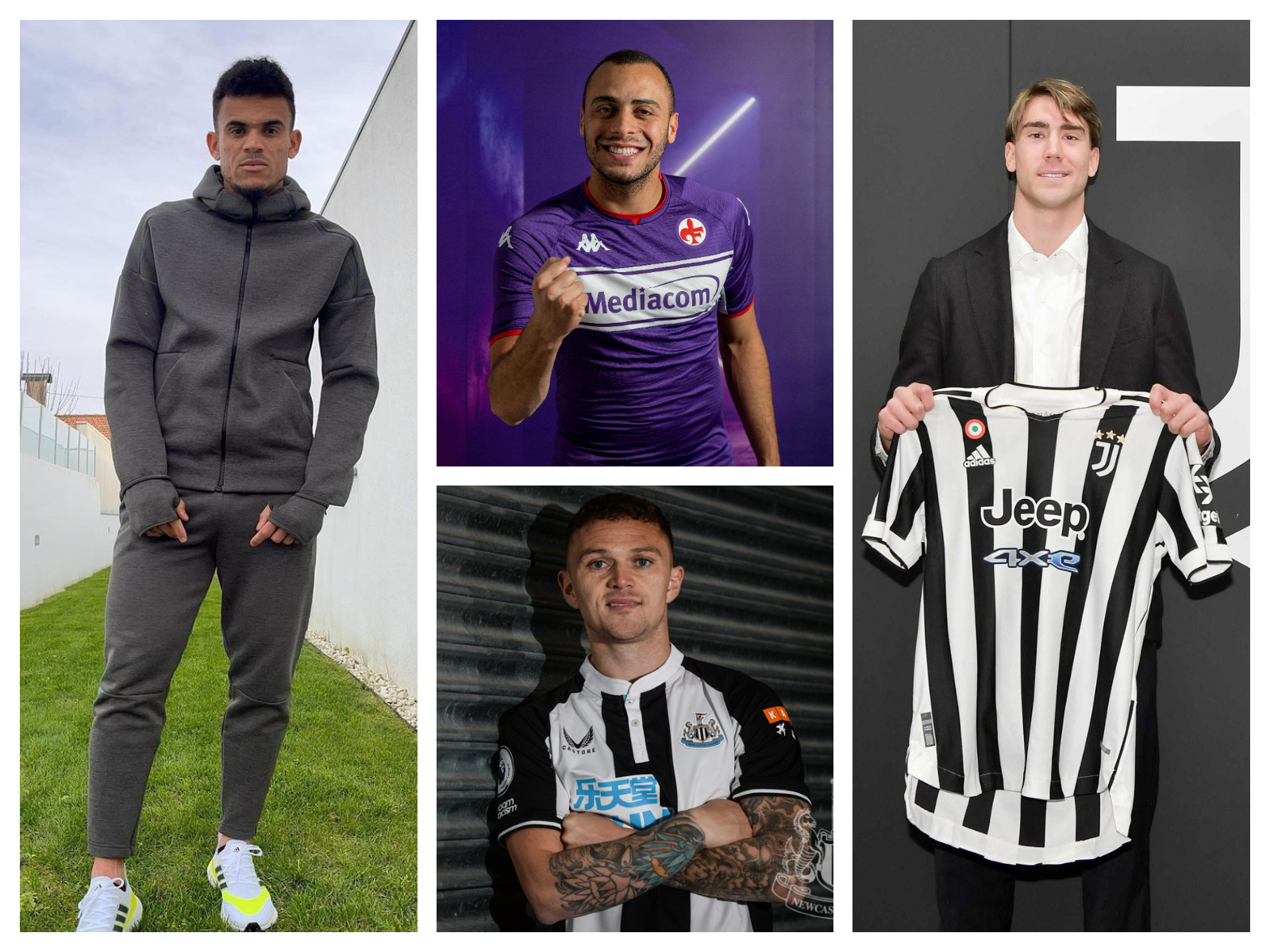 Looking at the transfer fees and names involved, one could forget that the just-finished window was a winter one. It's certainly one of the biggest in the last decade, arguably the biggest ever! Many transfers that weren't expected came to fruition, big names changed clubs, massive teams got upgrades, and January 2022 will shape the current and the following campaigns in a major manner.
But who are the top transfers of winter 2022 window? Looking at player quality, buying club's need, price, age, and narrative we concluded our list of top 10 acquisitions. For the move to be eligible for our list of top winter 2022 transfers it at least had to be a loan with an option to buy.
10. Arthur Cabral - Basel to Fiorentina for €16,000,000
Fiorentina fans were left stunned when another one of their top players joined Juventus in Dusan Vlahovic. A season that was going great suffered a major setback, yet the recruitment team reacted in the best way possible. Getting a player who scored 27 goals in 31 games this season! Arthur Cabral joined for only a fraction of what Viola got from Juve, with his former side Basel earning €16,000,000. While Cabral is only 23, and an amazing goalscoring record for the Swiss side. Bagging in 65 goals and making 17 assists in 106 matches for them.
9. Wout Weghorst - Wolfsburg to Burnley for €15,000,000
In 144 games for Wolfsburg, Wout Weghorst bagged 70 goals and made 22 assists! Meaning that he recorded a goal involvement every 0,63 games he played. His record at Az Alkmaar was similarly impressive, getting 45 goals and 13 assists in 86 matches. The Netherlands international is in his prime, he is nearly two metres tall, he isn't injury prone, doesn't have a lot of mileage on him, yet he went to a relegation battler Burnley.
With the Premier League side getting him for half of what they sold Chris Wood to Newcastle for. Reports suggest that some bigger teams passed upon the Dutchman because he doesn't want to get vaccinated and Burnley took their chance and will be making a profit in the future thanks to a contract until 2025.
8. Lucas Digne - Everton to Aston Villa for €30,000,000
Aston Villa is clearly on the rise in English football, their ambition is in action, not words. With another symbol of this revamp of the former European champions coming in the signature of a former Paris Saint-Germain and Barcelona player, Lucas Digne. The French international was unreasonably allowed to leave by Everton due to disputes with the manager Rafa Benitez who was sacked anyways, quickly after Digne's €30,000,000 move to Birmingham. The 43 times international capped left-back in his prime will be a massive player for Aston Villa, and a possible major sale in two years time or less.
7. Ferran Torres - Manchester City to Barcelona for €65,000,000
Surely a massive fee, yet Barcelona got a far more stable winger than what it got in past for twice, nearly three times as much with Ousmane Dembele and Philippe Coutinho. Going back to Manchester City as they did in the summer for Eric Garcia, Barcelona splashed €55,000,000 on the goalscoring Spaniard. With another €10,000,000 going towards Etihad depending on performances. Yet the 21-year-old has already started firing, getting a goal and two assists in 345 minutes of playing time for Blaugrana. Hence, a player with 43 games under Pep Guardiola, who got to 12 goals in 22 games for Spain at his age, must be one of the top transfers of the 2022 market.
6. Kieran Trippier - Atletico Madrid to Newcastle for €14,400,000
Aged 31, Kieran Trippier is certainly not the most exciting signing out of all these top winter 2022 transfers. Yet he is the most symbolic one, a clear indication in the right way Newcastle United has stepped on, showing that they might take far less time to achieve their lofty ambitions than their unrecognized stepbrothers at the Etihad. NUFC managed to get an England international who worked with their manager, Eddie Howe, for around half of the marketplace everyone was expecting. With the right-back providing leadership, stability, and set-piece prowess to the team. Most importantly, his move showed to the rest of Europe the Magpies are not here to be skewed.
5. Rodrigo Bentancur - Juventus to Tottenham for €25,000,000
Aged 24, Rodrigo Benetancur has already been capped 47 times by one of the most important footballing nations, Uruguay. He has played 181 high-pressure games for Juventus and 60 for Boca Juniors. He is a three-time champion of Italy and won the league in Argentina once. All to say that Tottenham got a proven winner under the price in Bentancur. Arriving to the Premier League for €19,000,000 with another €6,000,000 possible in bonuses, the midfielder will prove to be a steal for Spurs on the level of Piere Emile Hojbjerg.
4. Luis Diaz - Porto to Liverpool for €60,000,000
Nobody, not even Liverpool, can buy a substitute player for €60,000,000. As Jurgen Klopp stated himself, Porto proved to be quite the tough negotiator and got the most money they could for the winger. As the effort and the sum was too great for Diaz to be a bench warmer, the move indicates Diaz is the next big player LFC will bank on. As their trio of Mane, Salah, and Firmino all are nearing their 30th birthday cake and the end of their contracts, it's certainly that Diaz is a replacement for one of them, likely Salah or Mane. The Reds will pay the €45,000,000 and the rest of the €15,000,000 is a matter of bonuses.
3. Pierre-Emerick Aubameyang - Arsenal to Barcelona for free
Yes, Pierre-Emerick Aubameyang is now more than ever a risk. He has gone from being the captain of Arsenal to an exile at the Emirates far too fast not be alarming. Yet, the manner in which Barca signed the player places him so highly on the list of top winter 2022 transfers. As the prolific goalscorer who has tormented teams across Europe arrived for absolutely free, it was AFC who paid the Gabonese to change the clubs. The English side will also cover a part of his wages for the first six months, which will drop after Barca takes the paying of them on their own. While FCB has an option to release the striker a year and a half into the contract if he doesn't perform as hoped for.
2. Robin Gosens - Atalanta to Inter loan + obligation to buy for €25,000,000
Entering his prime at age 27, the Germany international Robin Gosens is not the biggest star on this list, he will never be, yet he is without a doubt one of the best in his position. A left wing-back role that is crucial for Simone Inzaghi's tactics. Dominating for Atalanta, scoring 29 goals and making 21 assists in 157 games for La Dea from his defensive position, Gosens was sought by the richest clubs, like Newcastle and Paris Saint-Germain. Yet Inter managed to bag this coup that will concretely strengthen their title aspirations. He arrives on loan with an obligation to buy for €25,000,000 which is seemingly a bargain for a German national team member with not a lot of mileage on him.
1. Dusan Vlahovic - Fiorentina to Juventus €80,000,000
The biggest transfer of the January 2022 market is also its biggest. We wrote about Dusan Vlahovic extensively on InsideSport and our readers are well introduced with the phenomenon that the Serbian striker is. Not a one-season fluke by any chance, Vlahovic already equalled Cristiano Ronaldo's record for most Serie A goals scored in a calendar year, at 33. Playing for Fiorentina.
In total, Juve will pay €91,600,000 for the Serbian who signed the contract exactly on his 22nd birthday. But the value of the transfer itself is €70,000,000 of the main fee that will be paid across three years. With a bonus of €10,000,000 paid to Fiorentina depending on reaching certain sporting objectives. Scoring a brilliant lob on his debut to add more hype, the complete forward will seek to prove that he is on the level of Erling Haaland and Kylian Mbappe as the three next biggest superstars. In there lies the value Juve got for this transfer, as they bet big to get themselves back on the roof of Italy and Europe, bringing in a player whose physicality and technique match his mentality.
Honourable mentions for the top transfers in January 2022 go to Juve's capture of Denis Zakaria for a total of €7,000,000, Shakhtar buying David Neres for a maximum of €16,000,000, and Manchester City acquiring Julian Alvarez for somewhere between €17,000,000 and €23,000,000.