Who are the potential stars of the 2021 winter transfer market
13.12.2020.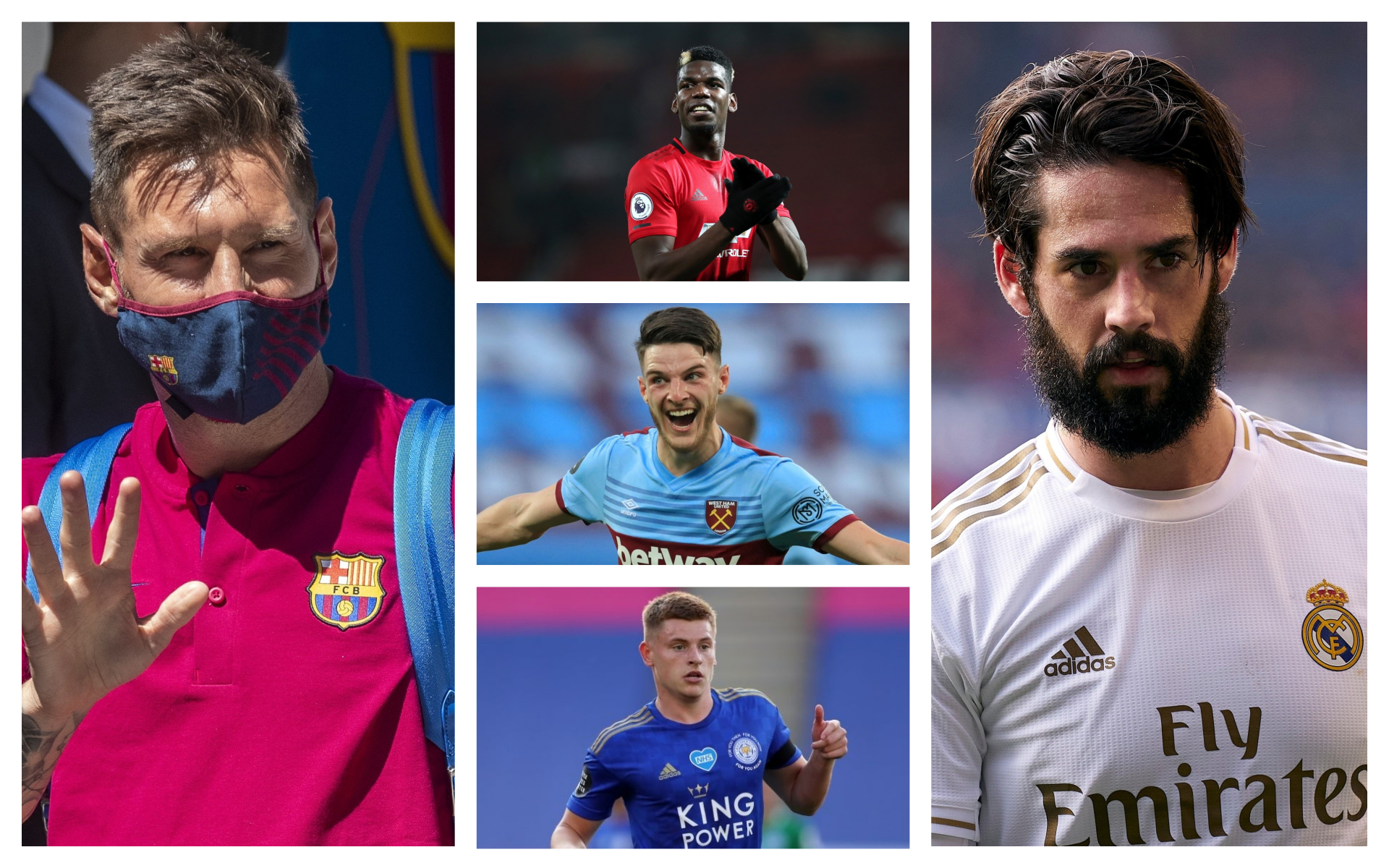 Always calmer than the summer transfer window, the January market might be hotter than ever this year with several prominent names looking to change clubs. Some players are sure to move in the next month, while for others there is a chance worth considering if the dominoes fall right. We take a look at the potential stars of the 2021 winter transfer market and rank them in the probability of making a move.
10. Memphis Depay
Lyon's captain Memphis Depay is close to his contract running out come summer and Lyon have come to terms that he is set to leave them. Reportedly, Barcelona already agreed on a move for Depay in October but La Liga blocked it because of the salary cap in the Spanish league.
Come January, it will be a fresh slate for Barca's finances and the team is set to buy the Dutch player for not a lot of money, reportedly around €5,500,000 in October, so probably even smaller this winter. With some potential future sell-on clauses added on. Barca needs this move not just because of the injuries of its wing players, but to show they are still a buying club.
9. Arkadiusz Milik
Having scored 48 goals in 122 games for Napoli, after doing brilliantly at Ajax with 47 goals and 21 assists in 75 matches, Arkadiusz Milik has completely sat out the first half of the season. He comforted himself with international games just to keep fit but the Pole's stocks have definitely gone down.
Yet, Napoli wants €20,000,000 even though his contract also runs out in the summer, which is another case of the club's president Aurelio de Laurentiis being unreasonable with fee demands. Several clubs are thought to be interested - Atletico Madrid, Everton, Inter, even Newcastle. 
8. Dominik Szoboszlai
A future star of European football will also be on the move. Dominik Szoboszlai has a release clause of €25,000,000 that needs to be met by December 31st and paid in full in a matter of two weeks from the offer. With 20% of the next transfer going to Red Bull Salzburg as well.
There is no shortage of suitors as both Madrid clubs are interested, Tottenham, Milan, Arsenal, and the frontrunners RB Leipzig. Szoboszlai is looking to emulate his former Salzburg teammate Erling Haaland who stared the last winter market and went on to captivate the continent and the world.
7. Christian Eriksen
A man who was the star and the steal of the last winter's window with a €20,000,000 move from Tottenham to Inter, is again on the market. Having played few games and had an unsatisfactory impact at Guiseppe Meazza, Christian Eriksen is looking to change clubs a year after landing in Italy.
Only a year ago, he was considered a world-class player. Now, the only thing that can keep him in Milano is Antonio Conte getting sacked. Inter CEO Beppe Marotta said that the club doesn't intend to keep unsatisfied players. While the reports state many clubs that are interested in Eriksen, including Man United who already has a surplus of attacking midfielders, the most realistic option is Borussia Dortmund, alongside Paris Saint-Germain and Real Madrid.
6. Olivier Giroud
Chelsea's backup striker is of understated importance to the club yet he is not satisfied with the minutes he's receiving at Stamford Bridge. His agent stated Olivier is not looking for a money grab opportunity, rather a place to have intense feelings, compete, and leave his mark.
The Blues are not keen on selling him but there are interested parties that could sway Giroud to move. Most notably Inter Milan, who has been interested for quite some while, yet the Frenchman is not going to slot in the starting lineup ahead of Romelu Lukaku and Lautaro Martinez. Arsenal are reportedly looking to have him back yet, once again, Giroud would be the third option. Same at Juventus, who is looming in what could be the best pick by the Frenchman as Alvaro Morata isn't untouchable at Turin.
5. Isco
Criticizing the manager will always get you on the shortlist for leaving the club. Even though Isco thought he was criticizing Zinedine Zidane's only to his teammates, the cameras picked up his dissatisfaction. His agent also stated that the playmaker is tired of being the afterthought at the club and wants to move, suggesting a league change might be interesting.
Isco is interesting to Arsenal, who are without their primary 10 Mesut Ozil because of his exile. Everton is also in the mix with a €20,000,000 offer to Real that would enable Isco to work with Carlo Ancelotti again, a manager every player has only nice things to say.
4. Harvey Barnes
Entering the less likely waters of the winter transfer market predictions, Manchester United has reportedly given up on Jadon Sancho for the time being and is looking at the other side of the pitch.

Playing at left midfield, Harvey Barnes would be a replacement for the unreliable Anthony Martial who is often injured. The 23-year-old Englishman falls into the group of Leicester's exciting domestic talent that definitely has the potential for stardom. But there is a huge discrepancy between United's budget for the winter, and Foxes' estimation of Barnes.
While the Red Devils have only €32,000,000 to spend, Leicester values the England international at €65,500,00. Even though they might lower their demands, United will need to sell in January too to make the transfer work.
3. Declan Rice
Chelsea already had a stormer of a transfer window in the summer but the Blues aren't done with crafting the team for Frank Lampard. And whoever replaces him eventually, as the London side focused on youth. But the team is often time looking like it needs a little bit of something to glue it together and the perceived solution is Declan Rice.
West Ham's Englishman started training in his youth day in Chelsea's set up before moving on to the city rivals. While he did have experience as a centre-back, he looks at himself as a holding midfielder and that's what he wants to play mostly. But WHU is going to be a tough cookie regarding his sale, as they never even had a €30,000,000 sale ever. For Rice, the Hammers have bolted on a price tag of around €87,000,000.
2. Paul Pogba
As his agent stated that Paul Pogba's time with Manchester United is over, it seems more possible than ever that the controversial midfielder will move sooner rather than later. Many pundits are calling for it too as they state that Pogba doesn't bring to the table to justify the clamour surrounding him at all times.
No amount of PR statements is going to change the outlook Pogba has created about his time at Old Trafford and his transfer is a matter of time. Winter might bring a loan with an option to buy with PSG, Real, and Juventus especially interested in getting the underperforming star. For Juve, it would have to be a swap deal with Paulo Dybal moving the other way, which brings the question of where would the Argentinian slot in the Ole Gunnar Solskjaer's team.
Of course, PSG doesn't have the money issues and might be the option for all sides, as the French side is interested in raising its popularity and reputation as much as the trophy haul, with Pogba certainly able to help on that front. Even though he hasn't done much on the pitch in a long time.
1. Leo Messi
The biggest transfer ever, not just of the 2021 transfer window. Of course, if it happens. Yet, with the acting Barcelona president Carlos Tusquets recently stating that he would have sold Leo Messi in the summer. Illustrating the devastating financial situation at the club and possibly pushing the Argentinian even further from the club.
Messi's contract runs out in the summer and the club will have to pay additional €33,000,000 loyalty fee if he sees out his deal. So financially, Barca might be even wise to sell Messi if he is set on leaving. Barca's presidential elections might play a massive deal here and they are scheduled for January 24th. Leaving time for Messi to move out after them.
While it seemed certain that Messi would join Manchester City when his contract runs out, Paris Saint-Germain has launched a campaign to bring Messi to France with Neymar and fellow Argentinian Leandro Paredes both calling him on. As Barca is severely underperforming in the league, Messi doesn't have much reason to stay bar his loyalty. If he is truly set on leaving, it might be better for all parties to do it sooner rather than later.

check out the video here