What's next for Jose Mourinho: Betrayal of Inter, derby with Gerrard, or the long-avoided switch to international football?
26.4.2021.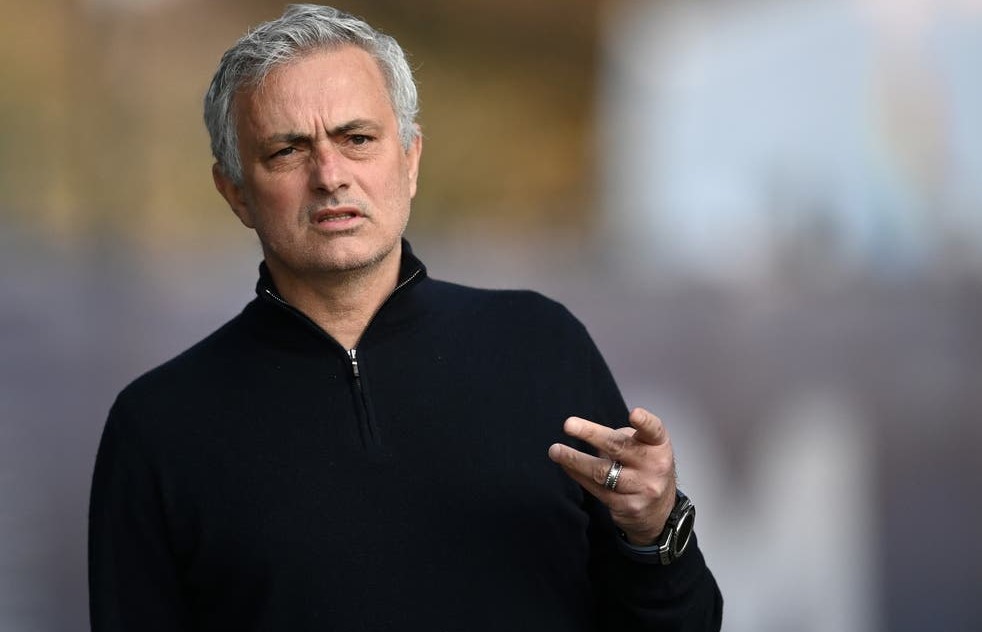 Getting sacked from Tottenham Hotspur after 17 months and nothing to show for it, especially in a way in which it was done, damaged Jose Mourinho's reputation even more than his stints at Manchester United or Chelsea the second time. The Special One didn't get a single trophy with THFC, the first time he failed to do so at the club since he took up Porto. Daniel Levy's decision left a burgeoning imprint on the CV of the Portuguese tactician additionally because of the timing.
Once regarded as the king of knockout ties and cup matches, Mourinho was sacked days before the club was supposed to fight for the Carabao Cup trophy. The reigns were given to the 29-year-old Ryan Mason! Jose wasn't allowed to battle for the trophy he earned, even though he remains the only manager to ever defeat Manchester City's Pep Guardiola in a final.
His reputation is far from the first Stamford Bridge days. Mourinho legend that was built in London and in the blue and black parts of Milano has faded, even for the biggest supporters of the charismatic man.
Yet, Mourinho still has the biggest name in the managerial game. Others are more consistently successful, there's no doubt about it. Some might even play the media game better than the 58-year-old Mourinho but there are still teams interested in his services. The Special One has a big severance pay to enjoy from Spurs but as he said to the journalists swarming him after the sacking, he is always in football, and clearly intends to remain ingrained within it. But where?
Real Madrid
Starting off with the unlikeliest of scenarios. Mourinho already led Real Madrid from May of 2010 until June of 2013, winning one of each: La Liga, Copa del Rey, and Spanish Supercup. Which wasn't enough for the Cristiano Ronaldo-fielding Los Blancos. Mourinho is still regarded highly by the players, as the club captain Sergio Ramos recently gave him the grandest of praise, calling him a great manager to refer others to.
While Mourinho remains in good relationship with Florentino Perez, the once again elected president. Real is bound to sack Zinedine Zidane in the summer but the replacement is most likely not going to be Mourinho. As the manager showed deficiency in dealing with young players Real is now full off. While also having the reputation for being too defensive, PR that Perez can't deal with as of now.
Benfica
Mourinho's style of football of giving the opponent time on the ball and field progression dismisses him from another former job. His lesser-known first job, as he led Benfica for 11 games in the year 2000, winning six of the matches. But the Eagles are known as one of the most attacking sides in Europe, almost synonymous with flairy football and developing players. They are bound to have a managerial switch too this summer, as Jorge Jesus disappointed in his second term, but Mourinho won't get one.

A new-money Premier League club
The main takeaway for British journalists after the sacking was that Jose Mourinho will never work on the Island again. But that might be folly in more ways than one. The longshot argument is that the Premier League is still interesting to rich people looking to buy clubs. Only recently Newcastle's failed takeover could've made them the richest club in the world when looking at the owner's bank accounts. Usually, such projects need to rely on authority and Mourinho still has it. Maybe not for the biggest stars but certainly for mid-level teams looking to take the next step up.
If clubs like Newcastle, Crystal Palace, or Sheffield United get new owners ready to spend, we wouldn't be surprised to see Mourinho back in the PL. With the financial crisis, many clubs across Europe are looking at ownership change and. West Ham's owners could capitalize on the side's current position and sell for profit as well. Such things happen faster in crisis.

Lyon
Not that long ago, Lyon's president Jean-Michel Aulas revealed he wanted Mourinho at the helm of the club but that Mourinho had already accepted the Spurs job. Rudi Garcia has done well for the team considering the player sales the club has endured in recent years but he will most likely fail in the Champions League quest. Aulas was at the time swaying Mourinho by explaining Lyon has increased in stature and he might decide to show it to Europe by getting such a big name as a manager.
Portugal
Even though he is very much in-football by his own claim, and international football does have a less-demanding calendar, it's not impossible to see Mourinho take up the Portugal job after the upcoming Euros. Fernando Santos has been leading the side for seven years and has won two major trophies, the Euro and the first Nations League. Yet many are dissatisfied with his team selection, believing he gives too much respect to the stars. Mourinho is a big star in Europe, let alone his own country and could possibly deal with them more easily due to no language or cultural barrier. Not to mention that he would have the best squad at his disposal than in any other team.

Juventus
Jose Mourinho's best stint remains the two seasons at the helm of Inter. While he did "betray" Chelsea fans by joining another London side in Spurs, throughout his career he stated he could never do that to Inter. While not city rivals, the rivalry with Juventus is strong and Mourinho's list of allies could grow thinner if he turns his back on the Nerazzurri as well.

Juve's experiment with Andrea Pirlo has clearly failed and with him and Maurizio Sarri, the new attacking-minded Old Lady. A return to a more solid, defensive style could be made by hiring Mourinho and the Special One could once again work with Cristiano Ronaldo who scored 168 goals and made 49 assists in 164 games under his compatriot.
Napoli
While some are saying that Gennaro Gattuso has defended his reputation as a solid manager at Napoli, he is seen at the exit doors of the Stadium Diego Armando Maradona. With Fiorentina calling him up and Napoli willing to let him go as he is in danger of missing out on Champions League football. The Italian club's president Aurelio de Laurentiis seems like a man who would welcome the Portuguese eccentric as one of his own. While the fans would appreciate the passion Mourinho brings to the table. His harsh nature could be tolerated underneath the Vesuvius easier than in jolly old England with its overprotected and overpaid players.

More importantly, at Napoli, Mourinho would have a physical squad at his disposal, just the way he likes it.
Roma will most likely also be searching for a new manager come summer and the new ownership can make a buzz and statement of intent by bringing in a big name like Mourinho.
Celtic
Another reason why British journalists are wrong when they say Mourinho is done in Island football. That might be the case for the English, but the Scottish giant Celtic is looking for a strong figure to return them to their domineering ways after Rangers have come back from the grave to haunt them. Mourinho's style of football is called outdated by many pundits and journalists but in the Scottish Premier League it might not stick out as much. While also providing continental action for potential knockout stages magic.

With Steven Gerrard leading Rangers and the two sides being such fierce rivals, Mourinho could add gasoline to the constantly ablaze fire that is the Old Firm derby.
Wolves
It's a public secret that Wolverhampton Wanderers while in Chinese ownership, are a Portuguese colony. The side has eight of Mourinho's compatriots, two more on loan, and two Portuguese-speaking Brazilians. With the Portuguese manager Nuno Espirito Santo who isn't having the best of seasons. His win ratio at Wolves has stooped to below 50% and the side in the bottom end of the table.
While none of the players has excelled statistically this season as well. An important factor for a club believed to be under the de-facto control of the Portuguese agent Jorge Mendes. Who also happens to be Jose Mourinho's agent and the man who advised him against accepting the Spurs job as he was aware of the club's affinity towards attacking football, pressing situation, and complex dressing room.
This is our pick for Mourinho's most likely job even though it's a considerable step-down. Albeit not by much considering Wolves were not that far removed from Spurs in the two past seasons, finishing seventh both times. But the Special One is also a Feisty One and a Spiteful One. Having a chip on his shoulder, wanting to prove Daniel Levy, the pundits, the journalists, and the whole Premier League wrong is not sci-fi for the man with 25 trophies won as a manager. Getting to a spot over Tottenham or winning a cup trophy before them is more than doable from Molineux.