Top free agents in 2020 - best players with expired contracts
21.8.2020.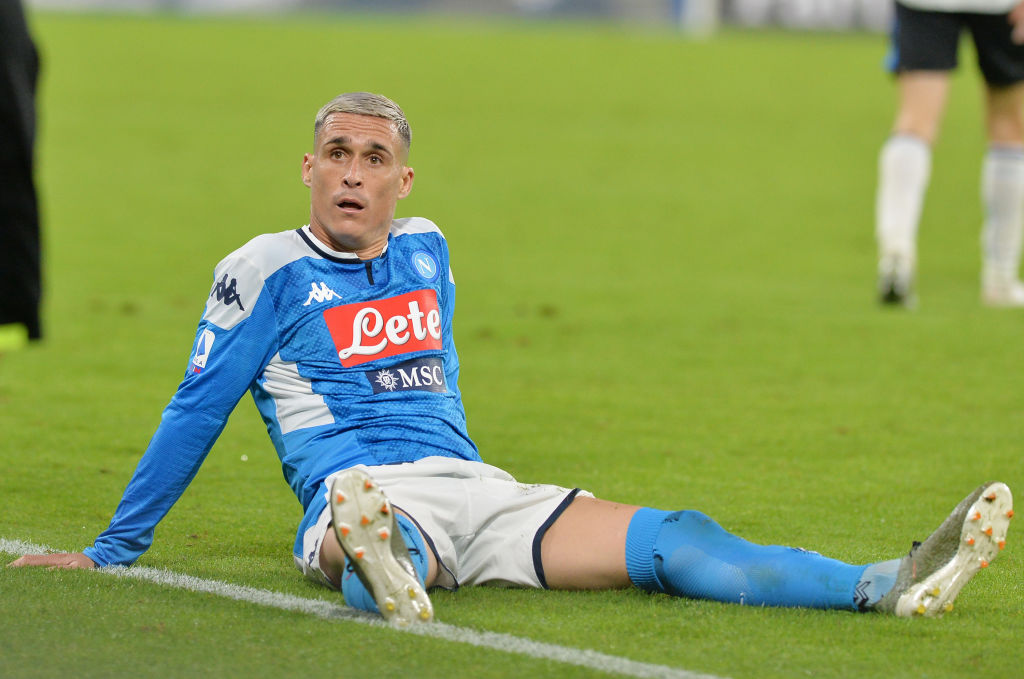 Signing a player as a free agent is a coup, a present almost, and especially so in the world of an economic recession caused by a pandemic. While occasional massive transfers still make it seem like nothing is changed in the market, most clubs are struggling to conclude the transfers they want. Making summer 2020's free agents the hottest looking commodity.
Despite the elongated seasons bringing many unexpected contract extensions and a shorter span for players to be without clubs, there are still golden opportunities waiting for the right sporting directors to pick them up. In order to show how many brilliant players are without a club as of moment, we'll make the best eleven of players without contracts in the summer of 2020.
Goalkeeper: Claudio Bravo (37), Manchester City
Despite being 37, there isn't a better choice of goalkeepers for the free agents top eleven team. Even though Bravo heavily declined after joining Manchester City from Barcelona as one of Pep Guardiola's first wishes. The sweeper keeper has played for just four clubs in his career that now spans 15 years, Colo-Colo and Real Sociedad before the two giants.
Our team of free agents is going to bank on Chilean's international experience and his 123 games played for the national side, resulting in two Copa America wins. It's expected that Bravo will return to Spain and sign with Real Betis, but following David Silva's feint to Lazio, it's just not certain.
Right-back: Nathaniel Clyne (29), Liverpool
Coming to Liverpool shortly before Jurgen Klopp, Nathaniel Clyne was a symbol of possibly better times yet he ended up watching them from the bench. After playing in 70 Premier League matches in the first two seasons following the transfer from Southampton, Clyne gathered only 21 appearances in the league in the next three years. With 14 of those coming on a loan to Bournemouth last season.
Injuries have truly plagued the still young 29-year-old recently and he hasn't played a single game in the 2019/2020 season. With 14 England caps and bags of experience in the Premiership, there's no doubt that some English side is going to pick him up, for far smaller wages, and at least in the Championship. Yet, if Clyne regains his fitness, the committed machine he is, he will continue to be a problem.
Centre-back: Malang Sarr (21), Nice
Usually, the players on these top eleven of free agents lists are veterans hunting that last contract before retirement. Well, not in the case of Malang Sarr. The young defender has decided to see out his contract with Nice and therefore become even more enticing to big clubs. As if his 102 Ligue 1 appearances at the age of 21 weren't enough.
Little on the short side when it comes to centre-backs at 182 cms, Sarr may not be heading to Premier League anytime soon but Spanish should be fighting for him. An obvious choice for Barcelona who was missing centre-backs in the last campaign and might undergo a serious overhaul this summer. It seems that Sarr is waiting to see how the situation develops at Nou Camp, and the move was made complicated by the departure of Eric Abidal from the club.
Centre-back: Thiago Silva (35), Paris Saint-Germain
As we have youth, vitality, and hunger on the right centre-back position, pairing it up with experience, technique, and anticipation on the left. Thiago Silva is also a bit on the shorter side for a centre back but his experience is almost unmatched, certainly amongst free agents. Waiting for his side to finish its first Champions League final, Thiago Silva will be the one to lift the trophy if PSG wins.
Hoping for a perfect ending, Silva is knowingly out of the club as soon as the season is finally finished and he already has a mighty suitor. PSG's and Brazil's captain is seen by Chelsea as a perfect backup. Not only will Silva provide experience but he will also come as a free player to free up funds for Kai Havertz. Yet, Fiorentina and three other clubs are interested in the Brazilian.
Left-back: Ivan Strinic (33), AC Milan
The weakest link in the team, if a World Cup vice-champion can be called that. Yet Ivan Strinic arrived at San Siro in 2018 and failed to make a single appearance for Rosonerri. All while coming off a great WC and a silver medal but the reason was sinister and undeniable. Strinic was diagnosed with a heart condition that he had to recover from.

The Croatian is now in his homeland, preparing for next challenges and SPAL and Nice both are interested in his services. He claims to be ready for top-level football and was a lock on this position as the alternatives are the 35-year-old Gael Clichy, Yuto Nagatomo, Pablo Armero, and Gaston Silva aren't really jaw-droppers themselves.
Defensive midfielder: Nampalys Mendy (28), Leicester

In another position where the choices are few and poor, Nampalys Mendy makes the cut simply due to his youth, being 28. The diminutive (167 cms) French player was supposed to be the replacement for N'Golo Kante but those shoes were mighty hard to fill. Especially with injury problems he faced that basically saw him have just one full season, the 2018/2019 one, at Leicester.
With 42 Premier League games, and 138 Ligue 1 matches under his belt, Mendy disappointed at King Power and he might even further by joining Xavi's Qatari side despite being on the better side of 30. With Steven Defour and Athletic Bilbao's ageing players the only alternatives to him, Mendy isn't far from Strinic when it comes to squad importance for this top 11 free agents of summer 2020.
Attacking midfielder: Mario Gotze (28), Borussia Dortmund

Playing offensively as possible and banking on side players to reach the opponent's half, this squad will rely on former World Cup winner Mario Gotze to organize attacks. Acting as a focal point for offensive movement, Gotze still has a lot to offer and he isn't ready to retire before retirement and move to China, Middle-East or America. The German has already refused David Beckham's Inter Miami and remained silent to the courting of LA Galaxy.
The man who scored the winning goal in the 2014 World Cup final for Germany still has suitors across Europe and it's believed that Monaco, Sevilla, Fiorentina, AC Milan and Roma are all interested in his services. Will we see his complete resurgence and fulfilment of the "German Messi" prophecy - no. But we still might catch Gotze's flick-ons, cutting through balls, and one-twos.
Right-wing: Jose Callejon (33), Napoli
After 349 competitive games for Napoli in seven years, which saw him score 82 goals and assist 78, Jose Callejon has left San Paolo. It was rumoured since last winter and at a time the destination was clear - China. But now it's not that obvious and Callejon is seen as the solution to Everton's problems.
Resting in his homeland, Callejon just might end up staying there as two city rivals are eyeing him - Real Betis and Sevilla. While the red-and-whites offer Champions League football, the green-and-whites offer more minutes, which is an important aspect for a man who played in 33 or more league games every season he was at Napoli.
Left-wing: Ryan Fraser (26), Bournemouth
The second most valuable player on this team according to Transfermarkt and a lot of it has to due with Ryan Fraser's UK nationality. But the Scotsman also is the second-youngest man on the team with 120 Premier League games to his name at that. In English top rank, Fraser scored 16 goals and assisted 29 times.
As his Cherries have been relegated, there were no hopes of him staying and he turned down a short-term extension. Now, at least three Premier League clubs are interested in the 26-year-old - Fulham, Newcastle, and Crystal Palace. While Fraser was impressive in the 2018/2019 season, he disappointed in the just ended one with mere four assists and one goal. The only reason bigger teams aren't clamouring for him, if not anything for a rotation role.
Striker: Daniel Sturridge (30), Trabzonspor
Daniel Sturridge added to his injury problems with legal issues due to betting-related infractions. Leaving for Turkey last summer, he managed to grab a bit more games in the previous season than his main competitor for this position - Mario Mandzukic. Yet, with 16 games and only seven goals, Sturridge is far from the form that made him a part of one of the most devastating duos ever.
After a year abroad, the former Liverpool man is itching for a Premier League return and is training hard. While the prospect of playing for Sheffield United might not be on the level Sturridge is used to, it beats Benevento, Daniel's suitor from Serie A. Although the 30-year-old is set on England, he isn't ruling out other leagues.
Striker: Edinson Cavani (33), Paris-Saint Germain
Another long-term PSG servant and legend, and definitely the biggest name on the team of free agents - Edinson Cavani is one of the most prolific strikers the game has produced. His last season was plagued by injuries, but this eternal worker and team player has gathered 200 goals in 301 games for PSG. His record for Napoli is even better with 104 finishes in 138 matches.
With the level of commitment to recovery and training the Uruguayan has, his 33 years most likely won't be a problem to continue on the elite level. The only question is whether he wants to take it easier. For months now there have been talks of Atletico Madrid's interest and probably no squad would suit El Matador better. The MLS doesn't deserve him.
What would be the ceiling of this team of free agents in 2020?