Top 10 players of the current Bundesliga's season
14.5.2020.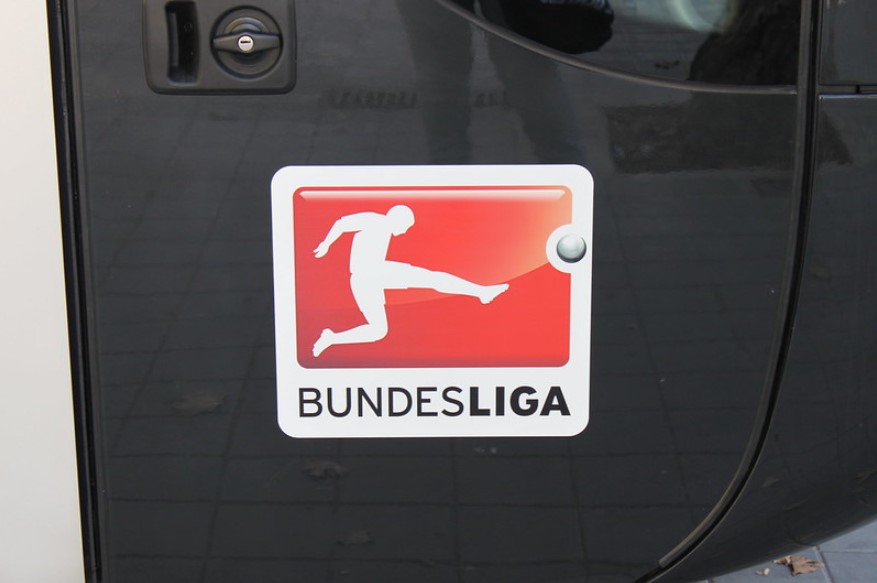 We are welcoming back Bundesliga on Saturday, so let's take a short review of the standings and analyze the best-rated players in the current season.

Bayern Munich is leading the race with four points above Dortmund, and five ahead of RB Leipzig. The title race should be decided among this trio but let's respect manager Marc Rose and his Borussia Monchengladbach, who are the fourth-placed team at the moment.

Leverkusen are sitting fifth but are far away from the next rivals on standings, Schalke 04.  A big 10 points separate those two.

Wolfsburg, Freiburg, Hoffenheim, Koln, Union Berlin, Eintracht Frankfurt, Hertha are all belonging to 'middle table' teams while Augsburg (27pts) and Mainz (26pts) sit just above the relegation zone.

And we have Dusseldorf (22pts), Werder (18pts), and Paderborn (16pts) as the teams on the bottom with the smallest hope to survive in the top tier.




But, who is the best-rated player in Bundesliga this season so far? Let's take a look at stats of Whoscored.com, revolutionizing football statistic tool that we football lovers practices to use. 


10. Suat Serdar (7.41) - Schalke 04
Thomas Muller is the best assistant of the league but he is not on this list apparently, rated 7.33. However, Suat Serdar is here. A former Mainz midfielder four times won 'man of the match' award playing for Schalke this campaign while he has been decreasing big time in performance in the season's second part, with both matches in Rockrunde failing to stay above the 6.20 level rating. Still, the annual impression is good for Serdar, as he scored seven Bundesliga goals for his mediocre middle table side, playing in the central midfield. Reportedly, the club wants to offer him a contract extension to fight off interest from Premier League, according to Bild.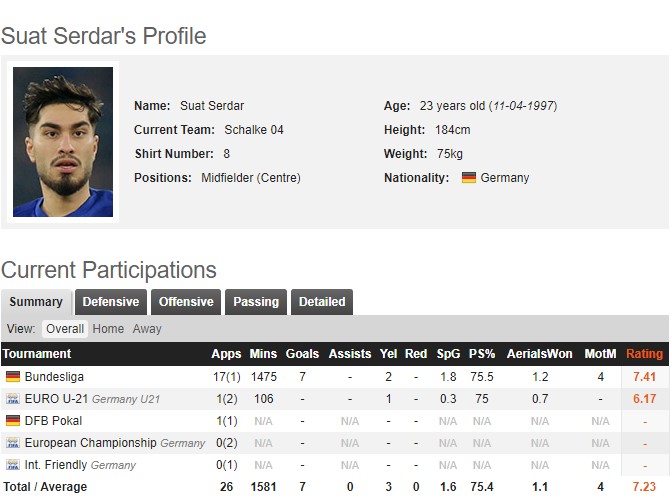 9. Marco Reus (7.50) - Dortmund
Marco is definitely the league star and without injuries, his career would be more regular, no doubt in that. The right legged left-winger is shining in the pacey BVB squad and in the vision of the coach Lucien Favre. This season was good for Dortmund and Reus despite being short on standings. Reus scored 11 times, created five assists in 18 appearances. The true BVB legend once said: 
"The request came [from Bayern], as it did from other clubs. I have the greatest respect for Bayern Munich and what the club has been doing for decades,"
Reus said Sport Bild when he was asked about did he ever thought to join Munich side. It also reveals he will probably stay as long as possible in a black & yellow shirt.

"But I always wanted to play for BVB. It was always the club my heart drew me to."        
Career in one shirt: Marco Reus

Via bloodinbloodout pic.twitter.com/CdgVIcz7Er

— Classic Football Shirts (@classicshirts) May 9, 2020
8. Christopher Nkunku (7.52) - RB Leipzig
Former PSG midfielder has got a lot of strengths in the Whoscored profile with the only weakness described - tackling. But the truth is, that his poor finishing stopped him to put himself higher on this list or even higher on the goalscorers rankings. Nkunku is creating a lot but fails to penetrate in the final third. However, coach Neigelmsan is more than happy to have such a player who added 13 assists to his teammates so far. Definitely it was the Schalke's demolition when he shined the most, assisting four times in a 5-0 away win in Gelsenkirchen. 
And then Choupo Moting did this, what the heck is this ?? Nkunku's chip was going in and the former Schalke man stops it from going in; just shocking #PSGRCSA pic.twitter.com/HAENWvqEtn

— footballnews (@footynews34) April 7, 2019
7. Alphonso Davies (7.54) - Bayern Munich
The youngest player from the list. Bayern's teenager and one of the most perspective left-backs in the world. Yes, he is. USA international showed remarkable improvements at the age of 18 and despite playing in the strongest league side, his psychical characteristics are worth mentioning when talking about the future of the left-backs. Davies is ready to play in both directions for 90 minutes and is the one responsible to replace David Alaba in Bayern Munich. Four assists and one goal are not enough to explain his contribution to his team, as his responsibility and calmness to the rest of the squad.
You're gonna have to be a lot faster than that to get away from @AlphonsoDavies... ???? pic.twitter.com/6BRQSGUkM2

— FOX Soccer (@FOXSoccer) February 9, 2020
6. Thiago Alcantara (7.54) - Bayern Munich
Yet another Bayern's player. One of the most creative midfielders in the world has been constant in the Munich's side this season. It's the seventh year in Germany since his arrival from Barcelona. The primary task for Thiago is architecting the team's attacks and not scoring the goals, and he is doing it in high quality. With the high pass accuracy - above 90% this season. He also improved defensively in this season, it is also relevant to mention. Normally, he was up for a football's return when he was asked about it:
"For me, it's a pleasure to play football every three or four days".
?????? https://t.co/OLnMn9H1ot

— Thiago Alcantara (@Thiago6) May 1, 2020
5. Filip Kostic (7.55) - Eintracht Frankfurt
Serbian is lacking on technique and seems like he needs more sophisticated touch with the ball, but there are no problems for him to grind the whole game and contribute defensively, with his aggression. No matter, 90, or 120 minutes, he is ready to cover you. Though he misses a lot, his primary task is assisting. Eintracht's crossing machine is doing a really good job so far and is one of the brightest stars in a poor season for Eintracht. He added four goals to his tally with eight assists to earn a total of 7.55 rating from Whoscored.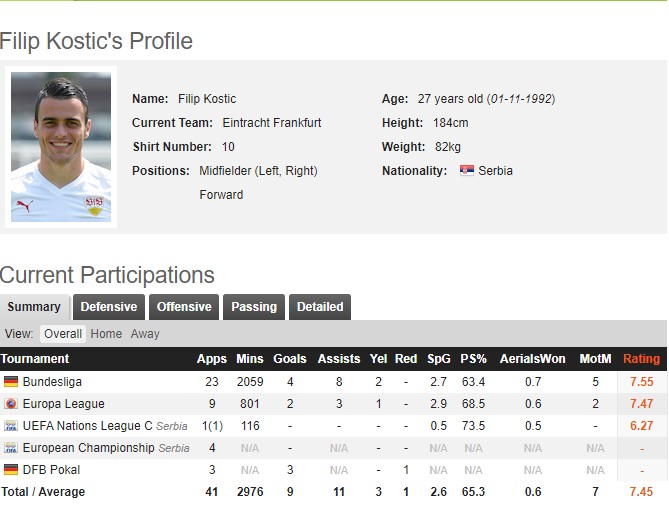 4. Timo Werner (7.58) - RB Leipzig
Werner is one of the players Jurgen Klopp wants and he is highly expected to leave RB Leipzig in summer. Maybe he will not end up in Liverpool at the end but his ambitions are connected with the greatest world clubs, with all due respect to his current club RB Leipzig. The explosive striker scored 7 goals in 21 matches this season for Red Bulls. Indeed, that 's not looking brilliant but his off the ball moving improved under Neigelsmann, and Werner is now more helping his other teammates on the pitch. 
Timo Werner vs Mainz is such a fun performance to watch

3 goals, 3 assists, involved in all 8 goals

One of the most complete performances from a forward you'll ever seepic.twitter.com/THMI2q1Nzy

— Carson* (@WC_LFC_Torres) May 11, 2020
3. Serge Gnabry (7.60) - Bayern Munich
Since arriving from Arsenal, Gnabry saved his career, many would say and we would agree here. 24-year-old danced on the edge of trust in London, but then he earned an unexpected transfer to Bundesliga and Bayern. In Munich, he was given the necessary creative freedom from the start and Gnabry is playing paying off.  After all, he earned a longterm trust from the national selector Joachim Low, becoming the almost regular "Die Mannschaft" member. With seven 'man of the match' awards, 11 goals and nine assists, Gnabry belong to the Bundesliga top list. 
Next one:

Is Gnabry world class? pic.twitter.com/MJyBMjNfet

— James (@AfcJxmes) April 6, 2020
2. Jadson Sancho (7.90) - Dortmund
Dortmund's Sancho is one of the most talented world attackers, without a doubt. Tricky and pacey winger is a wonder maker at the right side of the pitch but is not shy to adapt to the needs of the boss and play on the left-wing too, in the role of inside-forward. Since he is an Englishman in Germany and is one of the highest-priced youth players worldwide, he is heavily linked on a daily basis with transfers to Manchester United and Chelsea. Sancho left Premier League to join Bundesliga in 2017 and he didn't make it wrong. He is showing remarkable performances no matter of circumstances, and what is most important, Sancho is climbing up on a performance ledge compared to the previous season (7.52) as he now touched a rating of 7.90. Amazing two seasons for such a young player.
Daily reminder that Jadon Sancho will soon be playing for Ole's tricky reds pic.twitter.com/7sVdvjQfGE

— ? (@UtdAidan) May 12, 2020
1. Robert Lewandowski (8.16) - Dortmund
The man from the other planet and the Bundesliga's real boss. Goalkeeper's nightmare, the one who made scoring looking super easy in 2010's period. Lewa has now scored more goals than he did in the last Bundesliga season: 25 goals in 23 matches in 2019/20. And he scored 22 in the previous campaign. So, the rating of 8.16 reveals a lot on his plans, with 9 rounds left to the end, Lewa will maybe not pass over the all-time Gerd Muller's record (40) but the Polish striker is determined to win the individual and team awards parallelly and has all the requirements to continue his playing career until at least 35 years and continue banging.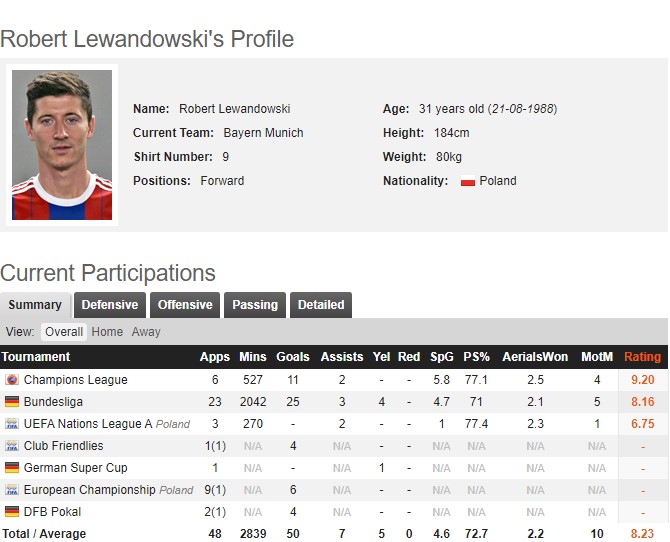 Take a look at the rest of the Bundesliga records at the official league page.