Top 10 goalscorers in the European top five leagues for the 2020/2021 season
24.5.2021.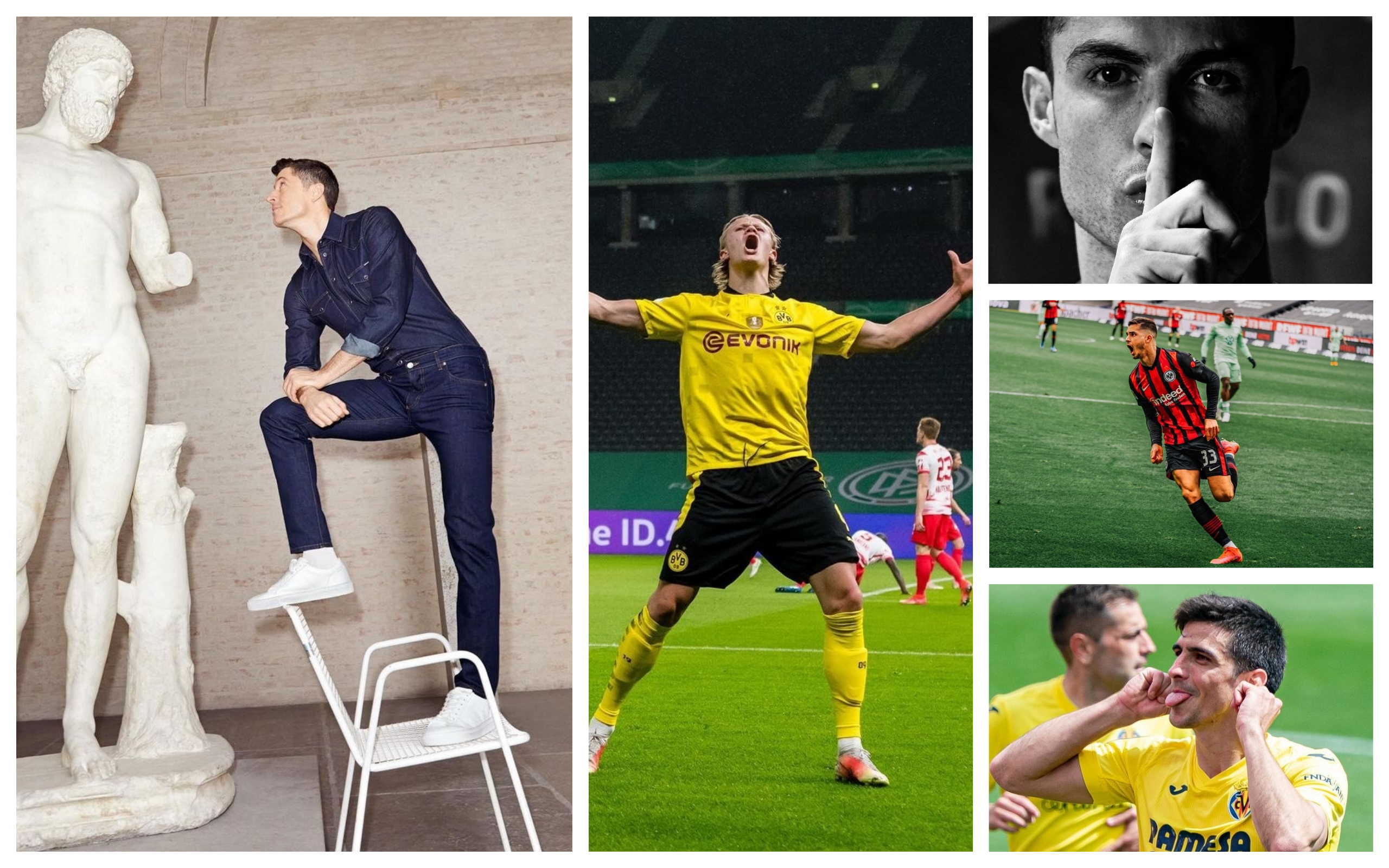 Even though they weren't rewarded for their efforts with the usual crowd explosions due to covid-19, the strikers of Europe have put in a strong year. One was by far the best. Only the second to do it from his league! But impressive numbers have been put in by other forwards in the top 10 of the Golden Boot shortlist for the 2020/2021 season. Top 10 goalscorers of European top five leagues have scored 275 goals combined with the first-placed sharpshooter outdoing his colleagues by double digits.
Last year's winner Ciro Immobile got to the 20th spot on the European Golden Boot race with 20 goals, showing just how competitive the year was.
10. Harry Kane (Tottenham Hotspur) - 23 goals
Enough for his third Premier League Golden Boot and for the 10th spot of Europe's top five leagues, Harry Kane recorded arguably his best season ever overall. On the last matchday, he separated himself from Mo Salah and got the PL prize for himself, for the third time in a row. Only Thierry Henry with four and Alan Shearer with three seasons have managed to do it.
Kane got his tally in 35 games, a ratio of 0.66 goals per match, with five braces scored this year, no hat-tricks.
9. Karim Benzema (Real Madrid) - 23 goals
Recording his second-best league tally, Karim Benzema has been instrumental for Real Madrid yet the season was finished completely empty-handed. Karim needed 34 games for his end number of 23 goals came through with six braces. The 33-year-old scored a goal against Atletico Madrid and Barcelona each as well. His goal to match ratio is 0.68 for the 2020/2021 La Liga season.
8. Gerard Moreno (Villarreal) - 23 goals
The first surprise on the list as few expected Gerard Moreno to find consistency late in his career. After bagging 18 league goals last season, the 29-year-old Villarreal man further improved, scoring five more this term. Getting two braces and one hat-trick in the process of playing 33 La Liga matches. His goal to match ratio stands at 0.70 for the season yet his estimated value is only €35,000,000 as per Transfermarkt.

7. Romelu Lukaku (Inter) - 24 goals
A goal short of his best league goal tally set in the 2016/2017 season at Everton, Romelu Lukaku still did enjoy his best season ever. Not only did he win the title with Inter yet he finally backed the promises he made on himself with his performances at Goodison. Scoring four braces in the 36 games he played in Serie A, Lukaku got a ratio of 0.67 goals per match.
6. Kylian Mbappe (Paris Saint-Germain) - 27 goals
Recording his second-best goal-scoring season in the league, after bagging in 33 goals two seasons ago, will be a small consolation for Kylian Mbappe. He confirmed his individual quality but the team failed to win the league title that was only there to lose. The 22-year-old scored seven braces in the 31 Ligue 1 games he played, getting a goal ratio of 0.87 per match.
5. Erling Haaland (Borussia Dortmund) - 27 goals
The youngest member of the top 10 goalscorers list, Erling Haaland entered the crem de la crop of European strikers within just one full season in the Bundesliga. While also playing only 28 games in the competition due to frequent injuries. Bagging 27 goals, 20 of which came in the form of 10 braces, alongside one poker of goals, was enough for the second-best goal to match ratio of 0.96. Scoring three against Bayern Munich, one against RB Leipzig, the 20-year-old Erling is deserving of all the hype received.

4. Andre Silva (Eintracht Frankfurt) - 28 goals
The biggest surprise inclusion on the shortlist for the European Golden Boot award, especially ranked this high, looking up at only the biggest legends there are. After spending last season on loan at Eintracht Frankfurt, this year he set the club's record for most Bundesliga in a season. Beating €50,000,000 and €60,000,000 sales Sebastian Haller and Luka Jovic. The Portuguese has found himself in Germany aged 25 and showed consistency, not going more than two matches without scoring. Getting seven braces in the 32 matches played, enough for the 0.88 goals per match ratio.

3. Cristiano Ronaldo (Juventus) - 29 goals
Aged 36 and not stopping, Cristiano Ronaldo topped the Serie A scoring chart for the first and became the first player to win the best scorers award in three of the top five leagues, after Premier League and La Liga. Even though he scored two goals more last year. CR7 scored eight braces and one hat-trick this season, yet he only scored once in the games against the other top four teams in Italy, missing one game against Atalanta due to injury. The veteran played 33 games, scoring at a rate of 0.88 per match, enough for the third spot in the race he won four times.
2. Lionel Messi (Barcelona) - 30 goals
The man with the most European Golden Boot trophies, six of them, Lionel Messi, stopped at the second spot. Same as his eternal rival, he showed his class once again, getting best only by one man in the whole of Europe. Messi enjoyed a far better 2021 and got eight of his nine braces in the second part of the season. Playing 35 games, the Argentinian wonder got a ratio of 0.86 goals per match played. An improvement of five goals when compared to his last season for the 33-year-old as well as his eight time winning the Pichichi trophy for La Liga's best scorer!
1. Robert Lewandowski (Bayern Munich) - 41 goals
The undeniable king of Europe for the past two seasons, even though last year he missed out on the most just individual prize, as it is won, not awarded. Topping the top 10 goalscorers of Europe's best leagues, Robert Lewandowski separated himself from the pack by a lot. Despite playing only 29 games total, only Haaland playing fewer.
Lewa hence got by far the best goals per match ratio of 1.41. Getting five braces, four hat-tricks (which is more than the rest of the top 10 combined), and a poker, Lewa has been unstoppable in his best season ever. Aged 32, he didn't score in only four of the 29 games he played this year in the Bundesliga.