Tipsters March competition report
2.4.2021. 20:40
Hello everyone and congratulations on another successful month in Betting Tips. 
First, we must apologise for running late with the newsletter. We usually aim to make it online every 1. of the month. Our team has been struck with illness and this has slowed us down. That is also the reason we will keep this months newsletter super short.
March results and prizes
These are the competition winners in March and their results.

1. Mrgol with +9.75 units
2. Mackbet +5.56 units
3. Alwin Amler +4.47 units
Mrgol has continued his fantastic run in profit land and has finished the month with almost double digits in units. Phenomenal stuff! Especially when we take into consideration various leagues he follows and the availability of betting liquidity on those. He is also promoted to Silver level as of this month. Winner of 50EUR.
After struggling for two months in featured, Mackbet has managed to get a good month and snatch second place. What we did not like is that after securing big profits and a minimum of 10 tips he stopped posting. Everything was of course done by the rules, but we do not appreciate that kind of behaviour. He wins 35EUR.
Alwin Amler is our favourite german who has been doing the hard work on big markets. We are happy to see him getting into the prize pool and overall profit land. Keep it up! He wins 15 EUR.
Our editorial choice of the month is Alexis1016. This highly experienced punter is showing great results with his first month on our platform and we wish to support him more. Asian leagues expert is something we have been missing. He wins 20EUR.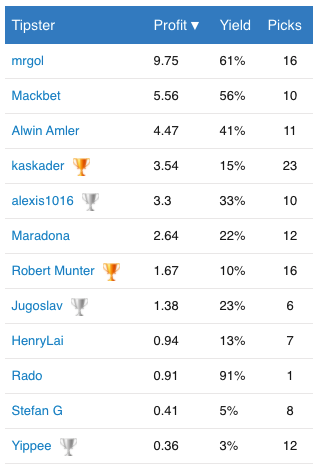 Mrgol has been promoted to Silver level. Other than that there is no change in Silver and Gold levels. Some changes will occur in featured tipsters as well.
All S&G tipsters have been performing very well except the newly promoted Nestor and Dario that joined last month. We shall assess their performances and determine do they have the level needed for being Silver. Both are experienced tipsters and have shown in their blogs/projects that they can get out of these bad periods so we will see how they do the next month.
All fixed incomes and prizes will be paid out in the next day(s). Please allow us more time while our office struggles to get our health back.
Good luck to everyone in April.