Tipster monthly competition - October
6.10.2020. 11:47
Our Betting Tips platform has made its first baby steps last couple of weeks, and already we have some strong names in the roster. Belgium expert YippeeBetting has started the month great with 3/3 winners which were definite value bets. Looks like an early favourite, but there are still many games in October.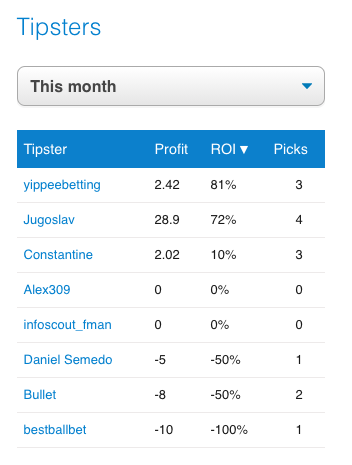 As previously explained, we shall be having both monthly and season contest for our best performing tipsters. In this article, we bring you the general rules of the monthly competition.
1. Minimum 10 picks.
2. Highest ROI at the month-end is the winner.
3. Betting tips and previews must be written following InsideSport guidelines.
4. Unique and written for InsideSport platform only.
The prize pool for October is 100EUR. Best tipster will win 50EUR, second place is valued at 35EUR while third place will earn you a 15EUR.
We reserve the right to cancel tips that are not written under guidelines, have false odds or detect any kind of manipulation. There is zero tolerance for cheaters and double accounts. 
Our team will also reward 20EUR to one tipster. This tipster can be one out of top3 or outside top3. We shall take into accounts previews, the value in tips and overall contribution. For example, one tipster could be giving value tips the whole month but his luck runs out and he is not in the top 3.
We can recognize the effort made and will award him. Same can happen for one of top3 tipster, when someone is doing an exceptional job we shall award him with additional 20EUR. 
In a perfect month, a tipster can earn 100EUR + 20EUR from the prizes.
On top of this, all tipsters are earning points for writing betting tips and commenting. This can be exchanged for real money once the account balance reaches 50EUR. All prizes will be paid out in InsideSport points to tipster account and they can make a withdrawal at any time.
Best tipsters will be promoted to Silver level, and eventually to Gold level. The very best of the best will earn a permanent position and a fixed salary within our expert team.
All betting tips are free for all our followers. You only need to login to see full details of the tips.
Good luck to everyone and may the value be with you!