The new era of the Uruguay national team
21.9.2020.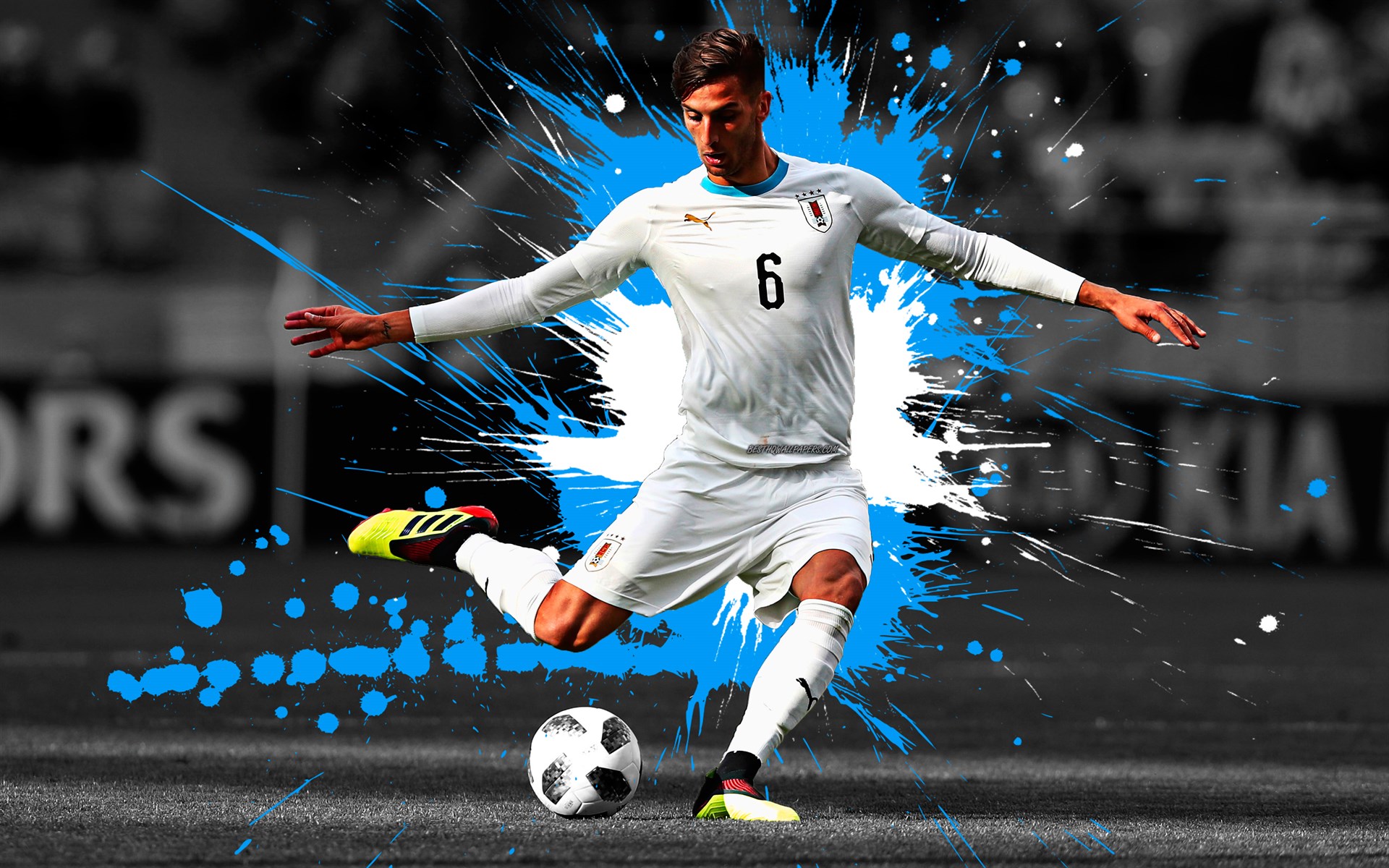 In the history of international football the first rows are dedicated to Uruguay, the premier winners of the World Cup and also the first tournament after World War II. To this day, the country with a minuscule population of 3,500,000 people remains a footballing powerhouse amongst far more populous giants. The best thing is, the nation might have its most promising generation of young players as the new era of the Uruguay national team looks scary.
Quietly, Uruguay's national team has had the longest-leading manager amongst the top footballing nations, as Oscar Tabarez has been leading the Sky Blue since 2006. The same year Joachim Low took over Germany.
Tabarez has announced the list of players called up to the national team for the upcoming World Cup qualifying matches against Chile and Ecuador at the start of the October and the side is bound to excite even neutrals. Such a mixture of already proven youngsters and elite veterans is unmatched across the globe and the squad might be embarking on a quest to Qatar 2022 with a realistic chance of evoking the finest sporting days of the country.
Uruguay forwards
For starters, Taberez's list doesn't have Edinson Cavani on it but that's because the player is still without a club since leaving Paris Saint-Germain and is not in competitive form. But El Matador hasn't given up on the national side and at 33, same as Luis Suarez, he has a lot of sweat to put on the shirt he already represented 116 times.
Barcelona's Suarez might be on the move as well this window and it's not a secret that these two are Uruguay's main weapons and have been for years now. No country still has a better striking duo. Cavani scored 50 times for his country, while Suarez has played three games fewer and scored nine goals more.
Though Uruguay's attack doesn't end with these two names. It can easily be said that the squad has the best third proper striker of any country as well, bar Argentina, with Maxi Gomez. Coming to struggling Valencia last summer Gomez doesn't have the goal tally he wanted but the "it" factor a proper number nine has to have is there.
The 24-year-old is a worthy successor to the legends and he's first behind in the pecking order even though he is a long way from the world-class status they achieved. With two goals in as many games this season for the worst Valencia in recent history, roster and moral wise, Gomez is looking sharper.
Even he isn't the only option up front. Jonathan Rodriguez might not sound familiar to many fans in Europe but the 27-year-old Cruz Azul player scored 10 goals in as many games in the Mexican league. Last season he had 17 goals in 25 games total.
Another experienced 33-year-old striker has been called up, Christian Stuani, a fan favourite who's currently in Segunda with Girona. But in 40 matches he played in the Spanish second division last season, he scored 31 goals. A year prior he scored 19 in La Liga, two of which against Barca.
One of the key distinctions of the new Uruguay national team is the number of footballers playing in the MLS. Young ones, not actively retired ones. Diego Rossi, yet to make his debut for his country, has been tearing it apart in America with 48 goals and 19 assists in 92 games for Los Angeles FC.
The forward line is topped off with a young talent who also played in the 2nd Spanish league last season, scoring 16 times in 30 outings. But the 21-year-old Darwin Nunez has moved on to more glamorous pastures and the centre-forward was brought in by Benfica for €24,000,000 this window. When Portugal's top salesman pays you that much, instead of selling you for a similar sum, there's gold there. Darwin scored on his debut for Uruguay so he's off to a good start.
Uruguay midfield 
But Uruguay already had a scary attack in the previous tournaments it played. What it didn't have, is young midfield players with important roles in European giants. Rodrigo Bentancur is only 23 and already has 110 games for Juventus, after representing South American institution Boca Juniors 57 times. He already defended the colours of his country 29 times!

A year younger centre-midfielder Federico Valverde has represented Real Madrid 69 times, after playing for Deportivo La Coruna in La Liga as well. Fede has been the favourite of one of the best midfielders of all time, his coach Zinedine Zidane, for quite some time. He gathered 20 caps Uruguay.
Lucas Torreira has fallen out of favour at Arsenal but not too long ago he was considered a rare bullseye purchase. The defensive midfielder is only 24 years of age with extensive experience in the Premier League and Serie A with Sampdoria, all while playing with that signature Uruguayan dedication.
Having the most caps out of all three more famous names is Nahitan Nandez, a 24-year-old who moved to Cagliari last summer after bossing the midfield in Penarol and Boca Juniors.
Giorgian de Arrascaeta, only 26, has 25 national team caps but has yet to make it to Europe. Playing for Defensor SC, Cruzeiro and now Flamengo, he has won the league in Brazil, the cup three times, as well as Copa Libertadores and Copa Sudamericana
With 108 games for Getafe, the 24-year-old Mauro Arambarri is yet to make a debut but is already regarded as one of the most promising defensive-minded midfielders in Europe.
An attacking midfielder Nicolas De La Cruz is also without a cap as of now, but that is a matter of time. The AMC is playing for River Plate, having been involved in 31 goals in 80 matches for the Argentinian side.
The midfield side is capped off by another Los Angeles FC player, and perhaps the most hyped young Uruguayan, Brian Rodriguez. In his first six matches for Uruguay's A national team, the winger scored three times.
Uruguay defence
While Suarez and Cavani are bossing the frontline, born-captain Diego Godin will continue to do it from the backline. Fresh of his season with Inter, Godin proved he is still at the top level at 34, even though he might make a switch to Cagliari now. With 135 appearances, he is Uruguay's most loyal son.
Godin is reunited with his footballing son Jose Gimenez in the national side. The Atletico Madrid 25-year-old man has been playing on the highest level for quite some time now and already has 191 appearances under the defence master Diego Simeone. At Uruguay, he threatens to one day pass his mentor Godin as he already has 58 caps.
Reserve centre-backs are the experienced Sebastian Coates (29) of Sporting Lisbon and Fiorentina's Martin Caceres (33). Alongside a youngster that Barcelona bought Ronald Araujo, itching to make his international debut.
Corn-rowed 27-year-old Diego Laxalt is the primary left-back and always performed better for his nation than for Genoa, Torino, Bologna, Empoli, and now Milan. His shadow is the versatile 22-year-old Marcelo Saracchi who was deemed worthy by RB Leipzig's successful scouting team. He represented the German side and then moved to Galatasaray for half a season, working in front of the national team goalkeeper Fernando Muslera.
The right-back position is also covered by a veteran and a young prospect. In the first role is Damian Suarez, a player with 215 battles with La Liga wingers in his 32 years. Currently representing the overachieving, hard-fighting Getafe. But the veteran is yet to debut while the 22-year-old Matias Vina deserved five caps playing for Palmeiras and Club Nacional prior.
Uruguay goalkeepers
The only line of the pitch where there aren't any promising youngsters or elite players is the goalkeeping group. Missing Fernando Muslera - who is still undisputed and more than adequate first-choice at 34 years of age - the goal is defended by three less known keepers. The 38-year-old Rodrigo Munoz who spent his whole career in Uruguay and Paraguay, a year young Martin Silva who also played in Brazil besides the two "guay" countries, and the 31-year-old Martin Campana who just left Independiente.
The last generation did manage to win a trophy with Copa America in 2011 against Paraguay a year after reaching the World Cup semis. But there's still feeling that the crop with two world-class strikers, three at the start of it when Diego Forlan was still in the team, should've done better.
A perfect mixture of youth and experience Oscar Tabarez has at his disposal - even in some individuals themselves - warrants Copa America success. While the World Cups dreams should be called that anymore but plans.