The legacy continues on: Third generation of Maldinis debuts for Milan
3.2.2020.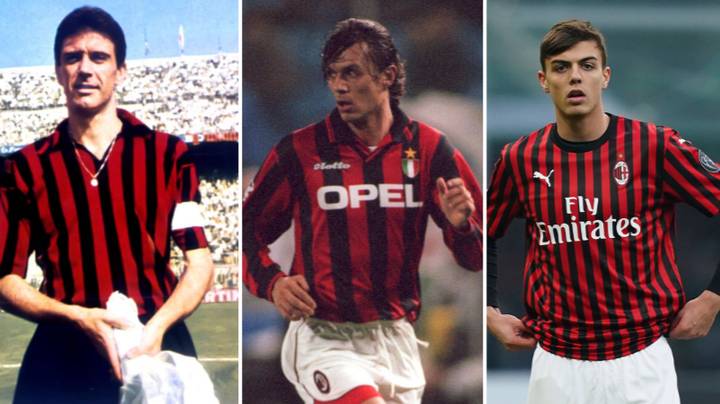 Talk about big shoes to fill... And two pairs of them at that! The longest-lasting dynasty in world football has started its third chapter as Daniel Maldini, son of Milan legend Paolo and grandson of the similarly iconic Cesare, has made his Serie A debut.
The 18-year-old Italian recorded his first appearance in the red and black shirt that is synonymous with his family in the 1:1 draw with Verona coming on as a substitute in stoppage time.
Cesare made his debut for Milan in 1954, Paolo 30 years later, and Daniel at the start of 2020. 
But Daniel strayed from the family path. His dad and grandfather were both defenders, but the teenager plays an offensive role, across all positions in midfield.
Regardless of position, Daniel has a mammoth task in front of him as he will always be judged double, or triple. As a player of itself but also for the name over his shirt number 98.
Cesare already set a high standard for his own son by playing in 347 games for Milan, captaining the side to four Serie A titles and one European Cup during the 12 years he spent at the club.
Paolo enhanced the legacy even further by becoming one of the most respected defenders in history. He is still currently the Serie A record holder for most appearances in Serie A at 647, with Gianluigi Buffon game away from overtaking him.
What no one will probably ever break is Paolo's commitment to Milan as he wore the club's shirt in 902 games! Being a one-man club throughout his career which ended in 2009.
Unfortunately, Cesere didn't live long enough to see his grandson's introduction to San Siro as he passed away in 2016.
With being only 18 years old, Daniel doesn't have to hurry with making his successor. But Milan always needs good players and every football fan would love to see a family so deeply ingrained with the club.