Sporting's successor to Bruno Fernandes grew up in a stadium and plays like it, leading Lions to a long-evasive title
8.3.2021.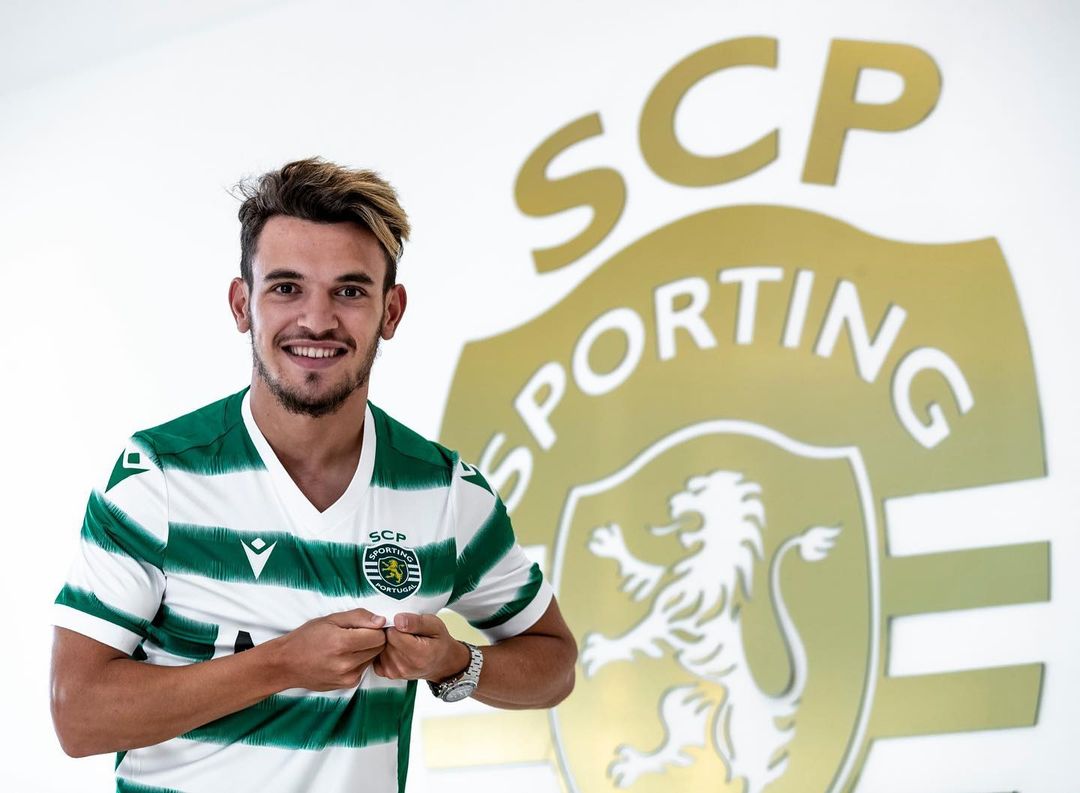 When Bruno Fernandes arrived at Manchester United last winter for a sum that could very well reach €80,000,000, Sporting Lisbon directors were bragging how they fleeced the English in negotiations. Not that Bruno was some faulty goods they were trying to unload, just that the Portuguese side was more patient in negotiations and got the deal they wanted.
A little over 12 months later and the Red Devils could still be overjoyed with the deal they made. In 62 matches played, Fernandes has 55 goal involvements for the Old Trafford side. The more expensive Paul Pogba got to 72 goal involvements in 192 games! More than three times the games the Portuguese had.
On the other end, it seemed that with Bruno, Sporting gave up on the chance of being competitive with Porto and Benfica. After all, the Green and Whites last won the championship in 2002. With Fernandes, they at least won three cups.
Yet it is in this season, 2020/2021 that the Lions are stalking their way to the title, ahead of the pack. With 10 points ahead of the closest Porto and 16 in front of the high-spending Benfica.
Of course, many variables played into Sporting's resurgence, like the leadership of the manager, former Benfica player Ruben Amori and the transfer misfires of the Eagles and the Dragons. But one part is particularly interesting as Bruno Fernandes' impact was quickly filled in by the arrival of the 22-year-old Pedro Goncalves.
A failed Wolverhampton Wanderers signing only a season ago, Goncalves is leading the Sporting side to a title not even Bruno managed. Putting in greater goal involvement numbers than the United player in his last half-season with the club.
Yet, Bruno's successes at Sporting can't be understated. Before he arrived, since their last league trophy, the club won only four cups. With Bruno, they managed to get three, two League Cups and one Portugal Cup.
In two and a half seasons Fernandes spent at the Estadio Jose Alvalade, he scored 63 goals and made 52 assists. With 39 yellow cards and one red showing his commitment to the team on both spectrums, more than some sort of carelessness.
When the deal with Man United was finally made, the then-Sporting Lisbon manager Jorge Silas was jovially depressed discussing the chances of replacing him.
"How do we replace Bruno Fernandes? We would need three players for that. There's no-one else like him in Portugal."
But there was, although not for long. Goncalves didn't even make a professional debut before he left his home country. From Braga, where he spent five years as a youth player, from 2010 onwards, he moved to Valencia. Moving to Wolves' Portuguese colony in the summer of 2017 but managing to get only one competitive appearance and spending most of his time with the U23s.

While there's no doubt that Wolves have struck gold in their Portuguese mines on more than one occasion, it's clear that they will rue the day they let Goncalves go. The versatile footballer born in 1998 was sold to Famalicao for just €1,300,000 in the summer of 2019. The 20% part of his €6,500,000 Sporting transfer that belonged to the Premier League side won't be much of a consolation. Especially as now Sporting has Goncalves locked in with a release clause of €60,000,000 and a contract until 2025.
Although reports state that Wolves have inserted themselves into Goncalves' two next transfers, so that the club would also get a small portion of his future transfer out of Sporting.
His exploits with Famalicao were enough to warrant a move upwards with seven goals and eight assists, showing a great versatility and both goalscoring and assisting acumen. A statline more impressive when taking into consideration the fact that or the former Famalicao coach Joao Pedro Sousa he served mostly as a central midfielder.
"When we brought him from Wolverhampton he was a player with almost no playing time. He obviously wasn't the footballer he is now, but he clearly understood the game and its different moments - something that makes a difference in high-level football. He had the chance to feature with me in a number of positions in midfield - as a double pivot, a winger and a number 10," said Sousa.
Sporting arranged his arrival late in the summer, mid-August but the 22-year-old took no time to adapt to the team led by a new manager in Amorim. Also, to adapt to a different role as Sousa doesn't shy away from admitting the colleague is using him better.
"This season, we are seeing him in a more advanced role, closer to the finishing area, with more goal involvements. He's revealing an ability to get to the last third and attack that I didn't know about, so I have to congratulate Ruben Amorim for that. It's any coach's dream to have a player as versatile as Pedro."
With this new role, Goncalves is more focused on goalscoring and is flying high with 15 goals scored in 20 Primeira matches, with three more assists. Goncalves is hence leading the top scorer race in Portugal, with five goals more than Sergio Oliveira and six than third-placed Haris Seferovic and Mehdi Taremi.
For comparison of Pedro's first semester grades, last season Carlos Vinicius was the top scorer with 18 goals alongside Pizzi and Taremi. The one before that saw Seferovic dominate with 23 goals in front of Bruno who had 20.
While dubbing players as the new older player is the laziest form of commenting on football, it's understandable in the case of Goncalves and Bruno. Not only because the younger man is directly replacing his older compatriot but because they are playing in similar roles, with similar duties, while also boasting quite similar winning personalities.
The fact that the 22-year-old didn't break under the burden of leading Sporting to their so long-awaited title is the first great indicator of his mentality. Although his teammates state that Pote, as he is known, plays with ease found only in alleyways and concrete courts across Portugal.
"I usually describe him as a street player because whoever he plays against - it doesn't matter if it's a Pizzi [Portugal defender and Benfica captain] or a third-tier footballer - it's exactly the same for him. He doesn't feel the pressure of the big games," says Fabio Martins, his former Famalicao teammate.
The reasons behind his natural, brash playing style and unbreaking mentality could be found in the way he grew up, so used to football. In a stadium of his village club, where his mother was the kit woman.
In the first half of the season, the Portuguese youngster scored 14 of those goals and made two assists. While Bruno had eight goals and seven assists in his last half-season with SP. Unlike Fernandes, all of Goncalves' goals have come from open play. Which is something the Man Utd player is overly criticized although it is a nice line on Goncalves' resume.
Now, Sporting Lisbon is led by the youngster to a 22 game defeat-less streak! With only draws in that whole stretch.
Bruno's impact at Man United shows the importance a single player can have on an entire club. It was seen during his time at Sporting where he remains a legend, arguably the biggest modern one after just two and a half seasons. Yet, the 173 centimetres tall Pedro Goncalves might have him beat on stature and track taken to get it both when Sporting wins the 19 years awaited title.