Sharpshooter squadron: Top goalscorers of 2020
10.1.2021.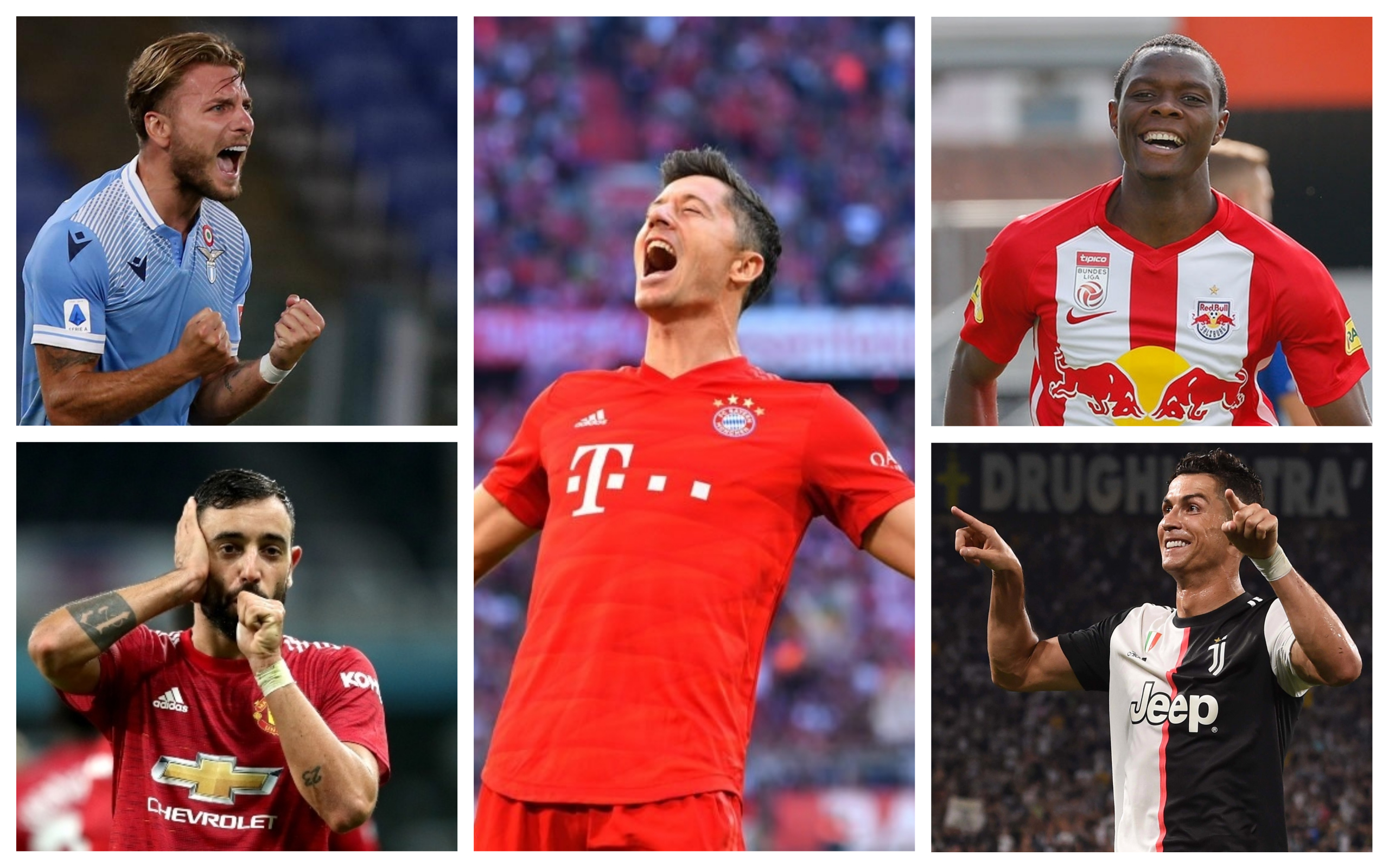 While the season top scorers in Europe get appreciated by national awards and the Golden Boot for the best of the best, their calendar years records are often overlooked. That's why we decided to write up on the 10 top goalscorers of 2020, considering players from Europe's top 10 leagues. Tallying up their records in leagues, national cups, and continental games like Champions League and Europa League.
Apart from Leo Messi's insane tally of 91 goals in 2012, it's hard to remember a time a goalscoring record in a year was lauded. But they should be. Showing consistency beyond one season, especially for 2021 when there were multiple breaks, covid-induced pauses, and high fixture congestion.
Honourable mentions for top strikers of 2020 go to Harry Kane, who spent most of the first half of 2020 injured yet got to 23 goals for Tottenham. A tally equalled by Andre Silva who was written off by many after his failed stint at Milan but Eintracht Frankfurt clearly knows how to care for strikers. Braga's Paulinho also got 23 goals, as did Real Madrid's Karim Benzema.
It wouldn't be fair not to mention the 39-year-old Zlatan Ibrahimovic who got 22 goals in 30 games for Milan. His goalscoring record is equalled by Wolfsburg's Wout Weghorst, Rodrigo Pinho of Maritimo, and Heung-min Son of Spurs.
10. Patson Daka (Red Bull Salzburg) - 25 goals
The next big thing coming through Red Bull Salzburg is the 22-year-old striker from Zambia, Patson Daka. Having scored 25 goals total, across 36 games. Making for a stellar minute to goal ratio of 95 minutes, better than the six established names on this list of Europe's top marksmen following him.
His goal per appearance ratio was 0.69 in 2020 and he recorded 11 assists too. Daka's market value stands at €20,000,000 and he is most likely bound to be Salzburg's next big sale after Dominik Szoboszlai and the fifth man on this list.
9. Lionel Messi (Barcelona) - 26 goals
A weak outcome considering his past years, especially his monster, almost unreachable 2012 when he scored 91 goals in 365 days (with international matches though). Yet, considering just how abysmal 2020 has been for Barcelona, the 26 goals scored by Leo are a major feat. Especially considering Messi is number two in 2020 when goal involvements are combined as he stands with 52 total.
Leo scored his total in 44 matches, scoring once every 151 minutes on average, the worst time on this list. With his goal per appearance ratio standing at 0.59. Messi is bound to make up for lost time, as ten days in 2021, and he has already scored four goals.

8. Mohamed Salah (Liverpool) - 26 goals
Coming up eight with the same goalscoring tally in 2020 as Leo Messi, 26 finishes for Liverpool, Mohamed Salah is ahead for his better minutes per goal ratio. The Egyptian scored every 137th minute on average, while his per appearance ratio is slightly worse than the Argentinian's - 0.58.
Salah played in 45 games for LFC and managed to help the team win the title for the first time in 30 years. He had 10 assists to go with his finishing tally as well.
7. Kylian Mbappe (Paris Saint-Germain) - 26 goals
The best-placed player out of three strikers with 26 goals as Kylian Mbappe reached his score in fewest minutes out of them all. Netting every 103 minutes with an appearance ratio of 0.72 goals per match. His inclusion on this list is impressive as Ligue 1 was cancelled prematurely during 2020 because of Covid-19.
Yet, Mbappe didn't play the least amount of games out of the top 10 goalscorers in 2020, as he featured in 36 games, coming in second for the least appearances. His future fiercest rival coming ahead of him with even fewer games played.
6. Bruno Fernandes (Manchester United) - 28 goals
The only proper midfielder on this list of top goalscorers, proving once again, without a doubt (if there was any) that Bruno Fernandes was a perfect transfer for Manchester United. Playing 50 matches is a feat in itself, but scoring 28 times, regardless of the number of penalties scored, gives the Portuguese playmaker true bragging rights.
Bruno has a goal per minutes ratio of 144, with his goal per appearance ratio standing at 0.56. He is fourth in Europe's top 10 leagues when it comes to total goal involvements in 2020 with 48.
Check out these players who were dishing out the most assists in 2020.         
5. Erling Haaland (Borussia Dortmund) - 33 goals
The new phenomenon. Erling Haaland has the best goals per minute ratio out of all the players in the top 10, even the number one placed scorer. Having played for Borussia in only 32 matches in 2020, but getting 33 goals, for a goal per appearance ratio of 1.03.
Erling played only 2,399 minutes, comparable only to Mbappe's 2,670, while all the other players are well above 3,000 minutes. Haaland is also in the top 10 when it comes to goal involvements already, as the 20-year-old got to 39 total.
4. Ciro Immobile (Lazio) - 34 goals
Somewhat of a forgotten ace of 2020, mostly because of the slow start to the current, 2020/2021 season. Yet, Ciro Immobile was immense for Lazio before the Coronavirus struck and he continued his good form after the break, even though his team didn't. Resulting in a Golden Boot award for the top marksman of the previous season.
In 2020 alone, the 30-year-old Ciro got to 34 goals scored in 39 games, with a minute-per-goal ratio of 97 and an appearance to goal ratio of 0.74. Considered a proper number nine, Immobile impresses by having his name at the number five spot when looking at total goal involvements in 2020 with 13 assists bringing him to 47.
3. Romelu Lukaku (Inter) - 35 goals
Getting to 35 goals while playing a massive load of games, 47, second only to Bruno's work rate of 50 games when it comes to top 10. Lukaku has a minutes per goal ratio of 107 with an appearance to goal ratio of 0.74, placing him in the middle on both cases.
Lukaku contributed six assists only as a target man in 2020 but that is enough for him to be eight on the goal involvement list in 202 with 41 total. Yet, being third in goals scored for a calendar year is light years ahead of where Big Rom was at Manchester United as Antonio Conte brought the best out of him.
2. Cristiano Ronaldo (Juventus) - 41 goals
Yet again, the man that will soon be 36 has scored an insane number of goals, being second in a goal per appearance ratio, and third in goals per minutes ratio. His hunger for goals hasn't veined with years, if anything, it only has gotten stronger. Getting 1.05 goals every game he played on average and scoring every 83 minutes on average of his 39 total games played.
Cristiano Ronaldo was third as far as total goal involvements were accounted for, with eight assists too representing Juventus.
1. Robert Lewandowski (Bayern Munich) - 45
Without any shadow of a doubt, the best striker and the best player of 2020. As well as the previous season. While also being the prime candidate for the Ballon D'Or in the 2020/2021 season.
Having scored 45 goals for Bayern Munich, winning the treble, and doing so in 39 games, Robert Lewandowski scored every 76 minutes on average. Bested only by Haaland in that metric. But no player came close to his ratio of goals per appearance - 1.15. Lewandowski's gap to other players is even increased when considering his goal involvement salvo is helped by another 15 assists!
The Pole hasn't wasted any time getting at the top of the charts for the top goalscorers of 2021, with three goals already.