Scary Benfica makes three major moves in one day: Vertonghen, Everton, Waldschmidt!
14.8.2020.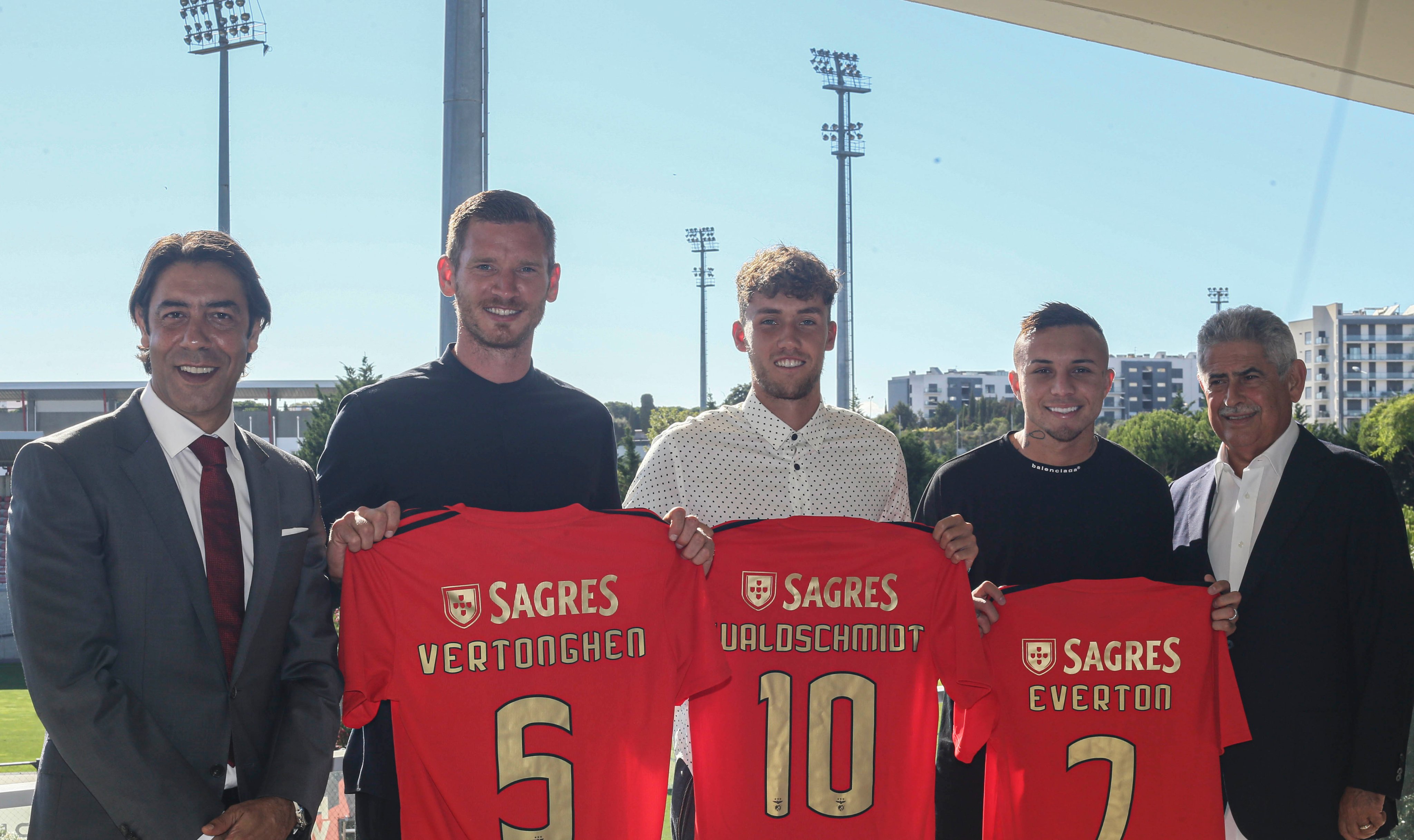 If any clubs are wondering how they can make a statement of their ambition to reach the higher step they should look no further than Benfica's summer and particularly 14th of August. Not only did the Eagles bring back Jorge Jesus after he finished one of the most impressive managerial seasons in recent times with Flamengo but they also reinforced their playing ranks showing that they intend to make an impact.
In one day, Benfica announced the signings of Jan Vertonghen, Everton, and Luca Waldschmidt.
Vertonghen, the biggest name, comes on a free from Tottenham after eight years at the club and more than 300 appearances for Spurs. The 33-year-old's move comes as a bit of a surprise but in its eyes, it's not a symptom of lowered ambitions after signing the three-year contract.
"Benfica has the same ambition as me and seeks to achieve important things in the championship and in Europe. I came to win trophies and I'm in the right club. If you look, you realize that Benfica is a great team and we already have the objective of continuing to play in the Champions League and I think we can do it," said the Belgian.
?? Welcome, @JanVertonghen !#WeAreBenfica pic.twitter.com/BVNKTr3w7M

— SL Benfica (@slbenfica_en) August 14, 2020
Jan also spoke about the less-talked-about perks Benfica offers.
"I played six years on the Ajax main team, eight at Tottenham and I think that shows my way of being in football. I like stability, continuity and that's what Benfica offered me. It turned out to be very important in my choice. In addition, I felt great confidence from those responsible and I want to reward that on the pitch."  
While the first signing is the biggest name, Everton might be the trademark Benfica signing we're used to. Getting the 24-year-old from Gremio for €20,000,000 and the Brazilian club will get 20% of his next fee. Since Benfica ironed his five-year contract with a €150,000,000 release clause, Gremio can get another €30,000,000 from the winger who already represented Brazil 14 times.
?? Welcome, Everton! #WeAreBenfica pic.twitter.com/sOAsiLJlnG

— SL Benfica (@slbenfica_en) August 14, 2020
The Brazilian player stated how important was Jorge Jesus part at the club for his decision, as his former players vouched for the eccentric manager.
The third capture of the day is not a spice or a sidedish too. Luca Waldschmidt comes from Freiburg for €15,000,000 and his five-year-contract has been shielded with an €88,000,000 release clause. Freiburg will also earn 7.5% of the profit on his future transfer fee.
?? Bem-vindo, Waldschmidt! #PeloBenfica pic.twitter.com/1kjfeOG8Mv

— SL Benfica (@SLBenfica) August 14, 2020
Although the German striker will have to improve on his goal tally for Benfica and Freiburg to profit on him as he scored only seven league goals in 23 games last season, nine in 30 matches the year before that.
Still, these three signings, alongside Jesus, clearly show that Benfica wants the title back fiercely. And that they even might be going head-to-head with Bela Guttmann's curse.