Real Madrid invested half a billion in player squad during last three years
23.1.2021.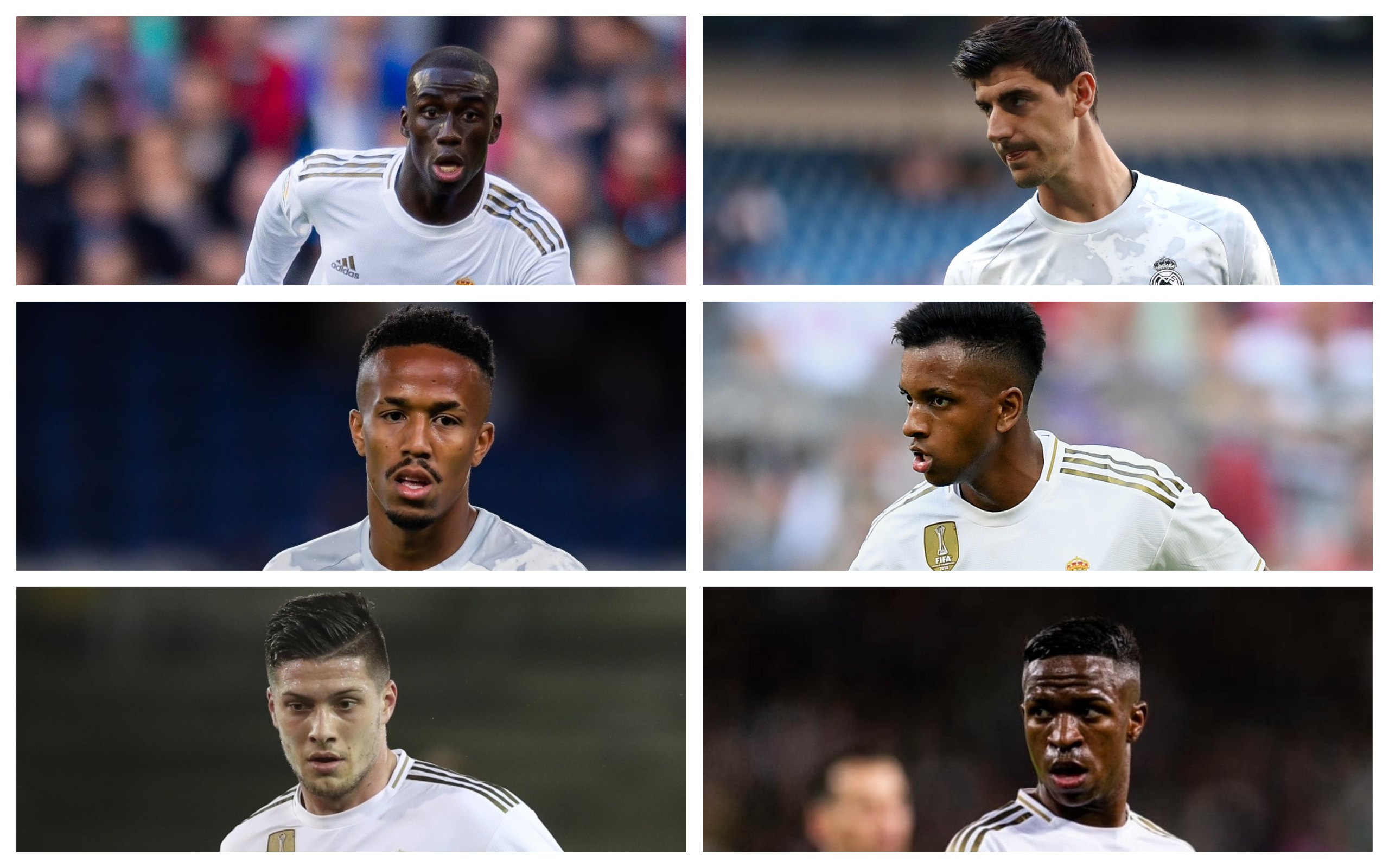 In the summer of 2019, Real Madrid had the biggest incoming transfer window of any club ever spending €325,000,000 on several players. That season saw the team spend another €30,000,000 in the winter transfer market. While the season prior took €162,000,000 out the Santiago Bernabeu register for buying new players.
It's more than half a billion euros spent in these past three years. A figure particularly astonishing considering that in summer 2020 the club was completely silent, not spending a dime. Only calling back loanees to return to the mother ship.
Yet, with €517,000,000 approximately spent on players since the 2018/2019 season, Zinedine Zidane got only two regular starters. Thibault Courtois and Ferland Mendy.
The Belgian keeper was a no brainer and one of the cheapest players on the list at €30,000,000 after establishing himself as one of the world's greatest goalkeepers at Atletico and Chelsea.
While Ferland Mendy arrived in the big 2019 summer for €45,000,000 coming from Lyon and not well-known outside of Ligue 1. He has been a starter at Bernabeu, as Marcelo has gotten old, but not particularly impressive. While even Courtois had his settling pains at Real for the first season and a half even. He turned it around and his transfer looks like the steal it seemed at first, especially when comparing to Kepa Arrizabalaga who was an option for Real at the time.
Real Madrid's recent transfers 
Yet, these two are regular starters, but that can't be said for the rest of the €450,000,000 invested. Vinicius Junior was brought in as a massive talent for 10% of that sum, €45,000,000 but while he had his chances, 22 appearances and 10 starts this season, he failed to cement his place. Sure, he is young, but to have Karim Benzema criticize him so heavily after one game, raises considerable questions.
Reminding that the cameras caught Benzema saying really heavy things about the young Brazilian.
"Brother, don't pass to him. On my mother's life. He is playing against us. Doesn't do anything meaningful," said Benz to Mendy.
Eden Hazard was the priciest transfer in Real's history for €115,000,000 with some reports stating he was paid even €160,000,000. But he played in only 32 games for the Spanish giants, only 2,031 minutes on the pitch due to his frequent injuries.
It's hard to count the number of times Zidane had to give the same answer about the Belgian.
"He's always motivated. We're not going to go over his injuries again. It's been a long and complicated process. He was a player who hadn't suffered may injuries and now it's getting difficult for him. I'm sure that he'll get back to his level. We have to accept this situation and get on with it to come out on top and that's what he's going to do. I'm sure he's not going to change as a player," said Zidane.

Striker Luka Jovic is the seventh most expensive player in the biggest club's history and yet he was loaned out back to Eintracht Frankfurt after a year and a half. He also played only 32 games, but for half the minutes Hazard did, scoring only two goals. In his first substitute appearance back in Germany he scored two goals already. In three Bundesliga matches as a substitute he got three. Yet, Zidane even favoured Mariano Diaz in front of him often.
"I'm happy with what he's done in scoring two goals. It's what he knows how to do. I'm happy for him and I wish him all the best because he's a Real Madrid player," said Zidane of his bounce back in Germany.
Eder Militao is the next in line of Real's biggest purchases, paid for €60,000,000, three fewer than the Serbian. Yet he played only 23 games! Despite Real having a thin defensive lineup and Militao being versatile. Real was hoping that they'll get another defensive mainstay as they did with Pepe when he arrived, but it seems that they passed like Manchester City did with Eliaquim Mangala.
So far, Militao's only memorable moment at Real was the quote proudly announcing that he will be the one to replace Sergio Ramos in the Champions League match against Man City. The English team progressed with Eder looking especially out of place.
Paid for €30,000,000 in 2018, Alvaro Odriozola has only 28 games for the royal club, yet he is not a kid anymore, at 25 he should be a regular player. Despite Dani Carvajal's injury, Alvaro had only one appearance this season because of his own fitness issues. Even though he is Spaniard, he can't break through and by the time Carvajal retires, Odriozola will settle at a far lower peak due to his inactivity.
Real's two other young Brazilians Rodrygo and Reiner have barely shown anything worth those millions invested in them, €45,000,000 and €30,000,000 respectfully. With the latter not making a single appearance and moving on loan to Borussia Dortmund where he's also not playing.

Rodrygo made plenty of appearances but he is still behind Lucas Vazquez in the pecking order and is now suffering from a lengthy injury.
Mariano Diaz and Andriy Lunin are there as backups at best. The goalkeeper is regarded as a massive prospect still but the same thing applies to him as is does for Odriozola. By the time Courtois retires, he will have stagnated at Bernabeu after arriving for €8,500,000. At least up until now he was on loan.
Diaz seems to be the only one who is exceeding the expectations but that is because they were low to being with. He was seen as a third option striker in a team that plays with one. The 27-year-old played 49 games for Real, 1,331 minutes but has a solid return of 11 goals and two assists in that period. Diaz arrived for €21,500,000.
Zidane is still relying on the old core of Sergio Ramos, Toni Kroos, Luka Modric, and Karim Benzema. As the team won the league last year, Zizu has still some credit, but those don't last long at the Bernabeu. If this season is fruitless as it looks, the Frenchman will pay a hefty price for it.
Yet he is still stubborn that he is not to blame for the departure of arguably top five left backs on their sides - Achraf Hakimi and Sergio Reguilon. Especially the latter as he is a domestic player with rare attacking capability, while Ferland Mendy is mostly a defender. Isco has stagnated, was caught openly criticized Zidane's substitution policies as he believes he doesn't give him enough time and the Spanish playmaker is ready to leave. Martin Odegaard asked to leave as well and is on route to Arsenal.
"That's the easy thing to say, that I'm to blame. I always support my players. There was also talk at the time about Reguilon and that it was my fault. The players who stay here know what to expect. It's Real Madrid and it's difficult. I have experienced it as a player," stated Zizu.
Zidane remains adamant that there is a far greater difference between playing in some other club and at Real. Sure, the teams go into bunkers when facing the Royal club, but the teammates and the quality estimated in millions should be enough to excel against the smaller teams Zidane gives them chances.
"There are situations like that with Jović, who is 21 years old. It's been a good move to buy a player like him. I'm happy that one day we'll be able to see the same things at Real Madrid, but playing elsewhere and playing here is different."
But it's clear that they are aware of this problem of lack of player development under Zidane. Especially illustrated by the dormant summer as the club is invested in the renovation of Santiago Bernabeu. Real is fearful of investing further without no monetary results.
More than anything, the numbers can't be overlooked. Real invested more than half a billion euros in this team. While than managing to lose to a Copa del Rey last-32 match against the third-tier Alcoyano as most of these players featured. Conceding a goal in extra time when the opponents had 10 players.
Lunin, Militao, Marcelo, Casemiro, Valverde, Vazquez, Odriozola, Vinicius, Isco, Marioano and Victor Chust started. While Marco Asensio, Hazard, and Toni Kroos entered the game. All of that wasn't enough for Zidane to glide past the team in the semi-professional division.