Real can't rely on Courtois, he has more conceded goals than saves
20.10.2019.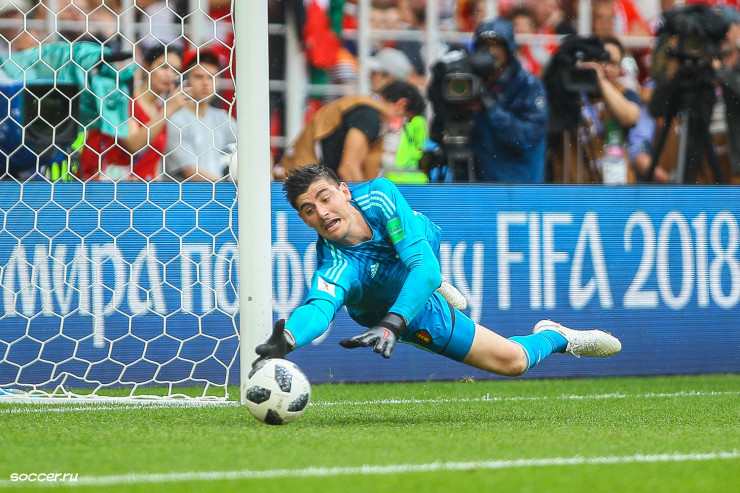 Last summer, after signing a 26-year-old goalkeeper who won Golden Glove awards in the Premier League and World Cup, everyone was certain that Real Madrid made one of the best transfers of the season with Thibaut Courtois. A year and several months into his Santiago Bernabeu stint, the Belgian doesn't look like the shadow of a player who was named the best goalkeeper in the world in 2018.
The now 27-year-old has conceded more goals than he has made saves this season in all competitions - 12:11. That's 11 saves in nine matches the Belgian has played.
Furthermore, the goalkeeper of the giants of European football has conceded 84 goals in his 60 games for Real Madrid!
And it's hard to see the reasons for this obvious dip in form, as last summer, few would put other transfers ahead of Courtois' in terms of money-value ratio. Chelsea got only €35,000,00 for the player who defended their goal four seasons, winning two Premier League titles. This summer, Real said goodbye to the goalkeeper who guarded its goal in the three consecutive successful Champions League campaigns, and the decision to sell the fan-favourite is looking even worse for Zinedine Zidane now. 
While Courtois was named La Liga Goalkeeper of the Year back in 2013, this season goalkeepers of Eibar, Real Valladolid, and other minor Spanish clubs had far impressive performances. Courtois was only in camera's close-up shots when he was taking the ball out of his net. Not a single save that would make rounds on the internet, while the man who replaced him at Atletico Madrid, Jan Oblak, seems to have one every single day.
On the other hand, with Belgium, Courtois is the undisputed first goalkeeper of the side and his side has conceded just one goal in eight matches of European qualifiers, with a goal difference of +29. But the equation can't be that simple, mostly as Belgium's rivals in the group can't be compared to the ones of Real, but the Belgian oughts to step up his performances. Not the least because of his reputation, as he forced his way out of all his previous clubs - Genk, Atletico Madrid, and Chelsea. But as now, he is even losing support from the fans of his current club. Alphonso Areola may not have his name, but has the experience of playing for a massive club.