Passing kings: Players with the most assists in 2020
3.1.2021.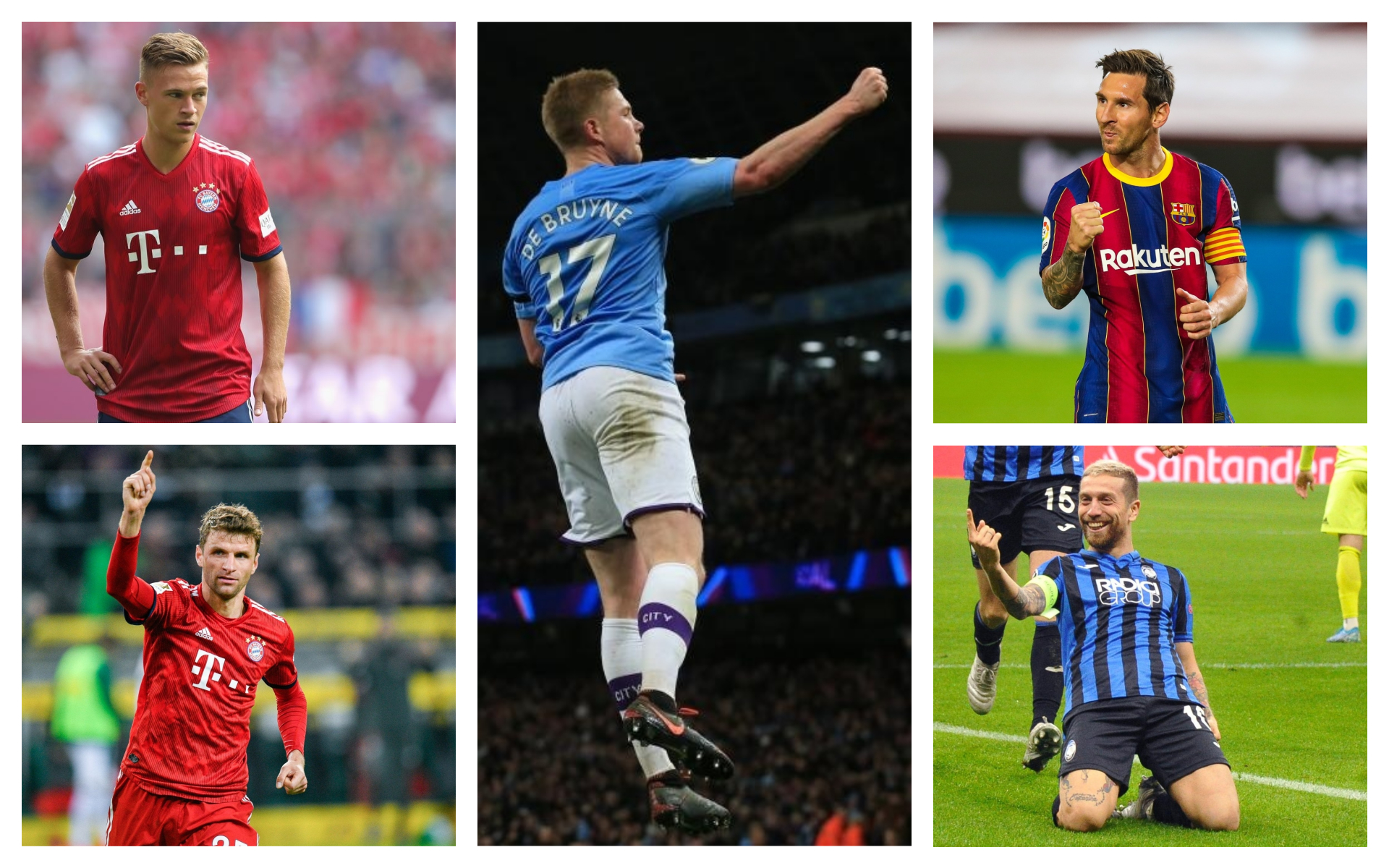 Last year, the football media space was swamped with the stories of how the pandemic was influencing football. Be it by players getting the virus, or it cancelling games and seasons. Drowning out in the noise the real sporting stuff that should've been applauded. Which is an explanation to why these players with the most assists in 2020 mostly didn't get the credit they deserve.
Looking at all competitions in club football only and starting off with a four-way tie of players with 15 assists.
Papu Gomez (Atalanta) - 15 assists
Beginning with the player that will most likely be dishing out assists at a new club before January 2021 ends. Papu Gomez at least had a strong goodbye to his Atalanta, a club he led as captain. But the 32-year-old had a spat with the manager Gian Pierro Gasperini and not even the 15 assists in 40 games, a ratio of 0.38 per match, won't make the sides find peace.
Jadon Sancho (Borussia Dortmund) - 15 assists
Even though Jadon Sancho slowed down in the new season, the months until the summer put him in a special crowd. Showing why Manchester United was chasing him so much, but also perhaps why they didn't want to spend €110,000,000 on him. Sancho had an assist ratio of 0.39 per match as he played in 38 games for BVB in 2020.
Anthony Martial (Manchester United) - 15 assists
One of the most surprising inclusions on this list of players with most assists in 2020. Especially when you consider that Martial actually played in 46 games last year. Ole Gunnar Solskjaer shaped up the winger/centre-forward and he provided 15 assists for a 0.33 assists per game ratio.
Robert Lewandowski (Bayern Munich) - 15 assists
The best player of 2020, officially, unofficially, and without a doubt. Lewandowski added 15 assists to the 45 goals he scored in 365 days over 39 games. An assist ratio of 0.38 per match! Lewa's passing achievements are even greater considering how he is the very tip of the spear for Bavarians. More importantly, the 32-year-old Bayern star had the most goal involvements in the year by a margin of 10, with 60 overall and Leo Messi at 50, Cristiano Ronaldo at 49.
Jordi Alba (Barcelona) - 16 assists
Not getting enough love when it comes to the talk about best left-backs in 2020, Jordi Alba reminded everyone with 16 assists to his name made in 42 matches. An assist ratio of 0.38 for the 31-year-old Alba is enough to make him one of the unquestioned players at Barcelona now. His 2020 record brought his overall assist stat to 81!
Hakan Calhanoglu (AC Milan) - 17 assists
Probably the most underrated player on this list of assist kings in 2020. Hakan Calhanoglu made just one assist fewer than the €80,000,000 next man on this list who is getting the highest plaudits. Hakan is in the shadow of Zlatan Ibrahimovic at Milan most likely, but the team's success in 2020 goes on his credit as well. Calhanoglu has an assist ratio of 0.40 in his 42 matches and he has scored 15 goals too!
Bruno Fernandes (Manchester United) - 18 assists
One of the best signings of 2020 earned that moniker by recording 18 assists in his debut year with the club. Yet another player with an assist ratio of 0.40 after participating in 45 games for Manchester United. Bruno rates highly with overall goal involvements in 2020 as he also scored 26 goals, placing him sixth on the list of 2020. Behind the mentioned three and Ciro Immobile (47), and the next man on the list.
Kylian Mbappe (Paris Saint-Germain) - 19 assists
A massive success for a player that has fully focused on being a striker after starting out as more of a winger. But particularly because the season was cut short in France and Mbappe made 19 assists in only 36 games! Kylian hence has a ratio of 0.53 assists per game. Furthermore, he is ranked fifth for goal involvements in 2020 with 45 assists plus goals.
Angel Di Maria (Paris Saint-Germain) - 20 assists
Another player who managed to get on this list of players with most assists in 2020 whilst playing in a league that was cancelled. Angel Di Maria had the least amount of games out of all these assists kings of 2020, just 34 for the highest assist ratio of 0.59! Di Maria also scored seven goals in 2020 but has slowed down a bit towards the end of the year. As he contracted Covid-19, it's not that surprising. Yet the 32-year-old still looks like he's far from being finished.
Joshua Kimmich (Bayern Munich) - 20 assists
Yet another player who earned his place on this list of players with most assists in 2020 without playing in a lot of games. Joshua Kimmich performed in 36 games last year for Bayern Munich and got to 20 assists! Even more impressive is that he did it from the most defensive position - other than Alba but that is also debatable - as he mostly played like a number six.
Kimmich's record of 0.56 assists per match is second-best on the entire list of footballers with most assists. The 25-year-old Bayern player is one of the most well-rounded players in the game now, if not THE most well-rounded player.
Kevin De Bruyne (Manchester City) - 21 assists
Even with Manchester City struggling in both the last and the current season, even with Sergio Aguero missing a lot of games due to injury, as well as the only other proper forward KDB has to aim, he managed to be ranked highly. Kevin De Bruyne might be the most naturally gifted assist-maker on this list, with the only competition being the next man on the list.
De Bruyne achieved his assist record in 41 games in 2020, for a ratio of 0.51. His overall assist record now stands at 184 in 468 games.
Lionel Messi (Barcelona) - 24 assists
Surprise, surprise. Even though Barcelona are in the worst state the club has ever been since Leo Messi arrived as a boy, he still managed to record individual successes. Messi played in 44 games and has an assist ratio of 0.55, while also scoring another 26 goals for 50 goal involvements total.
Messi played 3,914 minutes in 2020, and while he has a better ratio per match, he spent more time on the pitch.
Thomas Muller (Bayern Munich) - 24 assists
Joachim Low doesn't need Thomas Muller apparently at the national team, even though the 31-year-old is producing world-class results. Not only did Muller enter a highly exclusive 200/200 society, but he is also levelled with Lionel Messi when it comes to assists for the second year in a row! Fittingly for such a team player.
Muller played in 46 games, won the treble, and has an assist ratio of 0.52 per match. His and Robert Lewandowski's partnership was vital for their individual success, and the fact that there are three Bayern players on this list is wildly impressive.
When it comes to overall goal involvements, Muller is seventh in the world with 18 goals to go with his 24 assists.
Honourable mentions for most assists in 2020 go to Kerem Demirbay of Bayer Leverkusen and Dries Mertens of Napoli who both had 14. But also to Henrikh Mkhitaryan of Roma, Ciro Immobile from the city rivals Lazio, Marcus Rashford of United, Tottenham's Harry Kane, Bayer Leverkusen's Moussa Diaby, and Juve's Juan Cuadrado who all had 13 assists in 2020.
Who do you think will have the most assists in 2021? Will it be the usual suspects, Muller and Messi, or can Harry Kane perhaps step up completely?