One on one: How well do you know Zlatan Ibrahimovic?
22.4.2020.
Zlatan is a Swedish legend of the football game. He is considered one of the best strikers of all time. In this piece, we will bring answers to some of the most sought Google answers by his fans worldwide. Take a test and see how much of these you can answer. How well do you know the Zlatan?

How old is Zlatan Ibrahimovic?
Zlatan was born on 3.October 1981. That makes him 38 years old at the moment of writing this article. He started to play football as early as he was 6 years old.  Once he was 15 years old he stopped playing and training football, and he was working on local docks in Malmo. Fortunately, his manager persuaded him to get back to football and this is where impressive Ibrahimovic story has started to come to life. "The older I get, the better I get. like red wine."
How tall is Zlatan Ibrahimovic?
The Swedish superstar is quite tall for a football player. Zlatan height is 195 cm or 6 feet 5 inches. Some fans are wondering and observing that he got taller in his later career which is surprising since most men stop growing after the age of 24. This is just an optical illusion since Zlatan did not get taller, instead, he has lost some weight and got a more lean look to him which could make him look taller to some fans.
Where is Zlatan Ibrahimovic from?
He has a mixed heritage. Ibrahimovic was born in Malmo, Sweden but his parents are from ex Yugoslavian countries. His father Sefik Ibrahimovic in the Bosnian city of Bjeljina and is a Muslim, while his mother was born in Croatian village Prkos and is a catholic. His parents taught him their native languages and he can communicate on most ex Yugoslavia languages (Bosnian, Serbian, Croatian). Unfortunately, his parents got divorced when he was 2 years old. He lived in Rosengard district of the city Malmo, where most of the immigrants lived. You can read all about the Swedish superstar in his autobiography: I Am Football: Zlatan Ibrahimovic
What team does Zlatan Ibrahimovic play for?
Zlatan plays for Milan AC. This is his second spell at the Italian club. His first spell lasted from 2010-2012 where he ended his campaign with top league goalscorer of Serie A with 28 goals from 32 games. From there he went to play for Paris Saint Germaine, Manchester United and  LA Galaxy. He returned to AC Milan on 27. December 2019. on a six month deal with an option to extend it for an additional year.  Even at his age of 38, he has shown that he can be a content danger to opposing defenders and kept scoring and breaking records.  2
How many teams has Zlatan Ibrahimovic played for?
Zlatan Ibrahimovic has played for 9 clubs in his career so far. He started in for Malmo FF in 1999-2001,  followed by Dutch Ajax 2001-2004. After Holland he moved to Italy where he would remain for 5 years playing for two clubs: Juventus FC 2004-2006 and Inter Milan 2006-2009, After Italy he had a spell at FC Barcelona 2009-2011, just to end up in Italy in his thrid Italian club - AC Milan. In Milan, he stayed from 2010-2012. From there Zlatan has moved for a longer period to France to play for sheikh-money-rich Paris Saint Germaine from 2012-2016. Zlatan has proved to be a nomad and after this, he has moved to England to play for Manchester City from 2016-2018. His adventurous spirit moved him outside European continent to USA MLS league when he joined Los Angeles Galaxy team. He was present on American scene from 2018-2019 where he scored some of the memorable goals and dominated the league. The last chapter, to the date, of his story brought him back to his 'old' club AC Milan in December of 2019. He still plays there. Make sure to also check our One on one: How well do you know Cristiano Ronaldo.
How many goals has Zlatan Ibrahimovic scored?
Zlatan has scored more than 540 goals in his career. He is the only active player that has scored goals in all 4 last decades which is due to his long and still active career. Even with 38 years on his back Zlatan keep scoring. His most productive years were in French PSG where he has scored 113 goals in 122 games. He also did have a high average goal per game record in MLS where he scored 52 goals in just 56 games for LA Galaxy. Due to this a lot of fans find themselves asking often: How many career goals does Zlatan Ibrahimovic have? He holds many records across the league he has played, here are just some of them:
- the only player to play UEFA Champions League with 7 different teams
- scored a goal in every minute of the football match (Only Cristiano Ronaldo managed to share this record with him
-  the player who scored 25.000th goal of Premier League
- the only player to score in first 5 league games (FC Barcelona)
- most goals in a single season (France, PSG 2015-16)
-  fastest Ligue 1 hat trick (9 minutes against Troyes on 13.03.2016)
- all-time top goalscorer for Sweeden
- etc.
What car does Zlatan Ibrahimovic drive?
What car does Zlatan Ibrahimovic drive? Swedish striker loves cars and has a big car collection but he does not show it often. He has many cars, but most important are Ferrari Monza, Porsche 918 Spyder, Maserati Gran Turismo, Audi S8 and Lamborghini Gallardo. For his 38. birthday he decided to treat himself to a luxurious Ferrari Monza SP2 which has a cost of $1.73M or €1.59M. It is an Italian limited car edition that has 800 horsepower.
What number is Zlatan Ibrahimovic for Sweden?
Zlatan Ibrahimovic has worn number 10 for Sweden. Ibra has started his Swedish career with number 21 and with number 16 he scored his first goal for the national team. He has retired from the national time following a poor Uefa Euro 2012 campaign. Zlatan has worn many numbers during his career but he would mostly opt for number 9 where that number was available like Malmo, Ajax, Juventus, Barcelona, Manchester United and LA Galaxy.  His second favourite choice was number 10. 
How much did LA Galaxy pay for Zlatan Ibrahimovic?
Zlatan had a record salary for the MLS when he was playing at LA Galaxy. His season income was $7.2M or €6.6M. The previous record was held by Brazilian Kaka who was paid $6.6M or €6.07M in 2017 when he playing for Orlando. Still, Zlatan was paid much more previous to MLS spell. He was paid $27M  or €24.8M per season in Manchester United. Despite his income for salaries, Zlatan has made a lot of money through endorsements and sponsorship deals. The most well-known deal is the one he had with Nike.  Swedish superstar also has a number of investments and business deals, among which is his underwear line called A-Z. 
How much does Zlatan Ibrahimovic get paid a week?
Ibrahimovic current salary in AC Milan is €3.5M or $3.8M per season. That equates to 67.307€ or 73.212$ per week. However, he was earning much more during his career when he was younger, especially during his time at Manchester United in 2016. when he was paid 303.000€ or 330.000$ per week from his salaries only. You can see detail career salaries in the following picture: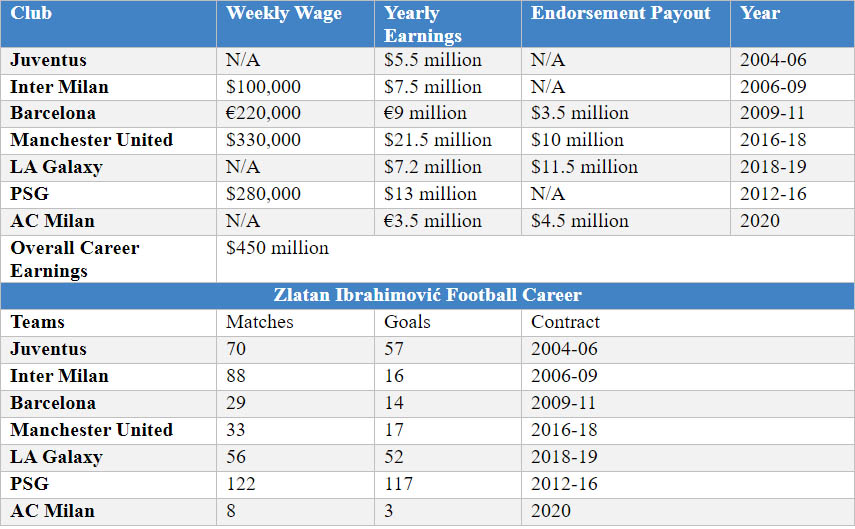 How old is Zlatan Ibrahimovic wife?
Zlatan Ibrahimovic is married to 47 years old Helena Seger. She is a model and a businesswoman from Sweden. The couple is together ever since 2002. They met in a car park in Malmo where Zlatan had double-parked his Ferrari making it impossible for Helena to get out with her car.  That made the Swedish model angry and loud, Zlatan liked this attitude and it was love at first sight. Helena is 10 years older then Zlatan but this does not make any difference for the strong power couple. 
How many languages does Zlatan Ibrahimovic speak?
Zlatan speaks more than 5 languages. Ibra hs been a nomadic footballer and has played across many leagues. This way of living has made him learn many languages. He was born in raised in Sweden so he knows Swedish. He speaks very well Italian since he has played for three clubs in Italian Serie A: Juventus, Inter Milan and AC Milan. Due to his schooling and the fact that he played for Manchester United he is fluent in English. During his time for FC Barcelona, he brushed up his Spanish and can speak and give interviews on this language. Due to his heritage and his father being Bosnian and his mother Croatian, Zlatan can speak both languages which are very similar to the rest of the ex Yugoslavian languages (Bosnia, Croatian, Serbian).  I Am Football: Zlatan Ibrahimovic
What was Zlatan Ibrahimovic injury?
The international superstar had the most serious injury of his career during his time with Manchester United. The knee ligament based injury was something that he has managed to get back from, although he has speculated that the injury was more serious than media was aware of: "If people knew the real injury, they would be in shock that I was even playing. It was more than the knee but I will keep it personal – that's why I choose not to talk of it"
If you passed 'How well do you know Zlatan' test, be sure to check out retired magician Ronaldinho and all interesting facts around Brasialian maestro.
Buy Zlatan Ibrahimovic massive autobiography: