November tipster competition results and money prizes
30.11.2020. 12:23
November has seen our tipsters produce great results. Winners were flying right and left and our Silver tipsters confirmed their places with top results. By the way, this is their first month and each of them is on fixed 20EUR per month. This sum is raised by 10% every following month.
November results, prizes and last-minute drama
In the last days of November, we saw 2 big surprises. Robert Munter was heading the table for the whole month without serious competition after he stopped posting due to Finnish leagues being over.  Kaskader was slowly gaining him, he recorded 10 winners out of 10 last tips and has overtaken him with last game. A massive month from both of the tipsters. Well done guys!
CristopheV has had a turnaround last day as well, and with 2 winners he managed to squeeze Yippee out of 3.place with the last game. Very thrilling last day and we hope to see similar great performances in December.
After failing shortly to get profits last month, Kaskader has excelled this month and comes in as a winner with +8.23 units of profit from 18 games. We must state that the vast majority of the games were with high limits so that puts even more weight to the great results. His account is credited with 5000pts (50 EUR).

 Our 'Finland master' was once again on the top of his game and concluded the final month of Finland leagues with +7.93 units out of 14 games (11-0-3). His account is credited with 3500pts (35 EUR).
As previously explained, third place was hard fought for by CristopheV. He was hitting a big number of games (45) this month but managed to keep a good yield of 10% which has earned him +4.58 units of profit. His account is credited with 1500pts (15 EUR)
Fourth  place was reserved for our expert from Belgium Yippee. He is one of the industry giants and well know name in the betting circles, we are very much happy that he is here. This month he continued great form from October and ended with +3.78 units from 12 games.  We are sure we shall see him get back to top3 many times this season. 
Our editorial choice this month is Xplosion. This Romanian tipster had a very great month and ended with +3.05 units from 14 games. He was killing closing odds/lines and could have even gotten into TOP3 if last 3 games went the other way. Definitely one of the tipsters that are on shortlist for potential promotion. Let's see how the next month(s) go.This month he is the winner of editors choice award and 2000 pts (20 EUR).
Our 4 Silver tipsters (Robert Munter, Jugoslav, Yippee, Kaskader) were all in profit this month with a joint +21,81 units from just 52 games with an amazing joint yield of 43,6%.  All tips on our site are FREE.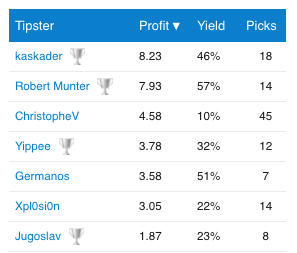 Unfortunately, there are no new Silver tipsters this month. There are a couple on the shortlist and we expect new faces to show up.
October competition prizes and rules
For October we have once again prepaired a 120EUR prize pool. In addition, all tipsters get points for every tip and comment based on their level. Our SIlver tipsters have started to earn fixed income and that should grow over time with a 10% loyalty bonus and especially with Gold levels. We will also include income per unit of profit for some tipsters as we go on.
At the moment InsideSport has paid out more than 400EUR in less than 2 months on our platform and this is just the start. The main goal is to filter tipsters that will be tested and shaped to be proper Gold level and prove themselves over a longer period. Those top performers will be offered a permanent position with a fixed salary of 500-1500EUR per month + bonuses.
What do we want from top tipsters? Ability to constantly beat the market. The proper tipster will in the long run beat the closing odds and lines. Whoever can do this will always be in profit. Our top tipsters must be able to do this on the bookmakers that offer high limits. In addition, we require good previews where in-depth knowledge is shown, professionalism, nice manners, cold head and strong character. 
Do you think you have what it takes? Register on InsideSport and start posting tips.
There has been a change to the max. odds allowed and that is 3,50. You can read this update and all other rules here. 
New metrics for tipsters and further features
We have implemented and are monitoring some metrics for Silver tipsters only. We are interested in how good are they in beating the closing lines and providing value to followers.
Value metric per tip shows by how much in average the tipster is beating the closing odds. General value metric is a sum of all tips differences compared to closing odds. The third one is simple and shows how often in percentage the tipster is beating the closing lines. Metrics will be calculated for all Silver and Gold members. Since it is a lot of manual work we can not show these metrics to all tipsters.
This is just the start. We want to keep adding more metrics that will help us and our followers in determining the proper value of every tipster and creating a set of the best tipsters online.
Another feature is the timer of 5 minutes for every new tip from Silver and Gold tipster. This means the tip will be locked for 5 minutes after a tipster publishes. After the timer expires the tip will be visible to all followers in the same exact second. This will mean that nobody has an advantage and all followers get access to the tip at the same moment. 
The timer will also block out anyone that tries using bots in order to get the odds first in an unfair way.
Featured tipsters

At the end of this month, we have 'cleaned' the list of featured tipsters.  A total of 8 tipsters were removed due to various reasons: copying/stealing tips, lack of value in tips, lack of consistency, lack of profit after a big number of tips etc.  
This does not mean that these tipsters can not earn a way back. They are welcome to keep trying and could make way back if we see improvement in some cases. 
Also, all new tipsters start as non-featured, but we quickly promote to featured all that show even some potential. Only featured tipsters are shown on the table and are in competition for prizes. 
Once again we want to thank all tipsters that are contributing. Also, all members are invited to try and show their skills in competitions and comment on tips/articles. Thank you all for building this platform.
Let's have a great December!