No January transfer? Vlahovic states the goal is to take Fiorentina into Europe
24.11.2021.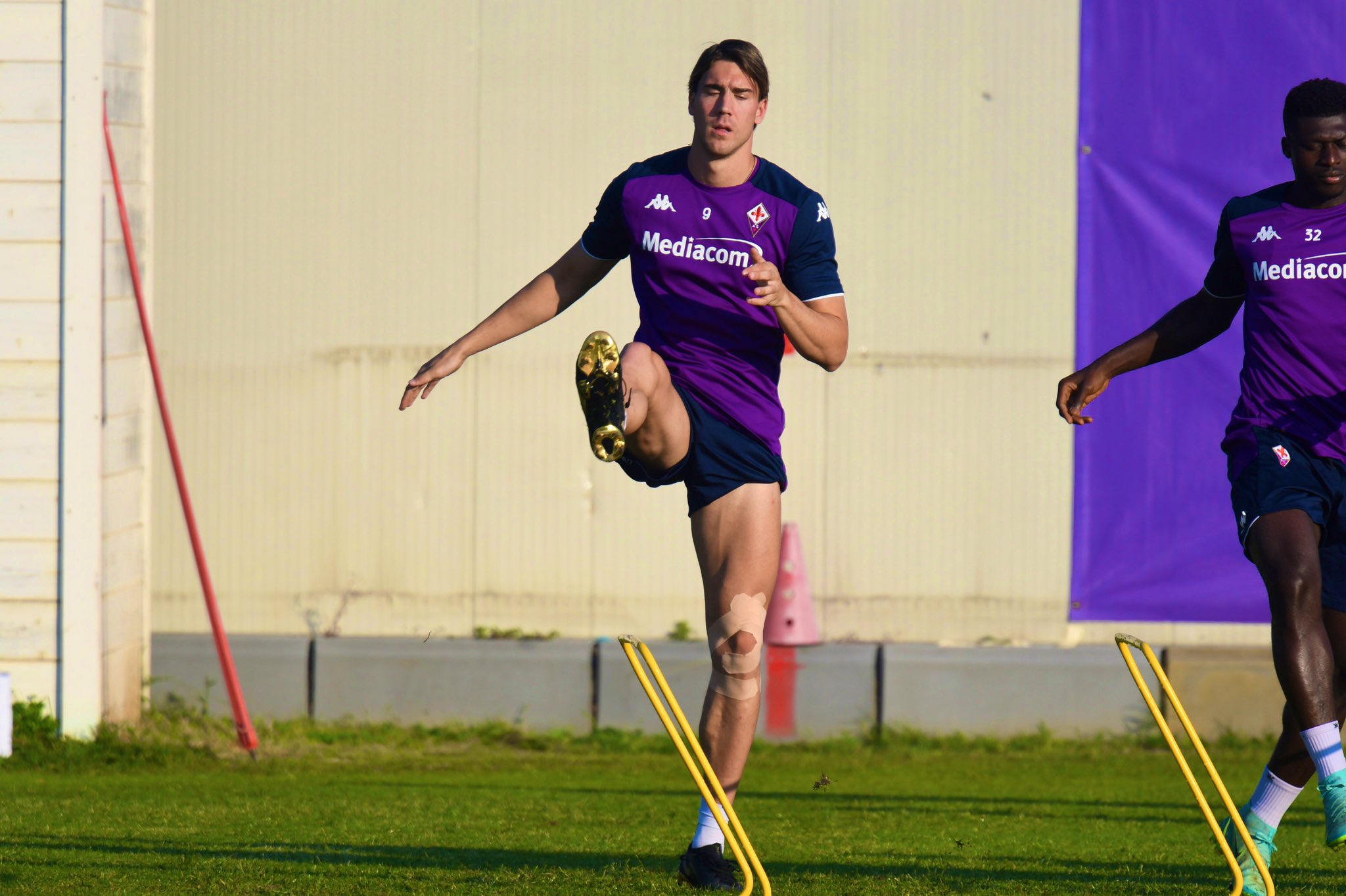 Fiorentina's young sensation Dusan Vlahovic spoke with Telegraf.rs from his home country of Serbia in an extensive interview spanning various topics. Most importantly for Viola fans, and for the supporters of the clubs interested in his services, he implied he is looking to bring the Florence club back in Europe. For that to happen, the winter transfer seemingly can't happen.
Dusan Vlahovic recently scored two goals in a 4:3 win over Milan, with his idol Zlatan Ibrahimovic also bagging two. With both of them earning a place in history.
"The match against Milan was like a dream, but as in every business, so in ours, what was already forgotten and the most important thing is what is yet to come. Every game against Milan has a special meaning for me, since everyone knows all those stories about Ibrahimović, that he is my idol. I scored Milan's first goals on Saturday, I won against Milan for the first time and it's really a great pleasure," stated Vlahovic before turning to the next game against Empoli, which he called an important fixture as it is a Tuscan derby.
As soon as the stories from his youth came up, when he was proclaiming himself as Zlatan's successor as a teenager, the comparisons to the Swedish international started flying. The similar tall frame and both players having Balkan origins fueled the comparisons.
Yet, the now more mature Vlahovic is only looking to get inspired from Zlatan now. Not necessarily tread his path.
"As for the comparison with Ibrahimović, I do not feel like his successor and I think that everyone should have their own way. Those 'Ibrahimović-Vlahović' stories are certainly pleasing, he is a great champion, one of the best strikers who played football, and because of everything he did for football, we still have a long way to go to get closer to his level. The fact that he still plays at the top level speaks enough about him, his hunger for success and his character. He is a great example because of everything he does and with what energy he works. I try to have my own way, to work on myself as much as possible, to improve and achieve the best possible results, so I hope that I may get closer to him in the future."
Vlahovic revealed more details about their interaction from the previous season, while explaining why he didn't speak with Ibra after the most recent duel.
"We talked last season when they beat us 3: 2 here (in Florence). I went to Milan's locker room, we exchanged a few words, he gave me his jersey and we took pictures. Then he told me in Serbian: 'don't give up, just step on it', and he also wrote me a message on his jersey in our languageh, which delighted me. During, but also after this match, we did not talk. They lost and I didn't want to go to him. I know what it's like when he gets lost, it's certainly not nice and pleasant, and since I know a lot of players from Milan, I didn't want to disturb anyone."
The Serbian has been on fire in 2021 and in the top five leagues, only Robert Lewandowski (38) has more goals than Dusan at 27. Leaving names like Erling Haaland, Karim Benzema, Lionel Messi, and Kylian Mbappe behind him for now. Drawing more and more attention and praise towards the young professional.
"I try not to follow so much media, but it always comes to me somehow. Either my friends send it to me or it pops up on social media. It certainly has an effect on me, it pleases me and it is an incentive for further work and further progress. I think I should continue to train even harder, with even more desire and will, and I hope to continue like this."
With his stats filling up the news headlines, more and more football fans are coming to understand just how professional is Vlahovic. Confirming that he stays after practice to train for two hours, often times working on free-kicks. A decision that paid off against Cagliari.
"Football has become a sport today in which, if you don't work on yourself, it is very difficult for you to stay at a certain level and succeed. In my opinion, work is the most important thing in football. So is rest. But working on yourself, perfecting yourself every day not only by training but also by watching matches, opponents, there are many ways for a person to improve. Yes, I stay after every training session not only on free kicks but on everything I can and I think that is one of the preconditions for success. So I will continue like this until I reach the top level and, most importantly, when I get there to stay there."
Most importantly for Viola fans, and for the supporters of the teams interested in him like Tottenham, Arsenal, Atletico Madrid, and Juventus, Vlahovic has implied he is going to stay with Fiorentina for the season.
"We all work and we want to go to Europe, because Fiorentina has not played there for many years and I think that would be a great success for the club. I think that this group of players and this professional staff deserve it and we will all do our best to achieve some of the goals we have set."
Vlahovic on Serbia's World Cup qualification
The 21-year-old was the starter for Serbia in the deciding World Cup qualifier match against Portugal, which the guests won dramatically with an Aleksandar Mitrovic goal in the 90th minute.
Working with a new manager, a footballing icon in Serbia, Dragan Stojkovic Piksi, the Serbian team is looking better than it has been in over a decade, since Radomir Antic days (2008 - 2010). Vlahovic revealed how Piksi managed the team's nerves before a massive match.
"I can only say that he made us laugh at the meeting before the game. During the speech, he said one joke that we all started laughing at. We broke the ice a bit there and went to the game more relaxed and with even greater faith that we could win. He always tells us that we have a serious quality, that we can play with everyone and he really thinks so. Mister wants to play offensive football, he wants to compete with everyone, to hold the ball and, as they say, to play with style," said Vlahovic after stating how big of a feat was to beat Portugal in Portugal, in a game that was like a final.
Vlahović also confirmed that, out of respect for the host, the celebration at the hotel was missing.
"It was not continued, because Mister said that we must behave with dignity, to be dignified in both victory and defeat and not to make noise. They are our hosts, they hosted us nicely and it would not be okay to make noise towards them."
After the match, a video of Cristiano Ronaldo telling off Vlahovic went viral, and the Serb confirmed CR7 was venting about the phantom goal not given to Portugal in the dying moments of the first duel of these teams.
"My dad always told me that after every game, whether I win or lose, I go to say goodbye to the opposing players, to lend a hand to everyone and the referee. I still do that today. So I went to him and he was, at that moment, understandably, very nervous and angry. He only told me, as is more or less known, that the goal in Belgrade should have been recognized, that it might have turned everything around and that was it in principle. I wished him luck in the playoffs and told him he would pass because they have one of the best players in the world."