Newsletter: Competition results for September 2021 - 6.000€ shared in total
5.10.2021. 12:51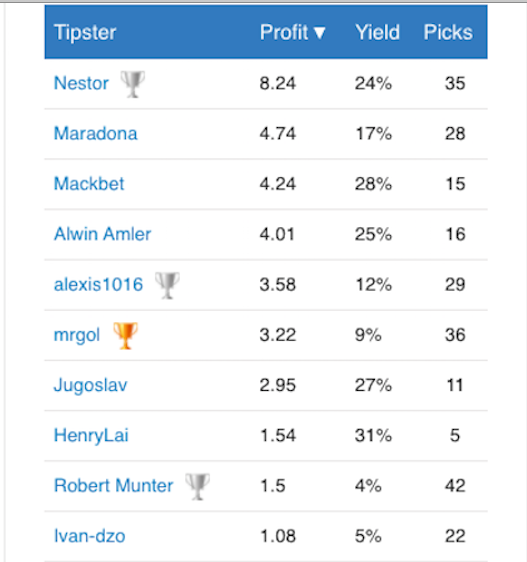 After subpar and below standard performances in June, July and August we have seen a very welcomed comeback from Silver&Gold tipsters. Third best month overall with +11.3 units from 161 tips. Amazing ROI of 7% on such huge volume. 
In total S&G tipsters are at +70,52 units from 1287 tips and a yield of +5.48%. Very good, but previously mentioned 3 months have put a dent in the ROI. I am sure we can raise that number to 7-8% very soon. 
September Tipster Competition Results And Prizes
1. Nestor with +8.24 units (80€ winner)
2. Maradona with +4.74 units (50€ winner)
3. Mackbet with +4.24 units (30€ winner)
In the non-featured list of tipsters, once again we have a very poor month again where none managed to stand out. Ang takes first place there with just +2.15 units. Still, no prize for him since the competition did not meet the rules: The rule is 10 tips minimum and at least 3 tipsters need to be in profit with 10 tips minimum.
In the featured list there are no changes.
In the S&G Kaskader has been demoted one level to Silver level after having a period of 4 months of performances that are under Golden level standards. He was busy with outside work during the period and could not fully focus, but I am sure he will get backs stronger than ever in the upcoming period and content for Golden level again.
Mrgol has earned his Golden badge. His consistency and professionalism are something I have pointed out many times so no need to repeat myself. Well earned and I am looking forward to seeing you reaching the final step and getting a fixed paid contract from InsideSport. Keep it up, man!
Nothing more to add here. No news or additional changes. Let's see what excitement and profits will the autumn period bring. 
Cheers everyone,
Josip