Newsletter: Competition results for August 2021 and total of 5000EUR paid out to tipsters
6.9.2021. 8:57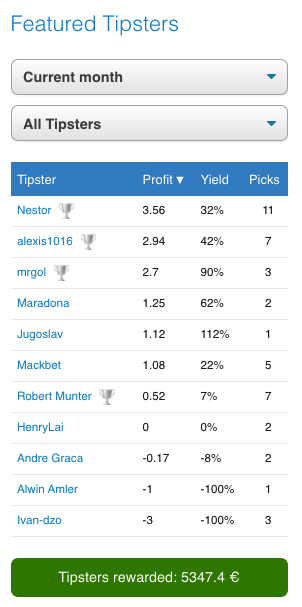 Another poor month for SIlver and Gold tipsters and a second negative month with -2.66 units from 166 tips. In June S&G tipsters recorded their first negative month with -7.88 from 109 tips. Last month was also not the greatest with +0.53 units from 137 tips.

So that makes it 3 poor months in a row performed by our selected tipsters. It is obvious we are in a small crisis and I expect a reaction in September. It has already started well with +9.72 units at the moment from 28 tips, we must keep the performance high this month to recuperate for losses. The start of the season often has weird results, but as we get games in, more factors about teams and players become known and evident and usually profits from top tipsters start to grow as we reach the mid-season break. I hope this will be the case with us as well.
Overall, S&G tipsters at the moment have recorded 1112 betting tips with +68 units of profit (+6,12% yield).
August Results And Prizes

1. Maradona with +8.45 units (80 EUR winner)
2. Alwin Amler with +7.01 units (50 EUR winner)
3. Mrgol with +3.38 units (30 EUR winner)
Alwin Amler and Mrgol are showing consistency after being in top3 for two months in a row. Mrgol has also taken first place overall on InsideSport, hats down for the performances. Maradona gets first place with massive 8.45 units. Congratulations! As I said before, I am not a big fan of betting on draws, but seems that Maradona is on a good weave and there is an interest in this kind of betting approach by a part of the community.
Non featured tipsters performed really poorly last month. BetMillionaers takes first place with just+1.07 units of profit. Still, no prize for him since the competition did not meet the rules: The rule is 10 tips minimum and at least 3 tipsters need to be in profit with 10 tips minimum.
As I have announced in July Newsletter, we have increased the prize pool starting from the August competition.
Our main candidates for promotions have not shown good performances last month so no changes. Also, there have not been any new serious tipsters that have both good knowledge, performance and are active enough. Although, Antonio Bernardini is a very interesting tipster on our shortlist.
Bullet is demoted to non featured due to bad performances, after 300+ tips he remains negative. Some tipsters are also showing bad performances and we want to see more from them otherwise we might cut or demote once again next month.
I was taking a mini-vacation so that is the reason for a very short newsletter. Should you know any good tipsters, please spread the word and contribute to making IS a better place. We will value such actions personally, but also we will add some euros as a thank you to your account should you convince good tipsters to start posting on IS.
Just small info that we have surpassed more than 5000 EUR paid out to tipsters since the platform started.
Summer is coming to an end so all of us will have much less fun things to do so I hope more energy and time invested on IS will result in more good stuff in September :)
Josip