New tipsters and February competition report
1.3.2021. 12:20
We have successfully finished the fifth month of monthly competition and another 120EUR in prizes are shared. As of March we have made some changes and added new tipsters. Tipsters were carefully selected and filtered, this should further improve the results and overall stability of the profits.
February results and prizes
These are the competition winners in february and their results.
1. Robert Munter +8.01 from 9 games with 89% ROI - 50€
2. Bullet +5.91 from 41 games with 17% ROI - 35€
3. Yippee +1.72 from 14 games with 12% ROI - 15€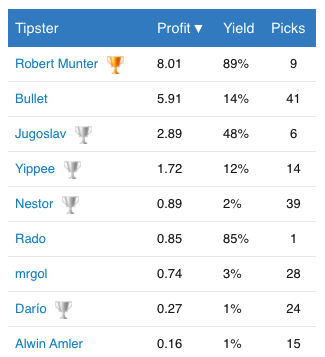 Robert Munter showed why we call him the 'Finnish Master'. With 9 games this month he recorded 9 wins. His winning series started in November and he is now with 14 winners in a row. He deserved his promotion to the golden level as of 01.03. Although our rules state that 10 tips are the minimum to enter a monthly competition, we decided in this case to allow it. Even if we would penalize RM for missing one tip with -1 units, he would still be the first on the board. Great month and looking forward to the rest of the season!
Last month we have promoted Bullet to a featured tipster. He has immediately proven that this was the right decision by winning second place with a very good result. He is still in overall minus so we expect to see more from him. Congratulations!
Yippee is our Belgium expert that had a rough patch in December and January. We are very pleased to see that he had a profitable month in February. Also one tipster from who we expect more than the current results show. We are confident he will have a good rest of the season.
Jugoslav had a great month but he was nowhere near the needed 10 tips and does not qualify for the top 3 prizes. With 6 tips he managed to record a +2.89 on Balkan leagues. He is the winner of our editorial choice and 2000 points (20€). This is his 5 profitable month in a row.

Silver and Gold tipsters
Our strong grip on assessing and filtering tipsters has proven to be good. In February our Silver and Gold tipsters have had a great month.
In total 50 tips have resulted in +11.41 profit with a 23% yield. Fantastic results!
When we zoom out and take a look at all-time SIlver and Gold tipsters it looks even better. In a total of 224 tips, our best tipsters have made +55.68 units with close to 25% yield. Amazing and we could not be prouder of the platform and our tipsters.
Kaskader did not have a good month after spoiling us with top performances in previous months. Ups and downs in the tipping word are usual and professionals always come back after these kinds of periods.
One important thing to notice here is that despite this, other Silver&Gold tipsters have performed and managed to push overall profits to great heights. This is exactly the notion behind this idea. Some tipsters might have a poor month but other will cover them, next month it might be the other way around. The most important goal is to have an overall profitable month.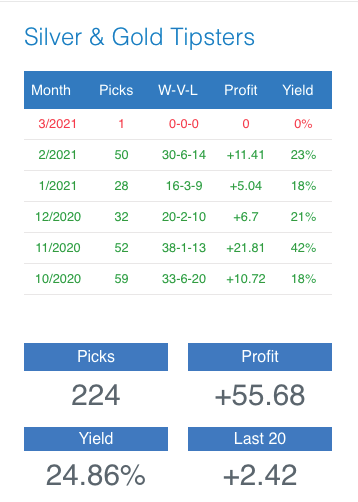 Changes to tipsters
We have stated many times before that we are constantly working on filtering and evaluating tipsters. No performance gets unnoticed by our team.
What we take into account is consistency, the value of bets, quality of written preview, beating the closing odds and profitability.
Robert Munter has made tremendous work since the betting Tips platform was launched and he for sure would have been promoted even sooner if there was no season end pause in December. Top performances last 4 months and a very deserved promotion. He is joining Kaskader on the Gold level.
We have two in house promotions to Silver levels. Both Nestor and Dario will be on Silver levels as of 01.03. In a short time period, Nestor showed he is a top performer for South America leagues. He will also be allowed to post games on the early market so the 48-hour rule does not apply to him. Nestor has shown great value tipping in this way, and most importantly all his early tips have more than decent limits.
Dario is a Spanish expert with whom we have worked since the early days and Selected Tips paid service. We know what he is capable of and it was due time to give him a chance on the Silver level.
We also have one promotion to SIlver for a brand new tipster. His name is Alexis1016 and he is mostly known as being one of the best tipsters on Betrush Premium. His focus is on Asian leagues, mostly Japan and Qatar. One geographical area that we do not have covered on InsideSport. Most people in the betting industry know who Alexis is, with 1000 tips and +10 yield he is a proven expert and a professional. He is one of the tipsters that has joined InsideSport from BetRush (with Yippee and Mrgol originating on BR as well). Alexis1016 and Yippee have been the best performing tipsters on BetRush premium.
We have also promoted Rado, Antonio Bernardini and Kendrick to featured tipsters. Lurie is dropped to non-featured tipsters.

The competition on Betting Tips is getting stronger and with these promotions, we can not wait to see what happens in March. It will be a very interesting month.
A reminder that you can follow any of the tipsters by clicking 'Follow' on their profiles. Once this is done, you will receive an email notification whenever followed tipsters post new betting tips.
Should you know anyone that could be a good addition to our tipsters please advise them to join our Betting Tips platform.
Please read all the changes we want to do in 2021. and how we plan to achieve them in this article: InsideSport in 2021.
We wish you all a great February!