Napoli is a Coppa Itallia winner, Juve fans getting worried about Serie A
18.6.2020.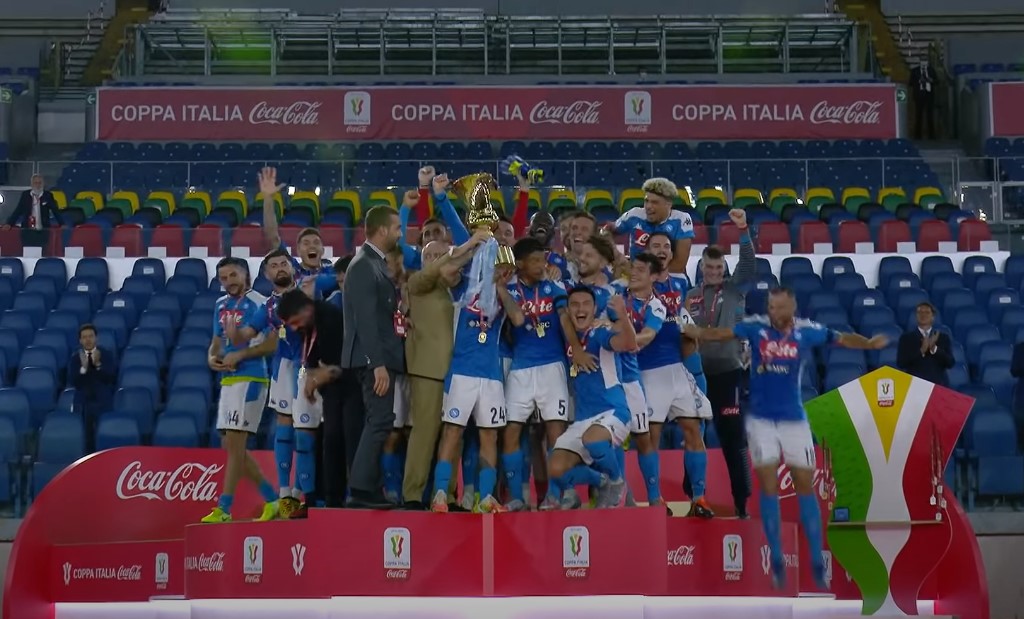 Napoli lifts Copa Italia trophy after beating Juventus on penalties (0-0 after 90') at Olimpico.

The Partenopei deserved their sixth cup victory in history after passing up some big chances in the 90 minutes as Juve's star attackers failed to show in Rome.

Juventus' best opportunity came in the opening five minutes when Paulo Dybala capitalized on an error to feed the ball to Cristiano Ronaldo. Napoli keeper Alex Meret saved Ronaldo's low-shot, however.

Gianluigi Buffon showed some top skills at the age of 42 and the stage appeared set for the veteran to lead the Bianconeri to glory in the shoot-out, yet two team-mates failed from the spot as Napoli were cooler in the finish.

After the game, Sarri understood to be unhappy with some of the players, but also with Cristiano Ronaldo's performance.

"Ronaldo, (Paulo) Dybala and our great soloists lack that little bit of brilliance, but I consider it quite normal in this period," said Sarri.

"I didn't say anything to the players, we were all very angry and disappointed and I think it's better to be silent right now."


Maurizio Sarri did not win a trophy in his 147 games in charge of Napoli.

Gennaro Gattuso has won the Coppa Italia after 17 games in charge of Napoli.

And he beat Maurizio Sarri to do it. pic.twitter.com/OzxjpldBRw

— Squawka Football (@Squawka) June 17, 2020
Serie A dominance seems lost as Juventus are just one point ahead of Lazio. Fans are used on average 10 points difference in this period of the year in the last decade.
Simone Inzaghi's side have already won over Juventus twice this season, in the Italian SuperCup final and 3-1 in the Stadio Olimpico in Rome. Juve's fans are in fear.
So it's right to say something is not working well between Sarri and club as an average 'Juventin' is not tolerating the display of his team.
The Coppa Italia final defeat, meanwhile, has left Sarri with more questions than answers. Juventus' performance levels have been sluggish ever since the restart.

In some ways, this is understandable considering the three-month pause. But you could argue both Napoli and AC Milan last week were both 'too much dangeropus'.


Or at least it just appears to be like that through media. He's lacking the nerves to handle the situation with so many egos in the dressing room.

However, none has guaranteed a place in bench without results but Sarri is ready to leave at the end of the season.