Most expensive transfers of the 2020 summer window
11.10.2020.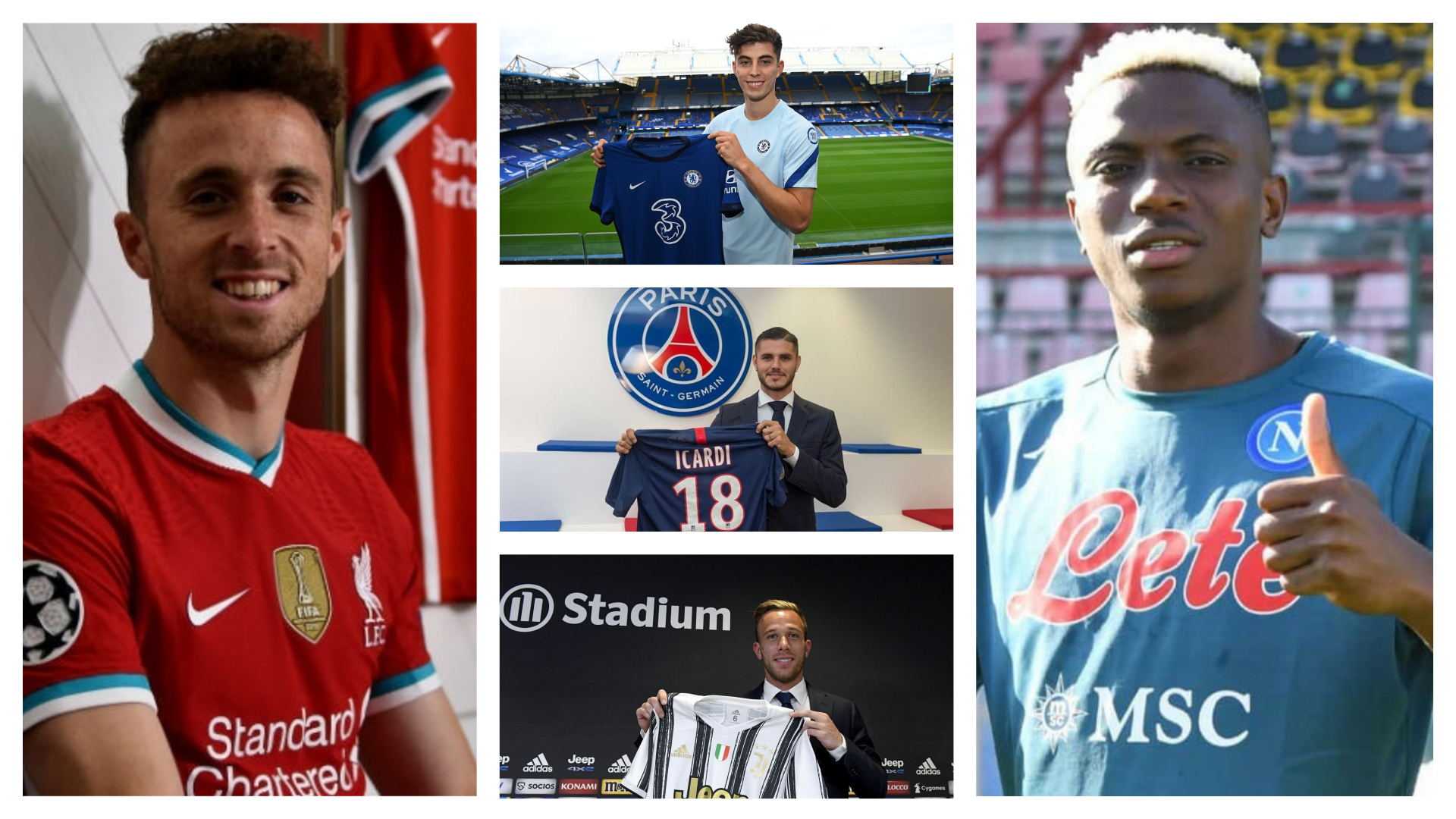 There's no denying that the financial crisis hit the footballing world hard due to the empty stadiums. Just one look at Real Madrid's transfer dealings is enough - even the royal club didn't make a single purchase! But there were still major deals as these biggest transfers of the 2020 summer window clearly show.
20. Trincao - Benfica to Barcelona for €31,900,000
Barca had a terrible transfer window yet it founds itself twice on the list of biggest transfers of 2020. Trincao arrived early on before the ruckus even started yet even he didn't have much hype in the eyes of the Barcelona fans. The 20-year-old played 48 games for Braga and became their club-record sale.
19. Rodrigo - Valencia to Leeds United for €33,000,000
Leeds demonstrated how newly promoted teams should approach the market with a stellar window, the crown of which was the purchase of Rodrigo. English side's sporting director Victor Orta capitalized on the abysmal situation Valencia founds itself in and pounced on the Spanish international.
18. Donny van de Beek - Ajax to Manchester United for €39,000,000
The last of the Ajax's golden generation has been sold in a great deal for United even though some pundits question where Donny will fit in the team with Bruno Fernandes being untouchable.
17. Fabio Silva - Porto to Wolves for €40,000,000
A teenager with only three professional games was paid €40,000,000 just to show that the Premier League clubs are immune to the global pandemic financial crisis. The striker arrives from Porto with the fans not being too saddened by the move as Silva wasn't deemed that big of a talent by them.
16. Wesley Fofana - St-Ettiene to Leicester for €40,200,000
The 19-year-old centre-back has been bought in the last days of the transfer window with the hefty fee making him the second-biggest arrival at King Power. Wesley Fofana is the second young centre-back to be sold for millions recently after William Saliba signed for Arsenal last summer. 
15. Hakim Ziyech - Ajax to Chelsea for €44,000,000
The earliest purchase on the list as Hakim Ziyech arranged his move before the world descended into a pandemic. His transfer comes in two rates, the main one earning Ajax €40,000,000 while bonuses can bring another four million to the Amsterdam club. Ziyech had the bad luck of an injury hindering his introduction to the Chelsea fans.

14. Diogo Jota - Wolves to Liverpool for €45,000,000
In the last three previous transfer windows the Reds didn't spend much but they broke the bank this market to sign Diogo Jota. Experienced in the Premier League and versatile up front, Jota is the biggest signing of the window for Liverpool in terms of money but more is still expected of Thiago Alcantara who was 15 million cheaper.

13. Nathan Ake - Bournemouth to Manchester City for €44,400,000
As Bournemouth got relegated last season Nathan Ake was never going to remain in the Championship. City was quick to pounce on the opportunity to sign the rare left-footed centre-back who has the versatility to cover on the left-back position and the defensive midfield role.

12. Achraf Hakimi - Real Madrid to Inter for €45,000,000
No incoming big Real Madrid transfers for the first time ever possibly, but Los Blancos made great money on the sale of the Morrocan Achraf Hakimi. Still only 21, the right-back made a name for himself in Borussia Dortmund and is already one of the best on his position. Few players match the manager's needs more than Hakimi does for Antonio Conte.

11. Thomas Partey - Atletico Madrid to Arsenal for €50,000,000
The biggest purchase of the 2020 summer transfer window deadline day. Arsenal went to La Liga's and paid the Ghanian's release clause after their primary and cheaper target Houssam Aouar decided to stay at Lyon. There's no additional fees or bonuses for this one, no speculation about the fee either, a clean 50 million.

10. Ben Chilwell - Leicester City to Chelsea for €50,200,000
A key component of the new Chelsea Roman Abramovich is building quickly, Leicester's 23-year-old left-back cost the Blues just over 50 million. It was a good purchase at the time, and especially now that Frank Lampard's relationship with Marcos Alonso completely broke down.

9. Timo Werner - RB Leipzig to Chelsea for €53,000,000
A major part of the insane transfer window Chelsea had, Timo Werner was possibly the only young striker in Europe with his type of experience. If he continues performing as he did in the German league, Chelsea might've landed themselves a proper coup. But with the striker record at Stamford Bridge, it's too early to celebrate.
8. Alvaro Morata - Chelsea to Atletico Madrid for €56,000,000
Paid €56,000,000 by Atletico Madrid this summer only to be shipped off to Juventus on loan due to a 33-year-old Luis Suarez arriving, the Spaniard might be the only player that shouldn't be proud of his inclusion. Alvaro Morata's fee was arranged last season after an abysmal Chelsea stint and really shows just how good Blues' director Marina Granovskaia is in negotiations. 

7. Mauro Icardi - Inter to Manchester City for €57,000,000
While he was arriving at Inter in the last moments of the 2019 summer window, Inter placed a €75,000,000 optional clause in his loan contract. Even though the Argentinian was more than solid for the Parisians, they ended up paying just €50,000,000 with another seven million in potential bonuses. Their only major signing this summer, uncharacteristically.

6. Leroy Sane - Manchester City to Bayern Munich for €60,000,000
Another transfer that was established way early in the season as Leroy Sane became a Bavaria resident 14 weeks ago. His deal has bonuses upon bonuses, in the end, making him one of the biggest transfers of the 2020 summer window.
City will receive €40,000,000 no matter what, the first level of bonuses might raise the fee for another nine million, with the highest cost stopping at €60,000,000. It would've been even higher last season hadn't Sane injured himself gravely.

5. Miralem Pjanic - Juventus to Barcelona for  €60,000,000
Barcelona's outgoing transfer have been so abysmal that Miralem Pjanic's transfer went a bit under the radar even though included another player - Arthur Melo, going the other way.
The Bosnian midfielder is in a downwards trajectory in his career it seems based on his Juve performances. Yet Barca accepted to pay up €65,000,000 for the 29-year-old even though he will most likely not have strong resale value.

4. Ruben Dias - Benfica to Manchester City for €68,000,000
Another move that looked like a player exchange but wasn't. Nicolas Otamend moved to the Eagles for €15,000,000 but City did pay the full €68,000,000 for the Portuguese defender.
Even though he was their fourth target in the pecking order. City still managed to snag one of the best young defenders in Europe for €20,000,000 short of his release clause.

3. Victor Osimhen - Lille to Napoli for €80,000,000
The 21-year-old has been paid a €70,000,000 straight fee and it might even rise up to €80,000,000 due to bonuses. That's what Aurelio de Laurentiis, Napoli's president, has been saying.
Although media in Italy believe that the base fee is much lower at €60,000,000 and since the deal included lower level players moving to Lille, it's hard to gauge the actual fee. Hence, Osimhen is on the #3 spot despite possibly having the same fee as the next one in line.

2. Kai Havertz - Bayer Leverkusen to Chelsea for €80,000,000
The biggest deal of the summer 2020 but not as big as it was expected. For the longest time the German club was holding out for the 100 million but in the end, the base fee was €70,000,000 with another €10,000,000 in bonuses.
German media still reports that the deal was €100,000,000 overall under the information from Bayer. One thing is certain, if Havertz reaches the ceiling of his potential, either of these numbers is going to be a steal.

1. Arthur Melo - Barcelona to Juventus for €82,000,000
One of the earliest deals of the summer saw the young Brazilian midfielder switch sides with Miralem Pjanic but the deals have not been direct exchanges according to the books.
Arthur's base fee is €70,000,000 and Juve might pay another €12,000,000 in performance-related bonuses. Arthur will have a brilliant chance to activate them under Andrea Pirlo of all people.
Which of these most expensive signings of the 2020 summer transfer window will pay off the most? Which one the least? Tell us on social media.