Mas Que 7:1? Historic domination as Bayern demolishes Barca 8:2
15.8.2020.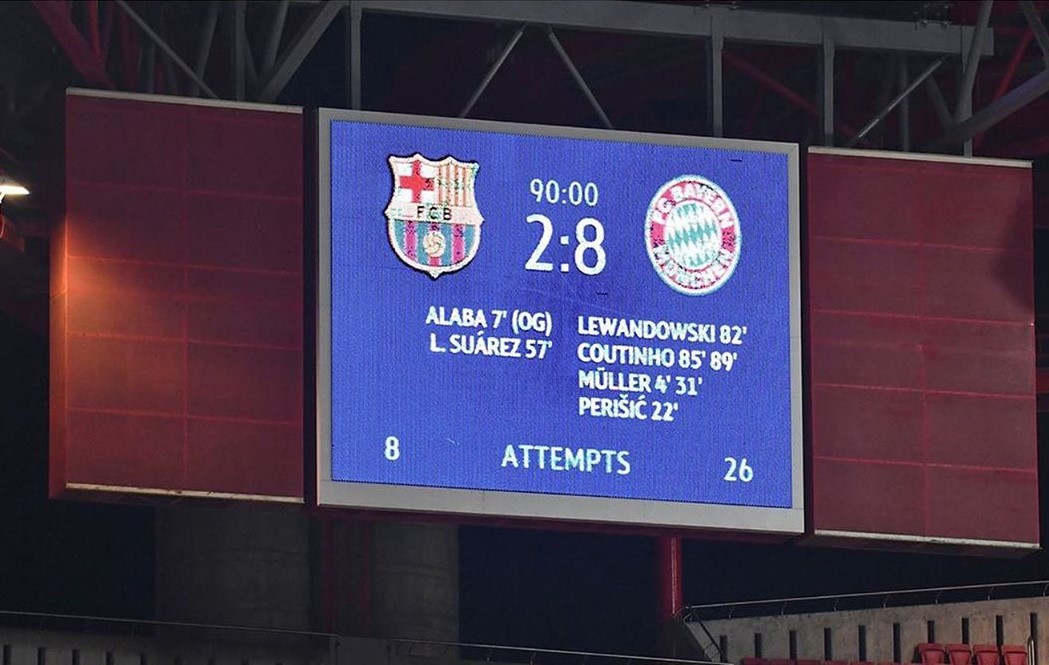 For six years now the 7:1 score Germany scored against Brazil was THE score football fans liked to refer to and joke about. Now, at the hands of another German squad with some similar participants, we have another historic result as Bayern Munich destroyed Barcelona 8:2 (4:1) in the Champions League quarter-finals.
Thomas Muller scored two goals, assisted one. Robert Lewandowski scored one, assisted one. Philippe Coutinho scored two, assisted one. Joshua Kimmich scored one, assisted one, and got the man of the match award. Serge Gnabry scored one. Ivan Perisic scored one. While Alphonso Davis, Lucas Hernandez, and Leon Goretzka all bagged one assist each. It was a team effort that absolutely destroyed Barca.
Barcelona 2-8 Bayern Munich

Enjoy the demolition ?? pic.twitter.com/4fIMYG3J46

— JP (@JurgenPressed) August 14, 2020
And destruction is not an overstatement as the side clearly needs to rebuild as it went on from being the force of Europe to constantly having embarrassing slip-ups in the Champions League. Speaking to the media after the game, Barca defender Gerard Pique admitted so himself.
"The clubs need changes and I'm not talking about the coach or any one player. The club needs profound change. We have hit rock bottom. We need to reflect and do what is best for the club. I will be the first to offer to go if we need new blood," said the centre-back.

It's clear for all to see as solid reports state that Barca has already decided to sack Quique Setien after the match. But that isn't surprising and more importantly, isn't enough. It's poor investment and planning that have butchered Barca and Leo Messi is the only one keeping them afloat.
Philippe Coutinho was directly involved in as many Champions League goals (3) in 15 minutes against Barcelona as he scored for them in 860 minutes during the 2018/2019. Which leads to the question, maybe it's not the player who was bad, maybe it was the club?
Bayern, the only remaining team in the top four who has won the CL already, became the first team to score eight goals in a knockout match. Before last night, no team scored even five goals against Barca in the elite continental competition.

This year will also not see neither Cristiano Ronaldo nor Leo Messi in the semis, the first time since the 2004/2005 season. With Hansi Flick, Thomas Tuchel, and Julian Nagelsman, Germany will have three managers in the top four of CL, which is a first in the competition.
Somewhat peculiarly, it's Barca that's been getting more press than the miraculous Bayern. Most likely for the same reason so many have underestimated them, due to their inexperienced manager Hansi Flick. As for Bayern, Thomas Muller put it best.
"We had so much fun today." So did we Thomas, danke.