Leo Messi trivia
2.5.2020.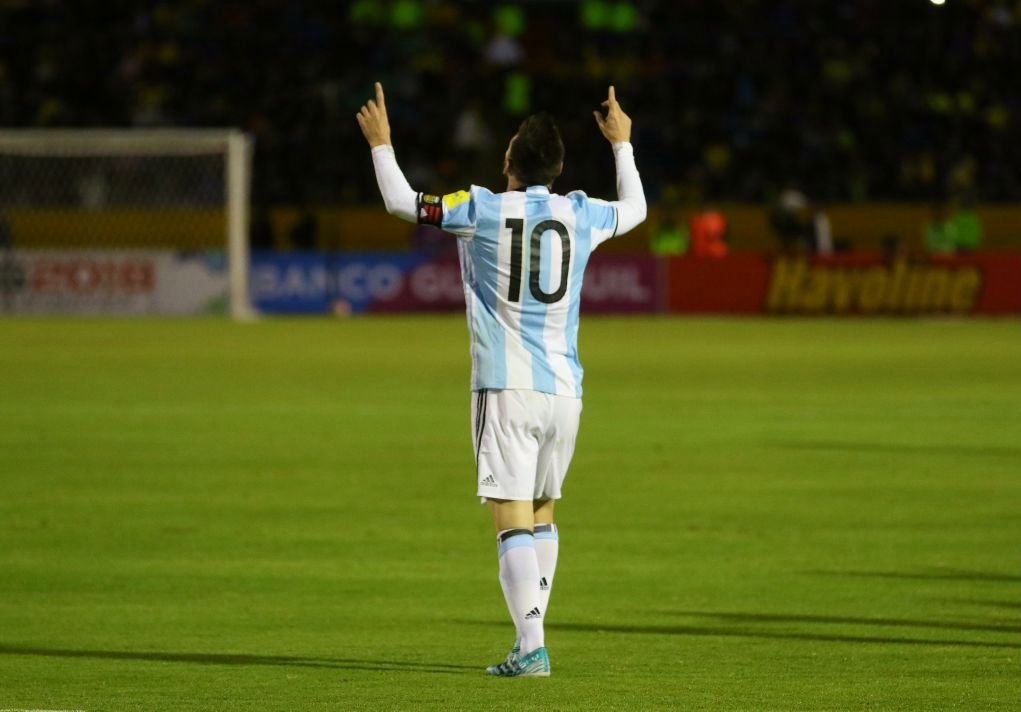 Leo Messi is a world-famous Argentinian footballer that plays for Barcelona. Due to his high technical abilities and endless creativity on the football field, he is pure joy to watch. Argentinian has broken and set many records in both team and individual segment and is considers as the GOAT - Greatest Of All Times. Keep reading this piece and see how well do you know Lionel in the list of the  TOP 20 questions about him:
Where is Messi from?
Messi was born in Rosario, Argentina. Rosario is the third biggest city in Argentina and has a population of 1.3M. It is located in central Argentina on the river of Parana. Lionel was born in 1987. but has moved to Barcelona with his family in 2001. and has stayed to live and play there ever since. 
When did Messi start playing soccer?
Messi was born in 1987. and started to play soccer in 1985. when he was 8 years old. He joined Newell's Young Boys, a club that was playing in Rosario top division in Argentina. At the age of 13. Messi and his family relocated to Spain where he started to play for FC Barcelona under 14 where he scored 21 goals in 14 games.
In Barcelona football school, Lionel has played and was good friends with Gerrard Pique and Cesc Fabregas. He moved quickly through teams in Barcelona and with the age of 16. had made a debut in a friendly match for the senior team. With the age of 17, he became the youngest player and scorer in La Liga of Spain. 
Where does Messi live?
Famous Argentinian has been living in Barcelona from 2001. Barcelona is the biggest city and capital of Catalonia which is an autonomous community in Spain. The city has 1.6M people while the total Barcelona district is home to 4.6M people. In Barcelona, Messi lives in the small and prestigious area of Bellamar which is located in suburban area Castelldefels. It is 16kilometers from the city centre of Barcelona. 
Barcelona captain has bought and old-house for €1.6M and made additional €6M investment to refurbish the place. It has resulted in a tremendous and attractive villa that is on the high ground and reminds on high hills of Hollywood. The villa has 2 pools, a small football pitch, children playground and endless rooms. 
How tall is Leo Messi?
The average height for a football player is 182.1 cm or 6 feet. By that standard, the Argentinian is below average since Leo Messi is 170 centimetres tall or 5feet 5 inches. Compared to his famous countryman Diego Maradona, Leo is a bit taller since Diego was an extremely short player with a height of 1.65m. Still, Messi is by no means a 'giant' in terms of height, but that might be one of the secrets to his immense success.
Due to smaller height, Leo has lower body axis and brunt making him much more adapt and quicker in changes of direction during sprints. One of his bitter rivals, Cristiano Ronaldo is much higher with a height of 187cm.  If you want to read more about his Portuguese rival, make sure to check How Well Do You Know Cristiano Ronaldo.
How much does Messi weigh?
Lionel Messi weights 72kg or 158lbs. A couple of seasons ago there were comments that Messi is becoming fat for his height and for a professional player. That was mostly the case due to his shorter average height of 170cm. 
During the Rijkaard era in Barcelona, Messi had some injury problems and it has been speculated it was due to his unhealthy eating habits. When Pep Guardiola came to Barcelona he had changed the diet of all players, including Messi's. Guardiola's diet was basically a typical Mediterranean diet. This diet was not sitting Messi to good since he did have some minor injury problems and was not scoring as many goals as he was used to scoring. 
After the World Cup in 2014, Messi has abandoned this diet and moved more to organic and non-processed foods. He is eating very little meat and a lot of fruits and vegetables. 
One on one: How well do you know Zlatan Ibrahimovic?
How old is Leo Messi?
Messi was born on 24 June 1987. and that would make him 32 years old at the time of writing this article. In two months he will be 36 years old. Many professional players in modern football can extend their career even up to 40 years. Since Messi was immune to serious injuries and is well known for a high level of professionalism, this might be the case for him as well.
Having Cristiano Ronaldo who is 35 years old, still active and in full strength, is often a very good motivator for Messi. He has claimed that this fierce battle between them is something that is fueling him. And since Cristiano states that he will be playing for 5 more years then this duel will continue. Leo Messi still has a lot of years of playing career.
How much does Leo Messi make a year?
Argentinian is the highest-paid football player in the world. He makes $111M or €100M per year from his salary, bonuses and winnings. But that is not all. From endorsements and sponsor deals Messi makes another $35M per year. When we combine all his income, we come to the final answer: Leo Messi makes $146M or €131M per year. 
Leo Messi is an attractive representative of many famous brands due to his world reputation and modest professional status. That is why he was the brand face for many big companies including Pepsi, Gatorade, Huawei, Mastercard and Adidas whit whom he has a lifetime deal. Forbes claims he makes $35M a year from these deals. 
How much does Leo Messi make a week? Messi makes $2.81M or €2.53M per week.
How much does Leo Messi make per day? Messi makes 401.428$ or 361.428€ per day.
How much does Leo Messi make per hour? Messi makes 16.726$ or 15.059€ per hour.
How much does Leo Messi make per second? Messi makes 4.64$ or 4.18€ every second.
Lionel Messi salary?
The Argentinian offensive player is currently the highest-paid footballer of the world. Current salary in FC Barcelona for Lionel Messi is 640.000$ or 576.000€ a week. 
How much is Messi worth
When we take into account his yearly salary, bonuses, endorsements and sponsorship deal it is evident that Messi is the highest-paid footballer in the world. Messi net worth in 2020. is around $500M or €450M.
He is neck to neck with Cristiano who has estimated net worth around €460M. Since it is hard to give an exact answer to this and these are estimated it is hard to see which of these two players is worth more. A safe answer would be: Messi and Cristiano have the same net worth at 450-460 million €.  
Messi and his father Jorge were charged with tax evasion by Spanish authorities during 2017. After a trial, they were found guilty since the tried to unload income from endorsement deals to offshore company accounts. Endorsements in question were the ones with Adidas, Pepsi and Gatorade. They were sentenced to jail but have instead made a payment in a total of €3.5M to authorities. 
Can Leo Messi speak English?
Since Lionel spent most of the time in Barcelona he did not have the need to learn a lot of languages as some nomadic players do. Some players like Zlatan Ibrahimovic, that has moved through a couple of leagues had had the need to learn a new language in every new environment. Since Leo was a part of Barcelona for the last 20 years, since 2001., he did not have the need to learn new languages.
Born in Argentina, a Spanish speaking nation, moving to Spain to play for Barcelona was an easy transition from a language perspective. What language does Messi speak? Leo Messi does not speak English but understands some English.  In fact, he is very poor in the Catalan language which is one of the official languages of Catalonia. Catalonia is an autonomous community in north-east Spain where Barcelona province is located, the community is well known for its fight for autonomy. 

What position does Messi play?
Lionel Messi plays a variety of position due to his versatile technical abilities and speed. Messi is not a striker and not a target man but he can play an attacking midfielder. Lionel is often playing a right-winger attacker although his dominant leg is left. He is good at crossing low balls with his right foot from right-wing but can cut in from right-wing making it a perfect position to shot with his left leg.
Due to Barcelona tika-tika style of the play, Messi plays various positions depending on the opposing team and current result. Often the Argentinian has a free role on the pitch. 
How many Ballon d'Or does Messi have?
Messi has won his first Ballon d'Or in 2009. This marked the start of total domination by Barcelona long-serving attacker. He won the next 3 awards in the next three years in 2010, 2011 and 2012. It was a tremendous achievement and nobody before had managed to win 4 Ballon d'Or awards in a row. After this, he had to wait for three years since Cristiano Ronaldo snatched 2 awards in 2013. and in 2014. This meant that Portuguese and Argentinian were tied at 5 awards each so everyone was eagerly waiting for the next award. 
Croat Luka Modric has snatched the award in 2018. and ended dominance by Messi and Cristiano. It did not take long for this to change and Messi claimed the award in 2019. after Cristiano moved from Spanish La Liga to Italian Serie A where he continued to play for Juventus. 
Lionel Messi has 6 Ballon d'Or awards. Barcelona forward is the biggest favourite to take the award in 2020. with the rest of them being: Cristiano, Mbappe, De Bruyne and Sadio Mane. Much will depend on the final stages of Champions League 2019/20.  

One on one: How well do you know Cristiano Ronaldo?
When did Messi join Barcelona?
Lionel has joined Barcelona in 2001. after he moved from Argentina. Prior to that, he played 6 years in Newell scoring more than 500 goals across all categories. Messi's family moved to Catalonia in 2001. since they had relatives there and were looking to get hormone growth therapy needed for young Lionel.
During their time in Argentina, Messi was on hormone growth therapy for 2 years and it was covered by his father's health care. The monthly cost for the therapy was $1000. Newells did not want to pay for the therapy. Luckily for Messi's family, FC Barcelona did pay for this at his young age and Lionel remained forever grateful for this. 
Is Messi vegan?
Up until 2013. Messi did not have the perfect diet since he was eating unhealthy foods with a lot of red meat and often junk food such as pizza. In 2013. he has met with Dr Giuliano Poser who has made a drastic change in his diet. All refined and processed food, fizzy drinks, red meat and some dairy products were taken off the menu.
Leo's diet is compromised of healthy and non-processed fruits, vegetables, occasional healthy meat and mineral water. Alcohol is not allowed in his diet. Messi is not vegan, but he vert small amounts of meat on rare occasions. 
Who has more goals Messi or Ronaldo?
CR7 and Messi have been rivals ever since Cristiano joined Real Madrid from Barcelona, they have pushed each other in competitiveness and made each other better players. During this fight, they have been goal machines and their thirst for goals does not stop.
Because of this one question has been constant between the fans: Who is better Messi or Ronaldo? Cristiano Ronaldo has more goals than Messi; 725 vs 697 goals
Ronaldo vs Messi is literally just down to preference cos they both have an equal argument in terms of what they have done in there careers pic.twitter.com/WAoWQHzCZ6

— Daniel (@danielogoun7) May 1, 2020


Messi vs Ronaldo stats 
Ronaldo has played 1000 games and scored 725 goals which is an average of 0.73 goals per game
Messi has played 856 games and scored 697 goals which is an average of 0.81 goals per game
Messi has 289 assists in 856 games which is an average of 0.34 assists per game
Cristiano has 221 assists in 1000 games which is an average of 0.22 assists per game
Messi has scored 86 goals from penalty kicks
Cristiano has scored 121 goals from penalty kicks
Messi has 6 Ballon d'Or awards
Cristiano has 5 Ballon d'Or awards  
Who is better Messi or Ronaldo?
Lionel Messi has played fewer games than Cristiano due to age difference. This means that Cristiano has more goals and more games, still, Messi is better than Cristiano Ronaldo in numbers of assists and average goals per game.
This means that Messi scores more on average and with the facts that he is 3 years younger than Cristiano, he will have plenty of time to reach Cristiano's goal tally. Messi makes more assists than Cristiano which shows that Messi is a bit more orientated to the team than Cristiano who will rather try to score than to assist. Also, Cristiano has scored more penalty kick goals than Messi which are generally easier to do. The general and objective conclusion from stats is that Messi is better than Cristiano Ronaldo.
How many trophies does Messi have?
Messi has 10 Spanish La Liga champions trophies with Barcelona
Messi has 4 Uefa Champions League trophies with Barcelona
Messi has 6 Spanish Cup - Copa del Rey trophies with Barcelona
Messi has 7 Spanish Supercup trophies with Barcelona
Messi has 3 Uefa Super Cup trophies with Barcelona
Messi has 3 FIFA World Club Cup trophies with Barcelona
Messi has 1 FIFA Under 20 World Cup trophy with Argentina
Messi has 1 Olympic Gold Medal with Argentina
Messi has won 35 trophies until 2020. with Barcelona and Argentina.
How many red cards does Messi have?
Lionel Messi is not booked often during football games. In total, Messi has been sent off just 2 times during his football career and both times for national team of Argentina. Interestingly, Messi was sent off during his debut for Argentina in 2005. when they played with Hungary.
Messi was sent off after just 43 seconds played. Second time Messi was sent off was versus Chile in 2019. Copa America game. Messi has never received a red card when playing for clubs.

How many Champions League does Messi have?
Messi has won the Champions League for 4 times and every time with Barcelona. Finals and opponents were the following:
2005/06 against Arsenal in Paris 2:1
2008/09 against Manchester United in Rome 2:0
2010/11 against Manchester United at Wembley 3:1
2014/15 against Juventus in Berlin 3:1    



How many hat tricks does Messi have?
Lionel Messi has scored 54 hat tricks in his career. Out of those 54, he has scored 36 for Barcelona in La Liga and is the record holder for the most hat trick in La Liga history. Messi has scored in total 48 hat tricks for Barcelona across all competitions and 6 hat tricks for his national team Argentina.
Is Messi married? Who is the wife of Lionel Messi?
Leo Messi is married from 2017 to his childhood sweetheart Antonella Roccuzzo. The happy couple met at the age of 10. After Messi moved with his family to Barcelona they were in a platonic relationship but were again united.
How many kids does Messi have?
Leo Messi has 3 kids with his wife Antonella Roccuzzo. All 3 Messi's kids are sons: Thiago was born in 2012, Mateo was born in 2015 and Ciro in 2018.
Who is richer between Ronaldo and Messi?
Messi and Cristiano Ronaldo have a net worth in 2020. around €450M or $500M. This would mean that they are equally rich.
Is Messi older than Ronaldo?
No, Messi is not older the Ronaldo. Messi was born in 1987. while Cristiano Ronaldo was born in 1985. which would make Messi 2 years younger than Cristiano.
How fast can Lionel Messi run?
Leo Messi is an extremely high paced and fast dribbler. It was measured that Messi can reach top speed of 32.5 kilometres/h or 20.3 miles/h. These numbers indicate that Messi can run 100m in 12 seconds. 
Is Lionel Messi vegan?
Messi is not a vegan, but be has changed his diet drastically in 2014. where he has cut out a lot of red meat intake. It is presumed that he does not eat much meat.