Lazio's elegant tank got 100 goal involvements from midfield: Sergej is ready for a bigger stage
10.1.2022.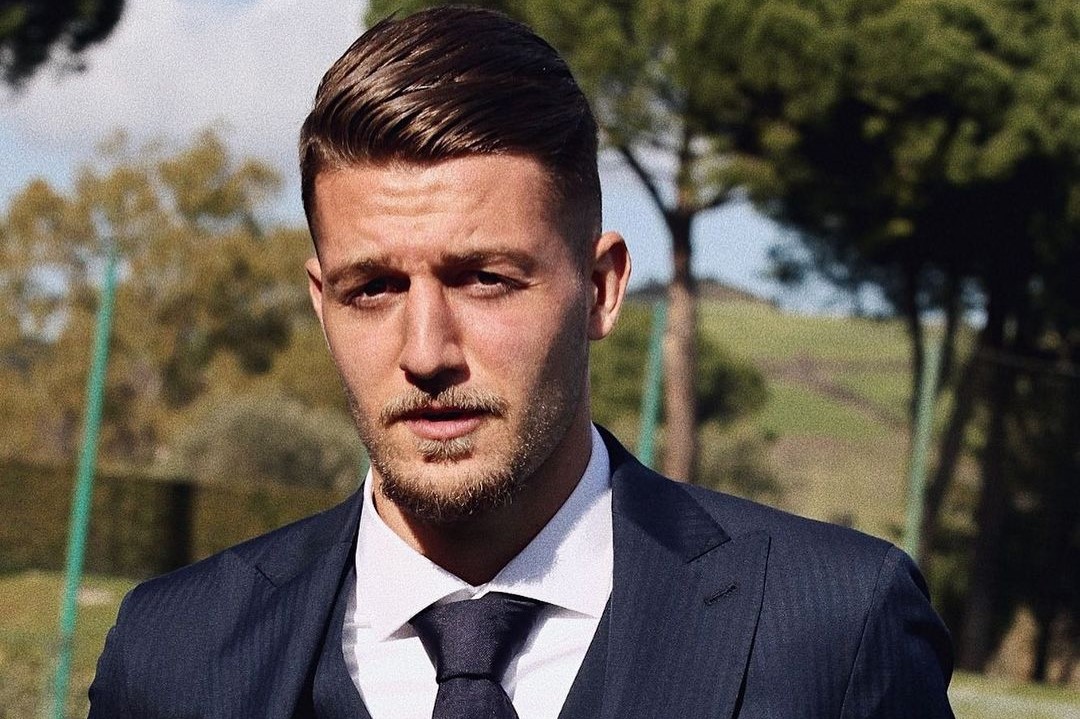 When a single good season in Ligue 1 is enough for teams to splurge irrational amounts of money on transfers, it's truly hard understanding the case of Sergej Milinkovic-Savic. A ruling midfielder in Serie A for several seasons now, the Lazio powerhouse has reached a noteworthy milestone in the sky-blue shirt - 100 goal involvements. Yet he has never been involved in a proper transfer saga even.
SMS isn't just making in-club noteworthy stats, he is competing with the best midfield players in Europe when it comes to direct goal involvements. Only 26, the Serbian is entering his prime after proving his rare worth in football's most important at verticals: eye-test, statistics, and creating viral moments of footballing art. The 100 goals provided to Lazio only illustrate it the best and put question marks in front top team's recruitment teams.
Simply put, Sergej is providing as much to his team as his nickname SMS is helping the journalists make punny headlines.
Having arrived to Rome in the summer of 2015 from Genk for a fee of €12,000,000, Sergej hit the ground running and immediately started making impact.
The current season in which he has seven goals and seven assists in 20 Serie A games, brought his total tally to an impressive number of 100 goal involvements. Needing 273 games from midfield, firstly as a traditional central midfielder, now operating more offensively, closer to the opponent's box.
His goal involvements divide shows just how well-rounded Sergej is, bagging in 54 goals and making 46 assists!
An uncanny combination of sublime technique and touch is combined with a domineering physicality of a player who is 191 centimetres tall and earned the nickname of Sergent in Italy. Long strides, jumping ability, seemingly effortless strength, and swift coordination have been passed on to a great extent by his parents.
"Yes, that's right. Our mother played basketball, our father played football, so we were destined to play sports, even though we weren't under pressure and had the freedom to decide for ourselves what we wanted to do. This meant a lot for us, because we already felt inclined to play sports in our family, so it was easier for us to choose our destiny," spoke Sergej about his and his brother Vanja Milinkovic-Savic, the goalkeeper for Torino, 24 now.
Sergej's cocktail of abilities is displayed perfectly in the breakdown of the goals scored in Serie A: 20 coming with the right foot, eight with the left, and 15 via headers. Five have been scored from direct free-kicks, and eight from corners and indirect set-pieces.
Not at all surprising considering who were his idols when he was a kid.
"Growing up, there were a lot of good players, so of course I looked at them all, but if I had to choose I would say Zlatan Ibrahimovic and I looked closely at Zinedine Zidane because I started in that position," explained SMS to FIFA recently.
His goalscoring has already taken him over the Lazio icon Pavel Nedved, who played far in a more attacking position and in a considerably stronger and richer Lazio team, as the Czech scored 51 goals in 208 games.
"They say and write that I have gone down in history, but I honestly don't feel that. I know it's not a small thing, but I don't think about it that much. I don't like to talk about the status of the individual, but about the team and the club."
By the end of this season, SMS will most likely overtake his former manager Simone Inzaghi with 55 and Pierluigi Casiraghi with 56 goals. While a spot in the top 10 needs 65 goals to overtake Miroslav Klose with 63 and Goran Pandev with 64.
He has been the club's top scorer from midfield in three of the last four seasons. He only broke the double-digit numbers in the 2017/2018 campaign when he scored 12, yet he is on the course of doing it again this time, possibly having 10 or more contributions in assists too.
The Serbian is also in the top 15 of Lazio players when it comes to games played for the club, with 273. He is ahead of the retired Marco Parolo (265), and Allesandro Nesta (261). He needs 30 more games for Biancocelesti in order to reach the top 10, where Stefano Mauri is the gatekeeper with 303 appearances.
It's not just the Lazio stats that Sergej is dominating, this season and in recent times, he is the cream of the crop in the top five leagues. This season, no midfielder has been directly involved in more goals than him, 14, level with Mario Pasalic of Atalanta.
Furthermore, when looking at most goals and assists of central midfielders in Europe's top five leagues in the last five seasons, SMS is in exquisite company! Behind only his teammate Luis Alberto with 75 goal involvements, and Kevin de Bruyne with 85, while Sergej has 63
Recently, Sergej spoke about his tactical duties by saying he plays as an '8' or a '6' for Lazio and the national team. Although noting that he can play in all roles in the middle of the pitch.
The recent rumours of the breakdown of his relationship with Maurizio Sarri have been shunned strongly by both the player and the manager.
"I love Mr. Sarri, so far we have not been able to do what he asks of us but we will find a way to bring back what he asks of us. We didn't start well but the results will come If I were not on good terms with Sarri I would not play and after two days he would not have given me the captain's armband yet."
As Sergej's father claims, the team is simply getting used to playing Sarriball after several years under Simone Inzaghi. Also confirming that there won't be a sale this winter.
Milinkovic-Savic makes the cut for Serie A's most expensive players, valued at €70,000,000. Yet that sum is not a problem for Premier League sides, we saw Tottenham spend that money on Tanguy Ndombele who had 69 Ligue 1 games. Liverpool spent €60,000,000 on Naby Keita after 58 Bundesliga matches. Yet the far more statistically and behaviour-proven SMS doesn't get the chase?
If it's to believe Lazio's president, he rejected a €140,000,000 offer in the past for him.
"When there was something concrete, the club didn't let me go, I stayed, I extended the contract and we started a new cycle together. I still have two years on my contract and we'll see what happens. Maybe I thought about it more when I was younger. Now that I'm growing up, I understand it a little better. As long as there is nothing concrete, you can write as much as you want," said the Serb.
Juventus, Real Madrid, Manchester United, and Paris Saint-Germain have been linked with the midfielder in the past. Yet now it seems that the Red Devils have the biggest need for him as Paul Pogba is unlikely to extend and even if he did, his impact lefts much to be desired.
Lazio's owner Lotito faced massive losses recently in having to sell his other side Salernitana cheaply, as it's not allowed for the same owner to have two clubs in the same league. Hence, this summer will be the perfect time to make the push for the Serbian. As his move to a bigger stage, one which guarantees Champions League, is in the interest of all football fans. Except for Laziali, yet they can't ever say the Sargeant didn't show them loyalty.