Is this free agents best XI a Champions League winning team?
3.1.2021.
With transfer fees so inflated even in the midst of a financial crisis caused by the pandemic, signing players for free became impervious for major clubs. Allowing them to find resources for a bigger squad-overhaul if needed as the costs get shortened with the exclusion of a third party. The other club that is. With the way the pandemic played out, it seems that there was never more quality players available for free. Making a hypothetical free agents best XI a fear-inducing team.
We already wrote up on the best agents overall, but this positional take is vastly interesting as it could be done theoretically. Chelsea spent €250,000,000 on transfer fees alone, Real Madrid outspent that the year prior. If they scoured only free agents, avoided the fees, they could make room for the massive salaries of these top players. Even the key one.
Playing in the 4-2-1-3 formation, here are the top free agents for each position.
Goalkeeper: Gianluigi Donnarumma (AC Milan)
Starting with the goalkeeper who is by far the best option at this position long-term, free agent or not. Aged 21, Gianluigi Donnarumma has already played 223 games for the seven-time champions of Europe AC Milan. Keeping 78 clean sheets and conceding 235 in a, until 2020, struggling team. While the 196cms tall goalkeeper has 22 caps for Italy as well.
The biggest issue with Donnarumma is his agent, infamous Mino Raiola. A clubs' nightmare. Dealing with him almost makes having Donnarumma at the back not worth it but there are interesting parties, most notably Chelsea. Even though they bought Edouard Mendy, and are happy with him, he doesn't seem like a Champions League-winning goalkeeper.
Right-back: Elseid Hysaj (Napoli)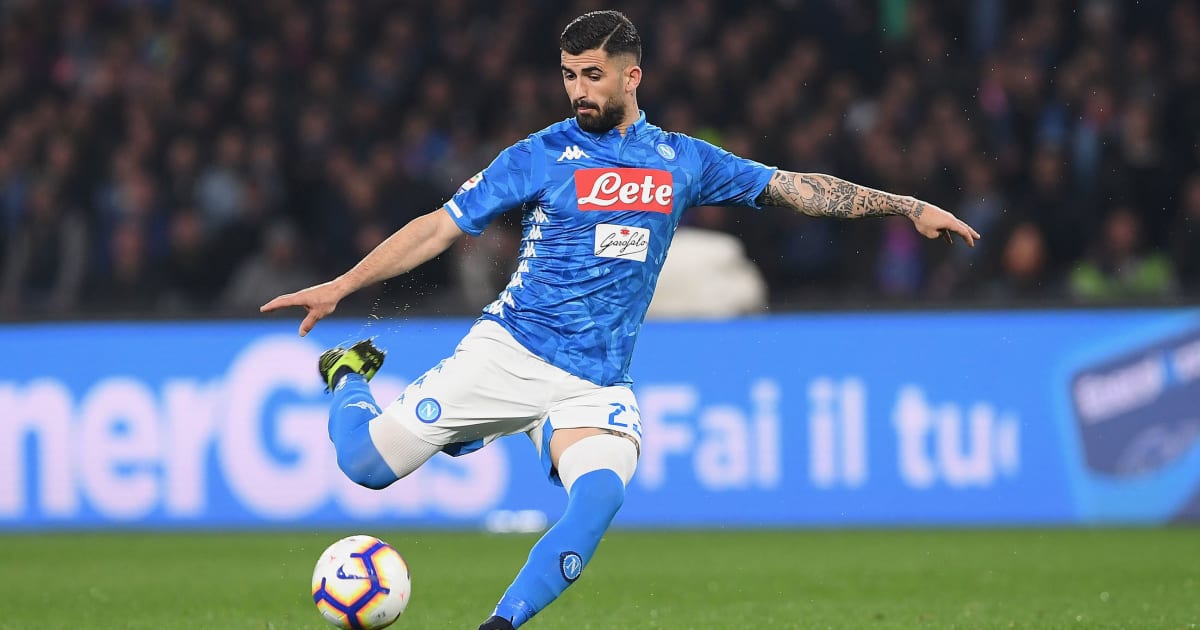 This team's weakest link is at the right-back position, with all due respect to Elseid Hysaj. A good 26-year-old player who has been vital for Napoli with 202 games but his offensive contribution comes to only eight assists and one goal. The Albanian's agent stated he is tired waiting for Napoli to offer him a better new deal, while Roma looms around.
As there aren't many right-back alternatives, with Danilo D'Ambrosio being one of the most well-known ones, Hysaj will have to level up.
Centre-back: Sergio Ramos (Real Madrid)
While he usually plays the left centre-back at Real Madrid, Sergio Ramos would have to play on the right side of the central defence in order to accommodate other teammates. With four Champions League won already, Ramos would most likely captain the side and could lead it to the continental triumph.
It's still somewhat surprising that the 34-year-old hasn't renewed his contract with Los Blancos. It still seems impossible to see him in a different shirt than that of the Spanish champions. Yet, Ramos might not be satisfied with the way Real has been conducting transfers, or Paris Saint-Germain's offer might be too good to pass.
Centre-back: Jerome Boateng (Bayern Munich)
While he still has name-value across Europe, alongside two big-eared trophies in his CV, Jerome Boateng is the more questionable of the two veteran central defenders despite being younger. Boateng has 32 years but has been on a more of a significant decline and it's the injuries that are giving him plenty of chances this season. With 17 games played already.
Even though he has been a defensive mainstay at the highest level, clubs aren't exactly fighting over him with mostly Italian teams, Inter, Juventus, and Milan interested.
Alternative picks at the centre-back position include Eric Garcia of Manchester City, Nikola Maksimovic of Napoli, and Fabian Schar of Newcastle.        
Left-back: David Alaba (Bayern Munich)
Starting his career as a left-back, Alaba moved to the centre of the defence in a three-man grouping under Pep Guardiola. Staying there mostly with the following managers as well but not forgetting his bread and butter. . The 28-year-old Alaba wouldn't come cheap as reports from Germany state that he rejected an €80,000,000 five-year contract from the Bavarians.
Alaba won two Champions League titles with Bayern and is looking to move this summer. With Real reportedly looking to sign Alaba, him and Ramos could pair up actually, or the younger man could replace Ramos at Santiago Bernabeu.
Centre-midfield: Luka Modric (Real Madrid)
Yet another four-time Champions League winner in this time of best free agents available for a team. Yet another Real Madrid player. While Ramos symbolizes Real still, Modric wants to finish his career in the Spanish capital and has publically stated it. Despite being 35, the Croatian playmaker has shown he still has it this season and there aren't any better options available.
Modric played 365 games for Real, scoring 26 goals and making 56 assists, but his value is in the passes made before the final one and bypassing pressure with ease.
Centre-midfield: Georginio Wijnaldum (Liverpool)
While Modric is a maestro with the ball, he still is 35 and needs a running machine to partner up. Georginio Wijnaldum makes this free agents football team a well-balanced squad, even though it's extremely attacking-oriented. Being 30-years-old, Wijnaldum reached the CL final twice, winning it once with LFC.
His family wants to stay in Liverpool but he is wanted in Barcelona. The Reds need to up their financial offer as the Dutch midfielder is a hot commodity with Juventus tracking his status as well.
Attacking centre-midfield: Angel Di Maria (Paris Saint-Germain)
The 32-year-old Angel Di Maria hasn't seen too far of a drop off in his statistical output. With the Argentinian getting nine assists this season already combined with four goals in 17 games. Last season, it was 13 goals and 23 assists in 41 matches he played for Paris Saint-Germain.
While he's still playing mostly at the right-wing, Di Maria is bound for a positional switch later in his career and with his technical skills, an attacking midfielder spot is calling out to him. Di Maria is waiting to speak with the new manager, his compatriot Mauricio Pochettino and see how he fares in his plans before making a decision on his future. Di Maria won one CL with Real and reached the final last year with PSG.
Alternatives are the strongest here with Hakan Calhanoglu of Milan, Roma's Henrikh Mkhitaryan, and Arsenal's exile Mesut Ozil are six months away from being free agents.
Right-wing: Lionel Messi (Barcelona)
It seems clear and certain now that Messi won't be changing clubs in the winter for a transfer fee and that he will make the decision on his future come summer. With him in our lineup, the free agents XI can dream of winning any title and any competition.
Messi is 33 now and his numbers have only dropped this season but that is mostly due to the state of Barcelona. In 18 games, Leo has 10 goals and three assists. But in case you forgot, overall he has a monster stat line of 644 goals and 281 assists in 749 games.
Left-wing: Memphis Depay (Lyon)
Probably the player that is the likeliest to change teams this January but he still hasn't and Barcelona's transition makes it more difficult. As the presidential elections are late in the month, Depay might still stay at Lyon for the next six months. If not, he will join Leo Messi our way or his.
The 26-year-old Depay has had his ups and downs, with his Manchester United stint going poorly. But reaching the key player and captain status at Lyon reinvigorated him and his career.
Centre-forward: Sergio Aguero (Manchester City)
Topping off our team of the best free agents, Sergio Aguero will team up with his national team colleagues and friends Di Maria and Messi. A scary lineup, although their track-record of never winning anything internationally is worrying.
Aguero is the biggest legend Manchester City has ever had yet they don't seem to be at a hurry to extend his contract at the Etihad. With Pep Guardiola even saying that Aguero still needs to prove he belongs there, as should all players and him as a manager. But hasn't Kun done enough? One thing is certain if City are still aiming to sign Messi in the summer, getting his best man to stay would be a major factor.
The total value of this team of best free agents according to Transfermarkt is €427,000,000, placing it at the 20th spot only with the starting lineup! But could they win the Champions League, well it all depends on the free-agent manager leading them? Tell us who do you think would be the best fit for these eleven players with expiring contracts.