Is Jamie Vardy the best English transfer ever?
22.2.2021.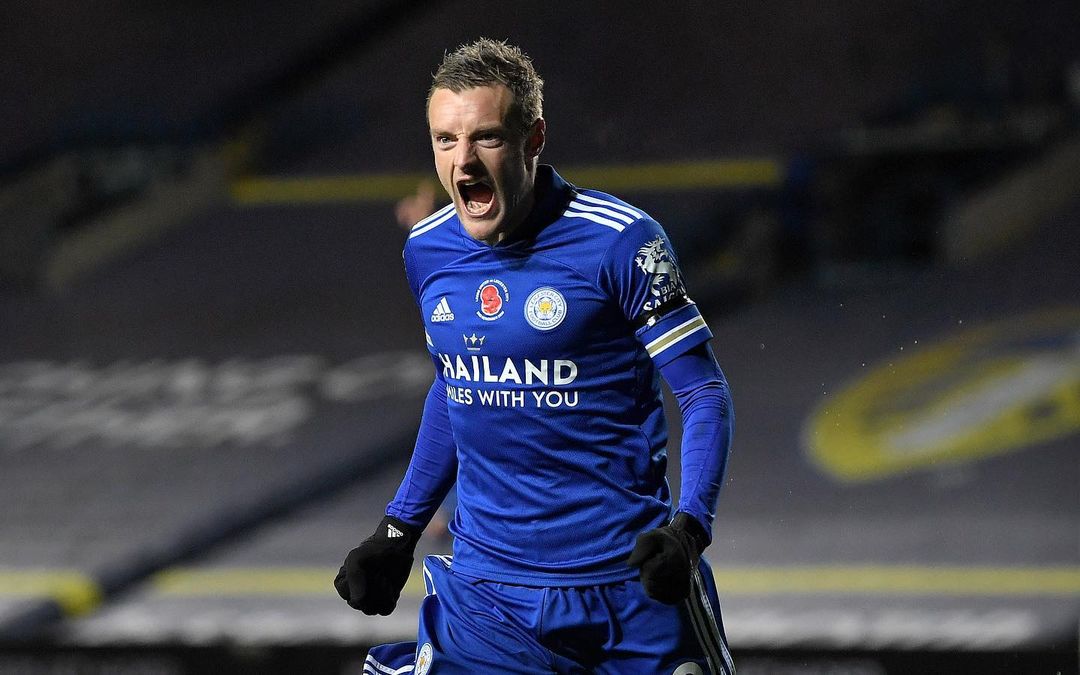 If one player's life story or career deserves to be made in a movie, while also might appearing too unrealistic if it happened in a movie prior to his emergence, it's Jamie Vardy's. The English striker has become the hero of all the failed talents sitting on the couches and all the struggling ones, still battering their way across lower leagues. Vards, as he is popularly called by his friends and teammates, is football's Cinderella story. Or an Ugly Duckling.
A fairytale, either way.
The former defender turned TV pundit and columnist Jamie Carragher recently poised a question of whether Jamie Vardy is the best transfer ever. Being a Premier League-winning, Golden Boot grabbing, record-setting player paid for exactly one million pounds. Yet, at the time, some, including him at one point, considered Jamie Vardy a flop.
But he is the furthest from it. As he is a symbol not just of a transformation of Leicester into a top team, but of resilience and perseverance.
If you started following football and Leicester in the last five years, there wouldn't be an indication that Vardy took a less-travelled, ney, almost never-travelled road to stardom. Usually, players are proclaimed successes or busts by the time they are 23. Vardy made his Premier League debut just months short of his 28th birthday.
Now, he is in the top 20 Premier League strikers of all time with realistic chances of moving up from his 19th spot and jumping over names like Steven Gerrard, Dwight Yorke, Nicolas Anelka, Robbie Kean, Jimmy Floy Hassselbaink, and Robin van Persie. While he already skipped Ian Wright, Emile Heskey, Ryan Giggs, Peter Crouch, and Didier Drogba to name a few.
But it was the long road he took to there. He was in the youth side of his hometown Sheffield Wednesday but was released at age 16. Falling into melancholy and self-admittedly falling into melancholy. Giving up on his dreams of becoming a professional and being ready to play for 20 quid a week and a pack of candy. As stated in his fittingly called autobiography From Nowhere.
Vardy was even convicted of an assault outside of a pub in 2007 and he had a curfew while wearing an electronic tag.
The player born in 1987 played for Halifax Town, in the seventh division, back in the 2010/2011 season. In the same decade, he would go on to win the Premiership.
But he was still a long way to go, playing in the sixth division for Halifax and then in the fifth, still non-league tier for Fleetwood Town. Where he scored 31 goals in 36 divisional games. Earning a big step up in his career. Straight to the second tier of English football, the Championship.
Leicester was considered bold to spend a million pounds in 2012 to bring in a non-league player. Now, it's considered as one of the best deals in the history of the sport. With the "one of" part probably unnecessary.
Upon signing with the Foxes, he stated correctly:
"I will always give 110 per cent and won't stop running," and he didn't. Across two Championship seasons and seven more Premier League ones.
His striking partner and eventually best man at his wedding, David Nugent, commented on what Vardy arrived at King Power back in 2012.
"When he first joined he was buzzing around the place, very energetic. He hasn't changed since. He is true to his words. He says who he is and sticks by it. At first it was, 'who is this guy, coming in all like loud and lots of energy?' Usually when someone signs they are quiet for the first week, but Vards was straight in there. Typical Vards. The lads loved him. He became part of the group straight away and the lads accepted him straight away," stated Nugent.
Yet, even the ball of energy and loveable confidence that is Vardy had his doubts and he buckled under the pressure of his "big-money" move at first. He went into the office and pleaded to be allowed a move, but the manager Nigel Pearson and his assistant Craig Shakespeare made him stay and dig deep down to continue the grind.
The first year at Leicester saw only five goals total. But in the promotion-winning second he scored 16 goals, finding the form when it counted, scoring nine of those in the final 15 games in the Championship.
While he did need some push in the right direction, Vardy did have to fend off hard competition. That of a loanee Harry Kane and of the future Everton player Jermaine Beckford. But Vardy's desire took over. His energy that made him a global icon in the end.
Yet, Nugent reveals that Vardy's trademark venom in pressing and hunger for goals isn't anywhere to be seen during training sessions.
"In training he is a totally different person. He is so calm in training and then when he gets on the pitch he is like a man possessed. If you saw him you would say, 'Ah, that's not Jamie Vardy. That is someone else.' But when he crosses that white line he is a different animal. You see that nastiness, the closing down, the running in behind. You see him causing havoc and usually if he is given a chance he puts it into the net nine times out of ten."
But Vardy didn't just spring out of thin air and for no reason. The Englishman didn't hide his love for partying and could've easily been one of the characters on the British sitcom the Inbetweeners in an alternate universe. Not only quote it. His love of drinks and partying died down as he married, although he is still hooked on his beverage of choice - Red Bull.
Unsurprisingly, as the forward made a stellar career primarily through displays of energy. Although, not exclusively through it, as his teammates praise his a bit forgotten footballing brain and the ability to adapt to the manager's ideas.
None will be more important than Claudio Ranieri in the second top-division season of Vardy's career. In the first he scored five goals in the league while avoiding relegation. The second, saw him bag 24 goals and win the English title in the most surprising sporting happening ever.
Vardy had his own mini-race that season as he broke the record of European striking royalty Ruud van Nistlerooy, by scoring in 11 consecutive games in the league. Winning the Player of the Season that year.
Yet neither Vardy nor Leicester were one-season wonders.
Vardy scored 20 or more PL goals on two more occasions and he is heading for the same feat in the 2020/2021 season. Winning Premier League Golden Boot in the 2019/2020 season with 23 goals. He already surpassed the club's top legend Gary Linaker with the total number of goals. He is currently at 144 for the Foxes.
But in the Premier League, Vardy is at 115 goals! With 39 assists at that, even though he is considered only a poacher. The English striker achieved such a feat in 232 games at the top level of the domestic football pyramid.
At 150 goals, protected by Michael Owen, is the 10th spot on the list of Premier League's best strikers. With his rate, he is well set on cracking the even more secluded part of the glamourous list. As his contract runs until 2023, for two and a half seasons, the 34-year-old could solidify himself in the top 10.
His teammates believe he has the legs to do it. Most likely because of his low mileage as at 23, he was still playing as an amateur. Training like one too. While now, data backs this claim too as he is at an impressive 7.5% of body fat, wild even for a pro player 10 years younger. With his pace jumping up to 9.3 metres per second and his heart-rate dropping. Despite the Red Bull.
As a veteran, he is still playing a similar role at Leicester. Becoming the first player for the club who scored 100 PL goals. Joining the company of their biggest legends like Gordon Banks, Peter Shilton, and Gary Lineker. Possibly surpassing them all.
Not to mention that he declined a lucrative offer from Arsenal following the title-winning season, as Arsene Wenger confirmed.
Brendan Rodgers is utilizing them similarly to Ranier, only asking him to press more centrally, to find himself quicker in goal-scoring opportunities.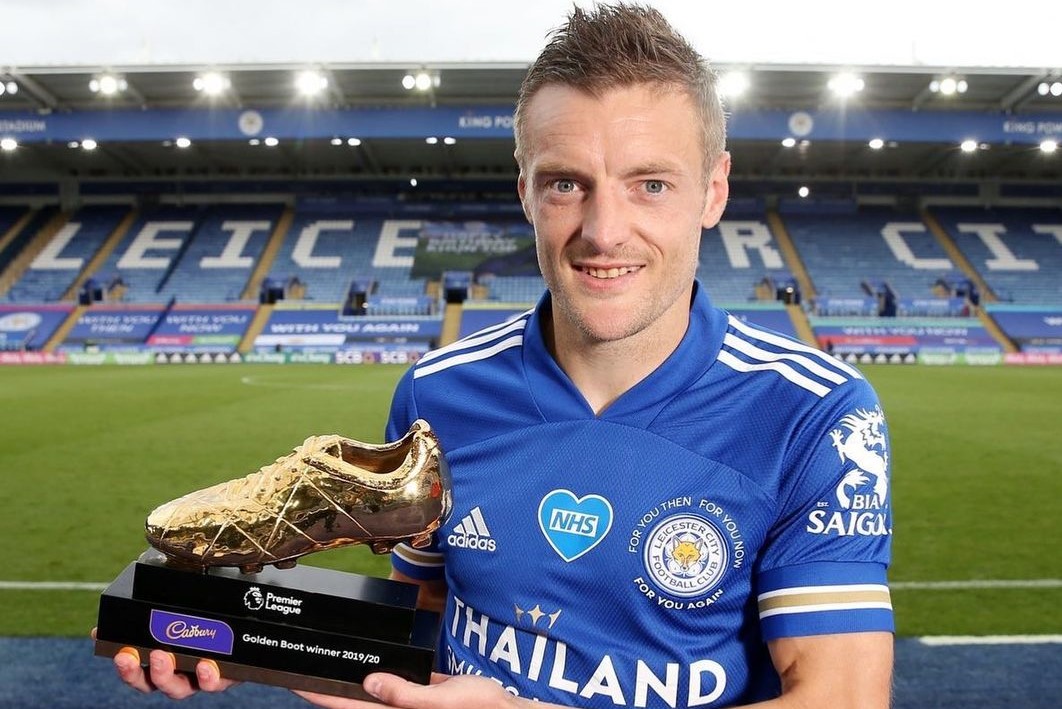 Most impressively and poetically, for the end, the former non-league player has become a giant slayer. Scoring 43 goals in the 72 goals he played against the "big six" - Arenal, Chelsea, Liverpool, Manchester City, United, Tottenham. With another 16 assists.
While redefining the meaning of big six with Leicester, as the retired England international led the team to a league triumph and better finishes than Spurs and Gunners recently.
On some level, his hand on the transformation of Leicester can be parallel to the one Diego Simeone had at Atletico Madrid. Making him the best transfer of an English club without a doubt. Probably in Europe. And he's still going.