Football players with the biggest value increases in 2021: Bundesliga dominates
27.12.2021.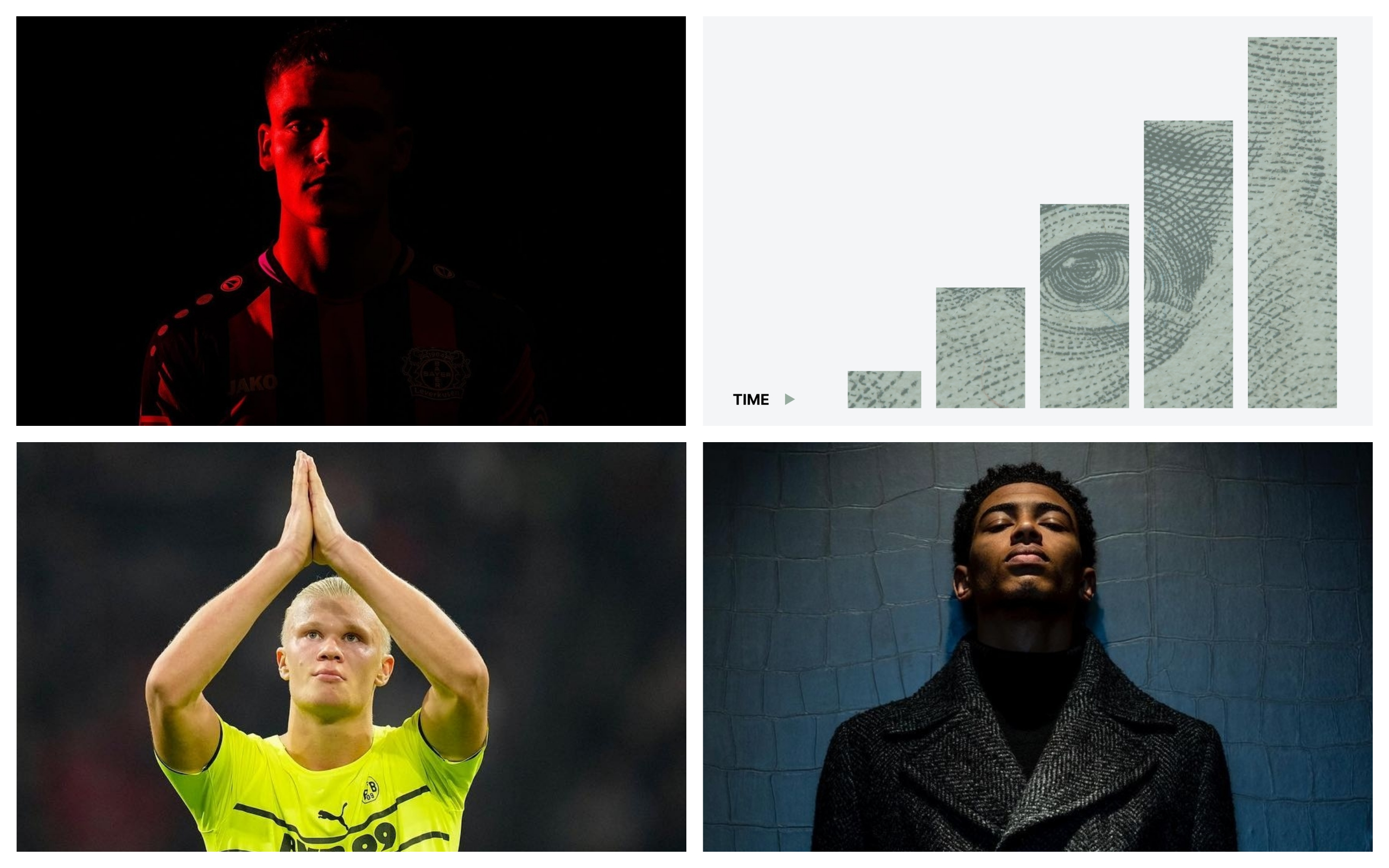 Awards like Ballon d'Or definitely come with their flaws on deciding who the best player of the year was due to the influence of popularity and politics. Hence, following the market fluctuation is a more strict method of gauging who did the year belong to, at least in terms of breakout stars. So here are the 10 footballer players with the biggest value increases in 2021.
With Bundesliga carrying the bragging rights, Ligue 1 not represented, and Serie A only with one player. 
10. Mason Mount (Chelsea) +€30,000,000
Mason Mount was undeniably one of the breakout stars of 2021, winning the Champions League and reaching the Euros final with England. Results are that the 22-year-old got a 66.7% increase in value and is now estimated at €75,000,000. With his last contract signed in 2019 and lasting until 2024, Chelsea might try to improve the pay of their young star sooner rather than later.
9. Jack Grealish (Manchester City) +€30,000,000
Throughout the whole of 2021, Jack Grealish recorded only nine direct goal involvements in the league, six assists and three goals. Yet he made a record-breaking move over the summer, for €117,000,000 and hence his value by 60% to €80,000,000. The 26-year-old has six goal involvements in the current season with Manchester City and will need to massively step up his end result to justify his price tag.
8. Dusan Vlahovic (Fiorentina) +€34,000,000
Looking at goals scored in the top five leagues, only Robert Lewandowski is placed higher than Dusan Vlahovic. The Serbian is pushing Fiorentina back into European contention with 33 Serie A goals scored in 2021, equalling Cristiano Ronaldo's record for most goals scored in the Italian championship over a calendar year. Aged 21, it's not surprising that Vlahovic's stock rose 212.5% over the course of 2021 to €50,000,000. Although his future transfer fee must be over that.
7. Marcos Llorente (Atletico Madrid) +€35,000,000
One of the understated heroes of Atletico Madrid's title run last season, Marcos Llorente's value is carried by the 2020/2021 season. As in the current one, he has only one assist and no goal in 18 matches. The 26-year-old had double digits in both goals and assists last campaign around. His current value of €80,000,000 is a 77.8% increase compared to January of 2021. Yet, his value might near stagnation or a drop if his form doesn't improve by the end of the year.
6. Emile Smith Rowe (Arsenal) +€35,300,000
The single biggest value increase of a footballer in a year percentage-wise, as Emile Smith Rowe came into 2021 with €2,700,000 next to his name. Now, there's €38,000,000 there, which is a 1,307.4% increase! Smith Rowe played 47 games for Arsenal over 2021, scoring 12 times and making six assists, while starting his England career aged 21. Signing a new deal with AFC in the summer helped carry his value as well.
5. Jamal Musiala (Bayern Munich) +€45,000,000
Here is where the domination of the Bundesliga begins, with four of the top five players with the biggest value increases coming from Germany. The first in line, a Bayern Munich teenager who played in 43 games over 2021, scoring ten times and making six assists. Musiala's value increased by 450% to €55,000,000! The Bavarians locked up the young attacking midfielder with a summer contract going until 2026.
4. Florian Wirtz (Bayer Leverkusen) +€46,000,000
The next big German talent, Florian Wirtz has had an industrious year aged 18, scoring 11 times and making 14 assists in 41 games. Bayer Leverkusen's prodigy saw his value increase by 191.7% up to €70,000,000. The teen extended his stay at the Bay Arena in the spring, signing a deal until 2026. Yet, this is only going to make his unavoidable sale just that more lucrative for Leverkusen.
3. Jude Bellingham (Borussia Dortmund) +€48,000,000
The only player on this list of footballers with the biggest value increases in 2021 who isn't primarily attack-oriented. The defensive midfielder still managed to score six times and make 10 more assists in 50 games for Borussia Dortmund. Hence, BVB have another golden hen on their account, with the 18-year-old now valued at €75,000,000, 166.7% more than at the start of the year.
2. Pedri (Barcelona) +€50,000,000
Only the second La Liga representative this year and the Golden Boy award winner had to make the cut even though his overinvolvement in the first part of the year has crippled his fall campaign. Pedri has played only four games, 310 minutes in the 2021/2022 season. Yet he was the player with most games played during the previous one. Now valued at €80,000,000, the 19-year-old's value has rose by 166.7%.
1. Erling Haaland (Borussia Dortmund) +€50,000,000
No surprise here, as the Erling Haaland show continued rolling out. When looking at goals scored in the top five leagues in 2021, Haaland is joint third behind Lewa and Vlahovic, alongside Benzema with 30 goals. Adding other competitions he is joint second with Kylian Mbappe at 43 goals. Looking at goals and assists during 2021, Erling is third with 59 goal involvements, behind Lewa (62) and Mbappe (65). Yet Erling played in ten games fewer than the PSG star, in a far less dominant team. The Norweigan wonder entered the year with a value of €100,000,000 which rose by 50% with the sensation still aged just 21.
See the other side of the medal and the players whose value decreased the most in 2021.