Football players with biggest value decreases in 2020
17.1.2021.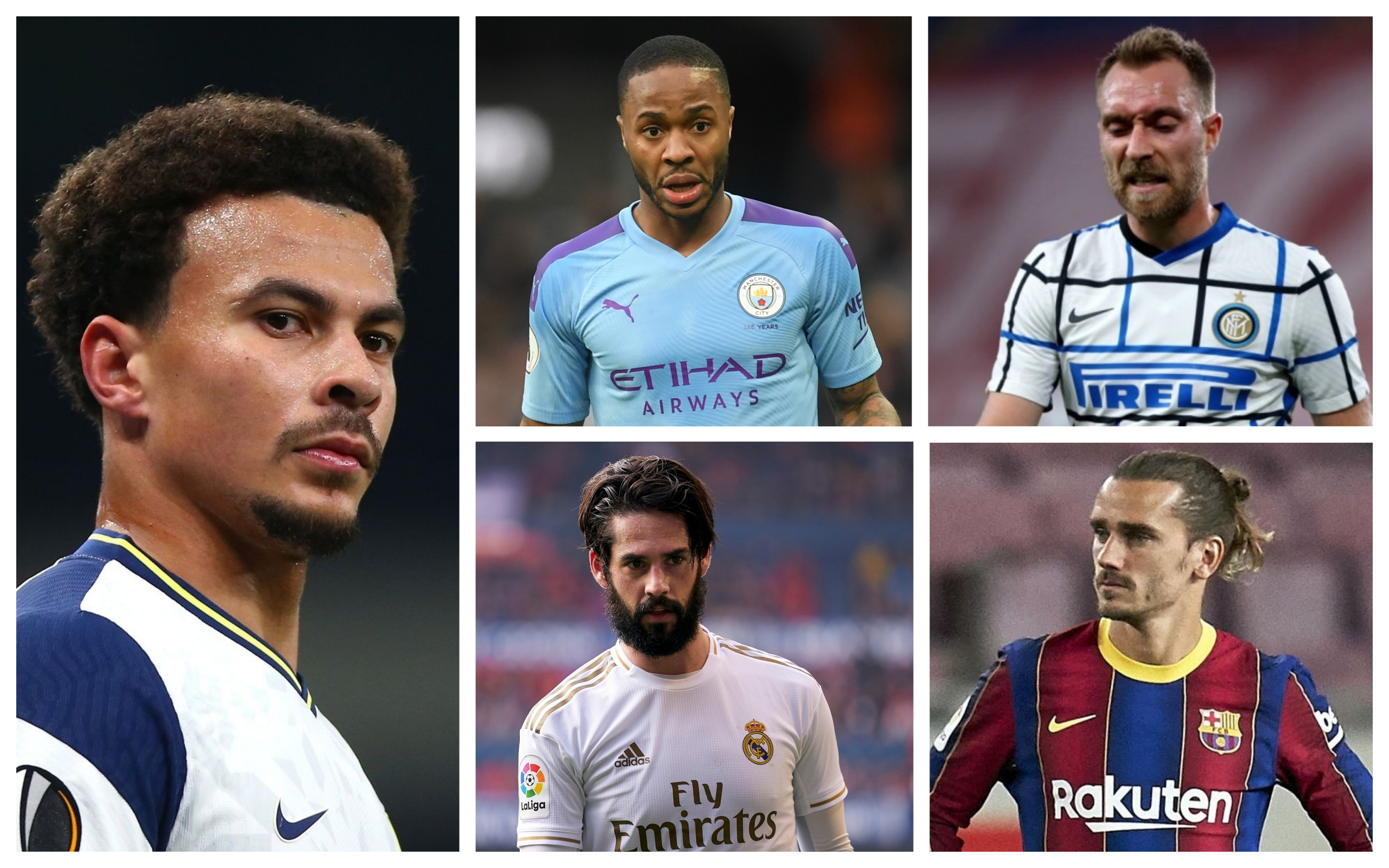 We wrote about the players who terrorized goalkeepers in 2020 and those who helped them do it. Now it's time to turn to those who are looking to forget the last year for more reasons than the rest. We're taking a look at players who experienced the biggest market value decreases in 2020! Of course, based on Transfermarkts evaluations.
10. Sergio Busquets (Barcelona) - 64.3%
A constant for Barcelona in all of its recent successes, Sergio Busquets has experienced a significant drop in form. His value went from being €28,000,000 to just €10,000,000. Even though he is 32, his playing style didn't make such a change expectable soon and it seems that the defensive midfielder swam with the current at Barcelona. As the club is facing the biggest organisational challenges.
"It may be the worst I've ever experienced. Complicated and I would even say that limit. The pandemic has made everything worse," said Busquets.
Busquet's drop of €18,000,000 is the same as Dani Parejo experienced in 2020, although the year-younger Spaniard has an even better excuse for being valued as much as Busquets considering Valencia was a huge mess.
9. Raheem Sterling (Manchester City) -14.1%
Just that fatal miss in the Champions League quarter-finals was enough to drop Raheem Sterling's evaluation for much more than it was counted by Transfermarkt. Recently, Sterling has been missing penalties and has failed to convert three in a row. Yet, his overall contribution in 2020 wasn't that bad, he is ranked 21st on the goal involvements list behind Neymar (20), and Kevin De Bruyne (18) with 18 goals and 12 assists.
Yet, his performances this season left more to be desired and he has seven goals and eight assists in 24 games. His Premier League record is more worrying at four of each in 15 games. Making for a difference of €18,000,000 too for his current value of €110,000,000 for the 26-year-old.
8. Isco (Real Madrid) -50%
Considering he has been ostracized by Zinedine Zidane and didn't receive many chances to show his skillset, Isco's inclusion on this list of players with big market value decreases isn't surprising. But the fact that Isco has the second-largest drop percentage-wise is nonetheless worrying.
The 28-year-old is set to leave Real as he went from being appraised at €40,000,000 to half that in just a year. Reports are stating that he will wait for the summer but he probably can't even afford that for the sake of his career. Having played only 372 minutes over 12 games this season. With only one assist.
7. N'Golo Kante (Chelsea) -25%
Not that long ago N'Golo Kante was considered as the prime defensive midfielder not just in England, but in the world. Now, it seems that managers have a difficult time with utilizing Kante at his best position and ask of him to press high up the pitch instead of collecting the ball in his own half or at the centre. Resulting in a major drop in price for the 29-year-old who could probably still run a marathon a day.
Kane went from being appraised at €80,000,000 to €60,000,000 which is still a strong value. Yet, it seems that he might be a victim to the managers who lead Chelsea and their desire to have more technically adept players at the defensive midfielder positions.
6. Samuel Umtiti (Barcelona) -68.8%
The biggest drop percentage-wise and by a lot. Samuel Umtiti had his value drop in free fall even though he was a part of a World Cup-winning squad just in 2018. But he paid the price for Barcelona's terrible results and for his frequent injuries in recent times. Umtiti only played four games, 145 minutes this pitch and it's not surprising his value went from €32,000,000 to just €10,000,000!
The 27-year-old missed 25 games this season already for injuries and missed 78 days of football in the last season.
5. Dele Alli (Tottenham Hotspur) -40.6%
Certainly, one of the least surprising inclusions on this list of players with the biggest market value decreases. Dele Alli hasn't gelled with Jose Mourinho and the world saw it openly in the Tottenham Hotspur documentary All or Nothing on Amazon. Since the start, Mourinho commented that Alli is bad at training.
The English player did so little to disapprove Mourinho's decisions with him when he got the chances in games. It seems that Alli's time in London is done and it seems like he is bound to move to Paris and join PSG. But the price now becomes an issue as the attacking midfielder is valued €38,000,000 while he was at €64,000,000 just a year ago.
4. Eden Hazard (Real Madrid) -37.5%
Yet another unsurprising inclusion as Eden Hazard deserves to be one of the players with the biggest value drops in 2020. It's only surprising that he is not on the first spot. Since arriving at Real Madrid a year and a half ago, the Belgian played in only 32 games, scored only three goals and made seven assists. Real did win the title but they did it almost completely without the former Chelsea man.
Suffering from frequent and seemingly never-ending injuries, the man who was constant for the Blues is a ghost at Santiago Bernabeu. The only reason he isn't placed higher as the player with the largest market value drop is that last year wasn't good for him too. He started the year at €80,000,000 half of his fee, and is now at €50,000,000.
3. Lionel Messi (Barcelona) -28.6%
There is always one inclusion on lists Transfermarkt calculates that it's really hard to agree with. Even biggest Real fans must admit that Messi barely deserved to have his value drop for any reason other than his contract ending in the summer. The 33-year-old was second in goal involvements across 2020 with 26 goals and the same number of assists in 44 games. He doesn't deserve to be included as one of the footballers with negative market value changes.
Messi's value went from €112,000,000, which seems to low considering Cristiano Ronaldo moved for €110,000,000 when he was Messi's age. Now, Messi is appraised at €80,000,000.
2. Christian Eriksen (Inter) -48.5%
Last winter, his €20,000,000 move from Tottenham to Inter looked like a steal, now it's the Italian club that is the loser of that deal. Christian Eriksen went from being one of the most sought after players on the market to a 13th pig. Failing to find a suitable club for him after a year of mediocrity in Milano.
Showing the price for sitting out a contract, as Eriksen barely featured for Spurs in the last six months in London. He arrived in front of Antonio Conte not ready for games and the Italian clearly can't fit a player of his style into his tactics. The Dane went from being valued at €68,000,000 to just €35,000,000.
1. Antoine Griezmann (Barcelona) -37.5%
Yet another player who suffered as a result of the bad situation happening at Barcelona in the last year. Yet it was Antoine Griezmann that received most flak for it. Yet, considering that the €120,000,000 paid is 142nd player in Europe's top five leagues when looking at goal involvements, with only 12 goals and two assists, it's hard to be his lawyer.
That's why he defended himself as his value dropped from €96,000,000 to €60,000,000.
"I accept it because I know that we are not seeing the best Griezmann, but I understand that every time something else comes out I am the first one to be criticised. I feel like I would need more support. Since I don't speak, I seem to be an easy target. In a year and a half, I have had three coaches. That's not easy. I need time to adapt to my colleagues and they to me. And on top of that there are formation changes," said Griezmann late in 2020.
Dishonourable mentions of greatest decreases in market value go to Jadon Sancho, Sergio Aguero, Kepa, Pierre-Emerick Aubameyang, Harry Maguire, Gonzalo Higuain, Paul Pogba, and David de Gea.