Finally, Messi for Argentina! Have you ever seen him this happy?
12.7.2021.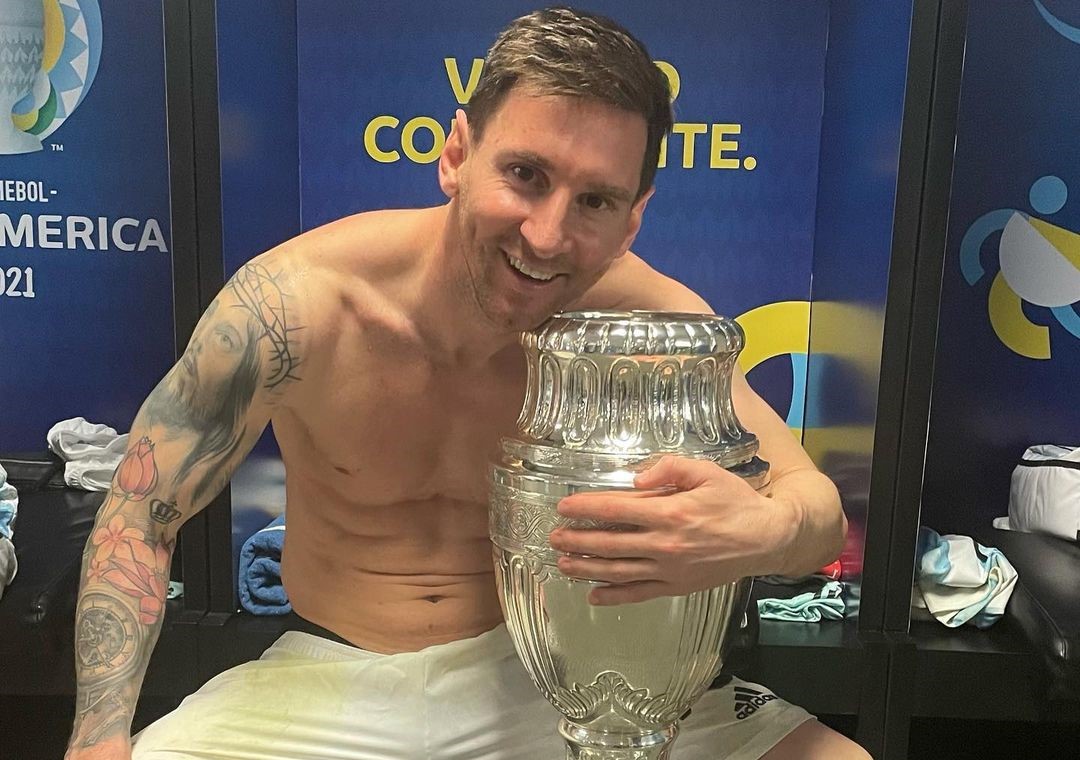 While the people in Europe were sleeping waiting for the following day to see the European championship conclude, Argentina has won the Copa America in Brazil, defeating the host nation. Even though the two great South American football forces are such fierce rivals, a rarity on the international stage, the main story was that Lionel Messi has finally done it! The Barcelona superstar has finally removed the only asterisk he had on his career - he won an international tournament with Argentina.
It has been a road of tribulations and full stops, as at one point Messi even retired from international football in 2016, yet his desire to win with his country was too strong to stay away. Five more years Messi had to wait, his fourth Copa America final, but he has finally crossed it out of the to-achieve list.
The first final Messi played was in 2007 when Brazil won in Paraguay convincingly 3:0. Messi had two better opportunities to win in the back-to-back tournaments, in 2015 and 2016, the other one being played as a jubilee of the competition after the first one was played 100 years ago. In both iterations, the regular and the Copa America Centenario, Chile won after penalty shootouts.
In the 2016 one Messi missed his shot, resulting in such strong emotions that he announced his retirement. Especially after the country came mighty close in the World Cup in 2014 in Brazil, the sweetest place to win for an Argentine. Yet getting defeated in the final by Germany. But Messi returned to the national team and persevere, for five years no notable returns came from his unretirement, and with less fanfare then usual, in the shadow of the Euros, the 34-year-old finally broke the deadlock. A trophy, in the light blue and white shirt of Argentina.
So far so, Messi only enjoyed youth successes with Argentina, firstly in the U20 World Cup in 2005, and then at the 2008 Beijing Summer Olympics. Both minor trophies in the grand scheme of football habitat.
For all those years that Messi was doing his magic at the club level, there were claims in Argentina that he isn't doing enough for his country. That it isn't even his country as he left for Catalonia at such a young age. That he will never be as grand as Diego Armando Maradonna simply because he never won it for the flag with the smiling sun. Even though his accomplishments dwarf that of football's favourite cult hero Maradona.
Copa America 2021 did pass by in the shadow of the Euros, but the history books and the numerous biographers of the superstar will have a massive addition to the story of Leo Messi. For many years, the fans of Cristiano Ronaldo held their heroes successes with Portugal at the Euros and even in the Nations League over Messi in those needless, fruitless squabbles. Now, that argument has far weaker legs, hopefully leading to the cancellation of those debates, not to childish gloating.
More importantly, certainly for Messi, it kills the criticism that he doesn't care about Argentina. He was there, he played his heart out, becoming the best scorer, best assister and the best player of the tournament aged 34. Becoming the first player to win a major tournament while getting these individual accolades. But even before winning the final game, it was clear just how much the man who has won it all at club level cares about doing it for Argentina, with his fellow countrymen.
The game with Colombia in the semis is a perfect illustration. Messi was so moved during the penalty shootouts, completely breaking the character of a reserved, calm, placid sportsman. Gloating when Yerry Mina failed to convert his penalty in the shootout, calling him to dance now as he did during the game, not forgetting the harsh tackles the Colombian made on him.
When his friends scored, the Argentinian erupted like he never did for the club he defended for 20 years.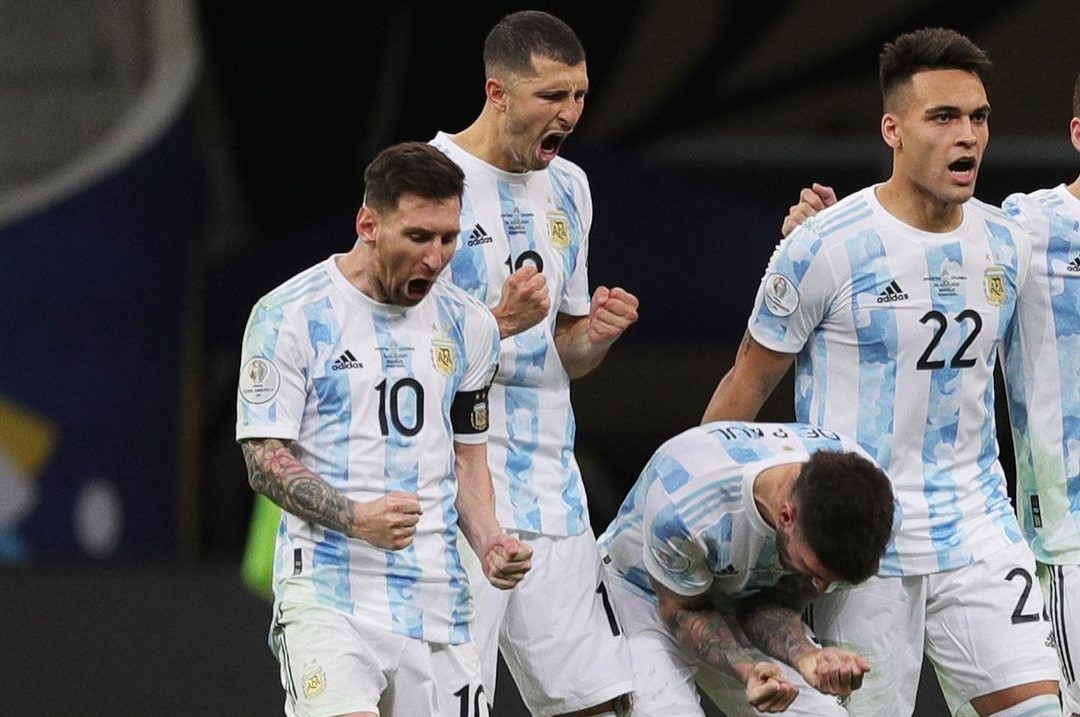 Before the Brazil final, Argentina manager and Messi's namesake Scaloni
"Win or don't win, he will continue being the best footballer in history, he doesn't need to win a title to demonstrate it. In the background, whether Leo wins or doesn't, he has already demonstrated that he is the best in history, and even the opponents recognise it," said Scaloni.
Brazil legend Ronaldo Nazario known as R9, also believes that the lack of international trophies didn't damage Messi's legacy.
"Messi has 0 trophies with Argentina? I wouldn't get into that, because I have 0 UCLs with Real Madrid myself. We should give the shorty credit. What he does is incredible," said the first Ronaldo.
His former Barca teammate Neymar credited his friend for his long awaited achievement.
"Losing hurts me, it hurts me… it's something I still haven't learned to live with. Yesterday when I lost, I went to give a hug to the biggest and best in history that I saw playing. My friend and brother MESSI, I was sad and I told him "Son of a bitch, you beat me" I am very sad for having lost. But this guy is awesome! I have great respect for what he has done for football and especially for me. I HATE TO LOSE!!!! But enjoy your title, football was waiting for you for this moment! CONGRATULATIONS HERMANO," wrote Neymar.
After the triumph, Scaloni revealed that Messi played despite fitness issues, proving his allegiance to Argentina in that manner as well.
"Lionel Messi played against Colombia and Brazil with hamstring problems."
It showed, his happiness showed when he was lifting the trophy with his amigos, and when he was posing with it when the fireworks stopped. Talking to his son over video call, bragging about his piece of gold as it was his first, not like a man who has 10 La Liga and four Champions League trophies.
Messi didn't shy away, and shouldn't have, from stating that the international glory is his biggest goal. You don't have to be a football fanatic/psychologist to see that is the same for CR7, his wins for Portugal were the most emotional of his career. It's the same for his Yang.
"What I want the most is to win something with Argentina," said Messi before the game.
After the match, he showed just how much it means to him, writing an untypical message for him on his social media, typical Argentine swearing and all.

"What a beautiful madness !!! This is amazing, thank you God !!! WE ARE CHAMPIONS THE P***Y OF YOUR MOTHER!!!!!! Come on, damn it!" wrote the visibly moved Leo.
In a more measured approach, Messi summarized the tournament and the achievement for him.
"I needed to get rid of the thorn and achieve something with the national team. I knew that at some point it was going to happen. The truth is that this is crazy. Many times I had to leave with sadness, but I knew it was going to happen. There was no better moment than this, at the Maracana. I think it will be a match that will go down in history because not only did we win the Copa America, but it was also in Brazil."
Messi finally broke the deadlock with the Argentina team and it seemed like he over enjoyed it. Certainly fuelling his quest for Qatar World Cup in 2022 and possibly beyond, as he still managed to be the best player and scorer at this tournament. Still managed to be La Liga's top scorer for a faulty, crisis-hit Barca. Maybe the WC 2026 is too far, although Messi always had a fascination with one of the host nations, the USA, and would like to move there to retire as an MLS player.
But Copa America 2024 is a far realistic story for the Argentinian, who can show his countrymen the determination he has in playing for them. Not giving up after so many punches, after so many tackles endures defending the colours, after so many harshest criticisms received. Messi showed that he is an Argentinian through and through, and the best that country, and possibly the planet, has ever produced.